The India Meteorological Department (IMD) department issued a thunderstorm and duststorm alert for 13 districts of Uttar Pradesh for the next 48 hours. The department reported that Banda, Chitrakoot, Fatehpur, Hardoi, Shahjahanpur, Pilibhit, Bareilly, Rampur, Moradabad, Meerut, Bijnore, Muzaffarnagar and Saharanpur are likely to be hit by thunderstorm and dust storm accompanied with gusty winds.
The MeT also reported that parts of Andaman & Nicobar Islands, Assam, Meghalaya, Nagaland, Manipur, Mizoram, Tripura, Telangana, Rayalaseema, coastal Andhra Pradesh and Kerala are likely to receive heavy rainfall today. Thunderstorm accompanied with gusty winds and lightning, the IMD said, is very likely at isolated places in Uttar Pradesh, Uttarakhand, Haryana, Chandigarh and Delhi and Himachal Pradesh.
Meanwhile, severe heatwave conditions across certain parts of Rajasthan is likely to continue.
Live Blog
Weather LIVE Updates: Thunderstorm and duststorm likely in UP
Monsoon to reach Telangana in next 48 hours
During next 48 hours, the south-west monsoon is likely to advance in parts of Telangana. Southern districts are likely to receive light to moderate rainfall and one or two spells of heavy rain, says India Meteorological Department
Rain and thundershowers in West Bengal
Rain and thundershowers with lightning likely over West Bengal's Bardhaman, Birbhum, Haora, Hugli, Kolkata, Nadia, Medinipur and Purulia during the next 4-6 hours, reports SkyMet Weather.
IMDs forecast for June 4
The weather office has also forecast "very likely" rain in certain parts of the state. The latest bout of deadly dust storm over the weekend claimed 17 lives and left 11 people injured. Most of the deaths were caused due to falling of trees and house collapse, a UP government spokesperson said.
Moradabad bore the maximum brunt of the storm, with as many as seven deaths reported from the district, followed by three deaths from Sambhal. Dust storms have become a regular phenomenon in the state that left over 130 people dead last month.
Monsoon in India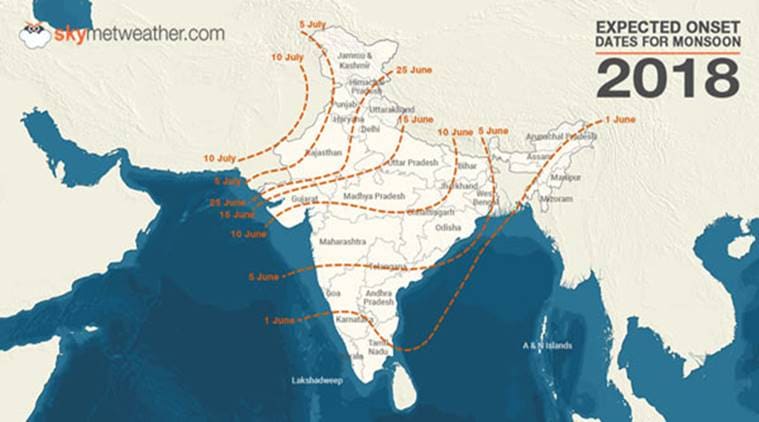 The latest update suggested its before time arrival over most parts of the country. As per weathermen, Monsoon would move at a faster pace over East and Northeast India, central parts of the country as well as along the West Coast, reports SkyMet Weather.
At least 5 killed in rain related incidents at Nashik division
Five people were killed in two separate rain-related incidents as pre-monsoon showers accompanied by thunderstorm and lightning hit the Nashik division over the weekend, the police said today.A 32-year-old woman and her three minor daughters were killed when a tree fell on them at Varkhedi village in the neighbouring Dhule district yesterday, a police official said.In the last 24 hours, Nashik's Igatpuri taluka received 76 mm rain, Baglan-25 mm, Chandwad-24 mm, Trimbakeshwar-15 mm, Nandgaon-10 mm, and Malegaon, Sinnar and Nashik got five mm each, according to figures provided by the district collector's office. (PTI)
Cloudy weather, light drizzle likely in Mumbai for next 48 hours
Officials said Mumbai recorded moderate showers in the last 24 hours but monsoon is on scheduled to arrive on June 7. In the last 24 hours, till 8.30 am Sunday, Santacruz recorded 26.2 mm rainfall, while Colaba saw negligible rain, the official said. Read more
Heatwave conditions persist in Rajasthan
There was no let up in the heatwave conditions in Rajasthan with Sriganganagar being the hottest in the state at 48.2 degrees Celsius. Churu was the second hottest place with a maximum temperature of 47 degrees Celsius, according to the MeT department.
Hot weather conditions in Punjab and Haryana
Hot weather conditions prevailed in most parts of Haryana and Punjab, with Narnaul sizzling at a high of 44.6 degrees Celsius, three notches above normal. Among other places in Haryana, blistering heat swept Hisar, which recorded a high of 42.9 degrees Celsius and Bhiwani registered a maximum temperature of 42.1 degrees Celsius, PTI quoted MeT Department.