As heavy rains lashed parts of Mumbai and neighbouring areas of Navi Mumbai and Kalyan on Saturday, at least 40 people were stranded at Chinchoti waterfall in Vasai. Train services between Badlapur and Kalyan railway stations at Central Railway (CR) in Mumbai were suspended for a few hours in the wake of excessive water logging on the tracks between Vitthalwadi and Kalyan stops. Toy train services were also disrupted after a tree fell down between Matheran and Neral. "Due to heavy and continuous rain, there is water logging between Vithalwadi and Kalyan (near level crossing gate) since 10.40 am. As a precautionary measure, trains services were stopped between Badlapur and Kalyan," a CR official said.
Besides Maharashtra, heavy rains also lashed most parts of Karnataka.
Live Blog
Maharashtra and Karnataka are witnessing heavy rainfall today. Click here for LIVE UPDATES
See pictures of flooded Kalyan city in Thane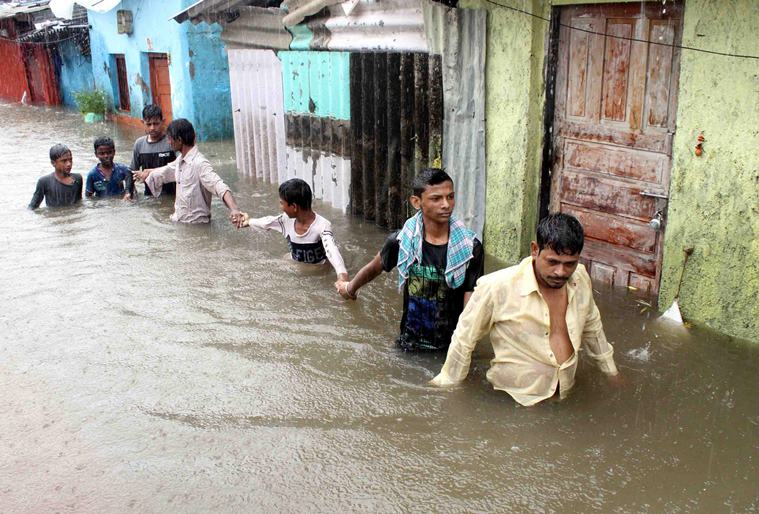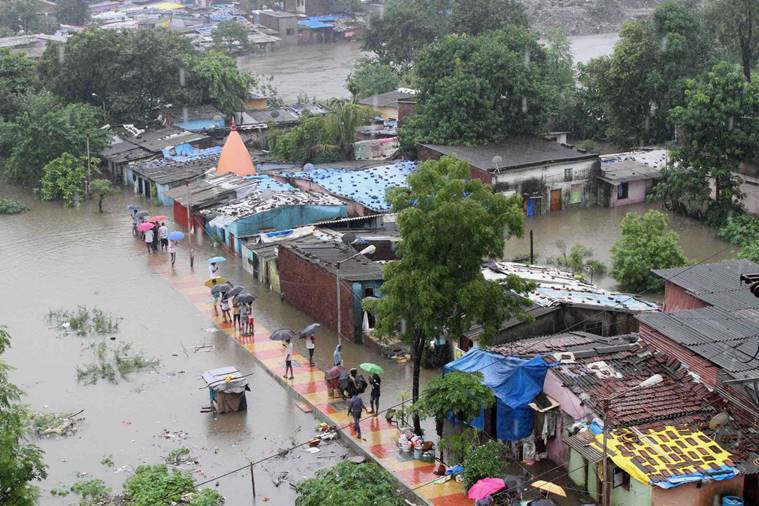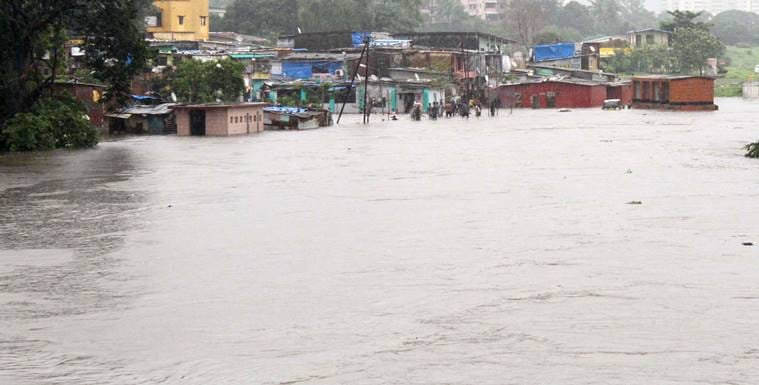 Express Photo by Deepak Joshi
Security tightened in Mumbai beaches
Life Guard Chairs have been arranged at all the 6 beaches for better visibility. Manual siren, public address system, ringboys & life jackets are in place in all beaches: Mumbai Fire Brigade #MumbaiRains pic.twitter.com/jLtL7evTlQ

— ANI (@ANI) July 7, 2018
Vasai: At least 40 people stranded at Chinchoti waterfall
At least 40 people were stranded at Chinchoti waterfall in Vasai due to heavy rains. Out of them, 35 people have been rescued and rescue operations are underway to rescue the remaining people, reported news agency ANI.
Nine hours of rain in Nagpur disrupted proceedings of Maharashtra Assembly
The Shiv Sena today attacked its estranged ally, the BJP, after nine hours of rain in Nagpur led to extensive water-logging in the city and disrupted proceedings of the Maharashtra Assembly.
The Shiv Sena, which rules the Brihanmumbai Municipal Corporation (BMC), alleged that those who raise a hue and cry every time Mumbai is flooded due to rains were nowhere to be seen now that Nagpur faced the same situation.
Thundershower likely in UP tomorrow
While it's insanely raining in Mumbai and Karnataka, the Met department has predicted thunderstorm in parts of Uttar Pradesh bringing major relief to residents. The temperature has been above normal for the past two days. Allahabad was recorded as the hottest place in the state, where mercury touched 41 degrees Celsius mark.
Mumbai Traffic update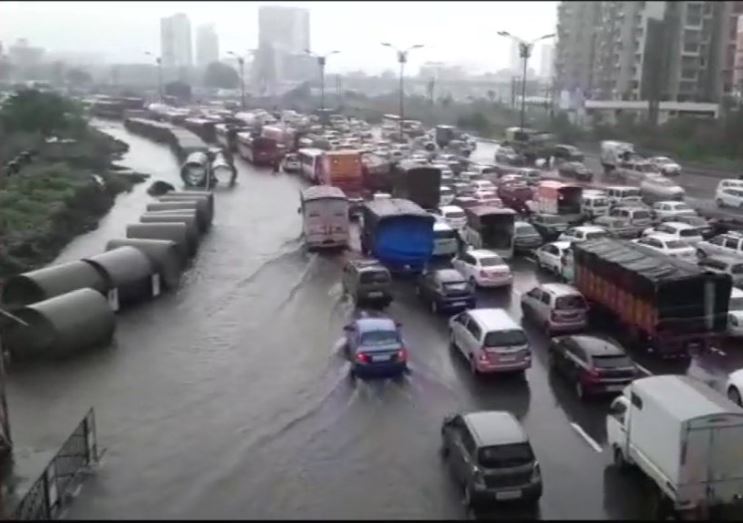 Mumbai rains have resulted in heavy traffic jam in parts of Mumbai. The movement has also slowed down because of water clogging. These are pictures from Navi Mumbai. (File)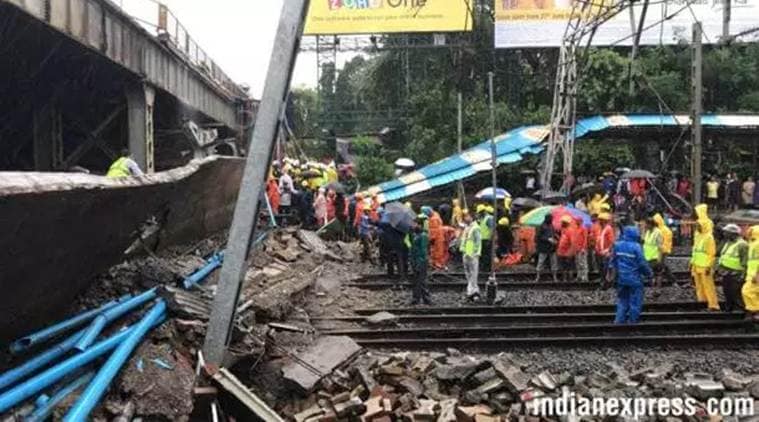 Saturday's rain came three days after an over-bridge at a railway station in the Andheri suburb collapsed during heavy rains, disrupting train services and injuring five people.
Traffic disrupted as BMC officials repair water pipelines in near South Mumbai
Express Photo by Nirmal Harindran
Watch: Heavy rainfall triggers flood-like situation in Gujarat's Tapi
More rain expected
Heavy to very heavy rainfall likely to occur at isolated places in Greater Mumbai and suburban areas, including Thane and Palghar, today and tomorrow, ANI reported.
Trains delayed/diverted due to water logging
Suburban train services on the CR are running late, with a delay of ten minutes. The following trains have been diverted or delayed due to the weather: 1)
11025 Bhusaval-Pune Express (now at Panvel) has been diverted via Kalyan-Karjat and 11026 Pune-Bhusaval Express has been diverted via Daund-Manmad due to waterlogging between Chouk and Karjat. 2) Due to waterlogging between Chouk and Karjat above 10-12 inches rail level, 12126 Pragati Exp and 17614 Nanded-Panvel Exp have been diverted via Karjat-Kalyan instead of Karjat-Panvel.
Heavy rainfall in Konkan Goa, Mumbai in next five days: IMD
Speaking to news agency ANI, Ajay Kumar, a scientist at the India Meteorological Department, said, "Heavy to very heavy rainfall is expected to occur in Konkan Goa and Mumbai in the next five days."
Heavy downpour in Maharashtra
Several parts of Maharashtra are experiencing heavy downpour today. Follow this space for LIVE UPDATES.
#Maharashtra: Visuals of waterlogged streets from Thane district's Bhiwandi as rain continues to lash the region pic.twitter.com/kYMuCAOAI4

— ANI (@ANI) July 7, 2018