Weather forecast Today LIVE Updates: The India Meteorological Department (IMD) has predicted heavy to very heavy rainfall at isolated places over West Madhya Pradesh, and heavy rainfall at several places over Uttarakhand, East Uttar Pradesh, East Rajasthan, East Madhya Pradesh, Sub-Himalayan West Bengal and Sikkim, Gujarat region, Maharashtra, Konkan, Goa and Andaman and Nicobar Islands.
Thunderstorm accompanied with the wind with speed 50-60 kmph is very likely to occur at isolated places over Andaman and Nicobar Islands. Strong winds, speed reaching 40-50 kmph, are likely to prevail over west-central and southwest Arabian Sea. Fishermen are advised not to venture into sea in these areas.
No significant change in maximum temperatures likely over major parts of the country during next two to three days.
Live Blog
Here's the latest on the weather forecast for today. Follow us for real-time updates
Parts of UP get light rain, Lucknow remains cloudy
State capital Lucknow witnessed partly cloudy sky on Saturday with the maximum temperature settling at 34.4 degrees Celsius.

According to the meteorological department, rainfall was recorded in Bahraich (14.4 mm), Allahabad (1.3 mm), Jhansi (7.4 mm), Ghazipur (11.8 mm), Shahjahanpur (18 mm), Hardoi and Khiri (5.2 mm each).

Rain/thundershowers are "very likely" at many places over eastern Uttar Pradesh and a few places over western part of the state on Sunday, the Met department said. (PTI)
Humid Saturday in Delhi, light rains predicted for Sunday
It was a humid Saturday in Delhi with the mercury setting at just over 35 degrees Celsius, officials said. According to the Meteorological Department, the maximum temperature was recorded at 35.2 degree Celsius, a notch above the normal, and the minimum temperature was at 27.6 degree Celsius, three notches above the normal.

The relative humidity oscillated between 80 to 63 per cent. The weathermen have predicted generally cloudy sky for Sunday with light rain and the maximum and minimum temperature would be around 34 and 27 degrees Celsius, respectively. (PTI)
Rainfall forecast and Warning dated 14-09-2019: Met
How's weather in Mumbai?
Spells of moderate rain and thundershower are expected at some places over Ahmadnagar, Kolhapur, Mumbai, Mumbai Suburban, Nashik, Palghar, Pune, Raigad, Ratnagiri, Sangli, Satara, Sindhudurg and Thane districts in the next 8-10 hours, Skymet Weather reported.
Mumbai to receive moderate rain today and tomorrow
Skymet Weather predicted off and on rains for Mumbai for today and tomorrow. The weather agency said that the threat of heavy downpour and subsequent flooding is almost over. The city received moderate showers during the last 21 hours.
Gujarat: Water flows over bridge in Amreli as Dhatarwadi-II dam in district overflows
A BRIDGE over the Bhavnagar-Somnath national highway became submerged, after water was released from the Dhatarwadi-II dam in Amreli on Friday. Videos of the bridge captured after it flooded showed heavy vehicles continuing to use the flooded bridge. According to officials, water from the Dhatarwadi-II dam was released three days ago, as the dam over-flowed due to incessant rains in the Saurashtra region of Gujarat. Hindorna bridge, which is situated 1.8 kilometres from the dam, submerged into the water even as the road gave way due to erosion. Read More
Gujarat: 50 villages in Dahod on alert after rain forecast
With more than 4 inches of rainfall in Dahod district on Friday morning within two hours and heavy to very heavy rainfall predicted in the next 24 hours between 6 pm on Friday to 6 pm Saturday, 50 villages in the district have been put on alert. "Nodal officers at taluka level and even panchayat members have been coordinated with for the supply of food, water, electricity and (to take) safety measures," Dahod Collector Vijay Kharadi said. Till 4 pm in the evening, Dahod received 474 mm rainfall. The water level in the Hadaf dam, whose danger mark is 168.32 metres, has reached 166.15 m. Read More
Thunderstorm in Assam and Megahlaya
Thunderstorm was observed at isolated places in the early hours on Saturday morning in Assam and Meghalaya.
Rajasthan to get widespread rainfall: IMD
The low-pressure area over northcentral Madhya Pradesh and neighbourhood and the associated cyclonic circulation that extends up to 7.6 km above mean sea level tilting southwestwards with height are likely to cause widespread rainfall in east Rajasthan in the next 24 hours, said IMD.
West Bengal
The weather body has predicted partly cloudy sky in Bengal. The temperature was recorded at 31 degrees Celsius. According to The Weather Channel, fairly widespread rain and thunderstorms are expected in the state today.
Monsoon this year to be normal, withdrawal likely after September 15: IMD
The monsoon season for the country will end on a positive note and be normal, with the withdrawal most likely to occur between September 15 and September 20. According to officials of India Meteorological Department (IMD), the rainfall during the ongoing month will be normal like August and July months, taking the season's total rainfall to normal.
"This month too, we are expecting to record above normal rainfall over the country. The monsoon this year will end up being normal," said D Sivanand Pai, head, Climate Research and Services (CRS) at IMD, Pune.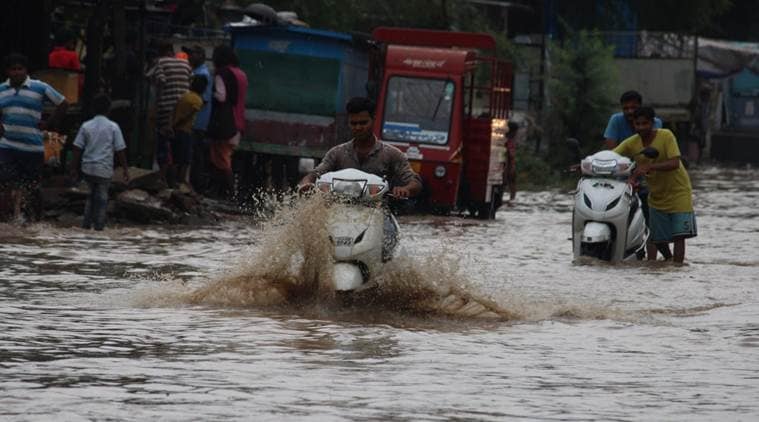 Showers to continue over west Madhya Pradesh till Sept 16
Skymet Weather predicted that Southwest monsoon is still active over western parts of Madhya Pradesh and showers are likely to continue till September 16. Indore witnessed record rains since the beginning of September.
Sky to remain cloudy in Delhi
The maximum and minimum temperatures in Delhi are expected to be around 33 degrees Celsius and 26 degrees Celsius, respectively on Saturday, according to the AccuWeather. The city is likely to experience humid weather conditions and cloudy sky throughout the day.
Water released from Hirakud dam in Odisha
After water level in the reservoir of the Hirakud dam rose considerably on Friday, excess water was released from it leading to inundation of low-lying areas in five districts of Odisha, officials said. Heavy rain in the upper catchment areas of the Mahanadi river increased the water level of the reservoir. "Twelve of the 64 sluice gates were open in the evening as the water level at Hirakud dam touched 638.33 feet as against the full reservoir level of 630 feet," an official said said.
Mumbai weather today: Moderate to heavy rain in city, says IMD
The IMD has predicted moderate to heavy rain in Mumbai today. Thane and Palghar districts are also likely to witness "light to moderate" rainfall. This month, Mumbai has received 844.7 mm of rainfall till September 13 — September rainfall in the city has crossed the 800-mm mark only four times since 1950. Read More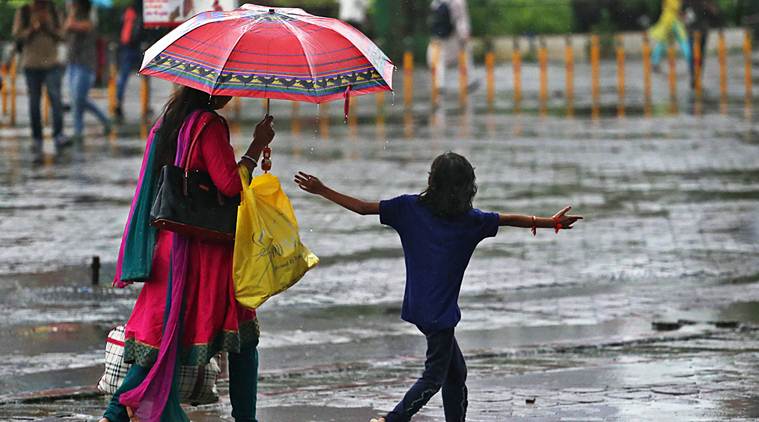 Narmada above danger mark in Bharuch; 3,900 shifted in three days
Over 3,900 people living along the banks of the Narmada river in Gujarat's Bharuch district were shifted to safer places during the last three days as the river's water level rose three feet above the danger mark, officials said on Thursday.
The river was flowing at 31.25 feet, three feet above the danger mark of 28 feet, at Golden Bridge that connects Ankleshwar to Bharuch, said Bharuch collector MD Modiya. "The river has swollen because of the continuous release of water from the Sardar Sarovar Dam in Kevadiya in Narmada district. "More than 3,900 people were shifted from low-lying areas in Bharuch, Ankleshwar and Jhagadia talukas of Bharuch district during the last three days," said Modiya.
Welcome to our weather live blog
Welcome to our live blog. The IMD has predicted that no significant change in maximum temperatures likely over major parts of the country during next 2-3 days. Follow to get the latest updates here!