Mumbai, Thane, Kerala and Karnataka Weather Today LIVE Updates: The monsoon hit Maharashtra on Friday with many parts of state capital Mumbai receiving heavy rains on Saturday. Many incidents of waterlogging and traffic jams were reported in the city with four people losing their lives due to weather-related incidents. Rains were scheduled to arrive in the city from June 10 but were one day early. The weather department, however, said that the intensity of the showers was less.
According to authorities in Kerala, seven deaths have been reported due to rain-related incidents over the last two days. Most of the deaths occurred due to drowning in swollen rivers and uprooting of trees.
Severe dust storm in Delhi
In national capital Delhi, a severe dust storm followed by rain struck yesterday evening bringing respite from the sweltering heat. Wind speeds went as high as 98 kmph. Visibility was reduced as the sky turned dark in many parts New Delhi in the early evening. Metro services and flight operations at the Delhi airport were affected while traffic snarls and power cuts were witnessed across Delhi due to weather conditions.
Many other cities such as Bhopal experienced rain showers yesterday. Southwest monsoon also hit the coastal regions of Kerala and Karnataka earlier this week. Meanwhile, the IMD has predicted heatwave conditions over one or two pockets of Rajasthan in the coming few days.
Live Blog
As the monsoon advances, Mumbai, Thane, Goa and coastal regions of Kerala and Karnataka are scheduled to receive heavy rains. Follow our blog for LIVE Updates: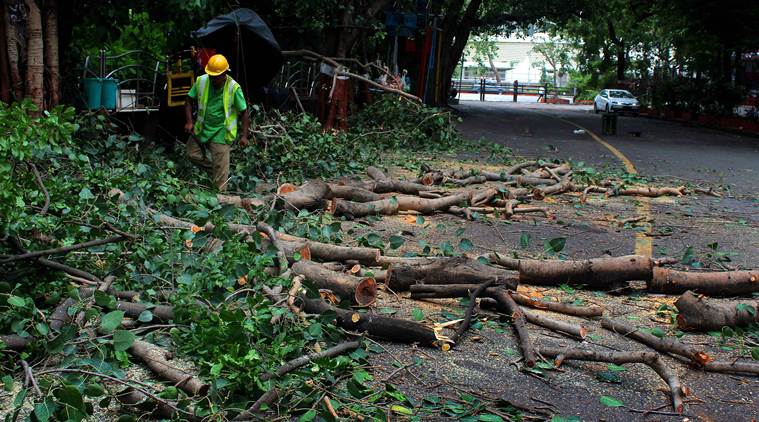 Following heavy rainfall alert, several old trees and branches on the roadside are being cut down throughout the city by BMC officials. (Express photo by Santosh Parab)
Rain and thunderstorm in eastern UP
Rain and thunderstorm are very likely to occur at a few places over eastern Uttar Pradesh tomorrow, the meteorological department said today.
Weather update from Rajasthan
Moderate to light rainfall brought much-needed relief from the sweltering heat raging in some areas of Rajasthan today. The MeT department has predicted dust storm and thunderstorm with rain at a few places in east Rajasthan and at isolated places in west Rajasthan in the next 24 hours.
Flood alert in Tamil Nadu
A flood alert has been sounded along river Bhavani in the district, as surplus water is being released from Pilloor dam, official sources said today. With the onset of the southwest monsoon, Coimbatore and neighbouring districts, particularly Nilgiris district, have been experiencing heavy rain in the catchment areas for the last two days. Considering the situation, the collector asked the people living on the banks and low-lying areas to move to safer places. (PTI)
Heavy rain continues in parts of Kerala
Atleast 13 persons have died so far due to heavy rain in different parts of Kerala. Heavy rain continues in Idukki, Kozhikode and Kannur districts, reports ANI.
NDMA issues heavy rain alert for coastal Karnataka
National Disaster Management Authority warns of an Red Warning issued for June 10, heavy to very heavy rain at a few places with isolated extremely heavy falls very likely over coastal Karnataka.
Rains in Mumbai
On and off moderate rains are expected to continue over Mumbai today. A few heavy spells will also be seen but the intensity to be lesser than yesterday.
Kerala: Fishermen have been asked not to venture in to the sea
The rain also damaged crops and property in Idukki, Kozhikode, and Kannur districts, the officials said, adding the loss to agriculture and property was being assessed. Traffic was disrupted in the high range Idukki district following landslips and after trees fell on the road, officials said.
The MeT department has said strong winds with a speed of 40-50 kmph, gusting to 60 kmph, are likely along and off Kerala coasts and over Lakshadweep areas in the next 24 hours. The sea condition would be rough to very rough over the Arabian sea. Fishermen have been asked not to venture in to these areas.
Nine killed in Kerala in rain-related incidents
Seven deaths, including two each in Thiruvananthapuram and Alappuzha, were reported due to rain-related calamities in the last two days. Most of the deaths occurred due to drowning in swollen rivers and uprooting of trees. One person died today after he came in contact with a power line that snapped in gusty winds at nearby Neyyatinkara while another drowned in a river in Alappuzha, officials at the State Control room for disaster management said.
Marked low pressure at the Bay of Bengal: NDMA
Fishermen are advised not to venture into sea in #BayofBengal. Due to a well marked low pressure area sea conditions to remain rough in #BayofBengal from 10th-12th June.

— NDMA India (@ndmaindia) June 10, 2018
Possibility of wind, rain and thunder in next two hours
The NDMA has said that there is likelihood of speedy winds, rain and thunder in the Delhi-NCR regions, Alwar and Bharatpur, in the next two hours.
अगले दो घंटे में राष्ट्रीय राजधानी क्षेत्र अलवर, भरतपुर व आसपास के क्षेत्रो में तेज हवाओ व गरज़ के साथ वर्षा होगी।
Source: IMD

— NDMA India (@ndmaindia) June 10, 2018
Predictions for heavy rains
Monsoon one of the factors behind stock market this week
Meanwhile, financial experts feel that the progressing monsoon is giving a boost to the economy, which might, in turn, drive market forces this week.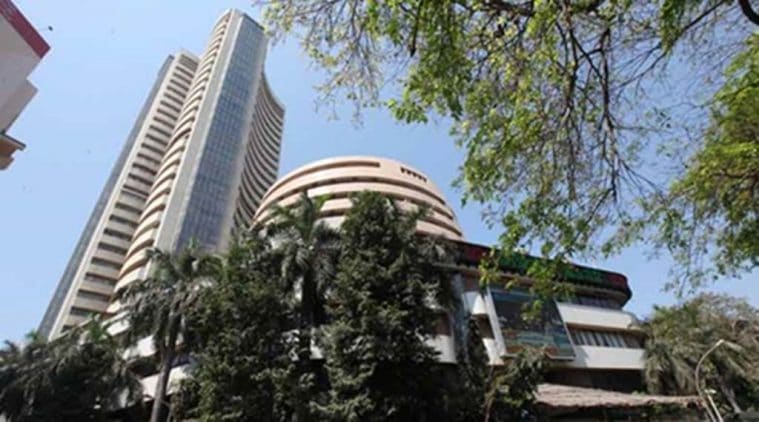 Weather forecast for interior parts of the country
The NDMA says that thunderstorms accompanied with gusty winds and lightning very likely today at isolated places over Uttarakhand, Himachal Pradesh, Punjab, Haryana, Chandigarh and Delhi-NCR, east Rajasthan, Madhya Pradesh, Jharkhand, Chhattisgarh and Uttar Pradesh.
Sea conditions likely to be very rough
Weather conditions out at sea are likely to be very rough over wast central, west central and southwest Arabian Sea, Odisha and West Bengal Coasts and North Bay of Bengal. Fishermen are advised not to venture into these areas, the NDMA says.
Squally winds likely over coastal regions
The IMD has announced that squally winds with speed reaching up to 45-50 kmph and gusts up to 60 kmph are very likely today along and off the coasts of Kerala, Karnataka, Maharastra, as well as Andaman & Nicobar Islands and over Odisha, West Bengal coasts and North Bay of Bengal. Below is picture of a fisherman at the Puthuvypin beach in Cochin as monsoon clouds rushed to the coast of Kerala last Wednesday. (Express photo by Nirmal Harindran)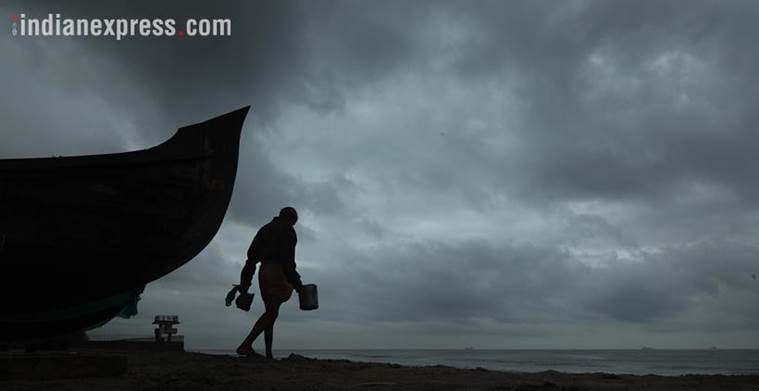 Mumbai: Amid rain woes, BMC under fire for waterlogging, open manholes
Mumbai residents raised questions on the lack of preparedness of the Brihanamumbai Municipal Corporation (BMC) during Saturday's heavy rains. Many parts of the Maximum City were waterlogged on Saturday as mid to heavy showers lashed the city. Mumbai witnessed traffic snarls, train delays and open manhole covers, among other issues. Heavy rains in Mumbai are an annual affair. The city witnesses waterlogging and flooding every year. Pre-monsoon showers had been predicted by the IMD well in advance for this weekend. In 2017, a prominent gastroenterologist Dr Deepak Amrapurkar died after falling into an open manhole near Elphinstone while walking along a flooded street during torrential rain in Mumbai.
Below is a scene during yesterday's showers in Mumbai where traffic was halted at the end of a flyover due to a waterlogged road ahead.
Express Photo by Nirmal Harindran.
'Very heavy rainfall' over Coastal Karnataka
The IMD predicts that from June 10 to 12 (Sunday to Tuesday), isolated to very heavy rainfall could occur in Coastal Karnataka.
Express Photo by Pradip Das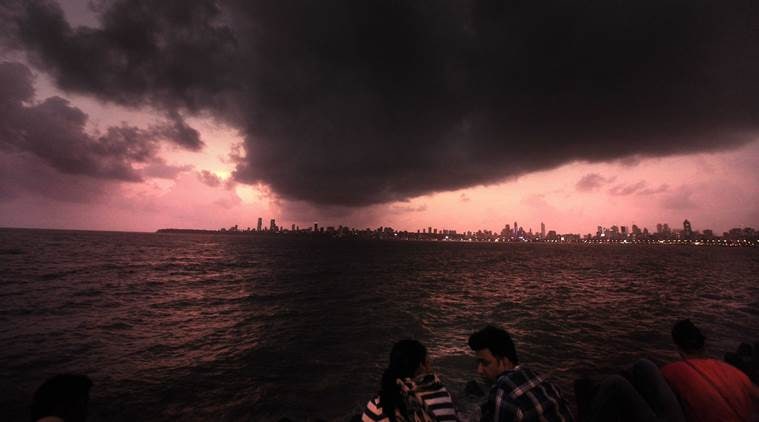 NDMA issues advisory
The National Disaster Management Authority (NDMA) has issued multiple advisories for people to combat rains, floods, thunder and other natural disasters common during monsoons, such as this one:
June 9, 2018
Delhi temperature five degrees below normal today
Delhi woke up to a pleasant morning on Sunday with a minimum temperature of 23.4 degrees Celsius, which is five degrees below normal. The IMD predicts very light rains or drizzle for this evening in Delhi.
IMD's advisory to Fishermen:
The weather department has advised fishermen not to venture out into the sea off the Konkan and Goan coast till June 12 as the weather at sea is predicted to be rough.
See photos of Mumbai rains yesterday
See images here | Waterlogging in several parts of Mumbai as monsoon arrives in Maximum city
(Express Photos by Nirmal Harindran)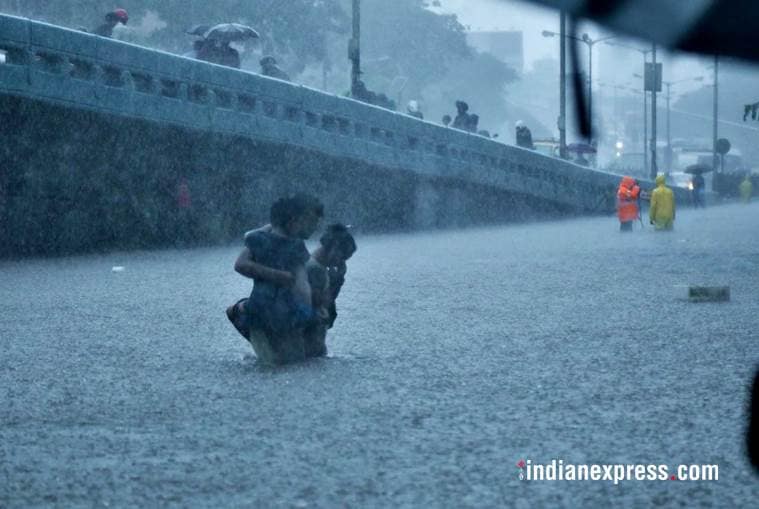 WATCH VIDEO:
Here is a glimpse of how severe yesterday's dust storm was in Delhi:
Massive dust storm, strong winds hit Delhi NCR pic.twitter.com/sc2dFxP7N5

— The Indian Express (@IndianExpress) June 9, 2018
Pleasant weather expected in Delhi tomorrow and day after
The weatherman says that the maximum temperature today will most likely be close to 39 degrees Celsius while the minimum temperature will be around 32 degrees Celsius. The Met Department has also said that the sky will likely remain cloudy on Monday and Tuesday.
Dust storm in Delhi today on the cards
The India Meteorological Department (IMD) has predicted that New Delhi will be hit by a dust storm accompanied by light rain today as well, which is expected to bring down the temperature.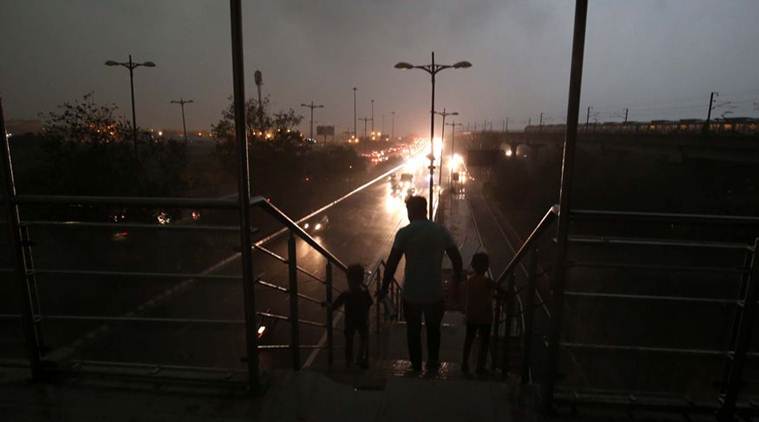 Delhi's worst storm this season
Delhi-NCR and its adjoining areas experienced the season's sixth and the worst storm yesterday with wind speed reaching up 98 kmph followed by light rain. The sudden dust storm affected visibility in New Delhi leading to as many as 29 flights being diverted. Metro services were also affected.
(Express photo by Amit Mehra)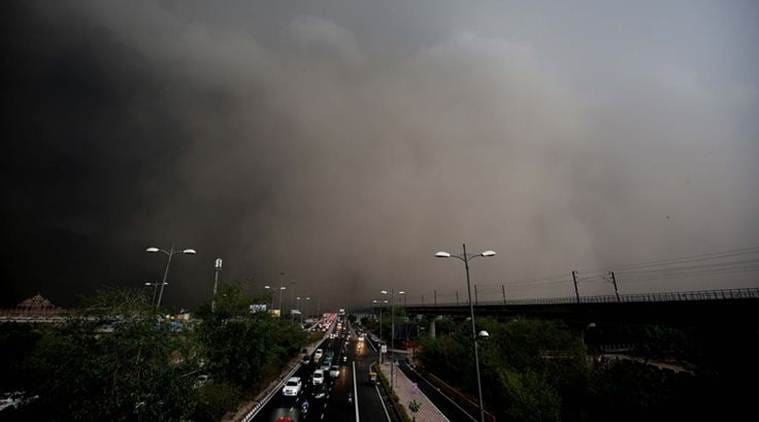 Hello. Welcome to our LIVE blog. The weatherman says conditions are turning favourable for further advancement of the southwest monsoon into many parts of the country such as Chhattisgarh, Odisha, Sikkim, West Bengal, among others. Follow our LIVE Blog for latest weather updates.