The Election Commission (EC) is struggling to meet the deadline it committed to Supreme Court for procuring 16 lakh voter-verifiable paper audit trail (VVPAT) machines for the Lok Sabha elections due next year, according to official records accessed by The Indian Express under the Right to Information (RTI) Act.
On April 24, 2017, the EC filed an affidavit in the Supreme Court, promising to introduce VVPATs in all polling stations for the 2019 general elections. It also committed that the two manufacturing PSUs — Bharat Electronics Limited (BEL) in Bengaluru and Electronics Corporation of India Limited (ECIL) in Hyderabad — will deliver the requisite paper trail machines by September 2018.
As on June 19 this year, almost 14 months after the EC placed orders for 16.15 lakh VVPATs with BEL and ECIL, the poll panel had received 3.48 lakh units — in other words, meeting only 22 per cent of the target three months before the deadline.
ALSO READ | Govt said buy VVPATs from private sector, Election Commission said no, will hurt public faith
This has a direct bearing on the debate and speculation over early general elections. Given the current shortfall in the VVPAT numbers, any move to advance Lok Sabha polls will have to deal with logistical challenges.
A VVPAT produces a printout of the vote cast using an Electronic Voting Machine (EVM), which can be shown to the voter to dispel doubts. This printout is then deposited in a box and can be used to resolve any dispute regarding the poll results.
READ | What is VVPAT? How does it work?
The introduction of the paper trail system is crucial for the EC to maintain public faith in EVMs whose accuracy, lately, has been questioned by Opposition parties, especially after the results of the Uttar Pradesh assembly polls last year. To allay fears, the EC had covered all polling stations with VVPATs for Himachal Pradesh, Gujarat and Karnataka assembly elections and mandatorily tallied all paper trail slips of one polling station in each seat.
To replicate this model for the entire country in 2019, the EC needs to deploy 16.35 lakh Control Units (CUs), 22.37 lakh Ballot Units (BUs) and 16.35 lakh VVPATs. One CU and one BU together make an EVM.
After taking its current stock into account, the EC had ordered 13.95 lakh BUs, 9.3 lakh CUs and 16.15 lakh VVPATs from BEL and ECIL last year. The quantities were divided equally between the two PSUs, which had promised to wrap up delivery by September 2018.
The EC's insistence on the September 2018 deadline is based on the ground that the new EVMs and VVPATs are of a new make called M3 which has features different from the existing models and, hence, the entire election staff will have to be adequately trained on their usage. Moreover, the first-level check on all these machines, to determine their proper functioning, will need a lead time of about six months.
"It is, therefore, imperative that all the newly manufactured EVMs and VVPATs by BEL and ECIL are delivered to the district warehouses, latest by September 2018 and there is no scope for any extension or delay in this deadline," states a file noting dated September 14, 2017.
Until June 19 this year, the EC had received 42 per cent (5.8 lakh units) of the BUs, 43 per cent (4 lakh units) of the CUs and 22 per cent (3.48 lakh) of the VVPAT units.
The Indian Express has learnt that since June 19, the total number of BUs and CUs received by the poll panel has increased but there hasn't been any significant improvement in VVPAT numbers.
Documents accessed under the RTI Act show that a worried EC has, time and again, expressed concern over the delay in supply, which includes the SOS sent last December to the Ministry of Defence and the Department of Atomic Energy — the parent ministries of BEL and ECIL respectively.
Alarm bells first went off in the EC about ten months ago, when the poll panel realised, especially after its review meeting with manufacturers in the first week of September 2017, that ECIL was in no position to meet the production deadline. On September 19, 2017, the EC re-appropriated 50 per cent of ECIL's order of EVMs and VVPATs to BEL on grounds of inefficiency. BEL's performance is relatively better than ECIL.
"The past performance of M/s ECIL, as well as the cumulative experience of their work on the conception and finalisation of M3 design, does not inspire requisite confidence in their ability to get design approvals before December 2017 and then manufacture and deliver the huge allocation of EVMs and VVPATs by September 2018," states an official file noting, dated September 14, 2017, that proposed re-appropriation of order quantities.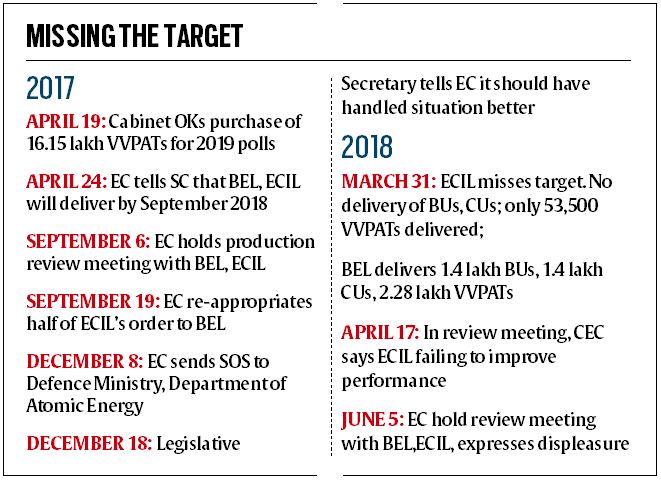 On December 8, 2017, Deputy Election Commissioner Sudeep Jain wrote to Shekhar Basu, Secretary, Department of Atomic Energy, flagging ECIL's tardy progress in delivery up to November 2017, which was just 12,000 VVPATs against the ordered quantity of 3.49 lakh BUs, 2.32 lakh CUs and 5.515 lakh VVPATs. In his SOS, Jain sought Basu's "personal intervention" in the matter to review the production and supply of EVMs and VVPATs by ECIL. A similar letter was also dispatched to the Defence Secretary on BEL's performance.
The EC's SOS drew a strong reaction from the Law Ministry as G Narayana Raju, the then Legislative Secretary, wrote to the poll panel on December 18, 2017, stating that the government had approved procurement of EVMs and VVPATs on time and that flagging the issue of delayed supply "at this juncture when the situation has reached a critical stage, does not appear to be a desirable position".
"Legislative Department is of the view that technical and other glitches should have been discussed across the table with the manufacturers and all the sticking points ironed out in time to obviate the present situation of alarm, with hardly nine months left for the deadline of September 2018," Raju said in his letter.
Despite EC's SOS, ECIL continued to miss monthly production targets, even until May this year, according to the documents accessed by The Indian Express.
Of the 92,500 BUs, 55,000 CUs and 1,68,500 VVPATs that ECIL had promised to deliver by March 31 this year, none of the BUs and CUs was furnished and only 53,500 VVPAT units were delivered. This was flagged by the EC in yet another letter dispatched to the Secretary, Department of Atomic Energy, on April 2 this year.
According to the minutes of a review meeting with the manufacturers held on April 17 this year, which was attended by Chief Election Commissioner O P Rawat, Jain had warned that the progress of ECIL continues to remain "pathetically poor" and, if significant improvement not made over two weeks, it could lead to a situation which the EC will not be able to salvage later.
Even in May, ECIL could only deliver 30,000 BUs, 10,000 CUs and 20,000 VVPATs against the total target of 1,30,000 BUs, 63,500 CUs and 1,09,000 VVPATs.