With 90,633 new cases, Covid-19 infections in India crossed the 41-lakh mark Sunday. Of the 41,13,812 cases, 8,62,320 are active infections, while 31,80,866 patients have already been discharged. As many as 1,065 deaths were reported in the past 24 hours, taking the casualties in the country to 70,626.
India has overtaken Brazil to become the country with the second-largest number of people infected with the novel coronavirus. Brazil, according to the latest figures from the World Health Organisation, has 40.41 lakh infected people. Only the United States, where more than 60 lakh people have so far been infected, is ahead of India now.
Here are some interesting stories from across the country during Unlock 4.0. 
Assam cop's medical degree comes handy in running Covid care centre
A young IPS officer is winning hearts in Assam by treating people during the coronavirus pandemic while donning the khaki uniform, thanks to his medical background. Barpeta Superintendent of Police (SP) Robin Kumar is performing the duties of a corona warrior in two roles — a police officer and a doctor — as the district is witnessing a spike in COVID-19 cases.
Kumar, a 2013 batch IPS officer, is a specialist in medicine (MBBS, MD) which has helped him respond to the call of duty and provide treatment to the needy during the ongoing medical emergency. READ MORE
Posing as Punjab cop, actor says alcohol cures Covid-19, arrested
The Ludhiana police arrested a local actor-cum-theatre artiste after a video went viral in which he can be seen dressed as a cop. In the video, the man can also be seen drinking liquor and saying that "after seeing liquor, corona runs away like a thief runs away seeing the police".
He says in the video that "alcohol is the treatment for coronavirus" which "ancestors had found long back".
Police said that an FIR was registered against the accused, identified as Kulwant Singh Dhillon, a resident of MIG flats, Sector 32, Chandigarh road of Ludhiana. He has been booked under sections 188, 269 and 171 of the IPC in an FIR registered at division number 7 police station. READ MORE
Thane: 30 of family catch virus after celebrating Ganesh festival together
Thirty members of a family have tested positive for coronavirus at Kalyan in Thane district days after they celebrated the Ganesh Chaturthi festival together, a civic official said on Saturday. Members of the family live on different floors of the same building in Joshi Baug area, the official said. They got together for Ganesh Chaturthi last month in keeping with a 60-year-old family tradition, said Pratibha Panpatil, health officer of the Kalyan Dombivali Municipal Corporation (KDMC). The festival was celebrated from August 22 to 31. "One of them was later found to have caught the infection, following which the samples of 33 family members were sent for tests. Altogether 30 persons have tested positive," she told PTI. "They have been hospitalized. All are in stable condition," the official said.
Hazrat Nizamuddin Dargah to reopen from Sep 6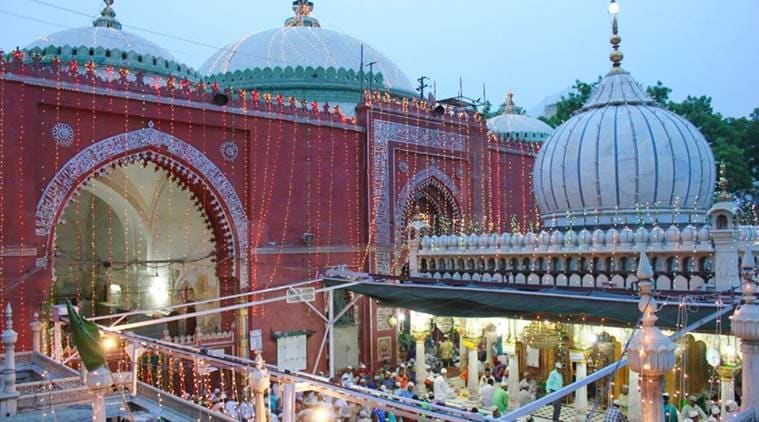 The famous Hazrat Nizamuddin Dargah here will open after over five months on Sunday, but there will be no Qawwali evenings at the shrine due to the COVID-19 pandemic, the dargah's caretakers said. Safety measures like use of sanitisers and face covers as well as social distancing will be strictly followed at the dargah of Sufi saint Hazrat Nizmuddin, which was closed in the wake of the coronavirus outbreak, they said. "We have also covered the graves of Hazarat Nizamuddin Aulia and Amir Khusro (in the dargah complex) with plastic sheets so that people do not touch them while paying obeisance, as it could lead to people getting infected with the virus," Nazim Nizami, one of the caretakers of the shrine, said. The entry and exit points of the dargah will be separate, and markings have been made on the floor to ensure social distancing by devotees, he said. "We will also deploy men at the gates of the dargah to ensure that people enter wearing face covers," Nizami said.
Craving Murthal's 'parathas', five end up in police net
Three men were arrested and two juveniles apprehended for allegedly carjacking and robbing a cab driver to fund their trip to Haryana's Murthal for its famous 'parathas' (flat bread), police said on Wednesday.  But their trip was cut short as a quarrel broke out between them on whether to take a trip to Murthal or Shimla. Finally the five of them ended up having dinner in their car after picking up food from an eatery in west Delhi's Paschim Vihar, police said.
The three men have been identified as Pankaj (19), Sagar (20) and Abhijeet (19), all residents of Nangloi in outer Delhi, from where they were arrested, police said, adding that Sagar was previously involved in two others cases.  After having their dinner, they parked the vehicle at a secluded spot in Nihal Vihar area, a police officer said.
The accused boarded the cab after it arrived at its pick-up destination on Najafgarh road in Nangloi. However, on reaching Rajdhani Park, the five started beating the driver and overpowered him. They took away his two mobile phones as well as his wallet, threw him out of the car and drove off, according to the police.
Thousands of Ganesh idols immersed amid Covid
The music has gone out of their lives, quite literally, and the band of men who made their living drumming up tunes for parties, wedding processions and sometimes funerals too are on the verge of penury, scrambling for every rupee they can manage.
Almost six months into the pandemic, those in the business of weddings bands have gone bust. With celebrations restricted to just a few people in the era of social distancing and no bookings, some like Khurshid Siddiqui are selling old clothes and others like Mohammad Ali are selling off the accouterments of the trade, such as the buggy, lights and even the mare.
Drummer Khurshid Siddiqui, who ran the 'band business' from his ancestral shop in east Delhi's Laxmi Nagar Market, told PTI that there hasn't been a single booking in months, not from weddings, celebrations such as births and not even the odd funeral of an elderly person they sometimes played for.
September 1
Scientists develop portable, point-of-care Covid-19 test
Scientists, including one of Indian-origin, have developed a prototype of a rapid Covid-19 test with a simple-to-use portable instrument to read the results with a smartphone in 30 minutes, an innovation that may enable point-of-care diagnosis without needing to send samples to a lab.
"If such a device and test were available, we could test for COVID-19 at public events, auditoriums, large gatherings and potentially even at home for self-testing. The results could be sent back to the appropriate public health system for coordination," Rashid Bashir, a professor of bioengineering at the University of Illinois, Urbana-Champaign in the US, was quoted saying by news agency PTI.
New normal
Students with face masks, shield outside a JEE entrance exam centre in Chandigarh on Tuesday. The Joint Entrance Exam (JEE)-Mains for admission to engineering colleges began on Tuesday amid stringent precautions and social distancing measures in view of the ongoing coronavirus pandemic. (Express photo: Jaipal Singh)
Punjab villages pass a resolution–No Covid patient will be taken to govt hospital
Two villages in Punjab's Moga district have passed resolutions announcing a boycott of government health teams. They have resolved to not admit any villager in government hospitals, even if he/she tests positive for the novel coronavirus, and the patient will be treated/isolated in the village itself.
The resolutions state that villagers of Lande and Wander — both located in Baghapurana sub-division of Moga — will not allow the state government's health teams/doctors to take any villager along. Even if someone tests positive, he/she will not be admitted in any government hospitals and they won't even allow testing of a person if there are no symptoms.
"There is a lot of news circulating on WhatsApp and social media that organs such as kidneys, liver are being taken out in government hospitals in the name of coronavirus treatment. Villagers are scared. Coronavirus will not kill anyone and we will treat the person in our village itself," Gurpreet Singh, sarpanch of Lande village said.
August 31
Pune Municipal Corporation to motivate cured civic staff to 'set an example' through plasma donation
In Pune, less than 1 per cent people cured of Covid-19 are coming forward to donate plasma, which is said to be crucial in saving the lives of critical patients. The PMC has thus started an awareness programme among civic staff who have recovered from the disease, so as to encourage plasma donation that will help reduce mortality rate.
"Plasma therapy has shown good results in curing critical patients. Plasma from cured patients has proven to be significant in saving lives. Only 750 cured patients, however, have donated plasma so far," said Pune Divisional Commissioner Saurabh Rao.
Rao said this did not suit the image of the city known to be progressive and leading on many fronts. "It also signifies that we are going wrong somewhere. The lack of response to plasma donation means we are falling short of motivating cured patients," he said.
Rao said there were a large number of cured patients in the civic body, so the "movement" should start here. "Seventy per cent of those who donated plasma were from the police department. If the police staff can do it, then civic staff should not be behind," he said. Rao said civic staff should set an example by donating plasma and also motivate at least 10 other cured patients.
95-year-old woman recovers from Covid in Surat
A 95-year-old woman  who recovered from Covid-19 was discharged from a Covid care centre in Surat on Sunday.
Jyotiben, wife of late Hargovindbhai Patel, a resident of Janki Park Society, was admitted to the facility at Althan community centre with high fever and breathing difficulty on August 21. She was staying with her youngest son, Vishnu Patel (70), who also tested positive for Covid-19 and was admitted to the same facility.
Doctors and nursing staff at the facility said Jyotiben responded well to medication and was discharged along with her son on Sunday.
Staff and other patients of the facility celebrated her recovery by cutting cake, distributing sweets and playing music. At her residential society, other residents welcomed her home, where she has been advised to be in quarantine for another five days.
The Indian Express website has been rated GREEN for its credibility and trustworthiness by Newsguard, a global service that rates news sources for their journalistic standards.