A day after an elderly woman from Meghalaya, wearing a traditional Khasi dress, was allegedly asked to leave the Delhi Golf Club, the club officials have described the incident as "unfortunate". "It is unfortunate that an undesirable attempt is being made to give the incident political and cultural overtones," the club said in an official statement. The statement from the club added that they have investigated and sought an explanation from the staff over the incident. "We have sought an explanation from the staff and a disciplinary action is in process," they said. The official also added that they have apologised to the member who brought the guest along with her. "An apology has been made to the member who had brought the guest. This has been unconditionally accepted," the statement said. Clarifying that they had not asked the guests to leave, the statement said, "It has emerged that the incident could have been handled in a much better way by the staff member. It was also confirmed that the guests were not asked to leave the club premises."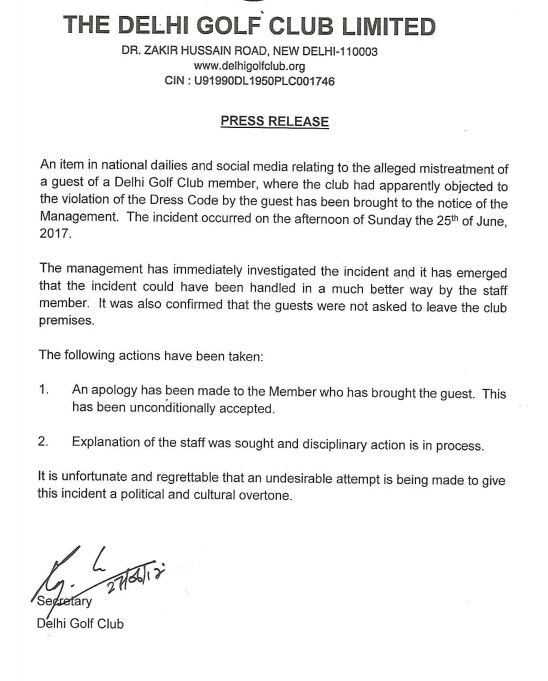 The incident occurred on Monday when Tailin Lyngdoh, a governess to Nividita Barthakur, Health Advisor in Assam government, was allegedly asked to leave because of her attire. "They told me, 'Leave the dining hall, maids are not allowed.' They were very rude. I felt ashamed and angry. I was wearing the traditional Khasi dress — Jainsem — and they told me this dress was not allowed," Tailin told reporters. "I have been to the biggest restaurants and clubs in London, Abu Dhabi and Dubai. But before yesterday, no one had asked me to leave their premises," she added. Read | Khasi woman says told to leave Delhi Golf Club over attire Click Here
According to Barthakur, she, along with Tailin, were invited for lunch at the club. The host booked a table for nine people, which included Tailin. She was seated with us and not separately on another table or in a corner. We had just ordered our drinks when two employees of the club walked up to our table and told Tailin that she would have to leave the dining room as maids were not allowed inside," Barthakur said. The health advisor also alleged that the club staff told her she looks "Nepali" and her attire looks like that of a maid. "We argued with them, telling them she was the guest of a member, but the insults did not stop," she alleged.
📣 The Indian Express is now on Telegram. Click here to join our channel (@indianexpress) and stay updated with the latest headlines
For all the latest India News, download Indian Express App.