Train 18 Launch LIVE Updates: Prime Minister Narendra Modi flagged off country's first engineless train, Train 18 or Vande Bharat Express, at New Delhi Railway Station on Friday. In light of the Pulwama terror attack that killed at least 37 CRPF personnel, the events accompanying the flag-off were curtailed.
Railway Minister Piyush Goyal and members of the Railway Board were present on the occasion and will be on board the train on its inaugural journey. The maiden run will cover the distance in nine hours and 45 minutes, which includes stoppage of about 40 minutes each at Kanpur and Allahabad railway stations.
Built at a cost of about Rs 97 crore, Train 18 is India's first seating-only, long distance trainset that runs without a locomotive. Manufactured by ICF Chennai, Train 18 recently became India's fastest train by hitting speeds of over 180 kmph during a trial run on a section of the Delhi-Rajdhani route. In its commercial run, the train will run at 130kmph.
Live Blog
Train 18 Launch LIVE: PM Modi flags off Vande Bharat Express at New Delhi Railway station.
Train 18 hits speed of 130 kmph in maiden run
Grateful to engineers behind Vande Bharat Express: PM Modi
The PM while inspecting Vande Bharat Express said that he was proud of such a train that had been produced indigenously at the Integral Coach Factory, Chennai in 18 months. "I am grateful to designers and engineers behind Vande Bharat Express which will take its first trip from Delhi to Varanasi today. With our sincerity and hard work in the last 4.5 years we have tried to improve railways," the PM said.
Train 18 has automatic doors, on-board hotspot WiFi and many more swanky features
All coaches are equipped with automatic doors, GPS-based audio-visual passenger information system, onboard hotspot WiFi for entertainment purposes and very comfortable seating. All toilets are the bio-vacuum type. The lighting is dual mode, that is diffused for general illumination and personal for every seat, reported news agency PTI. Every coach also has a pantry facility to serve hot meals along with hot and cold beverages. The insulation is meant to keep heat and noise to very low levels for additional passenger comfort.
Bookings start for Vande Bharat Express
The bookings for the train have begun and it will run commercially from February 17 from Delhi to Varanasi five days a week.
Total target of semi high-speed trains increases to 130 from 30
PM Modi has revised the total target of semi high-speed trainsets to 130 from the present 30, said Piyush Goyal.
20,000 tickets can be booked in a minute on the railway website: PM Modi
Rail projects are now sanctioned in a maximum of six months, said Modi at the inaugural. He also added that under the NDA government railways has been transformed in terms of project execution, speed upgrade, customer service and amenities.
100 more trains like Train 18 to run across India: Piyush Goyal
PM Modi has given permission to make 100 more trainsets like Train 18 to run across India in semi-high speed. 30 more trainsets tendering process has already been approved, said Railway Minister Piyush Goyal on board Vande Bharat Express.
Train 18 passes Sahibabad Railway Station in Uttar Pradesh
Train 18 is an example of our hard work: PM Modi
We have worked hard to change the face of Indian Railways and Train 18 is an example of it, said PM Modi at the launch event.
Visuals from Train 18 flag off at New Delhi Railway Station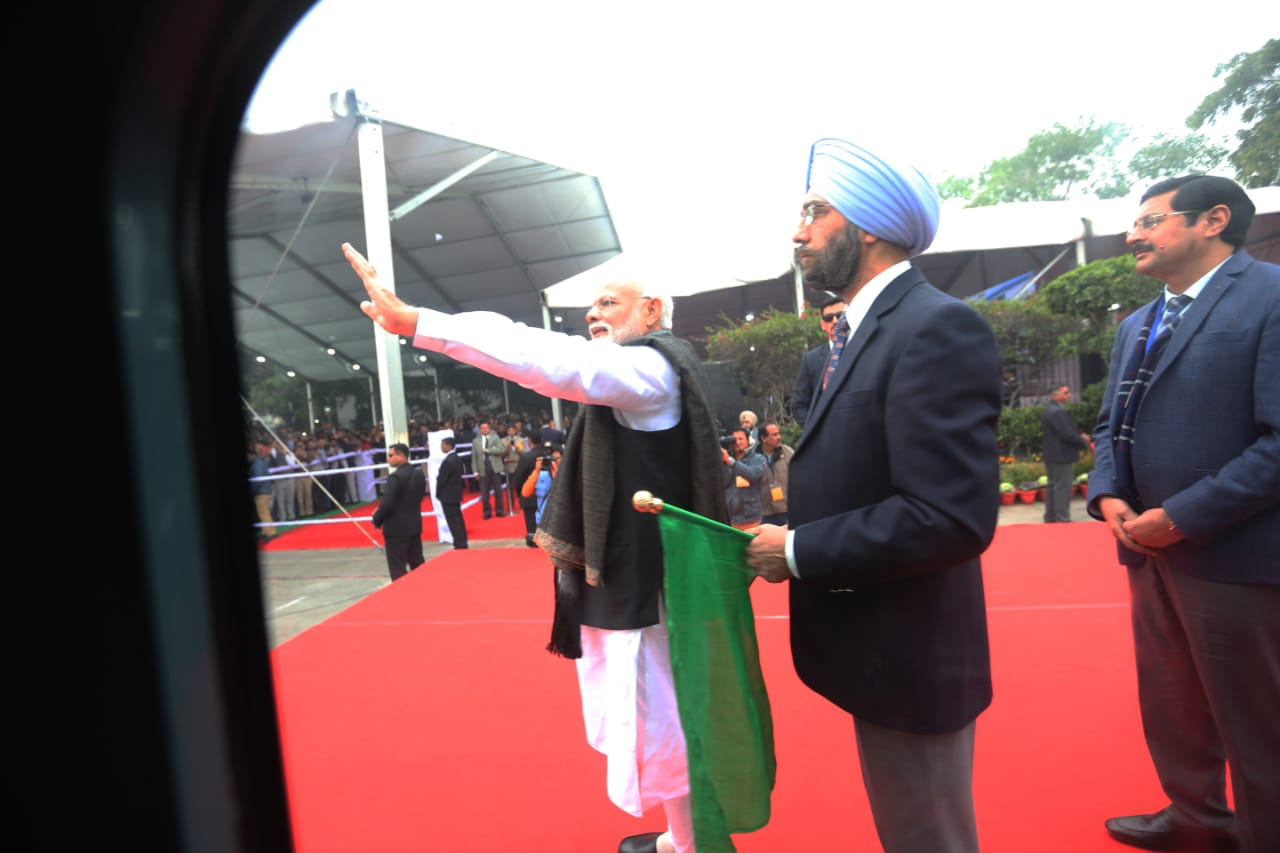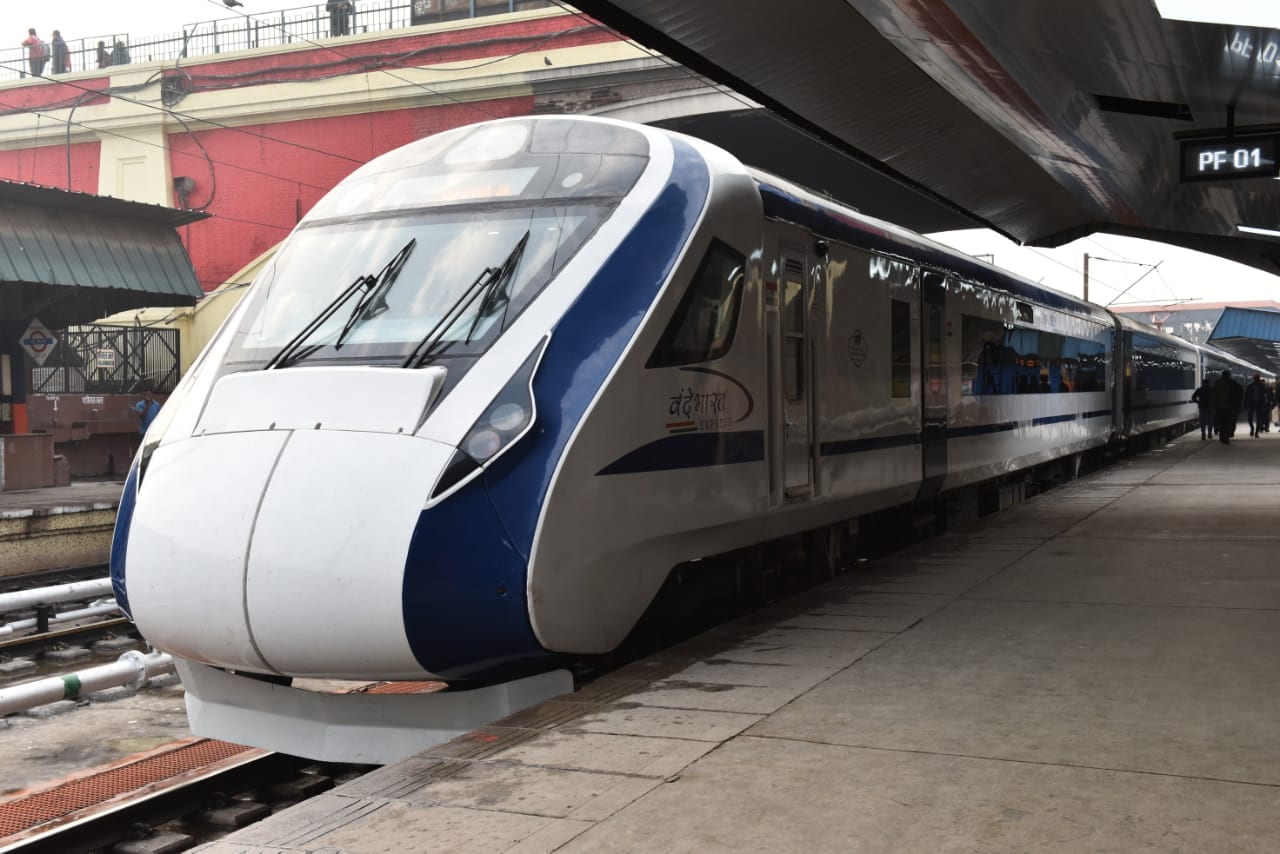 Pulwama Attack: PM Modi observes two-minutes silence at the launch of Train 18
Have reduced approval time for new rail projects to six months: PM Modi
PM Modi said that Indian Railways has recruited more than 1 lakh people in the past four years and this number will reach 2.5 lakh by the end of this year.
WATCH: Watch PM Modi's address here
Train 18 Launch: PM Modi and Railway Minister Piyush Goyal inspect Vande Bharat Express
Captain of Train 18 inaugural journey is from Delhi Division Northern Railway
PM Modi on Pulwama attack at Train 18 launch event
Pulwama attack: I pay tribute to soldiers who lost their lives in PulwamaAttack. Our security forces have been given full freedom. We have full faith in their bravery, Prime Minister Narendra Modi said.
PM Modi at launch of Vande Bharat Express
I am thankful to all nations which condemned Pulwama attack and urge them to come together to crush terrorism: PM Modi.
PM Modi on Vande Bharat Express
"The whole nation will benefit from Train 18. Accidents have also reduced, electrification has also doubled in the past few years." said PM Modi at the launch of Train 18 at New Delhi Railway Station.
Train 18 Launch: Vande Bharat Express is ready for maiden run