Thunderstorm alert LIVE UPDATES: Several parts of north India are likely to witness thunderstorm, accompanied by gusty winds and moderate squall on Tuesday. Wind speed is expected to vary between 50 and 70 km per hour, according to the India Meteorological Department (IMD). IMD issued an alert on Monday saying "under the influence of a western disturbance, a cyclonic circulation over Haryana and a west-east tough from northwest Rajasthan to central Madhya Pradesh in lower levels" will bring light to moderate rainfall in north India. The prediction comes a week after a deadly thunderstorm killed at least 124 people and injured more than 300 in Uttar Pradesh and Rajasthan. In the next 48 hours, parts of Jammu and Kashmir, Himachal Pradesh, Uttarakhand, Punjab, Haryana, Chandigarh and Delhi and western Uttar Pradesh are expected to witness heavy to moderate rainfall. The wind speed of 50-70 kilometers per hour has been predicted. Also READ | North India could witness thunderstorm, gusty wind | Also Read | Thunderstorm alert: What Delhi should know and prepare for
Live Blog
India Meteorological Department predicts thunderstorm, gusty wind over parts of North India today. Follow LIVE UPDATES below
Four injured after wall collapsed in Badarpur area of south east Delhi
The parapet of a building collapsed in Badarpur area of south east Delhi on Tuesday night, injuring three children and a woman. A Delhi Fire service official told PTI that the incident took place apparently due to high-speed winds.
IMD predicts thunderstorm in Bhiwani, Rohtak, Bagpat, Panipat, Meerut, Muzaffarnagar, Bijnor
Thunderstorm with rain and gusty winds would occur over and adjoining areas of most parts of Delhi and NCR including Bhiwani, Rohtak, Bagpat, Panipat, Meerut, Muzaffarnagar, Bijnor in the next two hours: IMD
Rainfall in Fatehabad in Haryana
Search and rescue teams put on standby in Delhi
Delhi government had put search and rescue teams on standby in the wake of the weatherman issuing a warning of heavy rain and thunderstorm. The traffic police has alerted their field formations to be ready to remove obstacles such as fallen trees and asked commuters to check weather conditions before travelling.
IMD says Uttarakhand to witness thunderstorms in next 24 hours
According to IMD, Uttarakhand will continue to experience thunderstorms in the next 24 hours.
IMD predicts thunderstorm with rain over NCR including Hisar, Jind, Kaithal
Thunderstorm with rain and strong winds would occur over NCR including Hisar, Kaithal, Jind, Kurukshetra, Karnal during next two hours: IMD
Heavy rains, thunderstorm likely in Delhi tonight
Heavy rains and thunderstorm are likely to hit the national capital tonight, according to the MeT department. The maximum temperature was recorded at 34.7 degrees Celsius today, four notches below normal while the minimum settled at 22 degrees Celsius, norm l for this time of the year, a MeT official said.
The humidity levels oscillated between 54 and 28 per cent.
Thunderstorms on May 2-3 killed at least 134 people, says MHA
Thunderstorms and lightning on May 2-3 killed at least 134 people and injured more than 400 in five states, including the hardest-hit Uttar Pradesh, the Home Ministry said today. The highest 80 people were killed in Uttar Pradesh and nearly 100 others were injured in the state. A majority of the deaths and injuries were reported from the Agra region, a home ministry spokesperson said, giving the latest figures.
Heavy rain lashes Chandigarh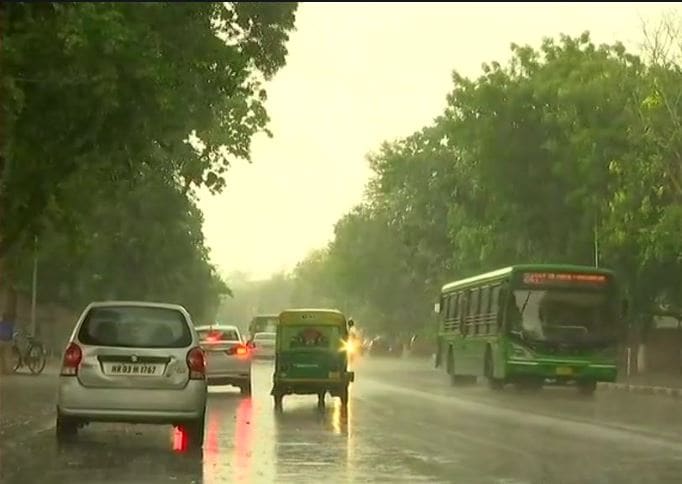 (Source: ANI)
People walk on Mall Road in Shimla after hailstorm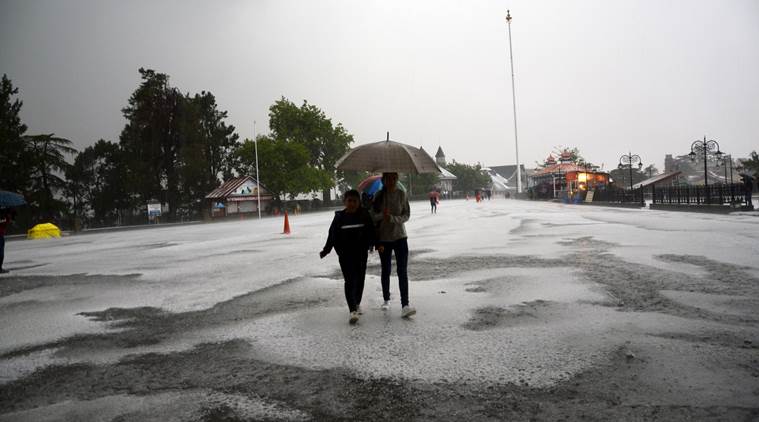 (Express photo by Pradeep Kumar)
Photos from Shimla hailstorm
(Express photo by Pradeep Kumar)
Shima faced severe hailstorm and snow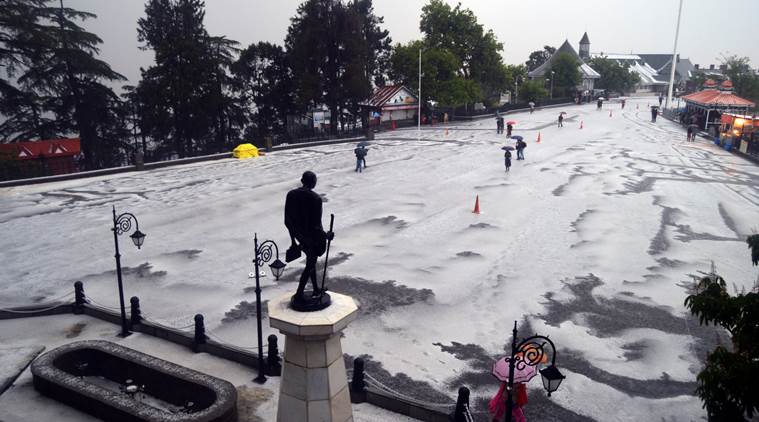 Express photo by Pradeep Kumar
Hailstorm in Shimla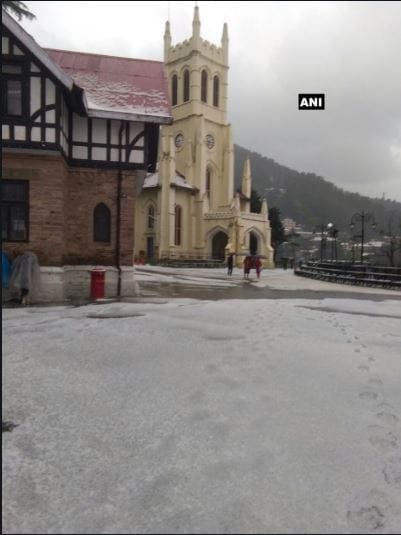 (Source: ANI)
Visuals from Shima following heavy hailstorm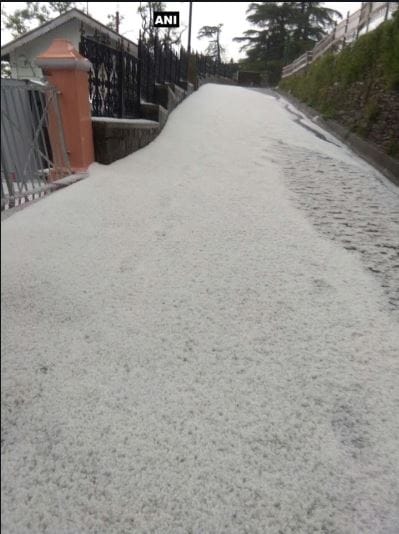 (Source: ANI)
Thunderstorm alert issued for Uttarkashi
Thunderstorm and hailstorm alert issued for Uttarkashi, Chamoli, Rudraprayag, Pithoragarh districts for the next few hours.
The meteorological department has warned that thunderstorm accompanied with squall and wind speed of 50-70 km/hour may hit isolated places in Sikar, Ajmer, Nagaur, Jaipur, Dausa, Alwar and Tonk districts from 9 am–11 am today.
The weather office has forecast dust storm, thunderstorm or light rains in 26 out of 33 districts of Rajasthan today.
Heavy winds hit Ajmer and some areas of Jaipur this morning while a dust storm hit Bikaner and nearby region last night.
Gusty winds swept parts of Rajasthan overnight and this morning, affecting normal life, weather officials said. No casualties have been reported so far.
Adverse weather: Himachal advises against travelling to higher reaches
An advisory was issued to avoid travelling to the high hills of Kullu, Sirmaur, Chamba, Lahaul and Spiti and Kinnaur districts as chances of snow and rain are high over the next 24 hours, IANS quoted a government spokesperson as saying on Tuesday morning. Kullu Deputy Commissioner Yunus Khan told IANS that tourists and locals bound for the Rohtang Pass, some 52 km from Manali, were not allowed to go beyond Marhi, due to continuous snowfall that has resulted in snapping of road links leading to the pass.
Meanwhile, the Himachal Pradesh government on Tuesday advised locals and tourists not to travel towards the higher reaches as moderate snowfall and rains continued across the state.
Monday's maximum temperature in Delhi was recorded at 39.6 degrees, while the minimum temperature settled at 24 degrees.
"The day ahead will be cloudy. Rain and thunderstorm accompanied with squall is likely to occur later in the day," an India Meteorological Department (IMD) official said.
Delhi temperature today
The minimum temperature was recorded at 25.8 degrees Celsius and the maximum temperature was likely to hover around 41 degrees Celsius. The humidity at 8.30 a.m. was 58 per cent.
Cloudy sky in Delhi, rain, thunderstorm likely
The national capital woke up to a cloudy morning on Tuesday with predictions of rain and thunderstorm, a Met official said.
More thunderstorms likely to hit India till May 11
The weather office also warned that thunderstorms, squalls and gusty winds are likely to hit many parts of India, including Delhi, till Friday even as the mountains of Himachal Pradesh received fresh snowfall.
In a weather warning bulletin, the India Meteorological Department (IMD) said the states likely to be affected by thunderstorms and gusty winds are Uttar Pradesh, Bihar, West Bengal, Sikkim, Odisha, Assam, Meghalaya, Nagaland, Manipur, Mizoram, Tripura, Karnataka and Kerala.
Ghaziabad schools, colleges closed on Tuesday
All the public and private schools in Ghaziabad will remain closed on Tuesday in view of the adverse weather expected, it was announced on Monday. In an order, District Magistrate Ritu Maheswari said that in view of the forecast for a thunderstorm on Tuesday, private and government schools and colleges shall remain closed.
Agra on 48-hour weather alert till Wednesday
Strong surface winds followed by hail storm turned the weather in Uttar Pradesh's Agra on Monday prompting an alert from the Met office for the next 48 hours till Wednesday. District Magistrate Gaurav Dayal issued a detailed advisory with "Dos and Don'ts", gearing up for another deadly storm as the Met warned of high-velocity winds and heavy showers in the region.
'Chances of severe Dust storm over Delhi-NCR decreased'
"Chances of severe Dust storm over Delhi and NCR have decreased. We expect one or two spells during afternoon and evening. Winds will be 50 to 60 Kmph gusting to 70 Kmph," said Mahesh Palawat, Vice President, Weather and Climate Change, Skymet Weather.
Chances of severe #Dust storm over #Delhi and NCR have decreased. We expect one or two spells during afternoon and evening. Winds will be 50 to 60 Kmph gusting to 70 Kmph. @SkymetWeather @delhirain

— Mahesh Palawat (@Mpalawat) May 8, 2018
Meanwhile, Badrinath received fresh snowfall this morning, 2 inches of snow covers the area. Hemkund received fresh snowfall too. Badrinath Yatra underway.
The commuters have been advised to take shelter under concrete structures. Drivers have been advised to use dippers or parking lights while driving. The advisory says that commuters should "keep themselves updated about weather conditions and plan their journey accordingly".
The revenue department of the Delhi government has issued directions to all district officers and said water and power utilities would also keep restoration teams ready.
What is a dust storm?
A dust storm is a strong, turbulent wind that carries clouds of fine dust, soil, and sand over a large stretch, which mainly occurs in arid and semi-arid regions. In case of a dust storm, due to excessive heating, the water from the clouds evaporates before it could land. So soil is dry and the severe winds lift this soil up to 500 metres above the land. While wind speed is normally around 50 kmph in a thunderstorm, in case of dust storm, it reaches up to 100 kmph and in some cases it can touch 130 kmph, making conditions severe.
Kamal Kishore said the NDMA had prepared videos on precautions to be taken during lightning. These videos were in English and Hindi and could be translated into local languages. There are some other videos too!
National Disaster Management Authority (NDMA) member Kamal Kishore said there is a need to "vigorously" push for creating awareness among people. "The NDMA provides normative guidance than needs to be then adapted to the local context," he said.