By Ananthakrishnan G, Liz Mathew, Ravish Tiwari & Seema Chishti
Five days into an unprecedented crisis after four senior judges of the Supreme Court questioned his conduct, Chief Justice of India Dipak Misra met them Tuesday to try and end the chill. But the brief talks, The Indian Express has learnt, did not make much headway and they decided to meet again Wednesday.
Sources said the four judges — Justices J Chelameswar, Ranjan Gogoi, Madan B Lokur and Kurian Joseph — felt the CJI had "nothing to offer", at least for now. But another source expressed optimism about the talks slated for Wednesday: "Hopefully, something will turn out at tomorrow's meeting."
Sources said three other judges — Justices A K Sikri, A M Khanwilkar and D Y Chandrachud — took the initiative to bring the CJI and the four judges together for talks. These three judges, who are on the Constitution Bench that is scheduled to hear eight important cases, remained present throughout the meeting, sources said.
Also Read: Four judges who criticised CJI Dipak Misra not on Bench that will hear 7 key matters
The CJI, sources said, agreed to meet his colleagues at the urging of these three judges "so as to not appear intractable" and to also "assess the seriousness of intent" of the four judges who had written a letter to him, listing their concerns.
Last Friday, Justices Chelameswar, Gogoi, Lokur and Joseph called a press conference to question the conduct of the CJI, especially on allocation of cases. They also made public the letter they had written to the CJI two months ago.
On Monday, the Supreme Court put out a notice announcing that a Constitution Bench — it did not include the four judges — would be hearing eight important cases.
On Tuesday, the CJI, sources said, told the four judges "let us do something for the institution". But after the meeting, the four judges, sources said, felt the CJI had made "no offer to do something on the substantive issues raised in the letter".
Express Explained | How the complaint by four SC judges goes beyond the judicial sphere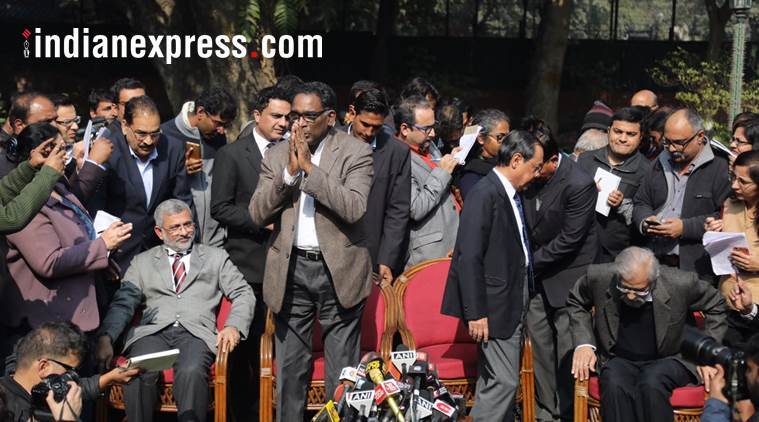 A day earlier, when the judges met over tea as they do every morning before the start of proceedings, the CJI, sources said, showed "no sign of any willingness to address the issues" raised by the four judges at the press conference. The senior judges then decided to push their case.
They were due to meet again Tuesday night following the meeting with the CJI earlier in the day. "It depends what happens tonight," sources said, adding that the judges were meeting to chart the next course of action and mount pressure, if needed, for redressal of their grievances.
The senior judges, the source said, appeared concerned that "there was an attempt to paint them in poor light". They had earlier indicated that the CJI convene a full court to discuss the issues they had raised in the letter they made public last Friday.