Rural labourers in Gujarat and Madhya Pradesh (MP) receive just around three-fourths of the corresponding national average wage rate levels, despite the impressive growth performance of their farm sectors during the past decade. The average daily wage rate for rural male labourers across 25 occupations worked out to Rs 309.95 at an all-India level, according to the latest Labour Bureau data for October 2017. The corresponding rates for Gujarat and MP were way below at Rs 250.1 and 223.79, respectively, with even the likes of Bihar, Uttar Pradesh and Rajasthan ranking higher.
The relatively low rural wage levels in Gujarat and MP might seem surprising, given that agriculture growth during the decade from 2004-05 to 2013-14 averaged 7.3 per cent a year for the former and 8 per cent for the latter. The national average, by contrast, was only 3.7 per cent per annum.
One explanation for the apparent paradox — the divergence between farm sector growth and wage levels — may have to do with the community profile of rural labourers. National Sample Survey data for 2012-13 shows Adivasis or Scheduled Tribes to account for 24.66 per cent of rural households in Gujarat. The ratio is even higher for MP (31.35 per cent), while a mere 11.91 per cent at the all-India level. The share of Adivasis would be all the more among landless rural labourers. That, and the fact of these communities historically having lower bargaining power, could be a reason for rural wages in Gujarat and MP being below the national average.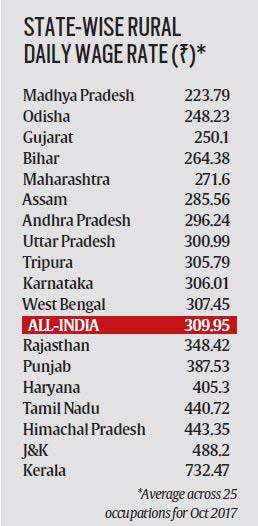 But an equally, if not more, significant factor may be linked to general labour mobility. The average Bihari or East Uttar Pradesh rural labourer is more likely to migrate to distant states in search of work. His Gujarat or MP counterpart, on the other hand, is more inclined to find employment within their state.
"A cotton picker in Surendranagar might go to work at a diamond polishing unit in Bhavnagar, but rarely would he venture outside the state. When migration is limited to within the state or even the adjoining district, the expenses towards housing and travelling back home every year are much less. The minimum acceptable reservation wage for such a worker would, then, be lower than for the migrant labourer from Bihar," notes Ashok Gulati, Infosys Chair Professor for Agriculture at the Indian Council for Research on International Economic Relations.