TN (Tamil Nadu) Election Results 2019: In a turn of the tide, the DMK has defeated the AIADMK in Tamil Nadu winning 23 of the state's 39 Lok Sabha seats. Among its allies, the Congress won eight seats, the CPI and CPI(M) two each and the IUML one. The ruling AIADMK, which had sent 37 MPs to the Lok Sabha in 2014, managed to bag only one seat. Its ally Viduthalai Chiruthaigal Katchi won one seat.
However, in a relief for the AIADMK, it has put up a good show in the bypoll elections to ensure it remains in power in the state. It won nine of the 22 bypolls while DMK won 13.
The stakes were high in Tamil Nadu, where the AIADMK and DMK parties were facing their first election without veteran leaders J Jayalalithaa and M Karunanidhi. For the AIADMK, the bypoll results were key to send a message of stability. For the DMK, this is the first election under the leadership of M K Stalin. The results today help set a new course for the party after Karunanidhi's death.
EXPRESS DATA | Election results dashboard
Live Blog
Tamil Nadu Election Results Highlights: Stakes were high for AIADMK and DMK as results of the Lok Sabha elections and bypolls to 22 seats were declared today. Read news in Tamil.
Kanimozhi wins by a margin of 3.47 lakh votes
DMK leader Kanimozhi, daughter of the late party patriarch M Karunadhi won the Thoothukudi Lok Sabha constituency by defeating her BJP rival by more than three lakh votes. Kanimozhi trounced BJP leader and Tamil Nadu unit President Tamilisai Soundararajan by a margin of 3.47 lakh votes. (PTI)
DMK on course to win atleast 23 of 39 seats in Tamil Nadu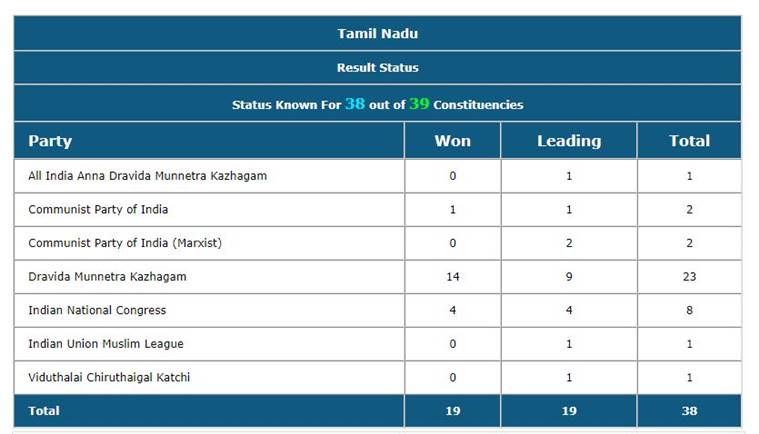 Tamil Nadu bypoll results: DMK wins 6 seats, AIADMK wins in 3
The DMK continues to reign the Tamil Nadu polls as the Stalin-led party has won 6 seats in the Assembly bypolls so far and is leading on 7 others. AIADMK, on the other hand, has won 3 seats and is leading on six others. 22 bypolls seats went to poll along with the parliamentary constituencies.
Superstar Rajinikant greets Stalin on thumping victory in LS polls
Top Tamil actor Rajinikanth Thursday congratulated DMK chief M K Stalin whose party is on course for a massive victory in the Lok Sabha election.
"I extend my hearty congratulations to DMK president M K Stalin for the party's grand victory in the Parliamentary polls," he tweeted.
(PTI)
Bypoll trends show people reposed faith in AIADMK
Unfazed by the electoral drubbing received at the hands of arch rival DMK in the Lok Sabha polls,the ruling AIADMK in Tamil Nadu Thursday said the trends in the bypolls showed people had reposed faith in the party.
AIADMK Coordinator O Panneerselvam and Joint Coordinator K Palaniswami hailed the massive mandate earned by BJP at the Centre, saying the voters had recognised Prime Minister Narendra Modi's rule, marked by "patriotism and public service."
They also said the bypoll 'results', apparently the trends where the party was leading in nine of the 22 seats, showed "only the AIADMK is qualified to rule the state."
(PTI)
DMK sweeps Chennai Lok Sabha seats
The DMK swept the three Lok Sabha seats in Chennai comfortably as the results to the Lok Sabha elections were announced Thursday. Here are the winners:
Chennai central - Dayanidhi Maran (DMK)
Chennai North - Dr Kalanidhi Veeraswamy (DMK)
Chennai South - Thamizhachi Thangapandian (DMK)
Tamil Nadu bypoll results: DMK wins 3 seats, ahead in 10
The DMK has won 3 Assembly seats and is ahead on 10 others in the Tamil Nadu bypoll results announced today. The AIADMK too has won 3 seats so far and is leading on 6 others.
Karti P chidambaram wins Sivaganga constituecy
Congress's Karti P chidambaram has won from Sivaganga constituecy defeating H Raja of BJP.
DMK wins in 3 more seats-- Erode, Nilgiri and Tiruvannamalai
In erode, Ganeshamurthi A of DMK defeated AIADMK's Manimaran G by 210618 votes.
Raja A of DMK has won from Nilgiris constituency.
DMK's Annadurai CN in Tiruvannamalai defeated Agri Krishnamurthy SS from AIADMK
DMK's Poondi Kalaivanan wins Thiruvarur bypoll
DMK's Thiruvarur bypoll candidate Poondi Kalaivanan has won the elections by a vote difference of 62,288. This constituency became vacant following the death of DMK patriarch Kalaignar Karunanidhi in 2018.
M K Stalin dedicates Tamil Nadu Lok Sabha, Assembly bypoll win to Karunanidhi
DMK chief M K Stalin addresses the press in Chennai. He says, "The official results are yet to come. But in the Lok Sabha and by-poll elections, we have won by a great margin. I thank the people of Tamil Nadu and DMK's cadre who worked hard to make this victory possible. I was worried, because this is the first election we are facing without our beloved leader Kalaignar. Before the results, I took a pledge that If we win in these elections, I will dedicate that victory to our leader and it has come true today."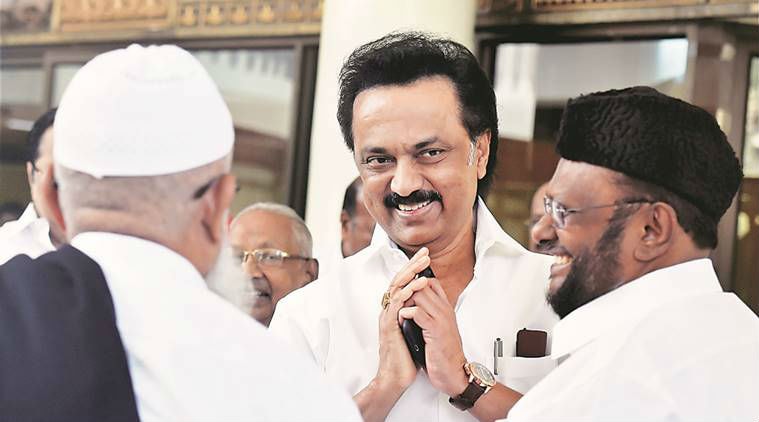 Tamil Nadu Lok Sabha Election Results: Trends at 7 pm
Here are some trends coming in from Tamil Nadu: MDMK's Ganesa Moorthy is poised to win the Erode seat; DMK's A C Viswanathan is in the lead in Ambur; Congress's Vishnu Prasad appears victorious from Arani Lok Sabha seat.
Tamil Nadu Bypoll Results: AIADMK wins Sholingur, Nilakottai constituencies
AIADMK candidate G Sampath has won the Sholingur assembly constituency by a margin of 16,220 votes. ADMK candidate Thenmozhi, meanwhile, has won the Nilakottai seat by a margin of 16763 votes.
TTV Dhinakaran on Tamil Nadu Lok Sabha Results: 'Will bounce back like a phoenix bird'
TTV Dhinakaran on Tamil Nadu Lok Sabha Results: "We accept the people's verdict. Success and failure is normal, We thank the people who voted for us. Like Amma taught us, we will bounce back like a phoenix bird and will continue to serve the people of Tamil Nadu."
?????? ?????????????? ???????????????!
???????????? ??????? ??????? ??????????? ????????????????? ????? ?????? ?????? ?????????????? ??? ????????????. ??????? ????????? ?????? – ?????? ?????? ?????????.

— TTV Dhinakaran (@TTVDhinakaran) May 23, 2019
With folded hands, we accept resounding victory, says M K Stalin on TN Lok Sabha results
With folded hands, we accept the resounding victory given to the DMK alliance by the people of Tamil Nadu. During the next five years, we will work hard to fulfill the promises made and protect the interest of our state!
With folded hands, we accept the resounding victory given to the DMK alliance by the people of Tamil Nadu. During the next five years, we will work hard to fulfill the promises made and protect the interest of our state!

— M.K.Stalin (@mkstalin) May 23, 2019
Tamil Nadu Lok Sabha election results: DMK candidates lead in Chidambaram, Sivaganga
Thol Thirumaavalavan has the lead over AIADMK's P Chandrasekar again in Chidambaram constituency. He leads with a margin of 4,981 votes. From the Sivaganga seat, Karti Chidambaram is leading with 390,695 votes. H Raja is trailing with 161,662 votes.
Tamil Nadu Lok Sabha Elections: Modi has won, India has lost, says Alagiri
Tamil Nadu Congress chief K S Alagiri says, "Modi has won, India has lost."
FLASH: Local news reports AIADMK wins one bypoll
The AIADMK has won the Vilathikulam bypoll in Tamil Nadu. Candidate P Chinnappan has beaten DMK's A C Jayakumar by 70,139 votes, reports local news channels.
Lok Sabha Election Results 2019: Tamilisai says Tamil Nadu has made a 'mistake'
Tamilisai Soundararajan, Tamil Nadu BJP president and candidate from Thoothukudi, says, "The people of Tamil Nadu have committed a mistake by not electing the non-corrupt BJP to power. They have elected the same corrupt people again. We will do a soul experiment to find out why we were not able to attract TN ppl's vote share."
Tamil Nadu bypoll results: DMK leads in Aravakurichi bypoll
DMK's Senthil Balaji is leading in Aravakurichi constituency bypoll against AMMK's Senthilnathan. Senthil Balaji was the MLA of Aravakurichi in 2016-2017 before he was disqualified by the Assembly speaker. He joined DMK in M K Stalin's presence in 2018.
Tamil Nadu bypoll results: Counting stopped in Perambur constituency
Out of 22 rounds, only four rounds of counting have been completed in Perambur. AIADMK's candidate RS Rajesh has complained about the mix-match of tag numbers in EVMs to Commissioner A K Viswanathan and Election Officer G Prakash. Rajesh has demanded the officials to stop the counting.
TN results: This land is fortress of Dravidian parties, says Vaiko
MDMK leader Vaiko says, "The people of Tamil Nadu have once again proved that this land is the fortress of Dravidian parties. They have made it clear that there is no place for communal forces in the state."
FLASH: A Raja wins Nilgiris constituency with 203,465 votes
DMK leader A Raja has won the Nilgiris constituency with 203,465 votes. He contested against AIADMK's M Thiyagarajan.
Climbing the ladder: How MNM has slowly made a mark in the TN Lok Sabha elections
Kamal Haasan's Makkal Needhi Maim (MNM) is currently placed in third position in 12 Lok Sabha constituencies. The party, which was struggling initially, has upped the ante. In North Chennai, Central Chennai, South Chennai, Coimbatore, Pollachi, Tirupur Sriperumbudur, Erode, Salem, Madurai, Puducherry and Tiruvallur constituencies, they have made their mark. In Sriperumbudur, MNM's Sridhar secured close to a lakh vote. The party which just turned a year-old this February has pushed TTV Dhinakaran's AMMK and Seeman's NTK down.
EXPLAINED: Tamil Nadu Lok Sabha, bypoll results
The ruling dispensation in the state may be facing a massive defeat in the Lok Sabha results with DMK leading in 36 of the 39 seats (including one seat in Puducherry), but they seem to have saved face in bypolls to 22 Assembly seats with a comfortable lead in 11 seats. What does this mean for the AIADMK? Arun Janardhanan explains
WATCH: AIADMK cadre in Tamil Nadu today
Tamil Nadu Lok Sabha Elections: How did AIADMK ally PMK fare?
PMK, an ally of the AIADMK-led alliance, has performed poorly. The party which got allocated seven seats in the coalition has failed to gain majority. The party's youth-wing leader Anbumani Ramadoss is trailing by 30,787 votes from Dharampuri. Captain Vijayakanth's DMDK made no difference either. The party is struggling to even get into the top three positions in several constituencies.
BJP fails to open account in Tamil Nadu
In Tamil Nadu, unlike the rest of the country, we are seeing a different story. None of the BJP candidates have managed to secure a lead in the Lok Sabha Election. Tamilisai Soundararajan (Thoothukudi), Nayinar Nagendhran (Ramanathapuram), H.Raja (Sivaganga) and Pon Radhakrishnan (Kanyakumari) CP Radhakrishnan (Coimbatore) are all trailing.
JUST IN: Congress' Thirunavukkarasar wins Trichy seat
Congress candidate Thirunavukkarasar SU has won Tiruchirappalli constituency with a massive vote margin of 3,17,932. He contested the polls against DMDK's Dr Elangovan.
Tamil Nadu Lok Sabha Election Results: O Panneerselvam's son leads from Theni
In Theni, AIADMK's O P Raveendran, son of deputy CM O Panneerselvam, is holding fort with a margin of 25,419 votes against Congress' EVKS Elangovan.
Tamil Lok Sabha results: Maran in comfortable lead in Chennai Central
Dayanidhi Maran, a prominent member of M Karunanidhi's family, looks all set to win the Central Chennai constituency with 199,244 votes in his margin. His main competitor is PMK's Sam Paul. In Dharmapuri, after a close battle in the morning, DMK's Senthilkumar S has managed to gain a considerable lead against PMK's Anbumani Ramadoss with a margin of 30,787 votes.
Tamil Nadu Lok Sabha Election Resuls: Kanimozhi shines on Lok Sabha debut
M K Kanimozhi, the daughter of late DMK supremo M Karunanidhi, has comfortably taken the lead in Thootukudi by a margin of 198,290 votes. BJP state president Tamilisai Soundarajan, who is contesting against her, has failed to create an impact here.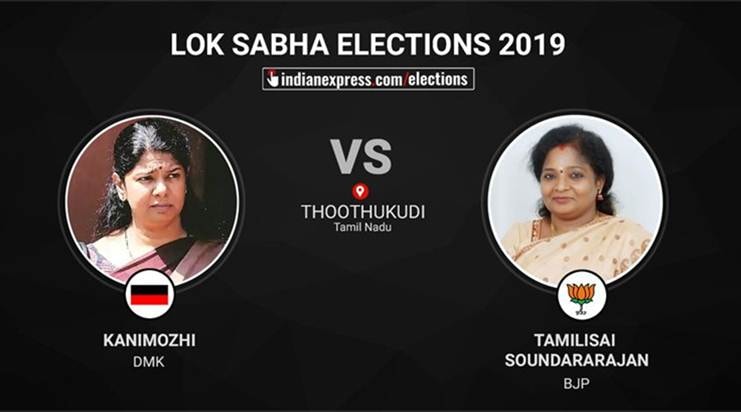 Tamil Nadu Lok Sabha Election Results: Karti Chidambaram leads in Sivaganga by 137,211 votes
Congress candidate Karti Chidambaram, the son of former Union Minister P Chidambaram, is currently leading in Sivaganga by a margin of 137,211 votes. His main competition in this race is BJP leader H Raja. Meanwhile, in Chidambaram constituency, it's a close race between AIADMK's P Chandrasekar, who is currently leading by a margin of 5,517 votes, and VCK Chief Thol Thirumaavalavan.

Tamil Nadu bypolls results: Trends at 3.30 pm
The DMK is ahead again. At one point, it seemed AIADMK would surpass DMK in the bypoll race as both parties were on par with 11 seats each. Now, DMK leads in 14 constituencies while of the 22.
Tamil Nadu Lok Sabha Election Results: A Raja leads from Nilgiris
DMK's A Raja is leading from the Nilgiris constituency by a margin of 1,99,046 votes. AIADMK's Thiagarajan M is trailing.
One more bye-election on the cards for Tamil Nadu?
With Congress Nanguneri MLA H Vasanthakumar leading from the Kanyakumari parliamentary seat, he is likely to resign his Assembly membership. This would result in another bypoll in Nanguneri soon.
Tamil Nadu bypoll results: DMK moves EC over alleged manipulation of votes for AIADMK candidates
DMK has lodged a complaint with the Election Commission alleging manipulation of votes in favour of AIADMK candidates. In a letter, the party has attributed this to the fact that "they (AIADMK) are struggling to get the numbers to sustain their Government".
?????? ????????? ?????????? ??????? ?????????????? ?????????????? ?????????????????, ???????????? ?????? ????????? ???????????????, ?????????? ??????? ??????????????? ?????????? ????????? ????????, ????? ???????? ???????????????? ?????? ??????:#Election2019 pic.twitter.com/o2orXfVUSw

— DMK - Dravida Munnetra Kazhagam (@arivalayam) May 23, 2019
Rajinikanth congratulates PM Modi for performance in Lok Sabha Elections 2019
Rajinikanth has congratulated Prime Minister Narendra Modi for the NDA's performance in the Lok Sabha elections.
Respected dear @narendramodi ji
hearty congratulations ... You made it !!! God bless.

— Rajinikanth (@rajinikanth) May 23, 2019
JUST IN | Tamil Nadu CM Edapaddi K Palaniswamy congratulates PM Modi
Tamil Nadu Chief Minister Edapaddi K Palaniswamy has written to Prime Minister Narendra Modi congratulating him for his "magnificent victory" in the Lok Sabha elections. "The people of our country have honoured you with a second consecutive term. I wish you and the Government of India under your stewardship the very best," he writes.
Tamil Nadu Lok Sabha polls: Tough fight in Chidambaram
In Chidambaram constituency, VCK Chief Thol Thirumavalavan and AIADMK's Chandrasekar are battling it out. Chandrasekar is leading by a margin of 2,091 votes. In the 2014 general elections, Thirumavalavan lost by a margin of just 87 votes.