The Supreme Court on Friday rejected the demand for an independent probe in the arrest of five activists — Varavara Rao, Vernon Gonsalves, Arun Ferreira, Sudha Bharadwaj, and Gautam Navlakha — in the Elgaar Parishad case. Adding that the activists' arrests were not made merely for "dissent and differences in ideology," the three-judge bench in a 2-1 verdict ruled that the house arrest will continue for four more weeks.
Chief Justice of India Dipak Misra and Justice A M Khanwilkar observed that the "accused persons have no say in seeking investigation of their choice and cannot choose the manner of arrest." Justice D Y Chandrachud, the third judge on the bench penned a dissenting view and said an independent probe should have been allowed. He also criticised the Pune police for holding a press conference as the court proceedings were underway. "This is a fit and proper case for Court-monitored SIT investigation. Conduct of Pune Police fortifies an impression that investigation is not fair," he said.
The activists have been under house arrest since the police held them on August 28 while probing an alleged Maoist link to a meeting of the Elgaar Parishad in Pune on the eve of the January 1 violence in Bhima Koregaon.
Live Blog
Supreme Court verdict on arrest of activists: Top court has rejected the demand for a court-monitored independent probe and ordered that the house arrest will continue for a four weeks. Follow LIVE UPDATES
Will approach lower court soon: Wife of arrested activist Varnan Gonsalves
We welcome this order that SC found merits in our intervention. We've been given 4 weeks protection to approach lower courts. So, obviously we will be reaching lower court shortly: Advocate Susan Abraham (wife of activist Varnan Gonsalves) to ANI on SC's verdict. #BhimaKoregaon pic.twitter.com/W6f8vsYJkP

— ANI (@ANI) September 28, 2018
Those politicising issue need to apologise: Amit Shah after SC verdict
BJP chief Amit Shah attacked the Congress for supporting the activists. "Those who stooped down to the level of polticising an issue of national security have been exposed by the Honourable Supreme Court's decision today. It is high time that the Congress now clears it's stand on this critical issue of Urban Naxalism. India is a vibrant democracy with a healthy culture of debate, discussion and dissent. However, plotting against the country with the intent to harm our citizens is not one of these. Those who politicised this issue need to apologise."
Quoting Rahul Gandhi's tweet on th arrest, Shah wrote, "There is only one place for idiocy and it's called the Congress. Support 'Bharat Ke Tukde Tukde Gang', Maoists, fake activists and corrupt elements. Defame all those who are honest and working. Welcome to Rahul Gandhi's Congress. #BhimaKoregaon
Conduct of Pune Police forms an impression that probe is not fair: Justice Chandrachud
Justice Chandrachud called for an independent probe in the case. "Use of electronic media by Pune police to cast aspersions on those under investigation casts questions on probe and warrants appointment of SIT. This is a fit and proper case for court-monitored SIT investigation. Voices of opposition cannot be muzzled just because they have taken up an unpopular cause."
Petition not motivated by political aspects: Justice Chandrachud
Justice Chandrachud has written the dissenting verdict in the case. "Technicalities should not be allowed to override substantive justice. The present petition not motivated by political aspects and extraordinary circumstances are present in the case." Justice Chandrachud also lashed out on the Pune police for holding a press meet right after the arrests."
House arrest to continue for four more weeks: SC
Rejecting the demand for a SIT, CJI Misra and Justice Khanwilkar wrote, "Accused persons cannot choose which investigating agencies should investigate. The interim order passed by court for house arrest shall continue for four more weeks."
Arrest of activists not for mere dissent: Justice Khanwilkar & CJI
Justice Khanwilkar as written for himself and the CJI. IN the judgment he wrote, "Arrest of activists not one for mere dissent or for differences in political ideology. The accused persons have no say in seeking investigation of their choice. They cannot choice the manner of arrest."
Express Editorial | The lack of clarity about why they had been arrested was not incidental.
The state must answer why it felt the need to treat respected activists, a priest, a lawyer and a poet in the manner of dreaded terrorists and criminals. And the Supreme Court must hold the government to account for any and every perversion of due process, any and every sabotage of justice, that is bared in the process. When the law is draconian and the politics intolerant, it falls on the Supreme Court to safeguard and uphold the Constitution. Read more
Supreme Court to deliver two key judgments today
Probe not just restricted to Elgaar Parishad: Pune Police commissioner
While the initial arrests of the activists was made in connection with their role in the Elgaar Parishad event, the Pune Police said that the probe had later expanded to look at the "larger conspiracies being hatched by banned outfits."
"The starting point of this expansion was the searches conducted before the first set of arrests (in June, when five people were arrested). The probe into those seizures had led to a lot of crucial information which has been carefully scrutinised. The investigation is ongoing," Pune police commissioner K Venkatesham said.
Supreme Court's observations during the hearing
During a hearing in the Supreme Court, the three-judge bench observed that "dissent is the safety valve of democracy… if it is not allowed, the pressure cooker will burst." It also said that the institutions of the country should be "e robust enough to accommodate opposition to the system or even this court" and that a "clear-cut distinction" should be made "between opposition and attempts to create disturbance and overthrow governments"
It had also slammed the Maharashtra Police for addressing the press and making statements with regards to the case in the media even as the court hearing was underway.
CJI Misra to also decide on Sabarimala issue
CJI Misra, who is due to retire on October 2, will also deliver the verdict on Sabarimala Temple. The five-judge bench will pass a judgment on whether women between the ages of 10 and 50 should be banned from entering Kerala's Sabarimala temple. You can follow the live updates of Sabarimala judgment here
Video: Who are the arrested activists?
Arrests undermine basics of democracy, says former CJI RM Lodha
Former Chief Justice of India R M Lodha said the arrests are "an attempt to suppress the dissenting voice". He said the arrests were "an attack on freedom of speech… and an act to undermine the fundamentals of Constitutional democracy".
Justice P B Sawant, former judge of the Supreme Court and one of the organisers of the Elgaar Parishad meeting on December 31, 2017, said: "What can we infer from all this except that the police are acting at the instance of the government. So is there law in the country? Is there democracy or the Constitution prevailing in this country? How do we evaluate this? The state, and I have no doubt the central government is urging them on… They have become desperate and want to divert from all other news in the country," he said
Who are the petitoners and lawyers in the case?
The plea filed by historian Romila Thapar, economists Prabhat Patnaik and Devaki Jain, sociology professor Satish Deshpande and human rights lawyer Maja Daruwala, has sought an independent probe into the arrests and the immediate release of the activists.
Additional Solicitor General Tushar Mehta appeared for the Maharashtra government and senior advocate Abhishek Manu Singhvi represented the petitioners. Senior advocate Harish Salve appeared for the complainant, whose complaint was the basis for the FIR in the case
Opinion | Prashant Bhushan writes: Worse than emergency
In an opinion piece in The Indian Express, senior advocate Prashant Bhushan called the arrest of activists an "attempt to stifle voices of dissent and curb peaceful struggles against this government's anti-people ideology."
He wrote: The latest arrests represent a new and extremely dangerous phase in the steady erosion of civil liberties, fundamental rights and indeed democracy in India. It is time for every citizen who values democracy and liberty to stand up at this moment, and signal their intention to resist this Fascist onslaught, which in many ways is more dangerous than the Emergency of 1975. Read more
Who is Gautam Navlakha?
Arrested from Delhi
Current status: Under house arrest
* Civil rights activist and a member of the People's Union of Democratic Rights (PUDR).
* Been with digital newsportal Newsclick, academic journal Economic and Political Weekly
* Extensive work on Kashmir has often riled governments
* Recent works focused on Chhattisgarh
* Associates said this is the first time a criminal proceeding has been initiated against him.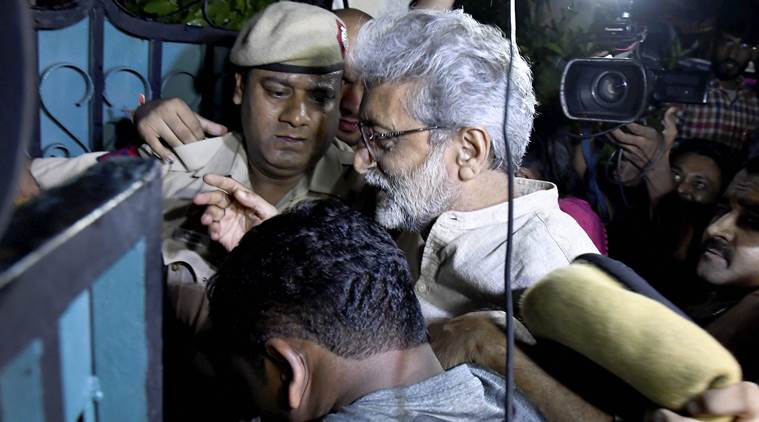 Who is Arun Ferreira?
Arrested from Mumbai
Current status: Under House Arrest
* Has been moving in and out of jail since 2007
* Arrested for being responsible for the propaganda and communications wing of the banned CPI (Maoist)
* 10 cases including sedition and waging war against the country filed against him
* Spent four years in Nagpur Central Prison
* In 2011, police arrested him alleging that he was absconding, even though he was in prison in Nagpur.
* Got bail in 2012, acquitted of all cases in 2014
* Wrote about the alleged police torture and his life in prison in a book, Colours of the Cage
* In recent weeks, Ferreira and Vernon Gonsalves wrote for a web portal about their experience of life in jail, detailing the lack of sunlight and fresh air.
Who is Vernon Gonsalves?
Arrested from Mumbai
Current status: Under house arrest
* Arrested first in 2007 for being part of the banned CPI (Maoist).
* Accused of planning terror acts and infiltrating workers' unions to create undercover cadres for Maoist activities
* Was convicted under the Arms Act, Explosives Act in 2014 and sentenced to a three-year jail
* Under UAPA, court sentenced Gonsalves to five years in jail. (first case of alleged Naxalites being convicted in a UAPA case in Maharashtra).
* Worked for the rights of labourers in Vidharba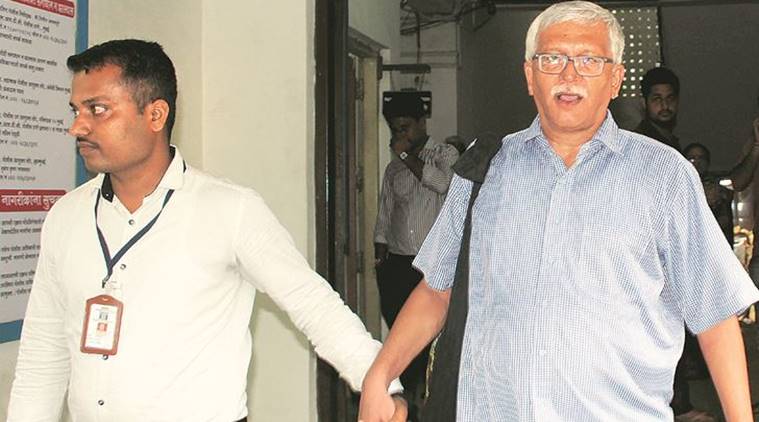 Who is Varavara Rao?
Arrested from Hyderabad
Current status: Under house arrest
* Varavara Rao is a well-known Marxist critic, revolutionary poet, literary critic, civil rights activist and Maoist sympathiser
* Helped organise peace talks and negotiating ceasefires in united Andhra Pradesh at the height of insurgency
* Founder of Virasam (Revolutionary Writers' Association) - that propagates Naxalite ideology
* Has a case filed against him for allegedly instigating a revolution which became known as the Secunderabad Conspiracy.
* His name has allegedly come up in a Maoist letter giving him the responsibility to raise funds for a plot to target Prime Minister Narendra Modi; calls the letter 'fabricated'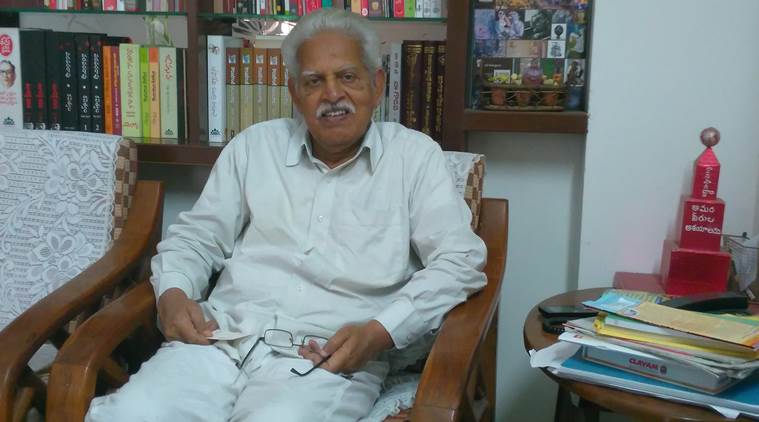 Who is Sudha Bharadwaj?
Arrested from Faridabad
Current status: Under House Arrest
* Sudha Bharadwaj, a trade unionist, human rights activist and lawyer who surrendered her US citizenship at the age of 18.
* Teaches law at the National Law University
* General secretary of People's Union for Civil Liberties (PUCL).
* Quit academics to join the Chhattisgarh Mukti Morcha
* Was also involved with the Bhilai Steel Plant workers' union, fighting for better wages and safe working condition.
* Fiercely criticised government during the sterilisation deaths in Bilaspur in 2013
* Complained against Chhattisgarh police and Sukma district officials for "turning a blind eye" to the alleged murder of seven people and the burning of homes by special police officers of Salwa Judum in 2007.
* Takes up several cases on human rights abuse and labour law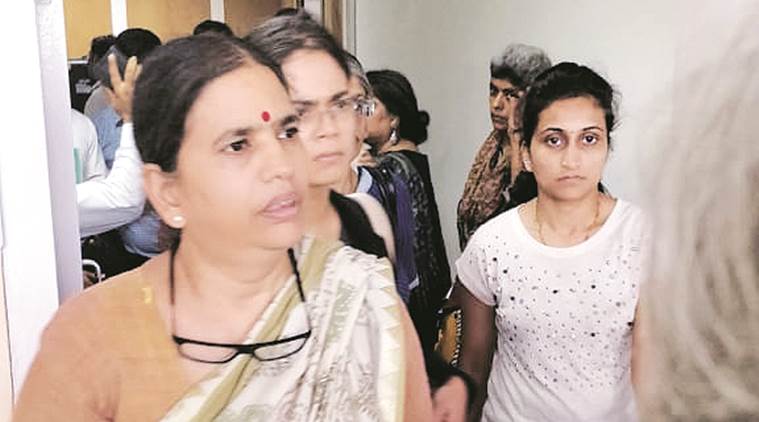 Why were the five activists arrested?
Police claim the speeches made at the Elgaar Parishad were one of the triggers for the violence that was witnessed in and around Pune the next day. The police began raids early morning and arrested them by the end of the day. In Pune, Joint Commissioner of Police Shivaji Bodkhe said the arrests were based on information they had received from five "urban Maoist operatives" arrested in a similar operation nearly three months ago. Another police officer claimed there was "evidence in the form of electronic communications" through a portal that ensured anonymity.
Welcome to the live blog. The Supreme Court will today deliver its verdict on the arrest of five activists in connection with the Elgaar Parishad case. Track all the latest developments from the apex court here