Paddy stubble burning incidents in Punjab this season have crossed 42,000 so far, showing a 44.73 per cent decline from last year, latest numbers available with the Punjab Pollution Control Board (PPCB) revealed on Sunday. According to the latest data from NASA's NPP_VIIRS satellite that is picked by the Punjab Remote Sensing Center (PRSC) and then given to the Punjab Pollution Control Board (PPCB), a total 42,025 straw burning incidents were recorded till November 11. Last year, stubble burning incidents in Punjab during the paddy harvesting season which begins in October, as per the same satellite data and till the same date (November 11), stood at 76,045.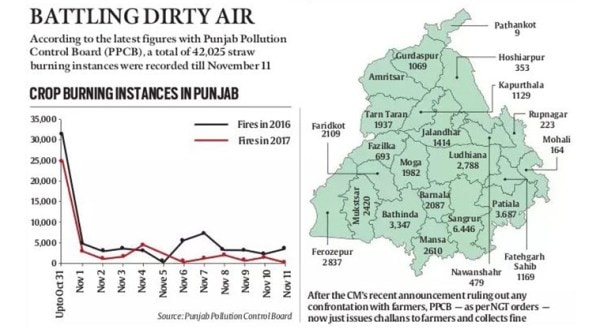 PPCB officials claimed that their target was to achieve a 50 per cent decline in sucn fire incidents this year. They blamed statements given by CM Amarinder Singh for making them miss their target. "The paddy harvesting season is almost ending now and farmers are again on stubble burning spree. We were targeting at least 50 per cent decline this year and aim was not to let the numbers cross 35,000. However, since the CM Amarinder Singh announced that there will be no FIRs or any strict action against the offenders, the farmers got a complete free hand. The issue was politicised and even the farmer unions contributed equally in making it a prestige issue. They took it as a challenge and dared the government by burning stubble. And when CM of a state indirectly gave a go ahead to farmers to burn stubble, how can we be expected to stop them?" said a PPCB official.
After the CM's October announcement ruling out any confrontation with farmers, PPCB now — as per the orders of National Green Tribunal — now just issues challans to farmers and collects fine ranging from Rs 2,500 to 15,000.
With more than 42,000 stubble fires already reported in state and with few days still to go for wheat sowing period to end, PPCB has given up its hope to achieve a 50 per cent decline.
"Last year 76,000 fires were reported till November 11 and this year more than half of that figure (42,000) have already been reported. So, now it is highly unlikely that we can achieve 50 per cent decline target. Still, we are hoping that final figure this year should not cross 50,000," said another PPCB official.
Gurbakhshish Singh Gill, environmental engineer with PPCB and nodal officer for stubble burning issue in Punjab said, "We are targeting that fire incidents this year should not cross 50,000 now. Hopefully, stubble burning should end by November 15. Till now, 44 per cent decline is already there in fires from last year."
As per the district wise break up of the fires up to November 8, the numbers are: Bathinda (3,347), Sangrur (6.446), Patiala (3.687), Ludhiana (2,788), Mukstsar (2420), Mansa (2610), Faridkot (2109), Amritsar (934), Barnala (2087), Fatehgarh Sahib (1169), Fazilka (693), Ferozepur (2837), Gurdaspur (1069), Hoshiarpur (353), Jalandhar (1414), Kapurthala (1129), Moga (1982), Rupnagar (223), Mohali (164), Nawanshahr (479), Tarn Taran (1937) and Pathankot (9).