A week after a high-powered committee led by Prime Minister Narendra Modi ousted CBI chief Alok Verma, the government on Thursday moved out Special Director Rakesh Asthana from the probe agency. The tenure of three other senior officers of the probe agency has also been curtailed.
Asthana is facing corruption charges in the Moin Qureshi case. An FIR was filed against Asthana and others last year after Hyderabad-based businessman Sathish Babu Sana claimed he had paid bribes to get relief in a case related to meat-exporter Moin Qureshi and made allegations of corruption and extortion against Asthana.
The Delhi High Court has given the CBI ten weeks time to complete the investigation against Asthana.
"The Appointment Committee of the cabinet has approved the proposal of DOPT/AV division for curtailment of tenure of the following officers working in CBI in the rank of Special Director/ Joint Director/ DIG/SP with immediate effect. Rakesh Asthana, Arun Kumar Sharma, Manish Kumar Sinha, Jayant J Naiknavare," read the government notification.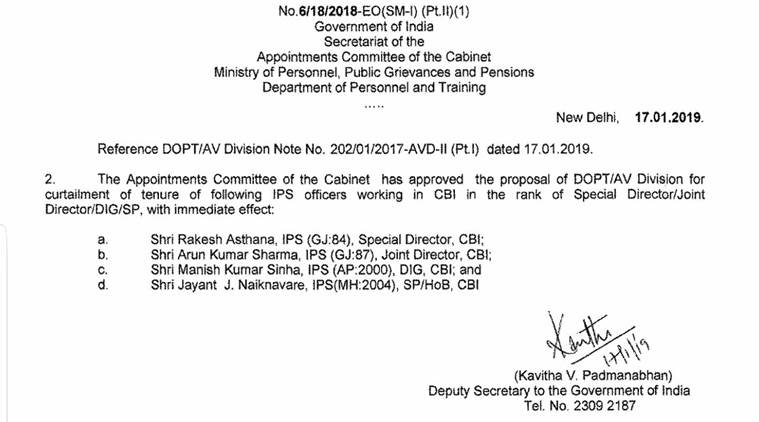 Last week, Alok Verma was removed as CBI director on corruption charges based on a CVC report despite objections from Leader of Opposition Mallikarjun Kharge, who was one of the three members in the committee.
The government on October 23 had sent Asthana on forced leave, divesting him of his powers, along with Verma after their clash levelling mutual allegations of corruption against each other.
Verma, however, challenged the government's decision in the Supreme Court that last week set aside the government's order and reinstated him only to be ousted two days later by the committee.
Another officer whose tenure has been curtailed is CBI DIG MK Sinha, the main supervisory officer of the case against Asthana. Sinha was one of the officers transferred amid the CBI feud.
His petition has alleged that NSA Ajit Doval interfered in the probe against Asthana and that Law Secretary Suresh Chandra tried to influence Sana Sathish Babu.
📣 The Indian Express is now on Telegram. Click here to join our channel (@indianexpress) and stay updated with the latest headlines
For all the latest India News, download Indian Express App.