On day 2 of his visit to Gujarat, Japanese Prime Minister Shinzo Abe and Narendra Modi inaugurated the Mumbai-Ahmedabad high-speed rail project at ceremony near the Sabarmati Railway Station. The two prime ministers then visited Dandu Kutir, a museum dedicated to Mahatma Gandhi, before holding bilateral talks at Mahatma Mandir in Gandhinagar. India and Japan on Thursday strongly pitched for a "zero- tolerance" approach towards terrorism and agreed to strengthen cooperation against terror groups like Al-Qaida and Pakistan-based Jaish-e-Mohammed (JeM) and Lashkar-e-Taiba (LeT).
Modi and Abe asked Islamabad to bring to book the perpetrators of terror strikes, including those involved in the Mumbai (2008) and Pathankot (2016) attacks, according to a joint statement issued after their annual summit.
Modi, who is hosting the Japanese PM in Ahmedabad, Gujarat, received Abe and his wife, Akie, at the airport — a departure from protocol — on Wednesday.
Japan PM Shinzo Abe in Gujarat highlights:
6:00 pm: Presented the book, 'Mann Ki Baat- A Social Revolution on Radio' to PM Shinzo Abe, whose message also appears in the book, tweeted Modi.
5:54 pm:  Narendra Modi also tweeted: "Laying of the foundation stone for India's first high speed rail project is a landmark moment in India-Japan ties."
5:53 pm: PM Modi is tweeting saying: "Held very productive discussions with PM Shinzo AbeWe have covered vital ground during our talks today."
5:21 pm: With strength of our friendship and trust, I invite more and more Japanese people and companies to come, live and work in India: PM Modi.
5:19 pm: I have been saying that 21st Century is Asia's Century. Today, Asia has emerged as the new centre of global growth. The growing convergence between Japan and India on strategic and economic issues has capacity to stimulate the global economy: PM Modi
5:14 pm: Project of Varanasi Convention Centre is a symbol of cultural co-operation between Kyoto city of Japan and Varanasi. It will be garland of love of Japan for Varanasi & tribute to our shared Buddhist heritage: PM Narendra Modi.
5:08 pm: A series of administrative reforms have significantly improved the business sentiment in the country. Japan can benefit tremendously with the size and scale of our potential & skilled hands that India offers, said PM Modi.
5:07 pm: If you have missed all the developments regarding Abe's day 2 visit to Gujarat, we are here to help. Read all about it here.
5:05 pm: Gujarat's Industry and Government still cherish the fact that Japan became 1st partner country in Vibrant Gujarat event. Four locations finalised for development of Japanese Industrial Townships – in Gujarat, Rajasthan, Andhra Pradesh and Tamil Nadu. As another novel initiative, the foundation has been laid for production of Lithium batteries for electric mobility: PM Narendra Modi
5:04 pm: "My personal engagement with Japan decade old. Wanted to see mini Japan here. That dream has come true", says PM Modi at India-Japan Annual Summit.
5:02 pm: PM Modi is speaking at the India-Japan Annual Summit.
5:01 pm: PM Modi and Japanese PM Shinzo Abe at India-Japan Annual Summit in Gujarat.
4:12 pm: PM Modi and Shinzo Abe at India-Japan Business Plenary in Gandhinagar.
4:10 pm: PM Modi, Japanese PM Shinzo Abe and  Suzuki Chairman Osamu Suzuki at Suzuki exhibition booth at Mahatma Mandir Centre in Gandhinagar.
4: 08 pm: PM Narendra Modi and Japan's PM Shinzo Abe at Bullet Train Simulator.
4:05 pm: A group of farmers from Boisar in Palghar district protested against the Bullet train project after Modi and his Japanese counterpart Shinzo Abe today launched the Ahmedabad-Mumbai bullet train project, fearing acquisition of their lands. The farmers, who held the demonstration outside Boisar railway station, said they will be ruined if their agricultural lands are acquired for the project.
3:58 pm: Samajwadi Party supremo and former UP Chief Minister Akhilesh Yadav today said the Narendra Modi government should have launched the bullet train project for New Delhi-Kolkata route.
3:55 pm: Meanwhile, China hoped that the growing ties between India and Japan would be conducive to the peace and stability and insisted that the countries in the region should work for partnership instead of forming an alliance.
3:43: pm: PM Modi and Shinzo Abe inaugurated Bullet Train Research Institute in Vadodara via video conferencing.
3:38 pm: Exchanged four documents for Japanese loans and assistance including a 600 crore loan for the bullet train project: Subhash Garg, Secretary DEA.
3:31 pm: Rohingya issue did not come up for any specific discussion, it came only as a passing mention: S Jaishankar on India-Japan talks.
3:26 pm: Agreed on Japan-India Act East Forum. It'll explore possibilities of including Japan in North East infrastructure development, said Jaishankar.
3:25 pm: We agreed to explore co-operation and exchanges between our Army and Ground Self Defence force and Air Force and Japan's Air Defence Force: S Jaishnakar
3:20 pm: On India-Japan defence forces, Jaishankar said, "Till now thrust of the contacts and co-operation have been on maritime security."
3:10 pm: On India-Japan relations, Foreign Secretary S Jaishankar said, "Our aim is to elevate strategic partnership. We are trying to align each other's approach towards world."
3:00 pm: PM Modi and Shinzo Abe today held wide-ranging talks on key bilateral, regional and international issues and discussed ways to deepen ties in trade, security and civil nuclear energy.
2.40 pm: India and Japan are also likely to convene 5th Japan-India consultation on terrorism and to strengthen cooperation against terrorists threats from groups including Al-Qaeda, Islamic State, Jaish-e-Mohammad, Lashkar-e-Toiba and their affiliates.
2.26 pm: PM Modi and Shinzo Abe called for Pakistan to bring to justice perpetrators of terror attacks including 2008 Mumbai and 2016 Pathankot attacks.
2.20 pm: Shinzo Abe also extended strong support to initiatives like Make In India, Digital India along with appreciating PM Modi's economic reforms like GST.
2.15 pm: The two world leaders condemned in the strongest terms North Korea's continued development of its nuclear weapons and its ballistic missile programs.
2.10 pm: "We have agreed upon a Japan-India investment support road map," Abe said.
2.05 pm: The Ministry of External Affairs said in a statement that India-Japan sign 15 documents during 12th annual summit, including joint exchange programmes in science and technology.
1.53 pm: "Compared to other bilateral relations of the world, the relations between Japan and India are full of potential. A strong India is in the interest of Japan and a strong Japan is in interest of India," Abe said earlier today.
1.50 pm: PM Shinzo Abe expresses his gratitude towards Modi and the people of the country for the warm welcome and hospitality.
1.47 pm: Abe says Japan-India-US cooperation will be strengthened further. "India, Japan and US conducted joint maritime Malabar exercise for the first time, based on strong ties of trust between PM Modi and President Trump. We will strengthen cooperation between India, Japan and United States," Japanese PM Shinzo Abe said.
1.45 pm: "I believe that our talks and agreements signed today will strengthen India-Japan ties," Modi said while concluding his speech.
1.43 pm: "Japan is the third largest investor in India. This shows how much Japan is hopeful of India's bright future," Modi said. "In 2016-17 Japan invested 4.7 billion dollars in India, which is 80 per cent higher than last year," he said.
1.42 pm: Modi said Japanese population in India too might increase in the coming years. He also announced that India Post and Japan Post would start a 'cool box service' for Japanese living in India so that they can order their favorite Japanese dish, reports ANI.
1.40 pm: PM Modi said the Ahmedabad-Mumbai bullet train project is a big step towards India's development. "This is the lifeline of New India," he said.
1.38 pm: PM Modi begins his address. "I am happy that I got the opportunity to welcome my friend Shinzo Abe to India," said Modi.
1.35 pm: PM Narendra Modi and Japanese counterpart Shinzo Abe about to issue joint press statements in Gandhinagar in a few minutes.
1.17 pm: A top government source tells The Indian Express that there will be a strong reference to North Korea in joint statement by PM Narendra Modi and Shinzo Abe.
11.47 am: Modi and Abe are now visiting Dandi Kutir, a museum dedicated to Mahatma Gandhi.
11.03 am: "I believe we can finish this project in the least possible time if we work together," said PM Modi.
10.48 am: Adding that if technology is used to empower the poor, it can be used in fight against poverty, Modi said there would be efforts to ensure common man can access this project.
10.45 am: "India has a friend which has given it a loan of Rs 88,000 crore at 0.1 per cent interest for the bullet train," Modi said thanking Japan for providing financial and technical assistance in this project. "Ek prakar se mufat mein poora project bannta jaaraha hai."
10.40 am: PM Narendra Modi said that "transport system plays an important role in ensuring connectivity in the country. People of the country make use of this connectivity in several ways."
10.37 am: "Japan has shown that its a true friend of India," PM Modi said adding that Japanes PM Shinzo Abe has contributed greatly towards the rapid development of this project. "The next generation growth will take place in places which have high-speed corridors."
10.35 am: "The bullet train project is a project that will bring speed and employment. It is human-friendly and eco-friendly," Modi said.
10.33 am: "This is the New India and the flight of its dreams is endless," said PM Narendra Modi. He also said India has taken a very important step towards its dream.
10:31 am: PM Modi welcomes Chief Ministers of Gujarat and Maharashtra and various dignitaries present at the event.
10:29 am: If we work together nothing is impossible: Japanese PM Shinzo Abe on India-Japan partnership
10:28 am: Dear friend PM Modi is a far-sighted leader, he made a decision of making New India & chose Japan as partner, we completely support it: PM Abe
10:28 am: Japan is committed to the scheme of 'Make in India': Japanese PM Shinzo Abe
10:27 am: Japan ka Ja and India's I becomes Jai, and that's what we will strive for, says Japan PM.
10:25 am: No accidents have been reported ever since Shinkansen was launched in Japan. Japan's know-how of the Shinkansen technology will aid India's Railways system, says Japan PM.
10:24 am: India can become a global manufacturing hub. Shinkansen will spread from Sabarmati to the rest of India. And Japanese engineers are all set to put in their hard work, says Japan PM.
10:22 am: More than 100 engineers from Japan have come to India and are talking to each other constantly, says Japan PM.
10:20 am: PM Modi had taken a decision two years back of getting high-speed railways and for this, he chose Japan's Shinkansen, says Shinzo Abe.
10:19 am: Japanese PM Shinzo Abe starts his address with "Namaskar"
10.13 am: A presentation on the bullet train is playing. The bullet train, which covers a distance of 508 kms, will run between Sabarmati Railway Station and Bandra Kundra complex in Mumbai. A ticket for the train will cost between Rs 2,700 and Rs 3,000 — by air, travelling the same distance costs Rs 3,500-4,000.
10.08 am: Gujarat CM Vijay Rupani, during the inauguration of the bullet train event, expresses gratitude towards Japan. "The entire state of Gujarat is experiencing immense joy today," he says, reports ANI.
10.02 am: Fadnavis is now speaking. He says, "This bullet train will generate employment which will contribute towards the GDP of both Maharashtra and Gujarat. The New India we envisioned will start from Gujarat and go upto Maharashtra."
10.00 am: Railway Minister Piyush Goyal, speaking at the event, says the bullet train will be a symbol of brotherhood between the people of India and Japan. At the event, Maharashtra Chief Minister Devendra Fadnavis and Gujarat CM Vijay Rupani are also present. Goyal adds, "While everyone was initially criticising the project, everyone wants to travel in it now."
9.50 am: Modi and Abe are being briefed about the high-speed rail project that will run between Mumbai and Ahmedabad.
9.40 am: The Mumbai-Ahmedabad High-Speed Rail ceremony is expected to begin in about 10 minutes. It will be held at the Athletics Ground, Sabarmati Railway Station. The 508-kilometre route from Bandra in Mumbai to Sabarmati, is scheduled to be ready by 2022. Read all the details about the project here. 
9.23 am: The Congress on Wednesday accused the BJP of using Abe's visit to gain grounds in poll-bound Gujarat. Senior leader Manish Tiwari said, "With an election in Gujarat round the corner, it does raise a question that a state visit is actually being used for political purposes. Because the manner in which it is structured is rather awkward, to say the least." He added that it is strange that the "Prime Minister of a country as important as Japan, which is almost India's strategic partner in many respects, is strangely not even being hosted in Delhi". Read more here.
9.20 am: Here's EP Unny's 'Business as Usual' cartoon on Abe's visit to India in The Indian Express today. You can see more of his cartoons here.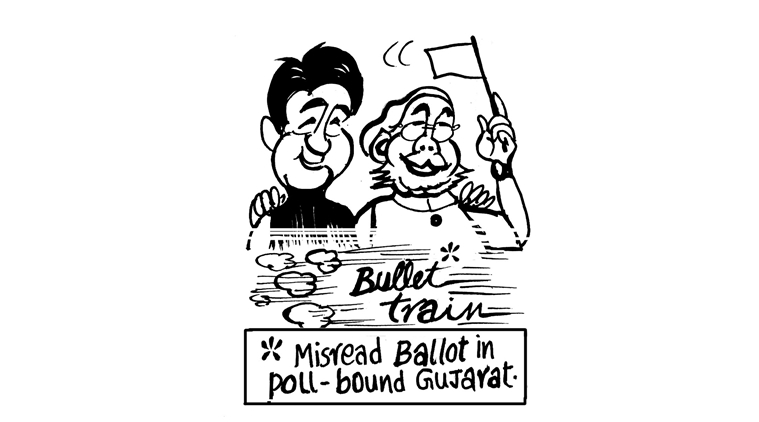 9.10 am: After their bilateral meeting, the two leaders are expected to issue a press statement. Sources told The Indian Express, "Defence and security will be one of the focus areas of the joint statement. The strategic convergences, especially in the Indo-Pacific area, will reflect in the joint document." Read more here.
9.03 am: Ahead of Abe's visit to India, Modi had said, "India truly values the relationship with Japan and we look forward to further boosting our bilateral ties in a wide range of sectors."
8.50 am: Today, Abe will be welcomed at the Ahmedabad Management Association (AMA) with a song written in Gujarati and Japanese. "Kem Chho Konnichiwa" (how are you in the two languages) will be performed by 18 school children.
Later, the two leaders will lay the foundation for India's first bullet train, a Shinkansen model. At the event, Akie Abe will be served an ice cream in the shape of the train, which will be flavoured with black currant and green tea. Akie will later inaugurate an Origami Mahotsav at the AMA, and also visit the Sabarmati riverfront and the Blind People's Association.
Read | Ahmedabad notes: Of a packed Thursday, and a thaali dinner
8.30 am: Ahead of Abe's visit to India, the Japanese PM had said he was looking forward to advancing the "new era in Japan-India relations." He added that economic cooperation is the cornerstone of the countries' relationship, adding that there are 1,305 Japanese companies in India.
"Prime Minister Modi is a powerful leader with an outstanding ability to get things done. I believe Japan-India relationship is blessed with the largest potential in the world and I am determined that Japan and India will lead the way towards peace and prosperity of the Indo-Pacific region and the world," Abe added, in a statement.
8.15 am: Welcome to our live blog on Japanese Prime Minister Shinzo Abe's visit to India. Abe and Prime Minister Narendra Modi will hold bilateral talks on Thursday. This is their tenth meeting in the last three years.
(With inputs from agencies)