Restrictions have been put in place in Saharanpur district after the brother of a Bhim Army leader was shot dead in Ramnagar area on Wednesday afternoon. Fearing a rise in tension, police have put security measures in place and have suspended internet services. The deceased, 24-year-old Sachin, was the brother of Bhim Army district president Kamal Walia. He was shot around 12:15 pm, when he was close to his home in Ramnagar, police and his family said.
As news of Sachin's death spread, many activists of the Bhim Army converged at the hospital he had been taken to, demanding action against the upper caste Thakur community. "Sachin was in a street on the other side of the locality when he was shot dead. He was rushed to the government hospital, which declared him dead on arrival. Our family and Bheem Army members are in the hospital," Abhishek, the victim's cousin, told The Indian Express.
Saharanpur reeled under clashes between Dalits and Thakurs in May, 2017, after members of the Dalit community in the district's Shabbirpur village raised objections to loud music being played during a procession taken out to honour Rajput ruler Maharana Pratap. Twenty-five houses of Dalits had been set on fire while a man from the Thakur community had been killed. The district has remained tense ever since, witnessing bouts of violence, the most recent one being the Bharat Bandh protests by Dalit protesters against the SC/ST Atrocities Act.
Live Blog
Fearing tension, RAF forces along with local police are keeping an eye on Saharanpur district
Bhim Army members sitting in protest in Saharanpur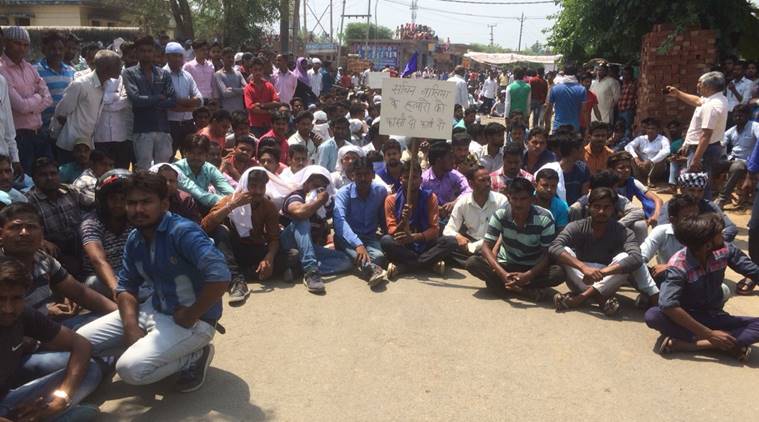 Bhim Army members sitting in protest in Saharanpur (Express photos by Aditi Vatsa)
Security arrangements on Thursday
Local police put up barricades such as this one at many places in the area on Thursday. (Express Photo by Praveen Khanna)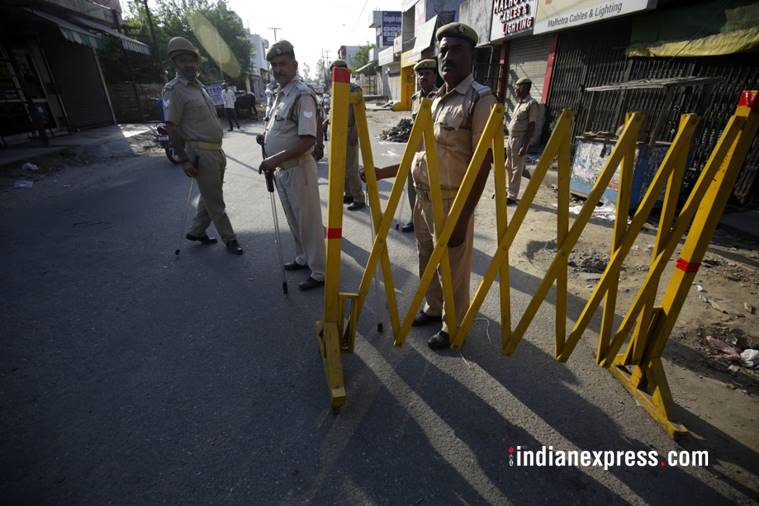 Last rites of Sachin Walia
Apart from residents of Ramnagar area, people from other parts of the Saharanpur districts have come for the cremation rites of Sachin Walia
Opinion | Dalit leader Jignesh Mevani writes
Placards and slogans raised for Bhim Army leader's brother Sachin
The body is covered with a blue cloth. There are shouts of "Sachin bhai amar rahein". Locals have also brought placards reading "Sachin Walia ke hatyaron ko phaasi do (Give death penalty to the killers of Sachin Walia)"
Heavy security in place
Hundreds of locals are being seen in Ramnagar. Heavy security measures are in place.
Seen here are locals outside the post-mortem house in Saharanpur on Thursday. (Express Photo by Praveen Khanna)
Autopsy over; body reaches Ramnagar
The post-mortem has been completed and the body has reached Ramnagar. It has been kept in Ravidas Mandir. It is being taken for last rites.
Autopsy of deceased underway
The post mortem examination of the deceased is being conducted and is expected to get over shortly. The body will be taken back to Ramnagar for cremation where a group of residents have been sitting in protest since Thursday evening. Hundreds of people – mostly members of Bhim Army and local residents — along with Kamal Walia, had yesterday stationed themselves at the Saharanpur district hospital. "We are not going to let the post-mortem take place unless a fair probe is conducted and our demands are met," a member of the Bhim Army had said.
Security measures in place
Members of the Rapid Action Force (RAF) and police in riot gear have been deployed to maintain peace, on Thursday night. (Express Photo by Praveen Khanna)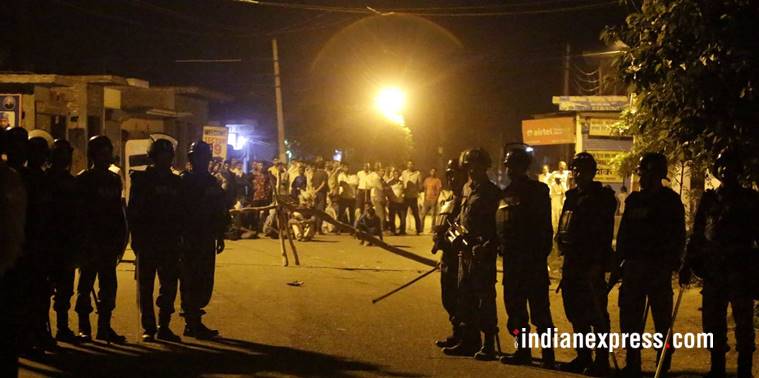 Hello. Welcome to out LIVE blog. The brother of a Bhim Army leader was shot dead on Wednesday. Fearing rise in simmering tensions in the Saharanpur district, authorities have suspended internet services and heightened security measures in the area. Follow this blog for latest updates.