"Where are we?" a young woman carrying a sleeping child asked. "I think in Jaipur," replied Badam Devi, in front of her in line to enter the large Jaipur Exhibition and Convention Centre. The sun was beating down on the expanse of concrete outside and the queue of women from Dausa zila, all members of the Rajasthan Grameen Aajeevika Vikas Parishad. They had been bussed there in the morning as 'Rally for Rivers', a river revitalisation campaign started by Isha Foundation founder Sadhguru Jaggi Vasudev, reached Rajasthan on Thursday.
In front of them were parked a row of SUVs painted with different animals and trees and each named after an Indian river. "We were ordered by our district administration to get ready early this morning and board the bus," Devi told The Indian Express. "We came for Vasundhara (Raje) but we don't know who that person is on all the posters with her."
Half-hour-later, as the lead singer of Isha Foundation's own home grown band 'Sounds of Isha' hit a falsetto inside the JECC, Vasudev drove into the venue in his green Mercedes SUV with Chief Minister Vasundhara Raje sitting in the passenger seat. Inside, a small drone captured men and women in a trance dancing to music on preserving nature and rivers. It was Vasudev's 17th stop in his month long rally to save rivers but this one was a little different: a subtle competition between him and Raje's Mukhya Mantri Jal Swavlamban Abhiyan (MJSA) on who really is saving rivers in the Rajasthan state. Also Read | Why should politicians not have spiritual guides
There was equal space for both inside the JECC: the large poster on stage had Raje's face and MJSA's logo on one end and Vasudev's face and his rally for rivers logo on the other. The state government played a promotional video of its work, so did the Isha Foundation. The crowd was made up mostly of men and women bussed in from across the State for "Vasundhara", students whose schools had been sent notices to make sure they attend, nursing students whose colleges had been sent notices to attend, and many employees of the Rajasthan government.
Then there were others like Harshita Saxena, in a grey rally for rivers t-shirt, from the Jaipur branch of Isha Foundation. "We met Sadhguru at Diggi Palace Hotel yesterday," she told The Indian Express. "He was in a good mood and we urged him to speak in Hindi and Marwari. He succeeded in speaking only in Hindi, a couple of lines to tell us, that if we don't care for our rivers, we will become like camels and will only drink water once in 15 days."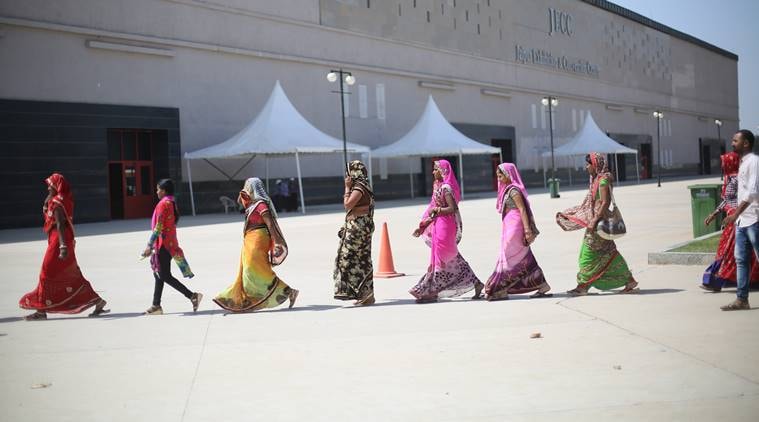 More than an hour after he reached the venue, and after a sand artist from Kolkata drew pictures in sand of the impending gloom if rivers are not saved, Vasudev stood up to share his thoughts. "Rivers are a concurrent subject. For the first time in 70 years, across the spectrum, all political parties beyond politics and ideology are rallying for rivers," he said. "Are you willing to stand up and make it happen?" Three men in the front row stood up as if on cue and let out an affirmative noise.
"What should I do? Is a question on your minds," Vasudev continued, "I want 100 youth from Rajasthan for three years to revive something in this country," he said. "There is very significant work going on in Rajasthan. But I am not satisfied with the pace. Why is the government saying there is no manpower? Where are the men?" he asked the crowd. A cheer went up. "Women also she is saying," he said, when Raje interrupted him to point out, there were women too in the crowd.
"I want you to do three things: give a missed call to the number, get everyone in your family to give a missed call to the number, and get everyone you don't know to give a missed call to the number," Vasudev said. "Vote for the well-being of rivers and water bodies and the soil. The policy is towards this."
Addressing the gathering, Raje said, "We started water conservation in 2011 after looking at the water crisis in the state, even though we were in Opposition; because this was a question of life, not of votes." Raje spoke of the achievements of her government in water conservation and the Eastern Rajasthan canal project that she said will link three rivers to meet the irrigation requirements of 13 zilas.
Throughout this time, 59-year-old Gajanand Sharma and his friends who are all part of the Krishi Gram Sewak in their village, stepped out for a drink of water and toilet break. "They told us to come here today to learn about farming. They said they will teach us something about conserving water but so far there is only song and dance," he said. "There is absolutely no water in our village and if you bore the ground we get water with fluoride in it. We were told to come to support the CM even though she has never once come to our village. As for Sadhguru, after Ram Rahim, we are all a bit wary of babas."
📣 The Indian Express is now on Telegram. Click here to join our channel (@indianexpress) and stay updated with the latest headlines
For all the latest India News, download Indian Express App.
The Indian Express website has been rated GREEN for its credibility and trustworthiness by Newsguard, a global service that rates news sources for their journalistic standards.