Written by
Vishnu Varma
| Sabarimala |
Updated: November 7, 2018 5:14:50 am
Barring the incident of a 52-year-old woman from Thrissur where confusion about whose age provoked protests at the Sabarimala hilltop shrine, the temple and it's adjoining base camps of Nilackal and Pamba remained largely peaceful and free of violence. The temple doors would close at 10 pm Tuesday bringing to an end the two-day rituals of the 'Chithira atta vishesham' held to celebrate the birthday of the last king of Travancore, Chithira Thirunal Rama Varma.
The police presence was strengthened especially on Tuesday anticipating violence if women between the age of 10 and 50 climb the hill. A woman in her late 20s had approached the police late Monday with her husband and two children to go to the shrine. But considering the security implications, the police requested them to return to which they eventually agreed after hours of discussions.
On Tuesday, Hindu outfits affiliated to the Sangh Parivar conducted namajapam (prayer) sessions both at the Pamba base camp as well as at the Sannidhanam. BJp leaders like PK Krishnadas, AN Radhakrishnan, MT Ramesh attended these prayer sessions. There were large groups of such pilgrims at Sannidhabam as well as the way to the shrine ostensibly to counter any move to allow women of menstruating age.
Follow | Sabarimala LIVE UPDATES
Valsan Thillankeri, a prominent RSs leader from Kannur who was at Sabarimala over the last two days, had said that devotees would 'naturally react' if there's a 'violation of traditions.'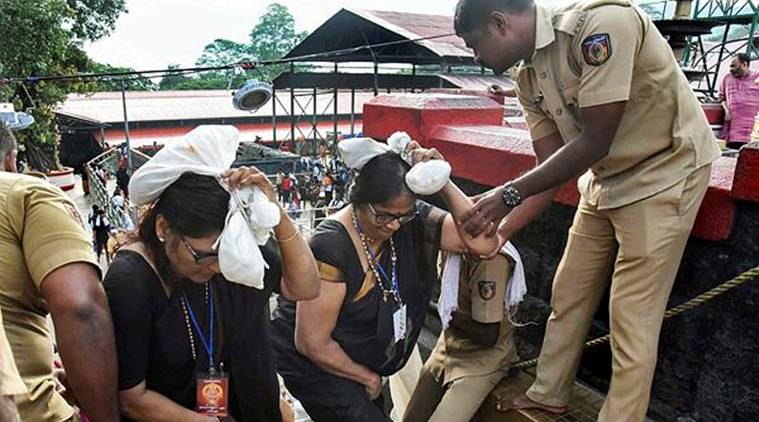 The entry of 52-year-old Lalitha Ravi led to a minor round of protests at the Sannidhabam following rumours among devotees and protesters that she was below the age of 50. Subsequently, a mob of pilgrims surrounded her as police tried to escort her leading to a scuffle. She was later taken to the Sannidhanam hospital where she clarified to reporters that she was 52 and had come to attend her grandchild's 'choroonu' (rice feeding ceremony) at the Ganapathi temple in Pamba. Following her clarification, the pilgrims themselves lined up as a human chain to escort her to the temple. She offered prayers and returned home with her family.
The Sabarimala temple's doors would close at 10 pm on Tuesday, only to open for the popular 'mandalam' festival on the first day of the month of 'vrischikam', sometime in mid-November.
📣 The Indian Express is now on Telegram. Click here to join our channel (@indianexpress) and stay updated with the latest headlines
For all the latest India News, download Indian Express App.