The five-day mega rally by Kerala BJP against the implementation of the Supreme Court verdict allowing the entry of women of all age groups inside the Sabarimala temple concluded outside the state secretariat on Monday. The state has been rocked by protests by BJP, Congress and Hindu outfits against the government's decision to not file a review petition and implement the apex court order.
The NDA's long march from Pandalam in Pathanamthitta district to state capital Thiruvananthapuram was led by BJP state president P S Sreedharan Pillai. It was attended by BDJS state convenor Tushar Vellappally, Karnataka BJP MP from Dakshina Kannada, Nalin Kumar Kateel, besides several party MLAs from Karnataka, BJP's sole MLA in Kerala O Rajagopal and former state president PK Krishnadas.
Chief Minister Pinarayi Vijayan had earlier slammed the agitation, saying 'deliberate efforts' were being made to destroy the state's unity. Following the apex court's order, the state government held a meeting in Thiruvananthapuram to evaluate the preparations for pilgrims arriving at the temple, which will open for monthly pujas on October 17 evening.
Live Blog
Massive protests are underway in Kerala against the Sabarimala verdict.
Visuals of today's protest march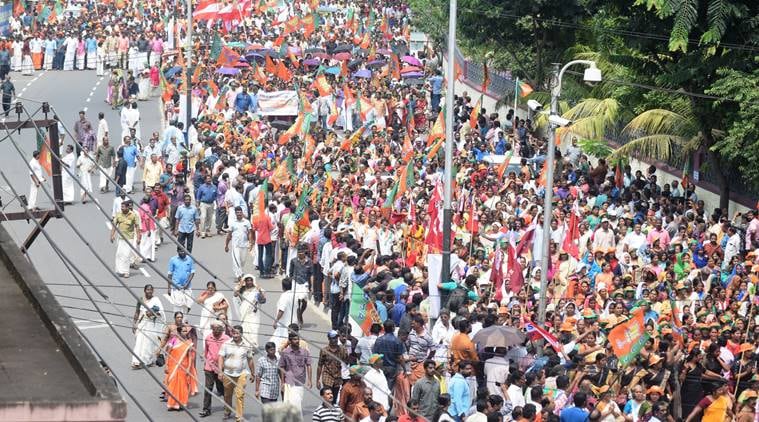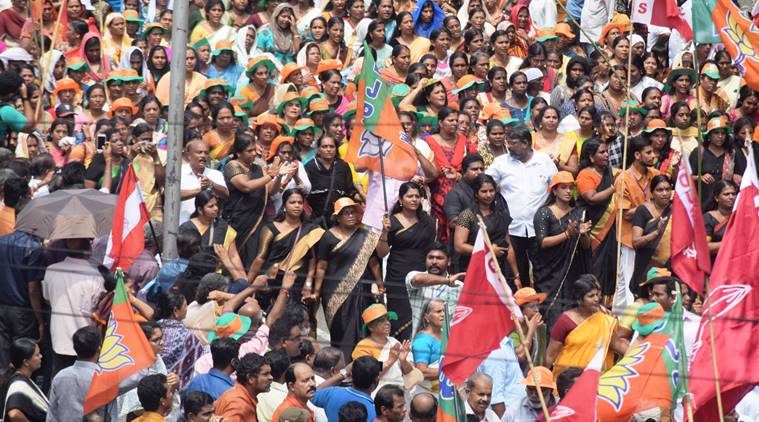 Review petition filed in SC by Kerala Brahmana Sabha
Kerala Brahmana Sabha jointly with the Vanita Vibag filed a review petition in the Supreme Court. 'Beliefs of every citizen need to be taken care of by any government and are not to be ransacked or attacked. . What we need is a peaceful solution not a political high jacking of this issue for vote bank politics,' Karimpuzha Raman state President Kerala Brahmana Sabha said after their submission in the SC. Both state and central govt should settle the issue amicably he added.
Trupti Desai asks Uddhav: Does Sena support entry of women in Sabarimala temple?
Hours after the Shiv Sena threatened to commit suicide if women enter the Sabarimala temple, activist Trupti Desai, the head of Bhumata Brigade, asked the party in Maharashtra to explain its stand on the issue. "Does the Shiv Sena support entry of women into Sabarimala temple? Is it in favour of women or against the Constitution which grants equal right to pray… Does it favour orthodox beliefs and wrong religious practices? The Sena needs to clarify its stand," Desai told The Indian Express. Slamming the Sena for "double standards" Desai said: "In the Shani Shingnapur case, the Shiv Sena had welcomed the entry of women into the temple where women were barred for centuries. In the Haji Ali case, too, the Shiv Sena had welcomed the entry of women. Now, why is the Kerala unit of the party threatening mass suicides? And this after the highest court of the land, the Supreme Court, permitted women to enter the temple and exercise their right to pray." Read full story here.
Travancore Devaswom Board calls for meeting tomorrow
Meanwhile, the Travancore Devaswom Board has invited tantrics (temple priests), Pandalam royals and devotee groups for a meeting to discuss 'various aspects', including preparations for the annual pilgrimage season, beginning next month. The meeting is also expected to discuss the apex court verdict.
Kerala Shiv Sena threatens mass suicide if 'women enter Sabarimala Temple'
On Saturday, the Kerala unit of the Shiv Sena had warned of mass suicide if women dared to enter the Sabarimala temple. "Our women activists will gather near the Pamba river on October 17 and 18 as part of a suicide group. If any young woman tries to enter Sabarimala, our activists will commit suicide," Peringammala Aji, a member of Sena, was quoted as saying by news agency ANI. The outfit's warning came even as Kerala CM Pinarayi Vijayan said that his government would follow the top court's order. Read full story here.
Kerala BJP gives 24-hour ultimatum to Vijayan govt
BJP state president Pillai said, "We are not looking for political benefits here. Our only aim is to uphold and protect the traditions at Sabarimala temple by standing closely with the believers. Sabarimala is the world's largest pilgrimage. Last year, 5.04 crore people visited the temple alone. The communist party has been trying to destroy the temple for the last 50 years. Nayanar failed. AK Gopalan failed. This padayatra with lakhs of people participating in it is aimed at opposing all those using loopholes in the law. If the government doesn't solve the problem within 24 hours, the NDA will be forced to bring out new forms of protests. We are peaceful protesters. No one can stop us."
Woman 'threatened' on Facebook for decision to enter Ayyappa temple
Meanwhile, a woman in Kannur district has reported receiving threats on social media after she made public her decision to enter the hill shrine. Reshma Nishanth, a 32-year-old teacher, announced on her Facebook profile on Sunday that she has been taking the rigorous 41-day 'vratam' (vow for abstinence) that devotees of Lord Ayyappa usually take before they make the annual pilgrimage to the temple. But within hours of her post, Reshma told indianexpress.com that abusive threats against her were circulating on the social media platform. "I haven't seen the threats on my profile but many of my friends who are active on groups have reported that there are extremely abusive messages against me. I have seen them myself as well. There are people saying that they will not allow me to climb the hill and that if I leave home, I will not return alive," Reshma, said on phone. Read full story here.
Security tightened in Thiruvananthapuram
Kerala has been witnessing a series of agitations by various devotee groups and Hindu outfits for the last few days, demanding that the sanctity of the temple rituals be protected. Heavy security arrangements have been put in place across the capital city, especially on the routes through which the BJP foot march passed.
Kerala BJP warns of another massive stir
Threatening to hold a massive agitation by roping in every villager if the government does not backtrack on its decision, BJP state president P S Sreedharan Pillai said, "We will meet each villager in Kerala and chalk out a massive agitation plan to protect the Sabarimala Temple, its centuries-old traditions and the sentiments of Lord Ayyappa devotees."
Senior NDA leaders participate in Sabarimala protest
BJP activists, including a large number of women and children, marched to the Secretariat, chanting mantras of Lord Ayyappa and holding the garlanded pictures of the deity. An array of senior NDA leaders, including actor-turned MP Suresh Gopi and Bharatiya Dharma Jana Sena chief Thushar Vellappally, were in the forefront of the march, led by BJP state president P S Sreedharan Pillai.
Not going to comment: Kamal Haasan on Sabarimala verdict
When asked about his stand on the top court's verdict on the Sabarimala temple, actor-turned politician and Makkal Needhi Maiam chief Kamal Haasan said, "This is a matter between the Supreme Court and the devotees. I am just an onlooker. I am not going to comment on it. I am not even going to say 'no comments'."
This is a matter between the Supreme Court and the devotees. I am just an onlooker. I am not going to comment on it. I am not even going to say 'no comments': Kamal Haasan, Makkal Needhi Maiam on #SabarimalaTemple pic.twitter.com/WyUabj9oPE

— ANI (@ANI) October 15, 2018
BJP protests against Sabarimala verdict
Kerala: A protest march led by BJP is being carried out in Thiruvananthapuram against the Supreme Court verdict over the entry of women of all age group in #Sabarimala temple, ahead of the opening of its portals. pic.twitter.com/6G6SPG6C1g

— ANI (@ANI) October 15, 2018
Kerala BJP's five-day march against Sabarimala verdict to conclude outside state secretariat
Massive protests against the implementation of the Supreme Court verdict allowing the entry of women of all age groups inside the Sabarimala temple will conclude outside the Kerala Secretariat today with the state BJP ending its five-day 'Save Sabarimala Yatra' from Pandalam to Trivandrum. Follow our live blog for all latest updates.