The 'main opposition' in Punjab's Vidhan Sabha, Aam Aadmi Party (AAP) wrapped up at just 20 seats as final results of rural local bodies polls were declared Sunday.
Even the Shiromani Akali Dal (SAD), it's ally Bhartiya Janata Party (BJP) and independents got more seats in rural local bodies polls than AAP which contested on one-third of seats.
Despite the row of Sri Guru Granth Sahib sacrilege hounding the Badals in Punjab, Akali Dal managed to win 371 seats including 18 in Zila Parishads and 353 in Panchayat Samitis.
Of the 2,899 Panchayat Samiti seats in the state, SAD won 353 and it's ally BJP got 63, whereas AAP managed 20 and independents/others won 107. The ruling Congress won the majority of 2,351.
Of 353 Zila Parishad seats in Punjab, AAP failed to open its account, while SAD managed 18, Congress won majority of 331.
Of the 20 Panchayat Samiti seats won by AAP, 19 were from Malwa districts including Bathinda (5), Barnala (5), Moga (3), Mansa (3) and Sangrur (3) and one from Majha (Tarn Taran-1).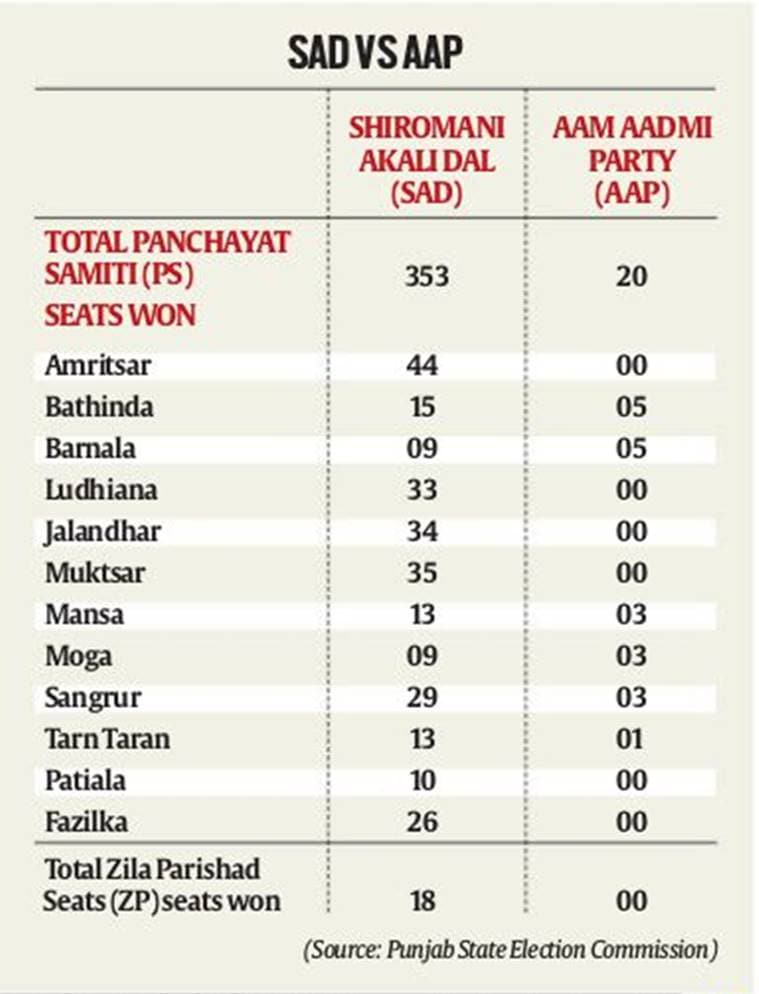 Even in some Malwa districts which AAP claims are its 'stronghold', it failed to secure any seats in Ludhiana, Patiala, Fazilka, Ferozepur, Fatehgarh Sahib and Muktsar. AAP had fielded six Zila Parishad and 28 Panchayat Samiti candidates in Ludhiana. In Patiala, AAP contested 12 Zila Parishad and 28 Panchayat Samiti seats but lost all.
In Majha belt, AAP failed to secure any seats in Amritsar and Gurdaspur. It did not contest in Pathankot and won one in Tarn Taran. In Doaba too, it failed to secure any seat in Jalandhar, Hoshiarpur, Kapurthala or Nawanshahr districts. Comparatively, SAD has won 44 Panchayat Samiti seats in Amritsar, 26 in Fazilka, 22 in Hoshiarpur, 34 in Jalandhar, 33 in Ludhiana, 35 in Muktsar and 29 in Sangrur. BJP too has won 25 PS seats in Hoshiarpur and 26 in Pathankot.
In 117-member Vidhan Sabha, AAP has 20 MLAs whereas SAD has 15. During state assembly polls last year, AAP had announced that it will win at least 90-100 seats but was wrapped up at only 20. Still, AAP had managed to emerge as main opposition with SAD-BJP reducing to just 18 seats.
In 2014 Lok Sabha polls, AAP had entered Lok Sabha winning four seats from Punjab but in all polls held afterwards, AAP's graph in Punjab has been on a downward slope.
The humiliating defeat for AAP in these polls, ahead of Lok Sabha polls next year, has come at a time when infighting is going on in the party with two camps led by former leader of opposition Sukhpal Khaira and current LOP Harpal Cheema.
Prior to rural polls, AAP candidates faced similar results in urban local bodies polls earlier this year, Shahkot state assembly bypoll and Gurdaspur Lok Sabha bypoll. In urban body polls, AAP managed just one seat in Ludhiana MC and none in Amritsar, Patiala or Jalandhar. In Shahkot bypoll, the security deposit of AAP candidate was forfeited as party got just 1,900 votes.
Both SAD, Congress experienced in using muscle power, distributed liquor: AAP
After the final declaration results Sunday, AAP leader of opposition Harpal Cheema, speaking to The Indian Express, said, "Yes, SAD has also won more seats than us because their leader Sukhbir Badal himself was involved in hooliganism and used unfair means to win. The polls were rigged. SAD is also experienced in winning such polls by using muscle power so we anyway stood no chance in front of them because we did not distribute any liquor. Both SAD and Congress distributed liquor in every village to get votes. So it is obvious that both parties which used muscle power got more seats than us," adding that, "The infighting in our party is not the reason for this loss. Still we have performed well despite muscle power used by Congress."