BJP and Vishwa Hindu Parishad leaders on Tuesday attended the inauguration of 'Ram Rajya Rath Yatra' with VHP general secretary Champat Rai flagging off the event in Ayodhya. The yatra, organised by Maharashtra-based Shri Ramdas Mission Universal Society, will conclude at Rameshwaram in Tamil Nadu on March 22 after covering six states. The 'rath' is a replica of the proposed Ram temple.
While its main agenda is to administer a pledge to the people for construction of the Ram temple on the disputed land in Ayodhya, it also seeks to re-establish 'Ram Rajya', include Ramayana in school syllabus, declare Thursday as the official weekly off in the place of Sunday and observe 'National Hindu Day'. The organisation had initially invited Chief Minister Yogi Adityanath to flag off the yatra.
Faizabad BJP MP Lallu Singh, Ayodhya's BJP Mayor Rishikesh Upadhyay and leaders of local party units attended the ceremony along with VHP secretary (central) Ashok Tiwari, several sants and religious leaders. All of them took the pledge to build the Ram temple.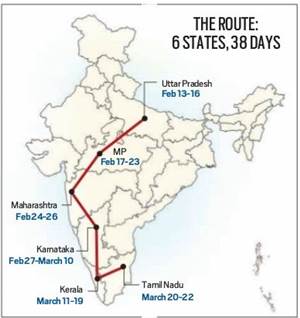 VHP office-bearer Ashok Tiwari said that during the ceremony, it was decided by the organisers that at every stop, local residents will be administered a pledge for the construction of Ram temple "as a reply to the attack on temples by foreign invaders". "Though many Hindu temples were destroyed by invaders and it is not possible to restore them all, we at least want temples in Ayodhya, Mathura and Kashi to be rebuilt," Tiwari said.
Claiming that BJP or VHP is not directly associated with the yatra, BJP MP Lallu Singh said: "The programme will encourage people towards bringing 'Ram Rajya', which was approved by Gandhi and Lohia as the best possible rule… Therefore, we decided to be a part of it."
"The yatra is for a good cause… to bring back 'Ram Rajya'… and will travel through the same route that Ram had taken for his journey to Lanka. I personally support such religious causes and being the MP from Faizabad, when I received an invitation to be a part of it, I happily accepted," he added.
VHP spokesperson Sharad Sharma said: "We are not organising the yatra, but we are supporting and cooperating with it." Sources said VHP members have been asked to welcome the rath when it passes through their states.
The Indian Express website has been rated GREEN for its credibility and trustworthiness by Newsguard, a global service that rates news sources for their journalistic standards.