POLICE HAVE booked Congress leaders in Amethi and Rae Bareli in three cases, a day after party workers allegedly beat up local residents protesting against Rahul Gandhi, scuffled with policemen and also displayed posters showing the Congress president as Ram and Prime Minister Narendra Modi as Raavan. While two FIRs were lodged at Salon police station in Rae Bareli late Monday against local MLC Deepak Singh and three other party leaders, another case was lodged at Amethi's Gauriganj police station on Sunday against three leaders.  While Salon falls in the Amethi Lok Sabha constituency, it is in Rae Bareli district.
One of the FIRs lodged at Salon police station is related to Congress MLC Deepak Singh and others scuffling with policemen after the leaders allegedly assaulted and chased away protesters, who were standing on the roadside with posters carrying messages such as "lapata sansad ka swagat hai".  On the other hand, some posters raised questions about the projects that Rahul had promised for Amethi.
Along with protesters, BJP MLA from Salon, Dal Bahadur Kori, had reached the police  station on Monday demanding that the Congress leaders be booked. Salon police SHO G D Shukla said that a local resident, Ram Sajeevan Nirmal, who sustained injuries in his legs in the alleged assault, had lodged a complaint stating that while they were holding a silent protest, Congress workers led by MLC Deepak Singh started abusing them. Later, they attacked the protesters with lathis, leaving several injured, he added.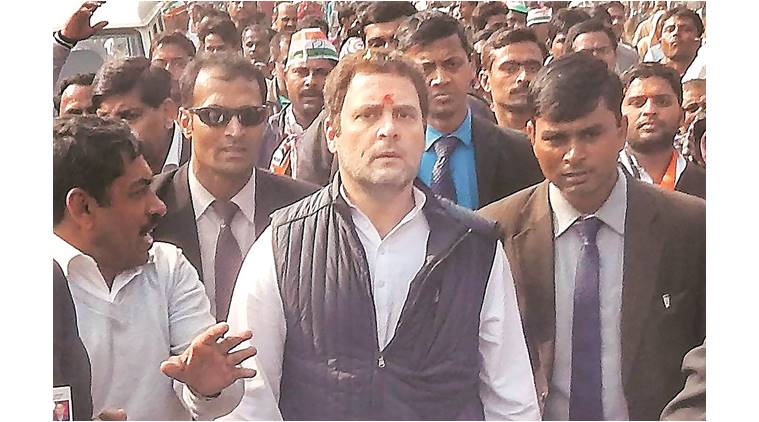 On Nirmal's complaint, an FIR was lodged against Deepak Singh, Chunnu Singh, Arjun Pasi, Anwar and 15 to 20 unidentified people under sections 147 (rioting), 504 (intentional insult with intent to provoke breach of the peace), 506 (criminal intimidation), 352 (punishment for assault or criminal force otherwise than on grave provocation) and 427 (Mischief causing damage to the amount of fifty rupees) of the IPC, said the SHO.
The second FIR was lodged at Salon police station on the complaint of the SHO. The same accused were again booked for allegedly misbehaving with district officials and policemen. "When Congress leaders arrived and started threatening protesters, officials tried to stop them but the leaders entered into argument and scuffled with them," said Shukla.  The FIR has been lodged under sections 147, 504, 506 and 332 (assault or criminal force to deter public servant from discharge of his duty), the SHO added.
"All named accused are Congress leaders," he said.  Another FIR was lodged against three Congress leaders at Gauriganj police station in Amethi in connection with a controversial poster projecting Rahul Gandhi as Ram and Krishna and Prime Minister Narendra Modi as Ravan, which was spotted outside Gauriganj railway station in Amethi on Sunday.
The police had seized the poster the same day. Gauriganj police SHO Jitendra Singh said a local resident, Surya Narayan Tiwari, informed the police about the poster. "On his complaint, we lodged an FIR on the charge of attempting to cause riot between BJP and Congressmen. The poster had led to anger among people and there was a threat to the law and order situation," he added. Congress leaders Rama Kant Shukla, his nephew Abhay and another person, Sonu, have been booked under sections 155 (liability of person for whose benefit riot is committed), 504 and 506 of the IPC, the SHO said.