Written by
Sushant Singh
| New Delhi |
Updated: August 31, 2018 4:55:13 pm
Two days before then French President Francois Hollande came to New Delhi as the Republic Day chief guest and signed a Memorandum of Understanding with Prime Minister Narendra Modi for delivering 36 Rafale aircraft, Anil Ambani's Reliance Entertainment entered into a deal to produce a film with Hollande's partner and actor Julie Gayet.
Later that year, Ambani's Reliance Defence became part of the offset programme of the Rs 59,000-crore Rafale deal through Dassault Reliance Aerospace Ltd (DRAL), in which it holds a 51% stake. Dassault Aviation, the French manufacturer of Rafale, holds 49% stake in DRAL.
On January 24, 2016, Reliance Entertainment announced that it had entered into an agreement with Gayet's firm, Rouge International, to jointly produce a French film.
READ | Arun Jaitley says Congress claim on Rafale pricing 'factually false', aircraft cost 9% cheaper
On January 26, 2016, both countries signed the MoU for the purchase of 36 jets in flyaway condition. The deal, called the Inter- Government Agreement, was expected to be signed during Hollande's visit but was delayed due to "some financial issues".
As for the film Reliance helped produce, it was directed by French actor and film-maker Serge Hazanavicius and was released in France on December 20, 2017 under the title, Tout La-Haut.
READ | Congress rejects Jaitley's contention on Rafale, says FM not aware of def procurement policy provisions
This was eight weeks after Dassault Aviation chairman Eric Trappier and Ambani laid the foundation stone for DRAL manufacturing facility in Nagpur in the presence of then French Defence Minister Florence Parly; Roads and Highways Minister Nitin Gadkari; Maharashtra Chief Minister Devendra Fadnavis and Ambassador of France to India Alexandre Ziegler.
The 98-minute French film, first screened at the San Sebastian International Film Festival in Spain in 2017, was distributed in eight other countries including UAE, Taiwan, Lebanon, Belgium, Estonia and Latvia. Tout La-Haut has not been released in India.
The deal for 36 Rafale jets was announced, negotiated between the two governments and signed during the presidency of Hollande, when Gayet was staying with him in Elysee palace in Paris. Hollande was President of France from May 2012 to May 2017 and his relationship with Gayet became public in January 2014.
The first announcement of Dassault and Reliance creating a JV in India as a "key player" for execution of offset obligations was made in October 2016, again during Hollande's Presidency.
EXPLAINED | The fight over IAF's fighters
This was 10 days after the deal worth Rs 59,000 crore was signed between Indian and French Defence ministers in New Delhi on September 23, 2016, with a clause for 50% offset obligations.
The Indian Express contacted Rouge International over telephone and was asked to send questions over email. The emails remained unanswered. On further enquiry, it was told that an answer to the questions should not be expected.
Reliance Entertainment was contacted over SMS, phone and email. However, questions from The Indian Express pertaining to Tout La-Haut and the company's investments in European films remain unanswered.
Under the offsets clause, France is to invest 50 per cent of the total order cost in local contracts in India, worth Rs 30,000 crore. The offset obligations of the deal are to be discharged from September 2019 to September 2023, as per the contract.
Rafale offset was the first project of this magnitude won by Reliance Defence, which placed it at the centre of a major political controversy. Opposition parties, including the Congress, have alleged that undue favours had been granted to Ambani's firm in this deal, a company without any defence manufacturing experience.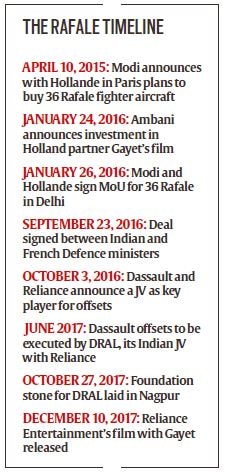 This was done, they alleged, at the cost of public sector Hindustan Aeronautics Limited (HAL), Bangalore which was to make the aircraft in India in the earlier 126 aircraft deal scrapped by the BJP government.
READ | Defence Ministry: 'Rafale deal matter of national security, can't disclose details'
The Defence Ministry clarified in a statement that "no Indian Offset Partner for the 2016 deal for 36 Rafale Aircraft has been so far selected by the vendor (Dassault Aviation or DA) because as per the applicable guidelines, DA is free to select the Indian Offset Partners and provide their details at the time of seeking offset credits, or one year prior to discharge of offset obligation".
Reliance Defence dismissed the claim that Dassault had given Rs 30,000-crore worth of offset contract to Reliance as "totally unfounded". Dassault and its main suppliers have already indicated that more than 100 Indian companies would participate in the offset contracts including joint ventures with public sector firms such as HAL and Bharat Electricals Ltd, the company said in a statement this month.
Earlier this month, Ambani had written a letter to Congress party President Rahul Gandhi that not a single component worth a single rupee is to be manufactured by Reliance for these 36 jets. The allegations relating to "lack of experience" are, thus, irrelevant, Ambani had said.
Ambani was present in Paris on April 10, 2015 when Modi first announced, alongside Hollande, that India would procure 36 Rafale jets under a government-to-government deal in Paris during his visit to France in April 2015.
According to RoC filing made by Reliance Entertainment, the company had reported losses in each of the last four years — a loss of Rs 1,75,501 in FY'14, a loss of Rs 22,694 in the subsequent year, which then surged to a loss of Rs 5,75,439 in FY'16. For FY'17, the company reported a loss of Rs 24,795.
"As doubts are sought to be created about the 2016 contract for 36 aircraft, it is once again strongly reiterated that the deal secured by the Government is better in terms of capability, price, equipment, delivery, maintenance, training, etc., than that notionally negotiated by the then Government in a process it could not conclude in ten years. Moreover, the present Government completed these negotiations in just about one year," said the Ministry of Defence in a statement in February this year.
The Indian Express website has been rated GREEN for its credibility and trustworthiness by Newsguard, a global service that rates news sources for their journalistic standards.