At least 22 people have been killed in Punjab, Himachal Pradesh and Jammu and Kashmir after incessant rain pounded the northern states of the country. Army has been kept on standby and a red alert has been issued in Punjab and Himachal Pradesh.
Water levels in rivers rose across Himachal Pradesh, with the level in Pong Dam nearing danger mark. Bhakra Beas Management Board announced the release of 49,000 cusecs of water from Pong dam at 3 pm on Tuesday into Beas river. Around 1 lakh cusecs were released late night from Ropar barrage into Sutlej.
Follow Kerala rain Live Updates
Road, rail and air traffic were disrupted throughout the day across the region. There were reports of 15-20 per cent Kharif crop damage (cotton, bajra, paddy and moong) across Punjab and Haryana.
According to the Meteorological department, heavy to very heavy rain is expected at isolated places in Arunachal Pradesh, Assam, Meghalaya, western Uttar Pradesh, Uttarakhand, Haryana, Chandigarh, Delhi and Himachal Pradesh
Live Blog
Heavy rains lash Punjab, Haryana, Jammu and Kashmir and Himachal Pradesh. Follow LIVE Updates here
In photos: Yamuna overflows with toxic froth, filth
River Yamuna is overflowing with bubbling thick foam and filth. Appearing like snow, the toxic froth is full of residential and industrial waste whose foul stench could be smelt from a distance. The river is spilling over and flowing above the danger levels after Haryana opened the Hathnikund barrage in the wake of heavy rains and flash floods in parts of Uttarakhand, Himachal Pradesh and Punjab.
The plight of the river worsened after thousands of broken or semi-dissolved idols of Ganesha made of Plaster of Paris and coated with toxic chemicals such as mercury, cadmium, lead and carbon were immersed in the Yamuna on the occasion of Ganesh Chaturthi which commenced late last month. READ MORE
300 including 45 IIT students stranded in Himachal safe
Around 300 people, including 45 IIT Roorkee students, who were stranded in various parts of Lahaul and Spiti district are safe, a Himachal Pradesh government official said Tuesday. Following snowfall, the Rohtang Pass and inner roads in the area got blocked due to which about 300 people, including the students who were on a trekking expedition, got stranded, Keylong Sub Divisional Magistrate Amar Negi was quoted as saying by PTI.
Negi said two Indian Air Force (IAF) helicopters have been sought from the state government for rescuing the stranded people. All the people, including the 45 students, who got stuck due to bad weather and snowfall are safe, he said. The stranded people were being provided shelter and food by the district administration.
State Chief Minister Jai Ram Thakur will visit Lahaul-Spiti district later in the day to take stock of the situation arisen out of recent snowfall, he said.
Water level in Yamuna crosses danger mark
The water level in Yamuna has crossed the danger mark of 204.83 m and is flowing at 205.14 m right now. According to officials, the level is expected to touch 205.34 m by tonight and is expected to start lowering by tomorrow morning. The levels have risen in Himachal Pradesh, Punjab and Haryana. Delhi government officials are meeting to discuss whether those living on floodplains will be evacuated.
Rains lash Uttarakhand, Tanakpur-Pithoragarh route blocked
Tanakpur-Pithoragarh route blocked at several places due to heavy rainfall in Uttarakhand, reports ANI
Clear skies in parts of Punjab!
#Punjab rains: Sun out in Punjab after three days of continuous downpour. Clear skies in Ludhiana, Jalandhar, Hoshiarpur, Fatehgarh Sahib, Rupnagar, Nawanshahr, Moga, Mansa, Faridkot among others. Cloudy at some places in Amritsar, Patiala and Sangrur but no rain @IndianExpress

— Divya Goyal (@divya5521) September 25, 2018
Foreign couple trapped in snow rescued in Kargil
A foreign tourist couple, who were trapped in snow in Jammu and Kashmir's Kargil district, was rescued on Tuesday, officials said. "Micheal Mobius and his wife got trapped in snow between Pudzong La and Rang dum on Monday," a district administration official said.
"They somehow sent a distress signal to the Maritime Rescue Coordination Centre, where we received an SoS following which the Deputy Commissioner of Kargil immediately requested the Divisional Commissioner Kashmir and Commissioner Civil Aviation Jammu and Kashmir to request the Air Force to launch a rescue operation."
An aerial rescue operation was launched on Tuesday morning and the couple were air-lifted by an Indian Air Force chopper to Leh, according to the official. The couple is currently undergoing treatment at a hospital
-IANS
Eight missing tourists rescued from Lahaul-Spiti
Eight travellers, who had gone missing from Lahaul-Sipti in Himachal Pradesh, were rescued and are safe at a camp, authorities said. The group comprise a woman from Brunei, Sanjida Tuba, a man from the Netherlands, Abby Lim, and six Indians — Priyanka Vora, Payal Desai, Dipika, Divya Aggarwal, Abhinav Chandel and Ashok had gone missing on Monday evening
Rainfall likely to decrease from today: IMD
According to IMD, the low-pressure area over Haryana and the neighbouring regions have become less marked and the rainfall is expected to decrease in the next 24 hours.
Continuous downpour in the past three days has resulted in excess rainfall in Punjab and Himachal Pradesh – more than the seasonal average. However, Haryana, as on Monday morning, was still deficit by 10 per cent of the average rainfall. According to the official data, Himachal Pradesh recorded a seven per cent increase and Punjab saw a six per cent increase in the rainfall than the normal owing to the continuous rainfall of past three days. Chandigarh in the region recorded the highest seasonal increase of rainfall — 14 % surge to the seasonal normal.
Villages near Sutlej put on high alert, police to identify weak buildings that may collapse
Villages near Sutlej River have been put on high alert in the wake of heavy rainfall in the state. A team of police personnel were deployed to monitor the situation and move out families to safe areas if required.
The police has also had a meeting with Army officials and have begun to identify weak buildings which may collapse due to rainfall.
"We have put villages near Sutlej river on high alert. Additional police force has been sent to Machhiwara from Khanna for checking and rehabilitation of border villages. If need be, we are ready to shift families to safer places. Two families have been shifted to a community centre in Khanna city-2 area after their homes were found to be weak and there was an apprehension of a collapse. More such buildings are being identified which may collapse due to continuous rain," Khanna SSP Dhruv Dahiya said
"We have also arranged for safety equipments including boats, life jackets, ropes, torches, dragon lights, tubes etc as they will be needed for night patrolling today," the SSP added.
Army relief columns on stand-by in Punjab
Army units along the rivers Beas, Ravi and Sutlej have been asked to keep their flood relief columns ready in case the civil administration requisitions their deployment. "As of now the situation does not warrant any deployment but if the water level in the rivers rises and threatens habitations then we may be required to extend help," said a senior officer.
The IAF activated its helicopters stationed at Air Force Station, Sarsawa, after receiving a request from Himachal government for the rescue of some persons stuck due to incessant rains at Kullu.
One MI-17 helicopter was launched from the helicopter unit based at Sarsawa, piloted by Squadron Leader Vipul Gupta with Sqn Ldr Dhiman as the co-pilot. The helicopter reached the spot and found 19 people stranded on an islet on the swelling Beas river. "The pilot brought the helicopter to a low hover and the crew helped the stranded people into the aircraft. They were then flown to the local airfield of Bhuntar," the IAF spokesperson said. Read more
Torrential rain damages crop, farmes seek compensation for damage
Farmers in Haryana and Punjab complain of crop damage due to continuous rainfall. "It has been raining continuously since 3 days. All the crops are damaged. The crops which we had already sent to the market are damaged too and are not getting any buyer," a farmer from Karnal said.
Cotton, another major kharif crop, has also left farmers concerned as rains could hit its yield at this point of time when the harvesting is underway. "Cotton is at picking stage and rains have come as a blow for farmers," said an official of the Haryana Agriculture Department. Farmers have sought adequate compensation for the damage. "We have demanded from the government to get revenue assessment done of damaged crop and also sought adequate compensation to affected growers," Bhartiya Kisan Union (Ekta Ugrahan) general secretary Sukhdev Singh said.
Jalandhar: Roof collapse incidents kill five, eight-month-old drowns
Five persons died while a dozen people sustained serious injuries in six separate incidents of roof collapse in Kapurthala and Nawahshar due to heavy rainfall. Read more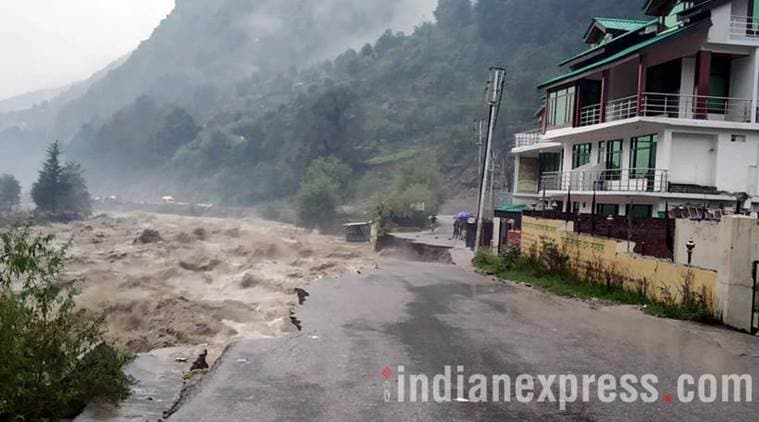 Punjab: 20 per cent standing paddy crop takes a hit amid heavy rains
Agriculture department officials said that the damage would be more because the final assessment of damage can be done only after the rain stops. Read more
Himachal Pradesh: Visuals of Beas river in Kullu district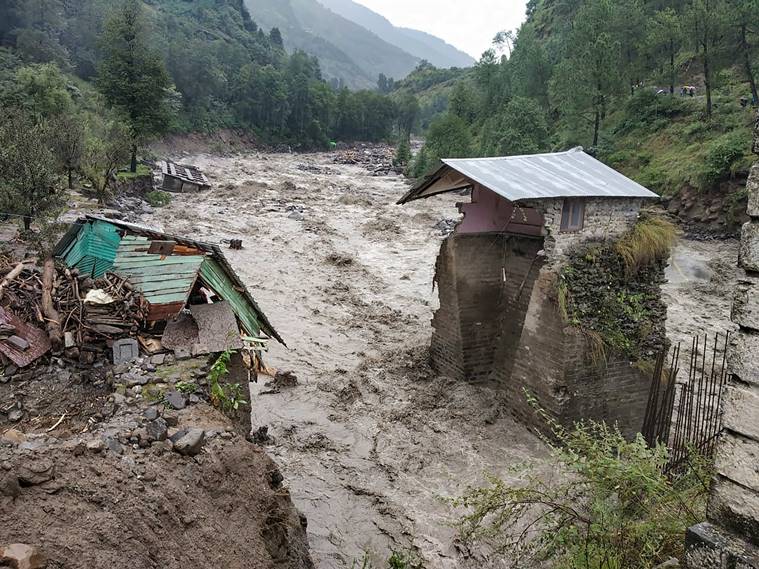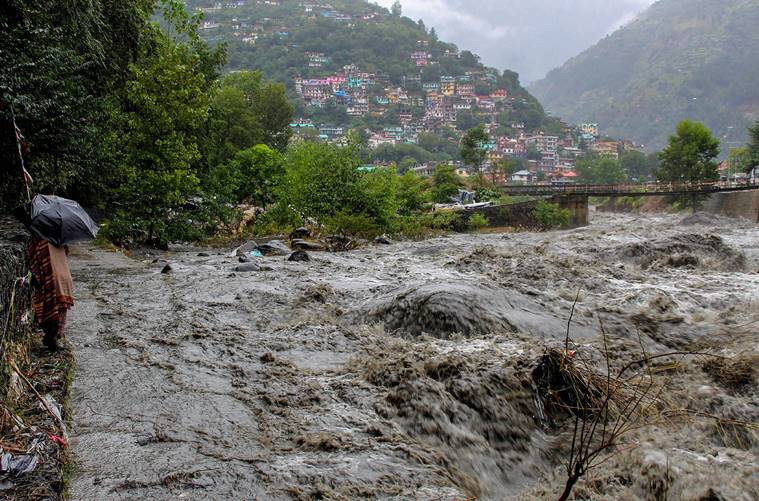 Special Nowcast warning for Punjab, Haryana: 09:30 pm - 12:30 am
Light to moderate rain/thundershowers expected in many parts of Hoshiarpur, Nawashar, Jalandhar, Kapurthala, Ludhiana, Sangrur, Patiala, Fatehgarhsahib, Rupnagar, SAS nagar, Panchkula, Ambala, Yamunanagar, Sonipat and Kaithal districts.
500 pilgrims stranded in Kedarnath Valley
After hours of incessant rains in the Kedarnath Valley in Uttarakhand's Rudraprayag district, a five metre stretch of the bridle path near Lincholi, which falls on the way to Kedarnath, was washed out today afternoon, leaving over 500 pilgrims stranded in the Valley. Another landslide at Phata, around 15 kms from Kedarnath, resulted in the national highway getting blocked. Rudraprayag District Magistrate Mangesh Ghildiyal said, "(Over) 500 pilgrims who were returning from Kedarnath got stranded at Lincholi (8 kms from Kedarnath) when a five-metre stretch of the bridle path got washed out due to continuous rains."
Gates of Chamera dam opened to release excess water
Punjab Health Department on standby
On the possible outbreak of water-borne diseases, Punjab CM has asked the Health Department to take preventive measures by organising special medical checkup camps and arranging sufficient stock of medicines in this behalf
Punjab: More rain tonight, says IMD
#Punjab rains: As per fresh Nowcast issued by IMD, light to moderate rain/thundershowers very likely in many parts of Hoshiarpur, Nawanshahr, Jalandhar, Kapurthala, Ludhiana, Sangrur, Patiala, Fatehgarh sahib, Rupnagar and Mohali till 9.30 pm today @IndianExpress pic.twitter.com/4sO0gUgZRl

— Divya Goyal (@divya5521) September 24, 2018
Punjab CM has asked his ministers and MLAs to tour their respective areas extensively to assess the ground situation and tie up with the concerned departments for immediate redressal of hardships being faced by the people.
BBMB issues advisory to Punjab to release 'excess' water from Pong dam
The Bhakra Beas Management Board (BBMB) has issued an advisory to Punjab for releasing "excess" water from the Pong dam in the wake of incessant rains in catchment areas of the Beas river. The BBMB authorities said they have been constantly monitoring the water-level situation. "Due to high pattern inflow in the Pong reservoir and considering forecast of heavy rains in the Beas catchment area, excess water from the Pong dam can be released. All necessary steps be taken by all concerned to avoid any damage or loss of life and property in the downstream areas," as per the advisory issued by BBMB.
Visuals from Himachal Pradesh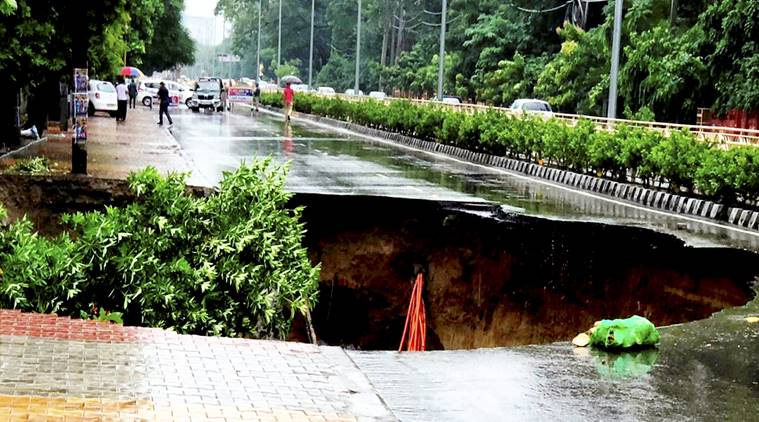 A road caved in following continuous rainfall in Amritsar on Monday. (PTI)
Amritsar: Short termination/short origination of trains
As per the announcement by Northern Railway, 12241Chandigarh- Amritsar Superfast express, which commenced on 23.09.2018, will be short terminated at Mananwala. Consequently, the 12242 Amritsar- Chandigarh Superfast Journey, which commenced today, will short originate from Mananwala.
Amritsar: Trains cancelled/diverted
According to a press release by Northern Railway, due to waterlogging in Amritsar, the following trains have been cancelled/diverted:
- 12460/ 12459 Amritsar – New Delhi- Amritsar and 14681/ 14682 New Delhi -Jallandhar City - New Delhi Intercity express trains have been cancelled for the day.
- 19225 Bathinda – Jammutawi express, which commenced its journey on 23.09.2018, has been diverted and will run via Jalandhar City - Mukerian - Pathankot instead of Jallandhar City – Amritsar- Pathankot.

- 19226 Jammutawi - Bathinda express, which commenced its journey on 23.09.2018, has been diverted and will run via Pathankot - Mukerian - Jalandhar City instead of Pathankot- Amritsar - Jalandhar City.
The maximum reservoir level of Ranjit Sagar Dam is 527.91 meter. The current level is 524.80 meter. An alert has been sounded in a dozen villages in Mukerian, Hoshiarpur district in Punjab.
Ludhiana: Villages near Sutlej river in Doraha, Macchiwara on alert
#Punjab flood alert & heavy rains: Villages near Sutlej river in Doraha and Machhiwara (dist Ludhiana) on alert. Khanna SSP issues orders to SHOs to identify weak buildings (which may collapse due to continuous rain) and shift families to a safe place. @IndianExpress pic.twitter.com/kF6BEIBULk

— Divya Goyal (@divya5521) September 24, 2018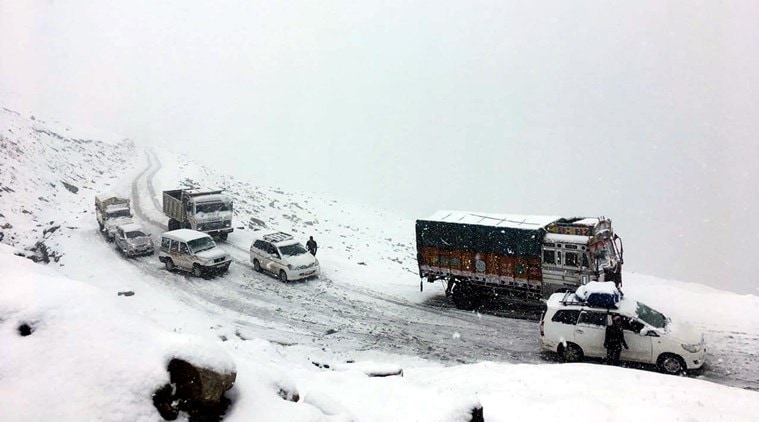 Vehicles stuck on a snow-covered road following fresh snowfall in Rohtang on Monday. (Express photo/Pradeep Kumar)
Punjab schools, colleges to remain shut on Tuesday
In view of the incessant rains and looming flood threat, Punjab Chief Minister Amarinder Singh has announced the closure of schools and colleges on Tuesday.



Chief Minister @capt_amarinder announces closure of all schools & colleges in Punjab on Tuesday (Sept 25) in view of the incessant rains and the looming flood threat. pic.twitter.com/7I8AH5ZFu1


— RaveenMediaAdvPunCM (@RT_MediaAdvPbCM) September 24, 2018
Latest data on rainfall in Himachal Pradesh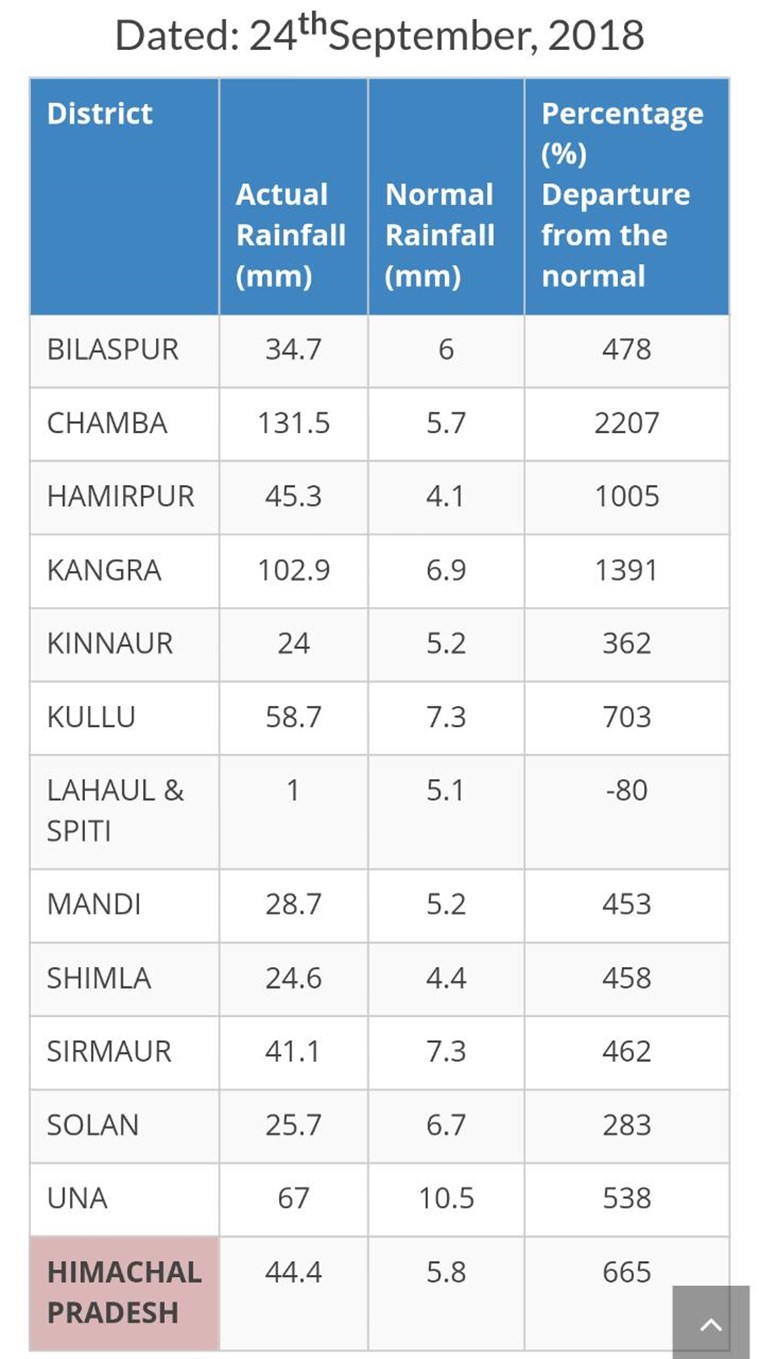 Latest data on rainfall in Haryana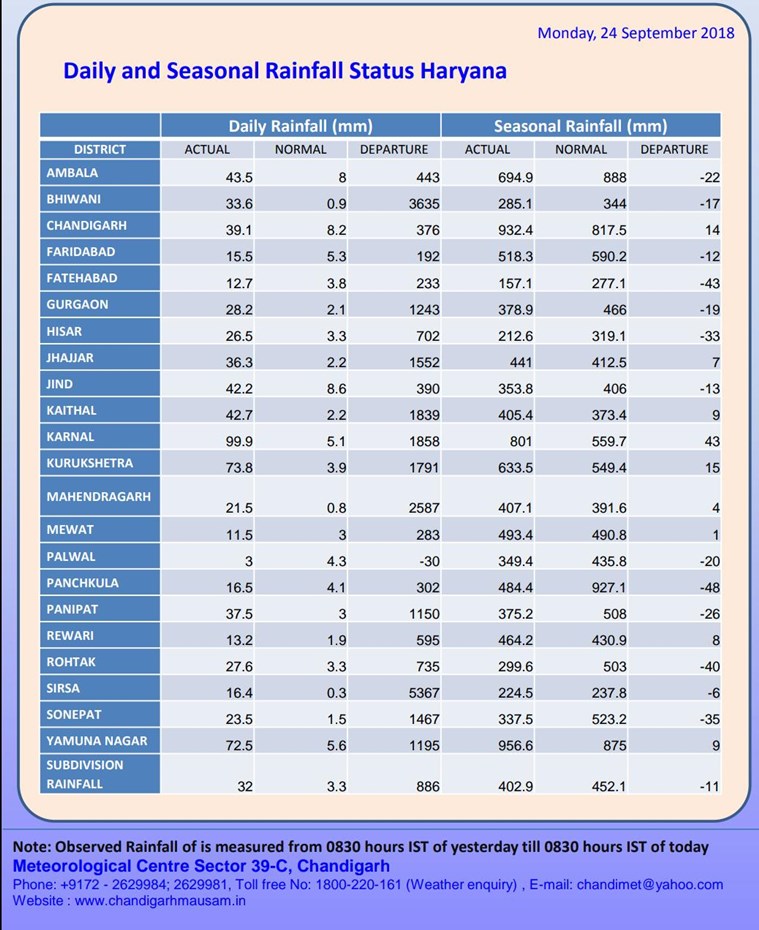 Five killed in J&K landslide
Five members of a family were killed after a landslide hit their dhok (temporary shelter at higher reaches) in Jammu and Kashmir's hilly Doda district on Sunday night.
CM Singh chairs meeting to discuss Punjab situation
Charing a meeting to access the current situation as a result of the heavy rains in H.P and water being released from dams. Preparing a contingency plan for the same. Will ensure safety of Punjabis. Have also ordered a Special Girdawari to assess crop damage, if any. pic.twitter.com/tI47UbLJep

— Capt.Amarinder Singh (@capt_amarinder) September 24, 2018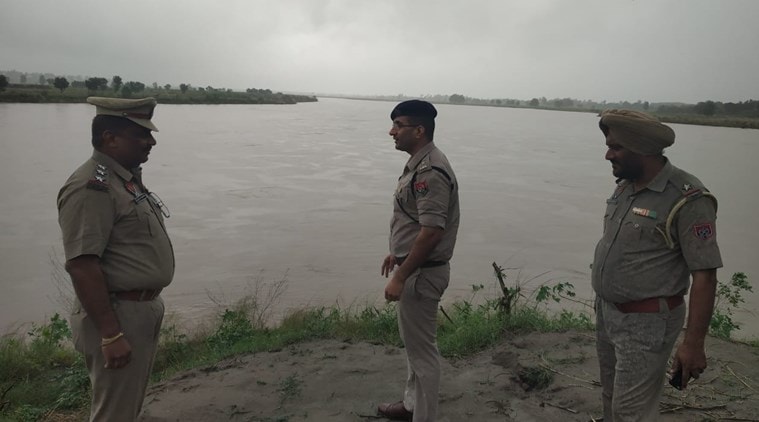 The water flow at Sutlej Pull border between Khanna and Nawanshahr is going strong, with the Bhakra-Beas Management Board in Hoshiarpur warning about floods in the downstream areas. All three gates were also opened to release water from Sukhna lake. (Express photo)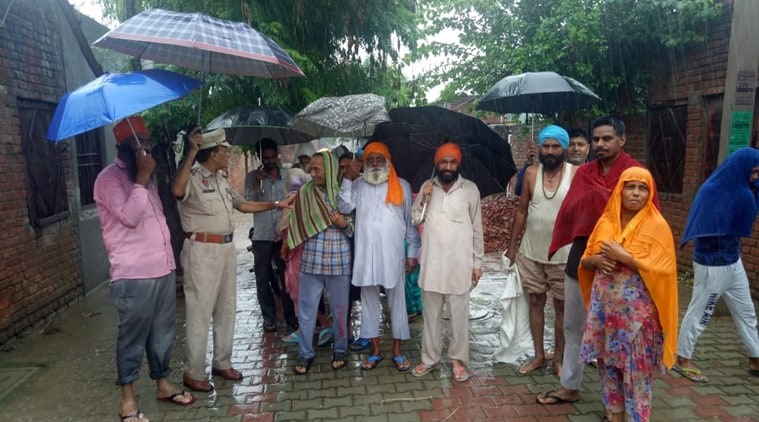 Two Khanna families were shifted out of their homes, which looked like they were about to collapse, by the police today afternoon. The families were moved to a shelter. (Express photo/Nirupama Subramanian)
Punjab CM's appeal to people
Punjab CM Amarinder Singh appealed to the people to try and not move out of their houses in the next 24 hours. "I appeal to the people to exercise restraint. During the next 24 hours, they should move out of their houses only if it is unavoidable," he said.
Fatehgarh Sahib Deputy Commissioner declares holiday for government, private schools
Fatehgarh Sahib Deputy Commissioner has declared holiday for both government and private schools and anganwadi centres tomorrow. Meanwhile, snowfall at Keylong in Lahaul and Spiti district saw temperatures nosedive beyond freezing point, according to the Meteorological Centre. Keylong recorded its lowest temperature at minus 0.2 degree Celsius. The MeT has further said that light to moderate rainfall would occur at scattered places in Himachal tomorrow, thereafter the weather would almost be dry.
Punjab CM Amarinder Singh to hold meeting with officials over flood situation
Punjab Chief Minister Amarinder Singh has also asked district authorities to make arrangements for equipment to drain out flood water. "Districts in catchment areas of three rivers should arrange enough boats to rescue affected people," Singh further said. The CM will review the arrangements in a meeting with senior officers later in the day and further instructions will follow thereafter. The Punjab government has also released helpline numbers: 100, 112, 95929-14053 (Police Control Room, 95929-14037 SHO/Doraha & 97179-17789 SSP/Khanna).
Rains cause waterlogging and traffic snarls in Delhi
Meanwhile, in Delhi, heavy rains lashed several parts of the capital and NCR on Monday, causing waterlogging and traffic snarls on major intersections in the city. Roads such as Fatehpuri T-point on S P Mukherjee Marg, Rajdhani Park, Mehrauli-Badarpur T-point and Pramod Mahajan Marg were waterlogged. A breakdown of a truck on Nangloi flyover further caused congestion on the road from Nangloi towards Peeragarhi. The MeT office has predicted cloudy sky with moderate rainfall and scattered thundershowers.