Since February, Deepak Pawale, who runs a poultry farm at Retavadi village in Khed taluka of Pune district, has been selling 45-day-old birds weighing 2-2.5 kg each at well below his estimated production cost of Rs 70 per kg.
"The traders aren't ready to pay higher rates, as they tell me that their sales have slowed down," says this 38-year-old, who has been in the business — of procuring day-old chicks (weighing roughly 40 grams) from hatcheries and rearing them for sale as young meat-yielding broilers — since 2010. Pawale, who sells around 15,000 birds per month, claims to have made a loss of Rs 4 lakh in March alone.
That's not surprising, given that broiler realisations averaged below Rs 54 per kg in March — the lowest for this month in recent times (see box). "If the rates remain at these levels, I will have to shut my farm. When my production costs have gone up from Rs 55-60 to Rs 70 per kg in the last two years, but realisations are falling, how can I sustain this business?" Pawale asks.
For poultry farmers like him, March is normally synonymous with high prices, compensating for lower realisations in other months. Demand for meat generally goes down during summer months, but prices improve because the birds take longer to gain the requisite weight for being "placed" (sold) in the market. "I place about 10-15 per cent less birds in March-May, but my realisations are about Rs 20/kg higher than for the other months," explains Pawale.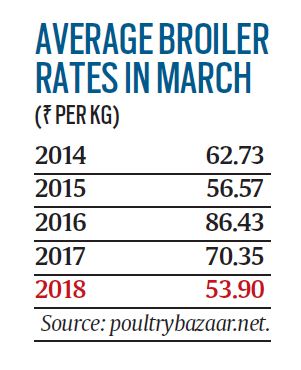 Prasanna Pedgaonkar, deputy general manager of the Pune-based Venkateshwara Hatcheries Private Limited that markets poultry products under the brand name of Venky's, attributes the low broiler rates to dip in consumption. "This time, the onset of summer has occurred earlier. That could be one of the factors behind consumption falling," he notes. A city like Pune alone normally reports chicken meat consumption of 1-1.5 lakh kg per day, while that figure for Mumbai is around 10 lakh kg. An estimated three crore birds are placed in an average month in the whole of Maharashtra.
However, Rohit Pawar, chief executive officer of Baramati Agro Ltd, believes that the reasons for the dip in consumption go beyond seasonal factors. "There is a general economic slowdown that is clearly leading to lower consumption of non-vegetarian food. This is especially so with chicken, which is eaten by many, including those who are vegetarian in the normal course. But when the economy is not doing too well as incomes aren't growing, these sections would be less inclined to consume the meat," observes Pawar. His company places about 325 lakh birds annually, much of it by aggregating from contract broiler farmers who are supplied day-old-chicks along with nutritional feed, medicines and vaccines.
Pawar's views are echoed by Ganesh Shetty, president of the Pune Restaurant and Hoteliers Association. According to him, there is a 20 per cent drop in eating out, which is a result of the 5 per cent Goods and Services Tax levy on restaurants and overall weak consumer sentiment from stagnating incomes. Pune alone has over 1,000 non-vegetarian restaurants that consume 60,000-70,000 kg of chicken daily. In Mumbai, A and B grade hotels alone are reckoned to account for over a tenth of the city's 10 lakh kg daily poultry meat consumption.
"Hotels have definitely reduced their buying. What we are really missing today is the floating clientele that businesses such as real estate brought. During the boom, not only builders and agents, but even material suppliers, labour contractors and others had enough money and reasons to eat out. Non-vegetarian food was in huge demand then," recalls Shetty. With the real estate industry and other sectors, too, in a prolonged slump, the domino effect is now being felt across the supply chain that includes broiler farmers.
But in the meantime, there is a fresh worry for the industry to contend with. Earlier this month, the first consignment of frozen chicken legs from the US landed in India by air. This came almost three years after the World Trade Organisation's Dispute Settlement Board rejected India's restrictions on poultry product imports from the US. With the department of animal husbandry, dairying and fisheries reportedly making changes in the health certification requirements for imported poultry to comply with the WTO ruling, the final hurdle for the entry of American chicken legs has been seemingly been cleared.
The poultry industry here does not expect any flood of low-priced frozen chicken leg quarters to take place immediately. The reason for it is that more than 90 per cent of chicken bought by consumers in India comprises live birds freshly culled and sold by small shops and roadside retailers. The balance is basically frozen dressed or processed chicken. Pawar's fear is that the imported legs would be targeted mostly at institutional buyers like hotels and restaurants, which will ultimately affect the realisations for the domestic poultry farmer as well.
But for farmers like Pawale, that is only a long-term threat.
📣 The Indian Express is now on Telegram. Click here to join our channel (@indianexpress) and stay updated with the latest headlines
For all the latest India News, download Indian Express App.