3.40 pm: President Pranab Mukherhee congratulates Narendra Modi on grand victory in elections.
3.20 pm: Narendra Modi meets President Pranab Mukherjee, stakes claims for forming government.
3.10 pm: Swearing-in of Narendra Modi government on May 26, says BJP chief Rajnath Singh.
2.50 pm: NDA leaders, led by LK Advani, meet President Pranab Mukherjee to convey support to Narendra Modi-led government.
2.15 pm: Meanwhile, BSP supremo Mayawati dissolves all committees of her party following rout in Lok Sabha polls, party sources.
1.55 pm: Even though BJP got majority on its own, NDA allies will be as important as they would have been without clear majority, says Modi.
1.30 pm: Chandrababu Naidu, Parkash Singh Badal and Ram Vilas Paswan present at the NDA meet.
1.25 pm: NDA board meeting to elect Narendra Modi as leader of alliance begins.
READ FULL STORY: Modi elected leader of BJP Parliamentary Party
1.08 pm: This election result has increased people's faith in democracy, says Narendra Modi.
1.03 pm: I am not doing any favour, only performing a duty; this victory is a result of struggle of five generations: Modi.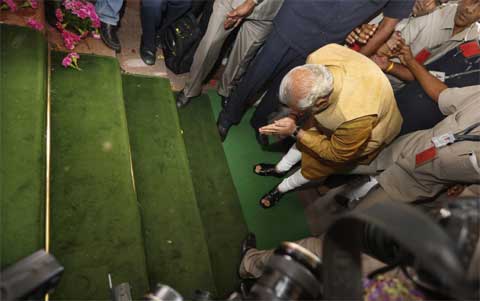 1.05 pm: When we meet again in 2019, I will present my report card again, says Modi.
1.02 pm: I am a very optimistic man; only optimistic man can bring optimism in the country, says Modi.
12.58 pm: Modi says, "couldn't die for India, will live for this country."
12.52 pm: I don't believe UPA government did nothing; they did whatever they could and they deserve appreciation for whatever good they did, says Modi.
12.50 pm: Narendra Modi becomes emotional, breaks down while delivering speech, says BJP is his mother. 
ALSO READ: Phase to phase, BJP's 59-day final push
12. 48 pm: There is a new hope among people that this dispensation can fulfill their aspirations: Modi.
12.45 pm: After being elected as leader of BJP Parliamentary Party, Narendra Modi says he will work for country and not post.
12.42 pm: We are not here for any positions but for a responsiblity: Modi.
12.40 pm: On September 13 I was chosen PM candidate by party and I started on my campaign work from the 15th as a 'karyakarta': Modi.
12.39 pm: If Atal ji's health permitted and he would have been present here, it would have been like the icing on the cake: Modi.
12.38 pm: Modi addresses newly-elected BJP MPs; thanks Advani and Rajnath for their blessings.
12.30 pm: Emotional Advani weeps as he praises Modi, says: "I am an emotional man. When I greeted Modi, I got tears in my eyes."
12.08 pm: Sushma Swaraj, Nitin Gadkari, Murli Manohar Joshi and Venkaiah Nadu second Modi's name proposed by Advani.
12.03 pm: L K Advani proposes name of "popular" and "famous" leader Narendra Modi for leader of BJP Parliamentary Party.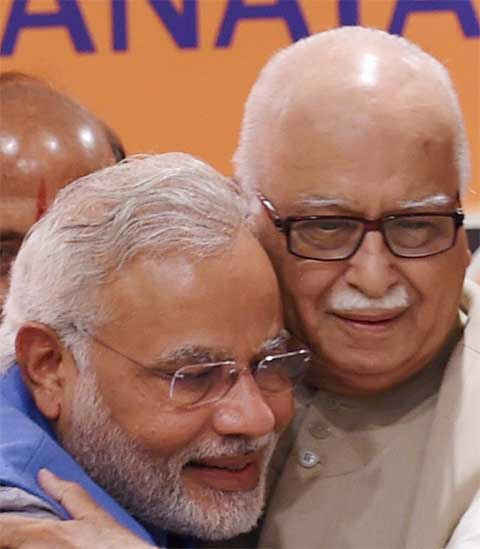 12.01 pm: Rajnath Singh says,"it is a historic moment for the BJP and in the history of Indian politics."
11.55 am: BJP Parliamentary meeting begins; party President Rajnath Singh addresses newly-elected MPs.
11.50 am: Prime Minister-designate Narendra Modi reaches Parliament, set to be elected as the leader of BJP Parliamentary party.
11.30 am: BJP MPs start arriving in Parliament ahead of the meeting; Modi to reach shortly.
11. 11 am: 15-member NDA delegation to meet President Pranab Mukherjee this afternoon. READ MORE
FROM THE PRINT: ROLE REVERSAL
Their roles have now changed. Former Union home secretary R K Singh who won the Lok Sabha election from Bihar on a BJP ticket, visited RSS office at Keshav Kunj in Delhi and met Indresh Kumar among others. It is obvious that he wants his name recommended for a berth in the next government. Interestingly, he as the home secretary was monitoring the terror cases linked to the saffron brigade and in which Indresh Kumar was under scanner.
11.01 am: L K Advani to propose Narendra Modi's name for leader of the BJP Parliamentary Party.
10.00 am: Goa Chief Minister Manohar Parrikar, BJP leaders Smriti Irani and Prakash Javadekar meet Narendra Modi.
Ahead of being called to form the government by the President, Narendra Modi is all set to be elected as leader of the BJP Parliamentary Party and the NDA grouping on Tuesday.
READ MORE: Rashtrapati Bhawan forecourt prepares for Modi's swearing-in
Modi will meet President Pranab Mukherjee on Tuesday after his election in the first formal step before he is sworn in as Prime Minister probably by the weekend.
The BJP Parliamentary party will meet today at the Central Hall of Parliament House to formally elect Shri @narendramodi as its leader.

— BJP (@BJP4India) May 20, 2014
A number of names of top BJP leaders including Rajnath Singh, Sushma Swaraj, Arun Jaitley, Nitin Gadkari, Murli Manohar Joshi and Venkaiah Naidu were doing the rounds for possible inclusion in Modi's Cabinet.
In our conversation, @BarackObama & I talked about further strengthening India-USA strategic partnership that will help both nations.

— Narendra Modi (@narendramodi) May 19, 2014
📣 The Indian Express is now on Telegram. Click here to join our channel (@indianexpress) and stay updated with the latest headlines
For all the latest India News, download Indian Express App.
The Indian Express website has been rated GREEN for its credibility and trustworthiness by Newsguard, a global service that rates news sources for their journalistic standards.