Written by
Rakesh Sinha
| New Delhi |
Updated: August 16, 2014 12:50:14 pm
This was what he wanted when he ramped up his election rhetoric of changing India within 60 months. But when it came to the big moment, his first Independence Day address from the ramparts of the Red Fort Friday, Prime Minister Narendra Modi subtly shifted gears and promised a new  connect between the government and citizens.
He reached out to people in a language they understood, telling parents to rein in sons to check incidents of rape, calling for an end to the discrimination against the girl child, and announcing a cleanliness drive across the country as a birthday present to the Mahatma.
Donning a red turban and doing away with the bullet-proof shield to address the nation, Modi called himself the "Pradhan Sevak" of the country  who wanted to "govern by consensus (sahmati) and not on the basis of the  majority (bahumati) in Parliament", sending into raptures the thousands who had waited since daybreak in the heart of Old Delhi to listen to the Prime  Minister.
Listing his government's priorities, he announced schemes to empower the poor, develop a skilled workforce, unleash the entrepreneurial potential of the youth, and ensure toilets, especially for girls, in every school.
Referring to the rising cases of rape which make "our heads hang in shame", Modi asked parents to take responsibility for actions of their sons and put the same restrictions on them as they put on their daughters.
"Parents who have a 10-year-old girl ask her where is she going, when will she be back… Do they have the courage to ask their son where he is going, why is he going, who are his friends. After all, the person committing the crime is the son of someone," he said, adding that the law will take its course but parents should be equally responsible to check such incidents.
He expressed concern over female foeticide and urged doctors not to  become party to such crimes. "The sex ratio today is 940 girls to 1,000 boys. Who is creating this imbalance? Not god. I want to appeal to doctors not to kill unborn girls for the sake of money."
"I have seen families with five sons, five cars who leave their parents in old age homes. And I have also seen families where girls don't marry simply to look after their parents." Citing the example of the strong Indian showing at the Commonwealth Games in Glasgow, he said the stellar  performance of the women in the contingent as proof that girls were equal partners in the development of the nation.
He spoke extempore for 65 minutes, underlining that nation-building could not be left to the government alone, that citizens needed to contribute to the collective sense of duty and responsibility which had been done in by an attitude of "mera kya, mujhe kya". Describing himself as "an outsider in Delhi who got an insider view in  two months", he said he was stunned by the disunity and infighting between  government departments.  "Ek sarkar ke andar bhi alag alag sarkar hain (there are several  governments within a government)… different departments are knocking on  the doors of the Supreme Court, clashing among themselves. I am trying to  break these walls, make this government work as an organic entity."
He invited global manufacturers to "come and make in India", spur its  industrial growth with their investment. He spoke of his government's  resolve to transform the land into "Digital India with e-governance which  is easy governance, economical governance and effective governance". He said the Planning Commission would soon be replaced by a new  institution since "the internal situation of the country has changed, the  global environment has changed… and if India has to go forward, then states will have to be taken forward. The importance of the federal  structure has never been felt more in the last 60 years".
He called for a 10-year moratorium on caste and communal violence and cited the example of Nepal's Maoists to urge youth who have taken to Naxalism and terrorism to give up the gun and return to the path of peace  and development. Silent on Pakistan, he described his visits to Bhutan and  Nepal as "a good beginning" and said SAARC countries needed to join hands  to fight poverty.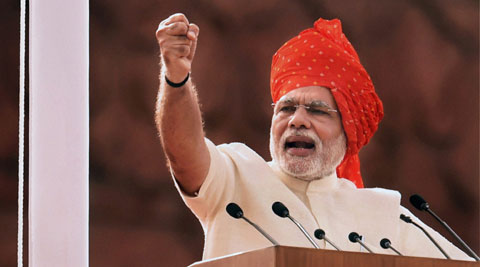 Aiming at greater financial inclusion, he announced the Pradhan Mantri Jan Dhan Yojana which will provide poor families with a bank account, a  debit card and an insurance amount of Rs one lakh. "People have mobile  phones but no bank accounts. The poorest of the poor need to have bank  accounts." He said a Skill India exercise would be undertaken to provide skills for  employment. "This is a country of the youth. At least 65 per cent are below  the age of 35. If the country has to grow, skilled workers are essential.  They should be imparted skills which will get them jobs, take the country  forward, help them when they go abroad for work… I want to fast-track
skill development."
Unveiling a scheme to develop model villages across the country, Modi  announced the launch of the Saansad Adarsh Gram Yojana under which each  member of Parliament will be asked to develop one model village in his  constituency by 2016. He said a blueprint for this scheme will be before  every MP, every state on October 11, the birth anniversary of Lok Nayak  Jayaprakash Narayan.  "Let each choose a village of 3,000-5,000 people, let every MP develop at  least one model village. And after the 2019 election, let each develop five  model villages. Let us start from rural India, it will transform the  country."
Swachh Bharat or Clean India will be another campaign high on his  priority list. Urging people to "clean homes, villages and towns" across  the nation, Modi said this would be a fitting tribute to Mahatma Gandhi on  his birth anniversary on October 2 since "he was very particular about  cleanliness". As a first step towards Swachh Bharat, the country must build toilets in  all schools, especially separate toilets for girls, within one year, he  said.
"We live in the 21st century, yet women have to defecate in the open,  wait for darkness to settle in before they can go out to relieve  themselves. Isn't this a shame? Can't we provide toilets, the most basic of  needs."  He asked MPs to spend their funds on construction of toilets in schools  and said corporates too must work with the government, as part of their  social responsibility, to build toilets in all schools by the next  Independence Day.
Spelling out his vision of "come and make in India", he invited  manufacturers to invest in India and step up its industrial growth. He  urged the youth to unleash their potential and work towards manufacturing  goods locally that are currently on the import list. "Made in India must be a synonym for excellence… Try and make one thing
that India won't need to import… the country must become a global  exporter. But ensure zero-defect when it comes to quality, zero-effect when
it comes to environment pollution," he said.
Early in his address, Modi spoke of governing through consensus and not  on the basis of majority in Parliament — "bahumati se nahin, sahmati se". Acknowledging the contribution of his predecessors and previous governments  in the development of the country, he sought the cooperation of all  political parties.
Referring to the Parliament session that concluded Thursday, he said: "It  was a reflection of our thinking, intention to move forward not on the  basis of majority but on the basis of consensus."
"By taking along all parties, including the Opposition, we achieved  unprecedented success. The credit must go not just to the Prime Minister or  the government but also to the Opposition, its leaders and each of its  MPs."
For all the latest India News, download Indian Express App