Written by
Naveed Iqbal
| New Delhi |
Updated: April 20, 2015 1:52:55 pm
The land acquisition Act is technically called the Right to Fair Compensation and Transparency in Land Acquisition, Rehabilitation and Resettlement Act. Rahul Gandhi didn't really spell that out at his first rally after a long vacation.
If he had, it's not clear how Jabar Singh from Mathura would have reacted. Voicing what other farmers such as him waiting for over two hours for Rahul's speech at Sunday's rally felt, Singh said, "I am not aware of any changes to any law. I came here because my crops have been destroyed."
No political leader had visited them to see the extent of the damage and therefore they had decided to come to Delhi themselves, said Badshah Khan from Aligarh. "I grow wheat. It has been destroyed in the recent rains and no one knows what farmers there are going through. I came to Delhi so that I could tell someone about our condition."
No, he didn't get that chance, he added.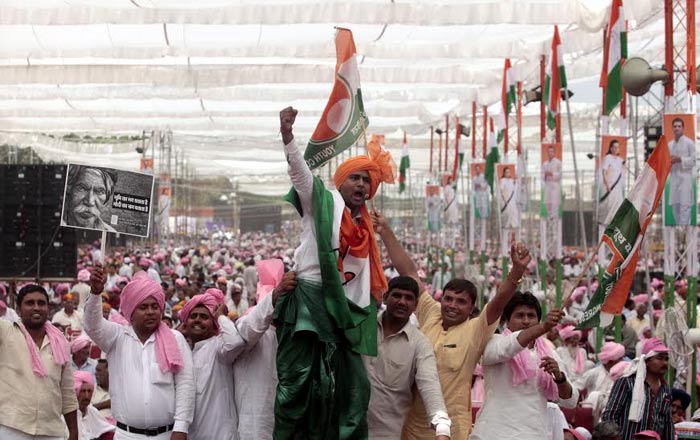 However, Khan didn't think the Congress's Kisan Rally, to articulate its opposition to the Modi government's proposed changes in the land acquisition Act, was a complete waste of time. He had been "educated" on the changes and what they could mean for his family, smiled Khan.
A few agreed with Rahul when he accused the Modi government of eyeing their land, nodding that the Centre was "driving farmers towards suicide". "Land is all that farmers have. Times are difficult, we are paid Rs 200 for sugarcane that we earlier sold for Rs 600, urea is not available… If our land is taken from us, what will we eat?" Jaswinder Singh, who came to Delhi with "20,000" farmers and Congress workers from Punjab, said.
The point at which Rahul got unanimous applause was when he held aloft a plough gifted to him. "Rahul tum sangharsh karo", rose slogans.
But as the cheering wound down and he prepared to leave, Nanalal Gurjar, who came from Rajasthan, summed it up best. "No farmer knows," he shook his head, "what laws the government is making about land that we have owned for decades."
📣 The Indian Express is now on Telegram. Click here to join our channel (@indianexpress) and stay updated with the latest headlines
For all the latest India News, download Indian Express App.