Written by
Ritu Sarin
| New Delhi |
Updated: July 17, 2018 9:25:11 am
Just over two years after the Panama Papers revelation, the Ministry of Finance announced that Rs 1,140 crore was traced in undetected income and in assets of Indians who incorporated offshore companies through Mossack Fonseca, the Panamanian law firm that has now shut shop.
The government also revealed that 16 Indians are facing prosecution in courts in different cities.
Now details have emerged of these cases to show the status of these prosecutions. Each case was filed after the foreign jurisdiction sent Indian authorities information on holdings and assets of these offshore firms.
Details accessed by The Indian Express show that the first Panama Papers case was filed in a Kolkata court on December 9, 2016, just eight months after the expose. Prosecutions have been filed in Ahmedabad, Bengaluru and Mumbai, the last batch of cases going to court in February 2018.
A majority of these 16 cases were filed under Section 277 (making a false statement in verification) and Section 276 (concealment or transfer of property to avoid tax recovery) of the 1961 Income Tax Act. Both the sections attract a jail term between few months to two years. Panama Papers: Click for full coverage
A list of Indians named in the Panama Papers (The Indian Express, April 6-12, 2016) and who are now facing prosecutions in court is as follows:
Bharmal Lodha: This Panama Papers case was filed in a Mumbai court in February this year. Data shows Lodha was Director and shareholder in an offshore firm, Dependable Investments Ltd, in the British Virgin Islands. Records of Mossack Fonseca reveal the company was registered in 1996, and struck off records in 2012. Lodha had, in 2016, told The Indian Express that the company had been set up by his former employer when he was working with a steel firm in Dubai.
Rajendra Patil: Rajendra Patil, son-in-law of veteran Congressman and Karnataka Horticulture Minister Shamanur Shivashankarappa. He runs a sugar export company and is also involved with energy, aviation, textile, education and Internet firms run by the Shivashankarappa family. According to MF records, Patil and two associates set up an offshore firm called Elgenburg Ltd in the BVI in 2007. He now faces prosecution under Sections 277 and 276CC of the IT Act (wilful attempt to evade tax) in a case filed in Bangalore. In 2016, Patil had told The Indian Express that the offshore company was run for a year, but it shut down since they suffered losses.
The new Panama Papers data (The Indian Express, June 21-23, 2018) shows that Elgenburg Ltd figured on the list of 69 clients for whom BVI's Financial Investigating Agency had sought details and on September 16, 2016, MF sent the company a "resignation" notice.
Anurag Kejriwal: He is the only one among 16 Indians now facing prosecution who has been booked under the Black Money (undisclosed foreign income and assets) and imposition of Tax Act, 2015. The case was filed in a Kolkata court on April 21, 2018 under Section 50 of the Act(failure to declare assets located outside India).
The Indian Express earlier reported that Anurag Kejriwal, former Delhi chief of Lok Satta Party, and his wife Uttara Kejriwal were linked to four BVI companies and two Panama foundations.
The new data reveals that less than a month after the expose, Kejriwal's firms figured on the list of 69 companies, sent by BVI's FIA to MF for details. On January 9, this year, the Swiss Federal Tax Authority issued a gazette notification asking Kejriwal for disclosure of possible Swiss bank accounts and he was given 10 days to appoint a representative.
Amit Dineshchandra Patel & Rahul Arunprasad Patel: Chairman and Managing Director of Sintex Industries Ltd, described as the world's largest manufacturer of plastic water tanks. The prosecutions were filed against them in an Ahmedabad court on July 5, 2017. MF records show Patel was a director with a BVI entity named Amarange Inc which was registered in 2008 and has Sintex Holdings BV as its shareholder. The company was struck off MF records in 2014.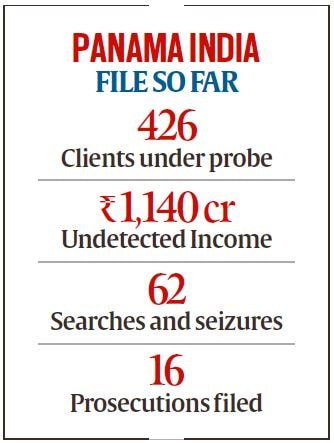 In December 2017, Enforcement Directorate (ED) attached assets worth Rs 48 crore belonging to Sintex Industries in connection with the Panama Papers probe. ED said its probe revealed that the firm, through its subsidiary in the BVI, was used to purchase an immovable property in Singapore in alleged contravention of forex laws.
Mehool Parekh & Aanand Mahendroo: They are the two shareholders of a BVI company called Goldstone Media Private Limited and the Income Tax authorities have filed prosecutions against them in Mumbai on February 20, 2018, using Section 276CC of the IT Act. The data of the International Consortium of Investigative Journalists (ICIJ) shows that the company was incorporated in 2008 and struck off MF records in 2010 with their Mumbai addresses given in records.
Dhaval Suresh Kumar Patel: The prosecution against this resident of the Kansara Chawl was one of the two filed by the IT's Mumbai unit last year. As reported earlier, his company, Rosie Park Ltd was set up in the BVI with Dhaval Suresh Kumar Patel listed as its sole shareholder. The company was set up in 2011 and struck off records in 2013. Patel, a diamond and bullion trader, had told The Indian Express in 2016 that he has nothing to do with the offshore company. Patel runs a diamond firm called Mahavir Gems Pvt Ltd from Opera House in Mumbai.
Sushila Devi Chopra, Prerna Chopra & Gaurav Kumar Chopra: The three Chopras have been shareholders of Jelenta Investments Limited since the company was set up in the BVI on April 9, 2010. Jelenta Investments Limited (BVI), in turn, is the shareholder of Zenith Metallik Alloys Limited, set up in the BVI on April 11, 2012.
Records of both companies were kept in Hong Kong. The prosecution case against Section 277 of the IT Act was filed against the threesome on December 9, 2016 and were among the first prosecutions filed.
Prakashchandra Kirtilal Bhansali: A resident of Walkeshwar in Mumbai, the case has been filed against him under Section 277 of the IT Act on February 20, 2018. ICIJ data shows that he is a shareholder of a BVI firm named Best Terrene Limited, The firm was set up in 2012 and was described as "active" at the time of the global media expose. In 2015, another company called Gama Services Corporation was added as one of its shareholders.
Yashesh Bharwada: This was the other Panama Papers case sent to court in Mumbai last year, on November 15, 2017. Data shows that Bharwada had incorporated a BVI firm called Esteia Group Limited in July 2013 and was its sole shareholder. His Powai address is given in MF data and the status of the company was described as "active."
Rajanya Aditya Ravasia: This Mumbai resident is one of nine persons against whom cases have been filed, in his case on February 20, 2018. Data shows he was shareholder in two companies in Samoa in 2010 and that they were struck off after default in 2013. The companies are New Sun Holdings Ltd and Pan Pacific International Limited.
Infinity India Advisors Pvt Ltd: The only company to figure on the Panama Papers prosecution list, data shows it was a shareholder of another company, Infinity (BVI) Group Limited. The company was set up in the BVI in 2008 and "inactivated" in 2012. Mumbai-based chartered accountant, P P Shah & associates are listed as an intermediary of the firm.
The Indian Express website has been rated GREEN for its credibility and trustworthiness by Newsguard, a global service that rates news sources for their journalistic standards.