On the third day of the winter session, both the houses, Lok Sabha and Rajya Sabha were adjourned for the day before noon. After both the houses paid their respect to the nine persons who had laid down their lives during the 2001 Parliamentary attacks; protests began in the parliament.
Chairman M Venkaiah Naidu after warning members to return to their seats, adjourned the Upper House following protests by the AIADMK and DMK factions over the Cauvery dispute and Tamil Nadu farmers' protest. "I would like to urge members to at least allow the House today… 9 persons had laid down their lives to protect Parliament. Wrong message will go," he said.
Whereas, Lok Sabha was adjourned briefly following protests of various parties that trooped into the well shouting slogans. The speaker had earlier adjourned the session for noon, but it was later adjourned for the day amid continued protests.
Live Blog
Parliament Highlights: With a morale boost following the elections, the Opposition led by the Congress is set to take on the Narendra Modi government. Follow for the latest updates
PM Modi, Manmohan Singh, Sonia Gandhi, Arun Jaitley at Parliament
Prime Minister Narendra Modi with former prime minister Manmohan Singh. Also seen in the picture is UPA Chairperson Sonia Gandhi and Finance Minister Arun Jaitley.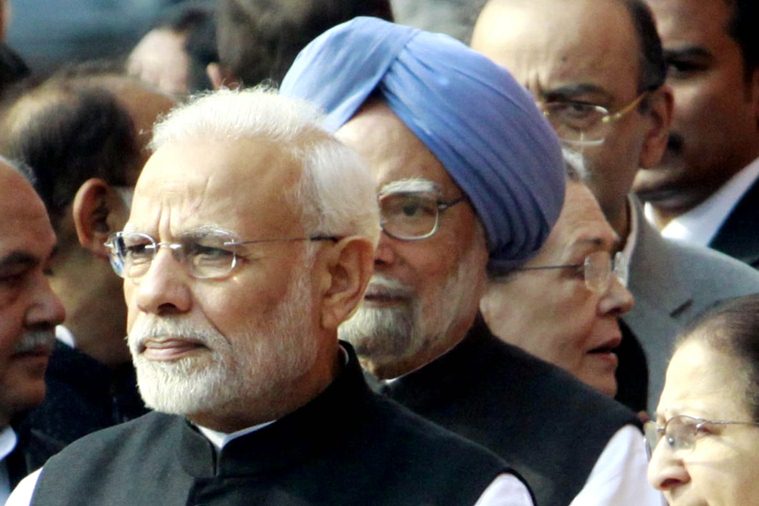 Drama engulfs Lower House, thus signalling for adjournment
The proceedings of the Lok Sabha Thursday were adjourned twice during the Question Hour following protests by opposition parties over various issues, including alleged corruption in the Rafale deal and Cauvery river water. TDP member Venkateshwara Rao (Babu) used a mike installed in the Well for the oath of a new member to prop up a poster seeking special status for Andhra Pradesh. The TDP member's action invited the ire of Speaker Sumitra Mahajan who warned him that he will be named. Once a member is named, he or she has to leave the House chamber.
Lok Sabha adjourned for the day
Lok Sabha which was supposed to meet at 12 noon has been adjourned for the day.
Lok Sabha adjourned for the day. @IndianExpress

— Deeptiman Tiwary (@DeeptimanTY) December 13, 2018
Rajya Sabha adjourned for the day following protests
The Rajya Sabha Thursday was adjourned for the day without transacting any business following protests by Tamil Nadu parties inside the well over the Cauvery river issue. As soon as the House paid its respects to those martyred in the 2001 Parliamentary attacks and listed the papers presented, members belonging to the AIADMK and DMK factions trooped into the Well and started shouting slogans. Chairman M Venkaiah Naidu warned that he would be forced to adjourn the proceedings for the day if members did not return to their seats and allow the House to function.


Lower House has been adjourned for noon
RJD leader moves adjournment motion
J P Yadav moved an adjournmment motion in the Lower House today before the start of Parliament's Day 3 winter session over the Muzaffarpur shelter home case

RJD MP JP Yadav has moved an adjournment motion notice in Lok Sabha over Muzaffarpur shelter home case. #WinterSession

— ANI (@ANI) December 13, 2018
PHOTOS: Political leaders pay homage to martyrs of the 2001 Parliament attacks on anniversary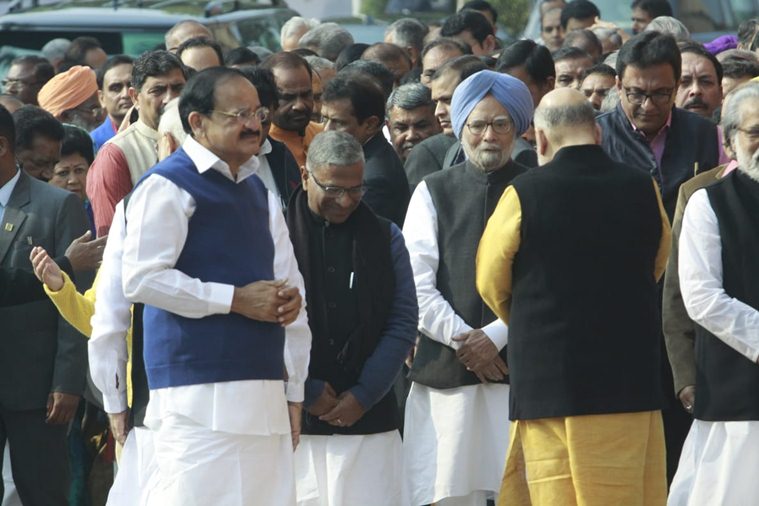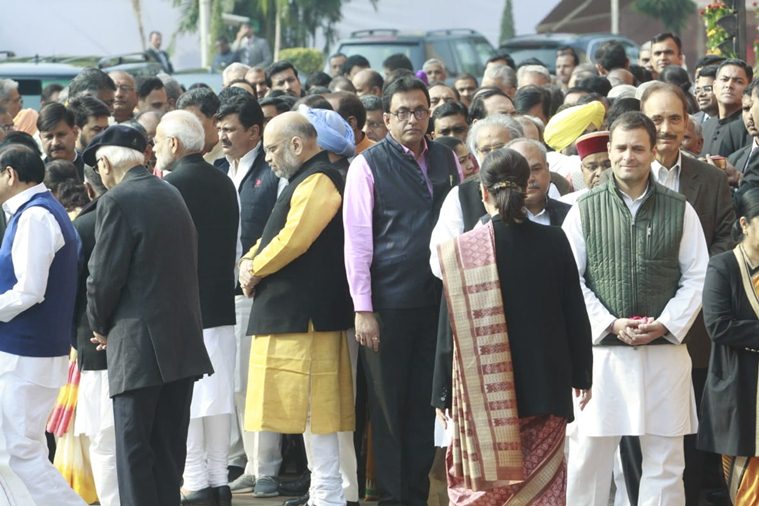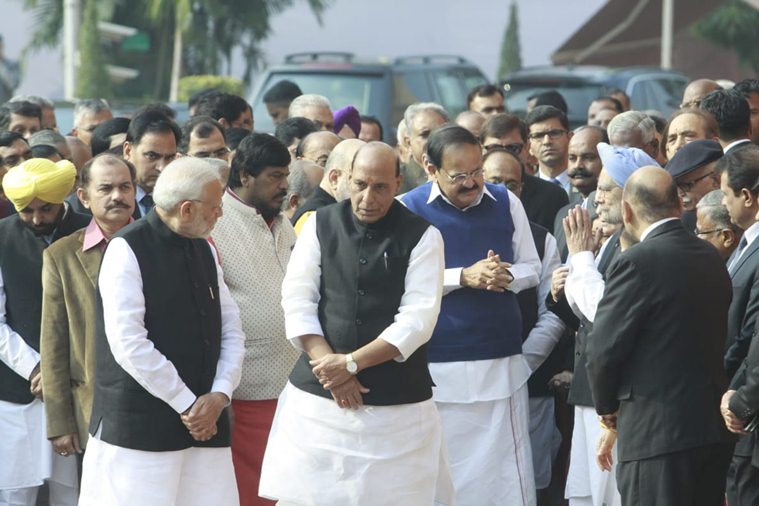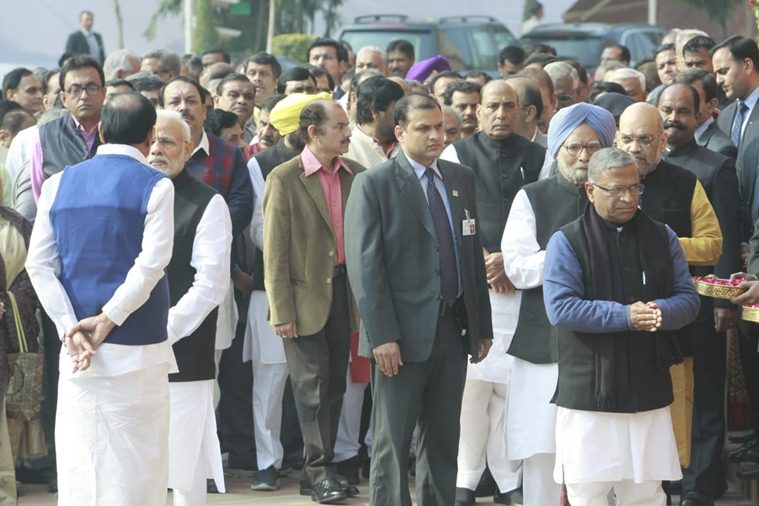 AAP leader passes Zero Hour notice in Rajya Sabha
AAP leader Sanjay Singh gives Zero Hour Notice in Rajya Sabha over sealing in Delhi.

— ANI (@ANI) December 13, 2018
Congress leaders move adjournment motion over RBI, demonetisation among other issues
Visuals of BJP Parliamentary meet from the library building
Delhi: #Visuals of BJP Parliamentary party meeting from Parliament library building. PM Narendra Modi, BJP Chief Amit Shah, Union Ministers Sushma Swaraj, Prakash Javadekar, Kiren Rijiju,Ravi Shankar Prasad,senior BJP leader Lal Krishna Advani, among others present in the meeting pic.twitter.com/eDqn1SVyha

— ANI (@ANI) December 13, 2018
Narendra Modi, Amit Shah at the BJP Parliamentary Party meeting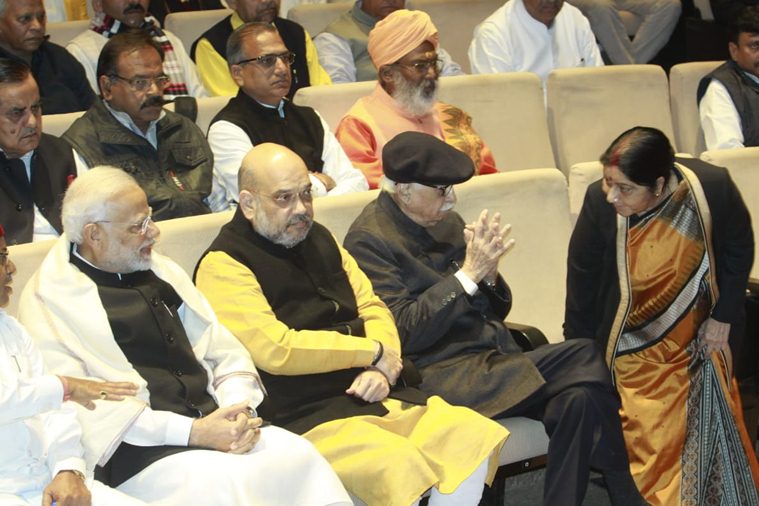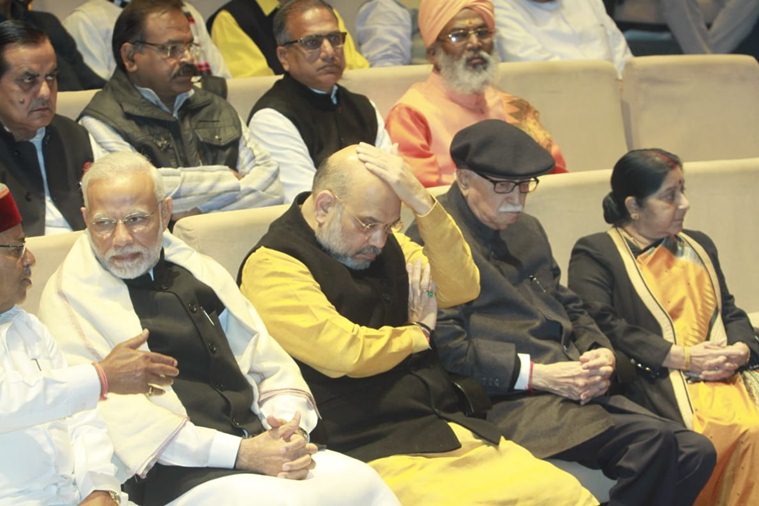 Express photos by Praveen Jain
PM Modi pays homage to those martyred during the attack on the Parliament
We salute the valour of those who were martyred during the dastardly attack on our Parliament on this day in 2001. Their courage and heroism inspires every Indian.

— Narendra Modi (@narendramodi) December 13, 2018
When terror came to the House, writes Venkaiah Naidu
As we mark the supreme sacrifice by our security personnel and others in the diabolical attack on this day 17 years ago on the Indian Parliament, the temple of our vibrant democracy and the symbol of people's aspirations, we not only have to strengthen our resolve to make every inch of our motherland a safer place, we also need to step up our diplomatic efforts to combat the ever-growing global menace of terrorism. We have to build stronger coalitions against this scourge that is afflicting humanity. Read full article
PHOTOS: Parliament on the anniversary of the 2001 terrorist attack
As Parliament readies for Winter Session Day 3, it is decorated with flowers to commemorate the 17th anniversary of the 2001 attack. Welcome to the LIVE blog and follow for latest updates on today's session in both the houses
Delhi: #Visuals from Parliament on the anniversary of the 2001 terrorist attack on Parliament pic.twitter.com/UaXagVyfqJ

— ANI (@ANI) December 13, 2018