Click here for LIVE Updates on the vote of no-confidence against the NDA government
Parliament Monsoon Session 2018:  The Lok Sabha on Thursday passed the Fugitive Economic Offenders Bill, 2018 with the majority of the house supporting it. The bill will now empower authorities to attach and confiscate the properties and assets of economic offenders like loan defaulters who flee the country.  Meanwhile, the Rajya Sabha has passed amendments to Prevention of corruption act bill (2013). Both houses have been adjourned for the day.  It will resume on Friday at 11 am with the crucial no-confidence motion debate and voting.
Earlier in the morning, Opposition leaders raised slogans against Civil Aviation Minister Jayant Sinha for garlanding men convicted of lynching a meat trader in Jharkhand. They raised slogans such as "stop garlanding convicts" as Sinha responded to the question.
Live Blog
Both houses adjourned
Both houses adjourned for the day
Both the houses were adjourned for the day with the Lok Sabha passing the Fugitive Economic Offenders Bill and Rajya Sabha passing amendments to Prevention to Corruption act (2013
Rajya Sabha passed Prevention of Corruption (Amendment) Bill, 2013
The Upper House on Thursday passed. The Prevention of Corruption (Amendment) Bill, 2013.
What is Fugitive Economic Offenders Ordinance, 2018?
It empowers authorities to attach and confiscate the properties and assets of economic offenders like loan defaulters who flee the country. The impact will be a creation of a special forum for a speedy confiscation of the proceeds of crime, in India or abroad, would force the fugitive to return to India to submit to the jurisdiction of courts in India to face the law in respect of scheduled offenses.
Economic reforms has helped us in becoming Taxpayers than tax evaders: BJP leader Jitender Singh
Most of the economic measures brought in were not just economic reforms but social reforms too. It has gone beyond realms of economics and has brought in change. It has helped us in becoming Taxpayers than tax evaders. MoS personnel Jitender Singh.
Lok Sabha adjourned
The Fugitive Economic Offenders Bill, 2018 has been passed in Lok Sabha. Lok Sabha will be resumed on Friday at 11 am.
Prevention of corruption act is more like promotion of  corruption: Congress leader M V Rajeev Gowda
The government has failed to disclose the actual cost of our own aircraft in Rafale deal, witnesses are being killed, Vyapam scam is out and Lok Pal bill is not passed, this bill clearly works towards promotion of corruption than prevention of corruption, says Congress leader M V Rajeev Gowda
Cong protests as BJP MP says CBI will chargesheet ex-FM
The Congress and BJP ended up in conflict when a BJP member claimed that the CBI was going to chargesheet a former finance minister in a criminal case involving fugitive economic offender Vijay Mallya.
Congress leader Mallikarjun Kharge immediately questioned as to how was he aware of the impending CBI action and said it indicated that the agency was acting in a "pre-planned" manner. "It shows it is all pre-planned. How do you know it?... You are mentioning this. It means you get reports (from CBI)," he said intervening during Dubey's speech on the Fugitive Economic Offenders Bill.
We have the number and our moral is up, says BJP MP Shatrughan Sinha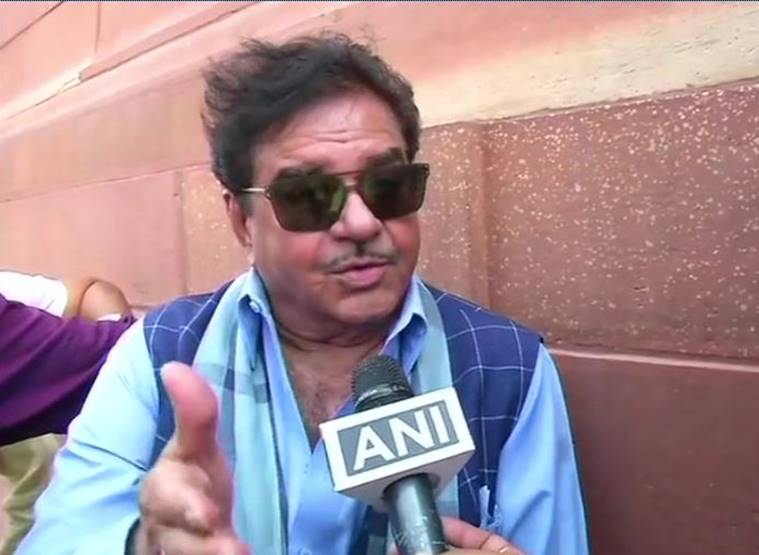 I think there are intellectuals in opposition but they should've done it later. Because we have the numbers and our moral is also up. I haven't left BJP and party hasn't left me. As long as I'm in BJP, I'll support it and follow every whip, BJP MP Shatrughan Sinha said on No-confidence motion.
No political will in government: Digvijay Singh
I don't see any political will in government. Lokpal has not been passed for four years now. Corruption keeps happening but no investigation is done. There is no enactment of Prevention of corruption act, says Congress leader Digvijay Singh
Prevention of Corruption Bill being discussed in Rajya Sabha
The Prevention of Corruption Bill (Amendment), 2013 is being discussed in the Rajya Sabha right now and The Fugitive Economic Offenders Bill, 2018 is being discussed for consideration and passing in the Lok Sabha.
Centre to provide Rs 2,969 crore for waterlogging issues across country
Housing and Urban Affairs Minister Hardeep Singh Puri said, to help states tackle the problem of waterlogging in the aftermath of heavy rains, the Centre has provided Rs 2,969 crore under its AMRUT scheme. States can reallocate funds as per their priority. The first tranche of the Central assistance under AMRUT scheme has been allocated to all states barring a few which did not meet certain milestones.
AAP directs MPs to vote in favour of no-confidence motion
Hema Malini demands Right to water during Zero Hour
BJP MP Hema Malini demanded right to water during the Zero hour. She said, increasing unplanned urbanisation and concrete jungles are leading to depletion of groundwater, people are facing problems in accessing clean drinking water in the country. Quoting a Niti Aayog report, she said crores of people do not have access to clean drinking water and the situation was likely to worsen in the future.
No compromise on security on passport application mobile app, says Swaraj
Replying to a query during Question Hour in the Rajya Sabha Minister of External Affairs Sushma Swaraj said "all security measures" were being followed and once the data centre receives the application, it will be automatically deleted from the sender's mobile.
She said, There has been no compromise on security aspects with regard to passport applications through the new mobile app and any attempt to get fake passports made from cyber cafes will be rejected.
External Affairs Minister Swaraj had launched the application, available in Android and IOS platforms, on June 26 with facilities for applying, paying and scheduling appointments to acquire a passport.
Tamil Nadu might not back no-confidence motion
Tamil Nadu Chief Minister K Palaniswami hinted his party AIADMK might not back the no-confidence motion against the Narendra Modi government, saying the motion was moved by the TDP over an issue concerning Andhra Pradesh.
No party had backed Tamil Nadu on the Cauvery issue when AIADMK lawmakers had stalled Lok Sabha for nearly three weeks seeking the constitution of the Cauvery Management Board and the Cauvery Water Regulatory Committee, he said according to news agency PTI
'You should understand. They (TDP) have moved the no-confidence motion for a problem concerning Andhra Pradesh. When AIADMK MPs from Tamil Nadu stalled Parliament (during the previous session), who did voice (support) for us, who came forward to solve the problems of Cauvery delta farmers,' he asked.
Shiv Sena issues whip for all its MPs
Shiv Sena has issued a whip for all its MPs but hasn't yet confirmed its stance regarding the no-confidence motion.
Agencies in India being misused: Anand Sharma
Congress leader Anand Sharma attacked BJP over corruption. "The amount of money the country lost in the last two years is way more than it lost in the previous years. In last 2 yrs money going to Swiss Banks has increased. You said money will be deposited into people's bank accounts but instead of that money went outside India," he said in Rajya Sabha. "The truth is that your agencies are being misused. Are there two laws in the nation? One implemented from the political point of view for political rivals & the other for your own people on whom there are serious allegations? he added
Shares in India flat ahead of tomorrow's no-trust motion
Shares in India were muted on Thursday with losses in heavyweights such as Tata Consultancy Services Ltd offsetting gains in consumer stocks including Hindustan Unilever Ltd, a day ahead of a no-confidence motion against the government.
The broader NSE index was flat at 10,980.35 as of 0717 GMT while the benchmark BSE index edged up 0.19 percent to 36,441.69.
Broader Asian shares struggled to hold earlier gains made after upbeat Wall Street earnings, with MSCI's broadest index of Asia-Pacific shares outside Japan down 0.19 percent.
"The participation is sort of muted with individual portfolios not doing well. Only Nifty-based portfolios are protected ... frustrating investors," said Deepak Jasani, head of retail research at HDFC Securities. "They are disappointed their portfolio values do not seem to reflect Nifty's bullishness seen in recent times," Jasani said. Nifty mid-cap 50 index fell as much as 1.8 percent and is down over 13 percent this year as of last close.
Technicals suggest Nifty has strong support at 10,929 points where as 11,046 acts as a strong resistance. The BSE index, which hit a record high on Wednesday, has strong support at 36,278 and resistance at 36,692.
Housing Development Finance Corp and Tata Consultancy Services, down nearly 1 percent each, were the top drags on the NSE index.
Mid-cap IT stock Mindtree Ltd lost 12.2 percent, its biggest intraday fall since Sept. 2011. Larsen & Toubro Infotech Ltd and Hexaware Technologies Ltd were also trading lower.
State-run lenders, however, gained with the Nifty index of PSU banks trading 1.6 percent higher. Bank of Baroda Ltd advanced 3.9 percent.
Consumer stocks advanced, with Hindustan Unilever gaining 1.3 percent.
(Reuters)
BJP confident of majority, no-trust motion pointless, says G V L Narasimha Rao
"The numbers are very clear. The BJP by itself has a majority in the lower house. We have nearly 314 members within the NDA and there are many other parties which are likely to oppose this no-confidence motion - because this is completely pointless," BJP national spokesperson G V L Narasimha Rao told reporters outside Parliament.
Rajya Sabha now Wi-Fi enabled
The Rajya Sabha is now Wi-Fi enabled, offering law makers of the Upper House access to Internet for browsing government and Parliament websites. The present rules allows MPs to carry mobile phones, laptops and tabs inside the Rajya Sabha chamber but the devices were not connected to the Parliament Wi-Di. Parliament Wi-Fi was available to members in lobbies and other parts of the Parliament House complex.
The Wi-Fi, Venkaiah Naidu said, can be used to browse only government websites including those of the Rajya Sabha and Lok Sabha on any mobile, laptop or tab inside the House. The user name and password provided to members for accessing Parliament Wi-Fi in lobbies in other parts of the complex would run in the Rajya Sabha chamber as well, he said.
(PTI)
RS Chairman Venkaiah Naidu pulls up BJP leader for using 'I beg' to lay papers
Rajya Sabha Chairman Chairman M Venkaiah Naidu pulled up Union Minister Jitendra Singh for using the "colonial" expression of "I beg to" while laying official papers on the table of the House. When the House met for the day, Singh laid the papers concerning the Department of Space, saying that "I beg to lay papers listed against my name...". This led Naidu to say "we have given up begging one year back. You are lagging." He said members can just state that "I rise to present a report etc. They need not beg," he said. Naidu said though the expression "I beg to.." was not unparliamentary, it would be "proper to Indianise it".
After taking over as the Rajya Sabha Chairman last year, Naidu had advised ministers and members not to use the term "beg" while tabling the listed official papers in the House. As a practice, most of them earlier used to say "I beg to lay the papers ... listed against my name in today's order paper." Naidu had asked members to shed the "imperial mindset" of using "I beg to lay" the papers in the House.
(PTI)
Discussion on Fugitive Economic Offenders Bill, 2018 is underway in Lok Sabha. In Rajya Sabha, the Congress has raised the issue of black money and PNB scam
No-trust vote due to Andhra Pradesh's issue, who came to us during Cauvery protest: E.K Palaniswami
"We haven't brought this. It is Andhra's issue & they brought this. We in Tamil Nadu struggled for 22 days in Parliament for Cauvery Mgmt Board issue. We stalled proceedings. Who came to us? Which state came forward & helped in our cause?" Tamil Nadu Chief Minister EK Palaniswami told ANI
Both Lok Sabha, Rajya Sabha reconvene after lunch.
Watch:Samajwadi Party leader Ram Gopal Yadav uses cuss word when asked about no-trust vote
Rajnath Singh's statement on lynching unsatisfactory: Shashi Tharoor
Terming Rajnath Singh's statement on lynching as "unsatisfactory" and the reason behind the party leaders walkout, Congress leader Shashi Tharoor said, "This is not a game of ping-pong that states and Centre keep shifting responsibilities," he said, reported ANI
BJD asks its leaders to be present for vote tomorrow
Biju Janata Dal(BJD) issues whip, directs MPs to be present in Lok Sabha tomorrow for the no-trust vote
RTI ammendments: What is the proposal and why are Opposition leaders, activists against it
The Modi government's plan to amend the Right to Information (RTI) Act, 2005 has come under fire from the Opposition and activists who claim that the move will "dilute" the Act. The government has proposed changes to sections related to ranks, salaries and tenure of the Chief Information Commissioner (CIC) and Information Commissioners (ICs) and plans to bring them under the ambit of the Union Government.
RTI activists have criticised the move and said that the amendments raise key issues of federalism. The Congress has accused the BJP of "destroying" institutions and legislation of transparency and accountability in the country. Earlier in the day, Rahul Gandhi slammed the move saying the changes will make it a "useless Act." Read more
Lok Sabha adjourned till 2.10 pm
Lok Sabha to resume after 2.10 pm
Bihar MP raises issue of Special Status to state
Sumitra Mahajan asks Jan Adhikar Party leader Pappu Yadav to apologise to the House for creating a ruckus during the proceedings. Yadav had earlier given an adjournment motion notice in Lok Sabha over the issue of Special Status to Bihar and again raised the issue while addressing the House
Rajya Sabha adjouirned till 2 pm
Rajya Sabha to reconvene after 2 pm
Ram Madhav confident of sailing throught no-trust motion, says will see which parties get together with Congress as B team
Bharat ke ganit me to numbers hote nahi hain opposition ke paas aur kahan ke ganit mein hain ye to mujhe malum nahi hai. We will see today & tomorrow that which regional parties get together with Congress as a B team: Ram Madhav, BJP National General Secretary #NoConfidenceMotion pic.twitter.com/1iDaP5OOis

— ANI (@ANI) July 19, 2018
Codemn lynching incidents, state govt should ensure law and order: Rajnath Singh
Rajnath Singha addresses the House on lynching. "The lynching incidents happened in the past well. I condemn all the incidents on behalf of my government. Unverified reports, fake news spread through social media is a trigger. It is the state government's responsibility to ensure that no such incidents take place in the future. Law and order is a state subject. This is why we have requested the social media operators to keep a tab in order to avoid the spread of fake information."
Shatrughan Sinha to vote against no-trust motion
BJP MP Shatrughan Sinha will vote against the no-trust motion. The discussion will take place on Friday.
During voting, whatever Uddav Thakachey directs us, we will do: Shiv Sena
"In a democracy, the voice of the Opposition should be heard first even if it consists of one person. Even we (Shiv Sena) will speak when it is required. During voting, whatever Uddav Thakachey directs us, we will do," Sanjay Raut told ANI
Ruckus in Lok Sabha
Opposition leaders staged a protest when Jayant Sinha started speaking in Lok Sabha. They soon rushed to the Well demanding an apology from the minister. They raised slogans such as "stop garlanding convicts" as Sinha responded to the question. BJP leader Nitin Gadkari, stood up briefly apparently urging opposition members to return to their seats.
Sinha had created a controversy when he welcomed, with garlands and sweets, six men out on bail who had earlier been convicted by a fast-track court of lynching a meat trader in Jharkhand. And posed with them for pictures.
TDP President & Andhra CM N Chandrababu Naidu writes a letter to all MPs, states 'In view of continued adamant attitude of BJP led NDA Govt, TDP has moved #NoConfidenceMotion against them. I appeal to you to support the motion moved by our MPs.' (file pic) pic.twitter.com/ZMTWNav0Mk

— ANI (@ANI) July 19, 2018
House proceedings begin
Question Hour is underway in Lok Sabha and Rajya Sabha
Rahul Gandhi slams proposed ammendments to RTI Act
Every Indian has the right to know the truth. The BJP believes the truth must be hidden from the people and they must not question people in power. The changes proposed to the RTI will make it a useless Act. They must be opposed by every Indian. #SaveRTI pic.twitter.com/4mjBTwQnYK

— Rahul Gandhi (@RahulGandhi) July 19, 2018