Written by
Shyamlal Yadav
| Hyderabad |
Updated: July 20, 2018 7:56:22 am
Srinubabu Gedela, CEO of Hyderabad-based OMICS, which has been labelled as one of the largest publishers of "predatory journals" with over 700 publications, is under the scanner in the US where trade authorities have accused his company of making several fraudulent claims. Gedela responds to the allegations and details his company's operations in an interview with The Indian Express. Edited excerpts:
Your company's website claims that it runs 785 journals. How many of them are actually being published?
We are publishing 700 journals and approximately 50,000 articles per year.
Do these journals have an ISSN (International Standard Serial Number)? Are they listed with the UGC?
Yes, all of them have ISSN… Most of the journals were listed earlier (with the UGC). We are also publishing journals on behalf of various societies with whom we have a ten-year agreement.
READ | Inside India's fake research paper shops: pay, publish, profit
How many of them feature in Scopus (the citation database) and Web of Science (the indexing service)?
Most of the societies' journals are on Scopus and Web of Science. Some of our acquired journals are also there… Till 2014, we used to publish 250-300 journals and almost all of them were on Scopus. At present, what has happened is that Scopus has written to us about (Denver-based librarian) Jeffery Beall's comments (on predatory journals) and wants us to rectify… All our journals have been removed from Scopus. They have said that we can reapply so we are doing that. I think most of the journals will be indexed again.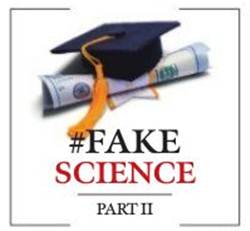 How have (Denver-based) librarian Jeffery Beall's comments against OMICS on his blog in 2010 affected your company?
We sent a notice to sue him for $1 billion in compensation but we have not pursued the case. He was writing under the US Freedom of Speech Act. More than 20-25 percent of our business was lost because of his writings. He is a big supporter of subscription-based publishers. The main task of librarians is to get quality journals for their libraries and give it to people. For that, they get some money. Because of open access journals, their jobs are at stake. He closed his blog without any notice but it impacted businesses of those like us… a huge impact.
What is the case against you by the US Federal Trade Commission (FTC)?
The FTC initiated the case in 2015. Are we publishing articles based out of India, are our review standards as per American standards? That is the first question. The second is whether we are maintaining our publishing charges properly. The third is whether people whose names are being published are actually attending our conferences.
The FTC has alleged that you don't have a proper peer review process in place.
Peer review is taken care of by editorial boards of the respective journals. Every journal has 40-50 editorial board members. If they accept the articles, we will publish them. But we do not have any control over editorial policies. The editor is the main stakeholder. The authors have equal responsibility.
EXPLAINED | How the pay-and-publish business works
Your company's website claims that you have 50,000 experts but FTC says you provided a list of only 15,000.
Every journal has 50-60 editorial board members. Some of the members are active and some not that much. The number of active members, which FTC assessed, is around 15,000… For every journal, we divide 10 members for one subject, 10 for another, like that. If the journal is publishing an article related to a particular subject, that means the remaining 40 members may not be active.
The commission stated in its motion before the Nevada District Court on May 1, 2018, that several members on your editorial boards were appointed without their consent.
That is completely wrong. Normally, the FTC takes around six months for each case. Against us, they have taken three years but not proved a single thing. We have filed our response. We have also filed against them for $3.11 billion in compensation due to loss.
The commission says that you have uploaded biographies of thousands of people on your websites to give the wrong impression that they are associated with you.
That is completely wrong. A biography is different, an editorial board is different. Each and every journal has a list of editorial board members.
Why did you not proceed with the suit against Beall?
He is not capable of paying the damages. So, it is useless. But we are fighting the FTC case, which we have taken very seriously.
The FTC has alleged that you presented wrong information to induce authors to write for your paid journals, with publication charges ranging from $149 to $1,819.
The FTC don't know the definition of journal. They don't know what peer review is. They are illiterates. Scientists are not illiterates. They know which article to publish in which journal. If after working for a year on their research, they publish in a journal, they know better than the illiterates at FTC.
US authorities say they had asked you for peer review records and that you were able to provide details of only 49 per cent of articles.
We have given the complete records. The system we are using for editorial management and peer review is similar to many reputed journals. That is another allegation that has not been proven.
How do you view the perception that anyone can publish anything in your journals after paying publication charges?
A scientific expert has equal responsibility along with editors. We have provided a platform for them to publish and review. The people who are publishing and reviewing, they are more responsible than us.
Are these editors and reviewers paid a fee?
No, no. Apart from journals, we have conferences as well. Almost 70 per cent of our business comes from conferences. Earlier, we used to conduct editorial board meetings but we had to pay for travel and hotel expenses. So we converted those meetings into conferences. Some of the active editorial board members get travel allowance.
Have you ever corresponded with education regulatory bodies in India, such as UGC?
Our articles from India are very few, less than 0.01 percent… 99.99 percent of articles are from outside. So we are not concerned about India, indexing, UGC, etc. This is all nonsense. Our services are all export and there is no business from India.
Which are the top five countries where your business is present?
Germany, UK, Japan, US, China. Europe has 40 per cent of our business, US has 7-8 per cent, China has nine. India is not our market. Out of 3,000 conferences we are conducting this year, not a single one is in India. Our revenue from India is almost zero.
📣 The Indian Express is now on Telegram. Click here to join our channel (@indianexpress) and stay updated with the latest headlines
For all the latest India News, download Indian Express App.
The Indian Express website has been rated GREEN for its credibility and trustworthiness by Newsguard, a global service that rates news sources for their journalistic standards.