Less than 24 hours after he resigned as the chief minister of Bihar stating he could no longer continue amid allegations of corruption in his government, Janata Dal (United) leader Nitish Kumar came back as chief minister when he took the oath of office Thursday morning. The JD(U) leader resigned over a CBI FIR against his deputy and ally Lalu Prasad Yadav's son Tejashwi Yadav.
Calling off the grand alliance or 'mahagathbandhan' between JD(U), Congress and Lalu Prasad Yadav's Rashtriya Janata Dal, Nitish secured the support of NDA to form the next government in Bihar.
Highlights:

9:42 pm: Bihar assembly to have day-long special session from 11 am tomorrow to facilitate Nitish Kumar trust vote.
9:40 pm: We will demand for secret ballot in the assembly. Then, we'll know who won and who lost, says RJD's Bhai Virender after RJD MLAs meet in Patna.
8:55 pm: Lalu Prasad Yadav with his family members at his residence in Patna.
Patna: Lalu Prasad Yadav with family members at his residence. Party MLAs also present pic.twitter.com/ItmPnGgJHd

— ANI (@ANI_news) July 27, 2017
7:55 pm: BSP Chief Mayawati has termed the developments in Bihar as a "wrong signal for democracy". She claimed that the people of Bihar had been betrayed with state Chief Minister Nitish Kumar switching sides from the grand alliance to the NDA.
7: 12 pm: Samajwadi Party supremo and former Uttar Pradesh Chief Minister Akhilesh Yadav has mocked JD(U) Chief Nitish Kumar using a musical note for again allying with the Bharatiya Janata party (BJP) to become the chief minister of Bihar. He tweeted: "Na na karte pyar tumhi se kar baithe, karna tha inkar magar ikrar tumhi se kar baithe. Bihar today."
7:10 pm: Spoke to Nitish Kumar ji and Sushil Modi ji and congratulated them for taking oath as CM and Deputy CM of Bihar respectively: Dharmendra Pradhan
6:32 pm: CBI is scrutinizing documents provided to it by railway department in Lalu Yadav railway hotel tender matter: Sources
6:30 pm: Sitaram Yechury says, "Every few years Nitish Kumar takes oath as Chief Minister from different alliances. Quite a record. Straight forward political opportunism."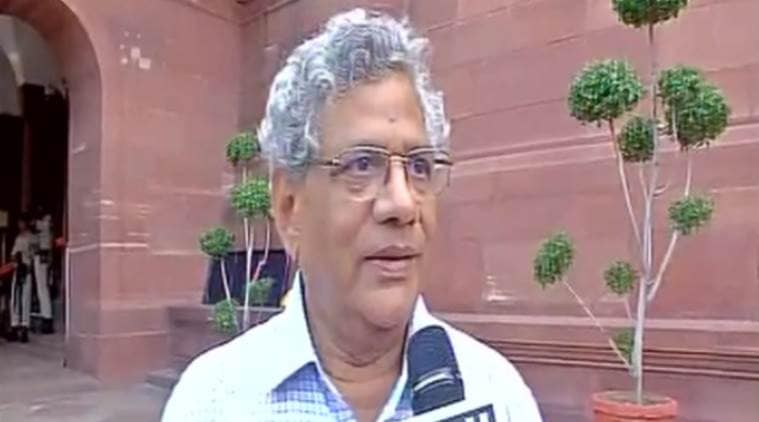 6:15 pm: We including Sharad ji had no idea that such a big development would happen overnight. We are surprised: JD (U) leader Ali Anwar.
6:04 pm: Sharad Yadav is concerned over Nitish Kumar's decision. In 1-2 days Sharad ji will talk to senior leaders of all national parties: JD (U) leader Arun Kumar
5:37 pm: JD(U) MPs Veerendra Kumar and Ali Anwar reach Sharad Yadav's residence in Delhi.
5:31 pm: With the swearing-in of NDA-2 government, today Bihar got freed from the dark phase of 20 months. Strict action will be taken against criminal-mafias. Our next step will be 'Sabka Saath Sabka Vikas'. I express my gratitude towards Prime Minister Narendra Modi for his wishes: Sushil Modi
5:30 pm: Sushil Modi says, "It is a historic moment for Bihar, when after 37 years, both centre and state will have a government of same alliance. We will give development a new speed. 'Acche din' for 11 crore people will start now."
5:00 pm: Rashtriya Janata Dal national spokesman Manoj Jha says the party would "knock at the court's door, as well as that of the janata ki adalat (people's court)" to tell the people about the "conspiracy" hatched by the BJP.
"According to the S R Bommai case judgement it is mandatory to call the single largest party or electoral block first to explore the formation of a government. Keshri Nath Tripathi's decision to invite Nitish Kumar to form the government with the BJP was a "blatant violation" of the judgement", he said.
4:40 pm: Affection of children and family makes a person weak in politics. Nitish Kumar walks alone and with honesty. That is why he is successful: Maheshwar Yadav
4:30 pm: RJD leader Maheshwar Yadav said, "Most of the MLAs of our party were of the opinion that Tejashwi should resign so that alliance and govt remain saved."
He said, "It is Nitish Kumar's habit not to keep a tainted person in his alliance, which is why the alliance has broken." (Nitish ji ki aadat hai ki wo apne gathbandhan mein daagi vyakti ko nahi rakhte hain, isiliye gathbandhan toot gaya)
4:10 pm: I congratulated Bihar CM Nitish Kumar. Hope Bihar will move towards development now: Chhattisgarh Chief Minister Raman Singh.
3:52 pm: Congress leader Mallikarjun Kharge said, "The grand alliance was formed to bring secular forces together, to fight the dictatorial attitude of the BJP, its attitude of killing democracy." He also said, "You formed the government in Bihar fully aware of how the grand alliance partners are. You should not have broken the alliance in such a case."
3:27 pm: The Communist Party of India (CPI) has also said that Nitish Kumar should have waited till the court verdict on corruption charges against Tejashwi Yadav. CPI general secretary Suravaram Sudhakar Reddy said, "It's an unfortunate, negative development. We are all shocked though we knew the crisis was deepening."
3:23 pm: The Enforcement Directorate (ED) registers money laundering case against Lalu Prasad Yadav and his family members in a railway hotel allotment corruption case, says an official.
3:05 pm: Goa Chief Minister Manohar Parrikar congratulates JD(U) leader Nitish Kumar for taking over as the chief minister of Bihar once again with the BJP's support. He tweeted: "Congratulations to Nitishkumarji and SushilModiji on taking oath as CM and deputy CM." "Under NDA government, Bihar will be back on development path," he said.
2.30 pm: JD(U) leader replies on murder charges levied against Nitish Kumar by Lalu Prasad Yadav. "Lalu has a habit of twisting facts," said Lallan Singh. A killing took place on November 16, 1991, when Lalu Prasad Yadav was the chief minister. Five people were accused in the case, including Nitish Kumar. However, after investigation, it was found that Nitish was innocent, Singh claimed.
2.25 pm: Union Minister Ram Vilas Paswan talks on BJP-JD(U) alliance. "I had already stated this government will not last long, but Lalu Yadav called me a political weather expert."
2.20 pm: Senior JD(U) leader Sharad Yadav has called for a meeting with party MPs at 5 pm today. According to media reports, he met Congress Vice-president Rahul Gandhi.
2.10 pm: Congress leader Ghulam Nabi Azad took potshots at Nitish for switching camps. "I think it has become Nitish ji's habit to change parties and stand every few years," he was quoted as saying by ANI.
2.05 pm: Supporting his new ally Nitish Kumar and promising 'Acche Din' for Bihar, Deputy CM Sushil Kumar Modi said that Opposition was responsible for fallout of the alliance. "Aage bihar ke achhe din aayenge, gathbandhan tuta toh uske liye wohi log zimedaar hain. (Bihar's acche din are about to come. They are to be blamed for the fallout of the alliance)
2.00 pm: JDU member Ajay Alok questioned Congress's statements. "Congress says we betrayed them, also says this was going on since 3-4 months. How can it be a betrayal if they already knew? We had told them we are taking back our support, Nitish Kumar had met Rahul Gandhi." he was quoted as saying by ANI.
1.45 pm: Kerala JD(U) has expressed their disapproval over JD(U)-NDA alliance in Bihar. "We are not accepting the JD-U joining the NDA and our relations with Nitish Kumar has ended. It's shocking that Nitish Kumar has joined the NDA. We all thought that he will fight the fascist tendencies but he has now become a part of it," Kerala JD(U) chief, MP Veerendra Kumar told reporters.
1.35 pm: Bihar CM Nitish Kumar took to Twitter to reaffirm his intolerance for corruption. "There will be no compromise over corruption. I believe that with Centre's help, there will be more development in Bihar."
1.30 pm: Singh also said Opposition wouldn't let the Vidhan Sabha function until CM and Deputy CM resigned. Meanwhile, RJD workers continue their protest against in Patna.
1.20 pm: "Bihar ki janta ke saath vishwaghaat hua hai, Nitish Kumar sirf Bihar ke CM nahi hain, Bharat ke doosre Bhajan Lal hain," RJD leader Jagadanand Singh told ANI. 
1.15 pm: "Whatever decision we have taken will be in the interest of Bihar and of its people. It will ensure development and justice. It will also ensure progress. This is a collective decision. I ensure that our commitment is towards the people of Bihar," Nitish Kumar told reporters after the swearing-in.
1.05 pm: Reacting on the political tussle in Bihar, Congress MP Shashi Tharoor spoke on how, even in the past, BJP formed the government in a state where it had failed to garner maximum votes from public. "This is now the third time that BJP has formed a state government after losing an election. Goa, Manipur and Bihar show our democracy in poor light. Our system allows legislature to form executive,making it easy for parties to betray the wishes of the voters. BJP was rejected in election! I've been arguing for a presidential system of directly-elected leaders at all levels. That way the winner rules.This way "chatur" politicians rule," he wrote in a Facebook post.
1.00 pm: "This is the end for Nitish Kumar. Vinaash kaale viprit buddhi (When one's destruction time is soon to arrive, one thinks unintelligently)," Lalu said.
12.55 pm: Lalu Yadav talks on opposition unity. "Mayawati Akhilesh Mamata. We will get them all together. So what if Nitish has gone to the BJP," he said.
12.50 pm: Brajesh Mehrotra, Principal Secretary, Cabinet Coordination department of Bihar government confirms Nitish Kumar government will seek trust vote on Friday.
12.45 pm: Meanwhile, Uttar Pradesh Assembly passed a resolution congratulating Nitish Kumar on becoming Bihar CM again.
12.42 pm: "The Governor should have invited the largest party to form the government. But they didnt. MLAs were wrongfully confined so that I dont get the support," alleged Lalu.
12.40 pm: "We were the largest party. It was our right to stake claim to form the government. BJP leaders like Sushil Kumar Modi always wants to be the second-in-command after Nitish. If Nitish wanted to resign, they could have had a meeting with the alliance partners," Lalu said.
12.38 pm: Nitish Kumar to prove his majority in a special session of the Bihar Assembly on 28th July, reports ANI.
12.35 pm: BJP is fooling the nation, Lalu alleged. "People's mandate was for Lalu and Nitish against BJP."
12.30 pm: "They (BJP) wanted to pin the blame on Tejashwi. They were afraid that Tejashwi would come up as a worthy opponent in 2019. This is a conspiracy by Amit Shah and Narendra Modi. This is nothing but political vendetta," Lalu was quoted as saying by FirstPost.
12.24 pm: "Mere saath chhal kia hai (they have deceived me). Nitish Kumar joined hands with BJP to ensure raids by CBI, ED on RJD leaders and to malign them," he alleged. "All the allegations against me are false."
12.22 pm: "Nitish Kumar bolte the ki mai mitti me miljaaunga lekin BJP se haath nahi milaaunga. (Nitish said he'd do anything but join hands with BJP)," he said. "The mandate was against BJP, to throw out Modi-Shah out of Bihar. They said I was a beef eater. Nitish Kumar is huge opportunist."
12.20 pm: "I considered him as my younger brother and told him he could be the CM. People asked me what I would do if I got more number of seats. If I was greedy, I would not have let him be the CM," Lalu said at the press conference. "Hum boley Shankar bhagwan ki tarah jao, raaj karo, par yeh toh Bhasmasur nikla."
12.17 pm: Talking about the time he was jailed, Lalu said: "Past 15-20 years, I have been fighting cases in courts. I was sentenced in a hurry. There was a conspiracy between Nitish Kumar and BJP." The RJD supremo also alleged that Nitish forgot the "anti-communal" goals of the alliance.
12.15 pm: Questioning the NDA's decision to extend support to Nitish, Lalu Yadav spoke of the times when PM Modi criticised the Bihar CM. Lalu Prasad Yadav raking up case in vain: JD(U) on case against Nitish Kumar. Click here to read.
12.10 pm: "It is regrettable there is no Gandhiji among us to unite this country. Modi's family of Godse-RSS killed him," Lalu said. "How will Nitish face the people of Bihar after promising he wouldnt return to BJP?" he asks.
12.05 pm: RJD supremo Lalu Prasad Yadav said the people of Bihar were politically conscientious while addressing reporters after his former ally Nitish Kumar was sworn in as Chief Minister today. "People in the villages of Bihar are upset (with Nitish's decision)," he said.
12.00 pm: Congress spokesperson Randeep Surjewala slammed Nitish Kumar for forming a government with NDA. He also took a dig at Bihar CM by using the #ModiBhaktNitish hashtag. "Conspiratorial treachery and rank political opportunism is the real DNA. Lust for power overpowers," he wrote on Twitter.
11.50 am: Here's an interesting fact. During an Idea Exchange programme a few days ago, Sushil Kumar Modi had said certain things in favour of Nitish Kumar. Want to know what these things were? Click here to read.
11.45 am: BJP chief Amit Shah congratulated Nitish Kumar on Thursday saying that the was sure the new Bihar government would take Bihar to newer heights. "Congrats to CM @NitishKumar ji & Dy CM @SushilModi ji for unitedly standing against corruption & putting Bihar back on the path of progress. I am sure the new Bihar government along with central govt led by PM Shri @narendramodi will take Bihar to newer heights," he wrote on Twitter.
11.30 am: Did you know BJP chose to support the JD(U) in government formation after it said that it did not favour 'mid-term polls'?
11.27 am: Himachal Pradesh Chief Minister Virbhadra Singh reacts on the Bihar political tussle. "Frequent change of stand by Nitish Kumar doesn't show him in good light," he was quoted as saying by PTI.
11.20 am: Congress leader Digvijaya Singh on Thursday questioned Nitish Kumar's rush in forming the government with NDA. "Kya koi train chooti jaa rahi thi?" he asked. "Nitish ji always talks about principles. Are these his principles?" Singh also claimed that the people had voted for Nitish because they were against the Sangh-BJP. "Janta ne aapko BJP-Sangh ke virodh mein vote diya tha. Agar Tejashwi se aitraaz tha toh unhe barkhast kar dete, RJD-JDU-Congress ki meeting bulate, maha gathbandhan se dhoka karna adarsh nahi. (If there had been a problem with Tejashwi, he could be asked to step down. Nitish could have called a meeting of the grand alliance. It wasnt correct to betray the grand alliance,)" he told reporters.
11.05 am: "Vicious greed for power of opportunism will spell it's own doom. People are not fools that they digest their penchant for wicked power grab," Tejashwi wrote on Twitter.
11.00 am: Bihar Chief Minister Nitish Kumar makes a statement soon after the swearing-in. "My decision is in Bihar's interest and for its development," he told reporters. "Development will be a priority, will take Bihar to greater heights," Bihar Deputy CM Sushil Modi said. Nitish Kumar is back as Bihar Chief Minister in less than 24 hours, this time with BJP. Click here to read.
10. 57 am:  "I delivered manifolds than wat was expected of me. My performance perturbed our ally & BJP. Vendetta against me exposes their viciousness. Much to their dismay, they wer unable to point a single lacuna in my performance.So resorted to low level vindictive & opportunistic politics. Whenever there is change in a system, however unjust, those at vantage point were bound to get irked. Repercussions were expected & imminent," he wrote in a series on tweets.
10.55 am: Former deputy chief minister and Lalu Prasad Yadav's son Tejashwi Yadav brands Nitish's move as opportunistic. "Entered in government with clean slate, keen desire of writing a positive story for Bihar people, only to find opportunist rival," Tejashwi wrote on Twitter.
10. 50 am: Congress spokesperson Abhishek Singhvi said on Wednesday, "If morality and lack of attachment to power is the animating principle for Nitish, he should seek reelection and not continue as Chief Minister with a 24-hour gap under NDA."
10.40 am: PM Narendra Modi congratulated Nitish Kumar for becoming the CM of Bihar. "Congratulations to Nitish Kumar ji & Sushil Modi ji. Looking forward to working together for Bihar's progress & prosperity," he wrote on Twitter.
10.35 am: "Mandate was given to Nitish ji for the anti-communal fight but now he has joined hands with them for his personal politics," Rahul Gandhi told reporters. He also said people could do anything for their own self-interests. "Satta ke liye vyakti kuch bhi kar jaata hai, koi neeyam, credibility nahin hai (People can do anything to remain in power. There is no credibility or regard for rules)," he said.
10.33 am: Rahul Gandhi reacted to Nitish's decision on Thursday saying the Congress knew about the decision. "We knew about Nitish Kumar planning to join NDA for the last three to four months," he told reporters.
10.30 am: Nitish did not speak to either Sonia or Rahul before submitting his resignation. He conveyed his decision to C P Joshi, the party's general secretary and Bihar in-charge. Related | At heart of Bihar break-up: The Tejashwi Yadav dossier. Click here to read.
10.25 am: Nitish has two days to prove his majority. JD(U) has 71 MLAs in the House, NDA 58 and Congress 27. While JD (U) and NDA together cross the halfway mark, RJD and Congress only have 107, which is 15 short of simple majority. 
10.15 am: With Bihar coming under NDA's fold, the number of states where the BJP is in power has increased. The party is now in power in Jammu and Kashmir, Uttarakhand, Haryana, Rajasthan, Gujarat, Uttar Pradesh, Bihar, Chhattisgarh, Jharkhand, Madhya Pradesh, Arunachal Pradesh, Maharashtra, Goa, Assam, Manipur and Andhra Pradesh.
10. 10 am: Did you know Wednesday was the second time Nitish resigned as Bihar's Chief Minister. In 2014, following the JD(U)'s debacle in the Lok Sabha polls, Nitish Kumar quit as CM, naming Jitan Ram Manjhi as his successor. However, he replaced Manjhi later after a bitter exchange of words between the two.
10. 00 am: Meanwhile, RJD supporters were in for a disappointment as the RJD protest march got cancelled after Section 144 was imposed around Raj Bhawan in Patna.
9.57 am: Nitish Kumar takes oath as the Chief Minister of Bihar for the sixth time in 12 years. Sushil Kumar Modi sworn in as Deputy Chief Minister.
9.50 am: Congress general secretary Digvijaya Singh questioned Nitish on his decision to call off the grand alliance between Congress, RJD and JD(U) and joining the NDA. "Nitish's step is disappointing. Was he not aware of Laluji and his family?" tweeted Singh.
9.47 am: Nitish Kumar and Sushil Modi reach Raj Bhawan in Patna to take oath today.
9.45 am: RJD leader JP Yadav said they would protest against Nitish Kumar's decision. "Will raise issue in Parliament strongly, will also speak to other parties and protest at Gandhi statue in Parliament," he said. Meanwhile JD(U) MP Sharad Yadav has refused to comment on Bihar political tussle and the NDA-JD(U) tie up.
9.38 am: Political leaders from various parties have been reacting to the JD(U)-BJP alliance. Reacting to RJD allegations against Nitish, JD(U) leader Sanjay Singh said their party would take the matters to court if need be. "Koi Nitish je upar daag nahi laga sakta, humari party apni raai rakhegi aur nyalay tak isko ghaseetegi," he was quoted as saying by ANI.
BJP leader Nitin Naveen hit out at Lalu Prasad Yadav saying that the RJD chief was worried that his own party MLAs would revolt against him. "Lalu ji bechaini mein hain, unki khud ki party mein vidroh hone waala hai," he told ANI.
Health Minister JP Nadda hailed Nitish's move saying it was a courageous one. "Nitish ji's step against corruption is a courageous one. BJP wants development and wants to help bring stability in Bihar," he said in Patna.
9.30 am: BJP leader Sushil Modi tweeted early this morning that too would be joining the government today. "Just received invitation from Hon'ble Governor to take Oath and be a part of Bihar Govt," he wrote on Twitter.
9.25 am: State BJP chief Nityanand Rai told reporters that Nitish Kumar and Sushil Modi will take oath on Thursday.
9.20 am: BJP leader Sushil Modi had submitted the letter of support to the Bihar Governor on Wednesday. "We gave letters of support of 132 MLAs," he said. The letter of support had been given of MLAs belonging to JD-U, BJP, LJP, RLSP, HAM and two independents, Sushil claimed. They also requested the trust vote should take place at the earliest.
9.15 am: After snapping the 17-year-old ties between JD(U) and BJP, Nitish often targeted BJP and RSS over the last four years, even calling for a "Sangh-Mukt Bharat." Click here to read some of the comments made by him.
9.10 am: Bihar Governor Keshari Nath Tripathi has invited RJD leader Tejashwi Yadav and five other RJD MLAs for discussion, reported ANI. The development came Tejashwi marched towards the Governor's residence with a group of RJD leaders to stage a dharna.
9.05 am: Nitish Kumar will be sworn in as Bihar's Chief Minister for the sixth time today. Preparations are currently underway at Raj Bhawan in Patna.
9.00 am: Meanwhile, former chief minister of Uttar Pradesh, Akhilesh Yadav took a dig at the BJP-JD(U) alliance through a tweet. "Na na karte pyaar tumhi se kar bethe, karna tha inkar magar ikraar tumhi se kar bethe," Yadav tweeted.
8.55 am: Reiterating his father's claims, Tejashwi too described Kumar's resignation as a "pre-planned conspiracy" between the him and the BJP. Questioning the advancing of the oath ceremony timing from 5 pm to 10 am, he said, "This whole drama was planned and Tejashwi was just an excuse for him (Kumar) to go with BJP."
8.50 am: Accusing Kumar of "betraying" the mandate by the people of Bihar, Tejashwi also said he had support of most JD(U) MLAs. "I'm confident that most JD(U) MLAs who are committed to social justice will vote against the government in the floor-test," he said. The former Deputy CM also said that since the Governor had already invited Kumar for taking oath, it was not possible to take back the invitation letter. Advantage BJP: Why the Patna play sets the stage for the grand game of 2019. Click here to read more.
8.45 am: Tejashwi Yadav met Bihar Governor Keshri Nath Tripathi in Patna to register his protest against Nitish's decision to form a government with BJP.  "RJD being the single largest party should have been invited to form the government. We are taking legal advice and will move court against the governor's decision," he was quoted as saying by PTI.
8.40 am: This is the second time that Nitish has resigned from the CM's post. In 2014, following the JD(U)'s drubbing in the Lok Sabha polls, Kumar quit, naming Jitan Ram Manjhi as his successor. However, he replaced Manjhi later after a bitter exchange of words between the two.
8.35 am: JD(U) had aligned with the RJD for 2015 Assembly elections and won a total of 178 seats defeating BJP for the first time under the leadership of Prime Minister Narendra Modi. On Wednesday, JD(U) and BJP ruled out any mid-term poll saying people had given a "mandate for five years".
8.30 am: Lalu also alleged that Nitish had used his son's Tejashwi case as an alibi to switch camps. Nitish's support for demonetisation, the surgical strike and his party's vote for Ram Nath Kovind for President served as early indications that he would join hands with BJP, Lalu claimed.
8.25 am: Amping up his allegations, Lalu said Nitish had mentioned the 1991 case in his MLC election affidavit. "He is an accused under 302 of IPC. How did he become chief minister?" The RJD supremo also claimed his former ally Nitish was afraid of the Centre targeting him in the case if he did not go with the BJP.
8.20 am: RJD chief Lalu Prasad Yadav has alleged that Nitish had a setting with the BJP. "There had been a setting with the BJP. When someone asked him (Nitish) if he could go with BJP, he did not say no. It clearly suggests BJP setting. The PM's congratulatory tweet followed to prove my point,'' he said. On Wednesday, Lalu also alleged that Nitish too had serious cases against him. "How can he ask for Tejashwi's resignation when he faces such a serious case as murder that entails life imprisonment and capital sentence?"
8.15 am: Nitish has two days to prove his majority. JD(U) has 71 MLAs in the House, NDA 58 and Congress 27. While JD (U) and NDA together cross the halfway mark, RJD and Congress only have 107, which is 15 short of simple majority.
8.10 am: Speaking to news agency ANI, JDU MP Ali Anwar said his conscience does not approve of Nitish Kumar's decision to form a government with NDA. "Nitish ji ne apni aatma ki awaaz par BJP ke saath jaane ka faisla kiya lekin mera zameer iski ijaazat nahi deta ki main unke iss kadam ka samarthan karoon (Though Nitish ji's decision to form a government with BJP was his call of conscience, my conscience doesn't allow me to support this move.)," he told the media. Anwar also said he would voice his opinion in the party if he got an opportunity. "The reasons why we left the BJP, those reasons have become even more pronounced today." Hours after PM Modi tweets in praise, BJP and JD(U) join hands in Bihar. Click here to read.
8.07 am: As a mark of protest against Nitish Kumar's resignation and forming a government with the BJP, RJD supporters blocked Mahatma Gandhi Setu, connecting north Bihar with Patna, this morning.
8.05 am: Tejashwi said that being the largest party with 80 MLAs in the House of 243, the RJD would also "seek time from the Governor to stake claim to form the government."
8.00 am: Just over four years ago, Nitish had split from the NDA. As per the previous JD(U)-NDA government from 2005-2013, the NDA is likely to get 14 ministers.
On Wednesday, BJP leader Sushil Modi said: "We will support Nitish Kumar and join the government. We will stick with development with justice theme. What we said against the present government is thing of past. Let there be a new beginning now". He is likely to be sworn in as Deputy CM today.
📣 The Indian Express is now on Telegram. Click here to join our channel (@indianexpress) and stay updated with the latest headlines
For all the latest India News, download Indian Express App.