Updated: June 26, 2018 12:04:10 pm
On October 18, the National Green Tribunal (NGT) turned seven years old. Nearly a month later, on November 17, the cases listed before it spanned from Uttarakhand to Andhra Pradesh, the aggrieved parties ranging from individuals to human rights organisations, in court against everyone from state pollution control boards to the Union government. In its 2010 proposal setting up the NGT, the government called it "one element" of a reformist approach to environmental conservation, and pointed out that it meant India was "one of the few countries with a specialised environmental court."
More than 23,000 cases have since made their way to the NGT, with the tribunal largely sticking to its mandate of disposal within six months. But as the battle to clean up Delhi's air once again reached its doors last fortnight, and arguments played out in almost a repeat of last year, it only highlighted the inadequacies in both the scale of the NGT's reach and the reach of the NGT's scale.
Ritwick Dutta, an environmental lawyer who was among those involved in the consultations for the tribunal, says the NGT has over the years "taken on a bigger role than we expected" but , contrary to what many believe, has "rarely questioned government decisions." Pointing to the sheer volume and range of cases, he adds that while it has given space to unconventional petitioners such as urban citizens to take up issues, "I never imagined that clearing up of Jantar Mantar would be a NGT judgment."
*******
Just 56 chairs face the three judges, including the chairperson, a retired Supreme Court judge, and the sole expert member, who together make up the Principal Bench of the NGT, located in a sprawling hall of Faridkot House, just off New Delhi's India Gate circle. The chairs are clearly inadequate, as lawyers, petitioners and journalists jostle for space on any given day.
On Thursday, November 16, around 200 people crowded the room as NGT Chairperson Swatanter Kumar adjudicated on the Delhi government's petition over introducing the odd-even scheme. It was the ninth day of hearing, after Delhi's air quality deteriorated further. It was well past noon, and 44 cases had been heard already, for durations ranging from two hours to two minutes. The longest hearing was on the absence of a sewage treatment plant and system in a high-rise colony in Faridabad, housing 20,000. Eventually, the bench directed the real estate firms that built the colony to pay between Rs 5 lakh and Rs 50 lakh, calculated on the extent to which their respective sewage treatment plants had proceeded.
There was a sudden confusion around 3 pm as ushers came in and stood behind the bench, while counsel for the Central Pollution Control Board walked out. Realising the sudden tension in the room, Justice Kumar reassured the proceedings were still on. Pointing to the ushers, he smiled: "They are the only protection we have."
The odd-even matter first came up before the NGT bench as the 'diesel ban matter' in 2014. It was in this case that the NGT had, in November that year, banned vehicles over 15 years old from plying in Delhi.
The arguments continued briefly, before the bench agreed to hear the matter a day later and perhaps reconsider a ban on construction, which had been imposed earlier as a measure to check air pollution. It was its 126th order on air pollution this year. In 2016, the matter was heard 93 times by the tribunal.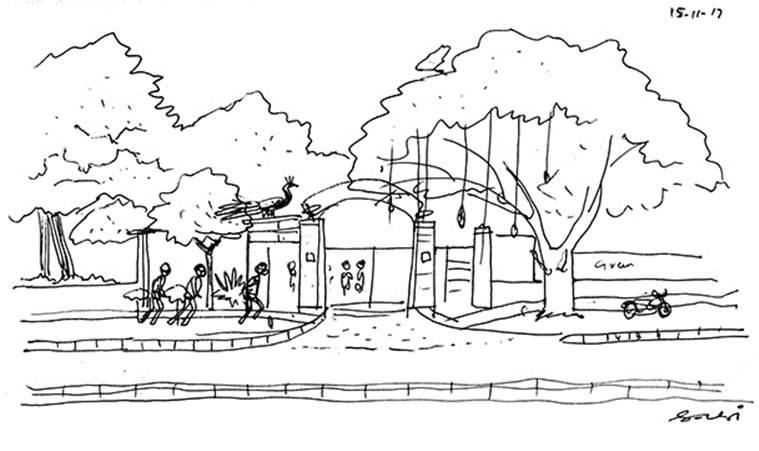 *****
As per the National Green Tribunal Act of 2010, the NGT aims to reduce the burden of litigation on higher courts through "effective and expeditious disposal of cases" relating to environment, forests and other natural resources. While deciding a case, it applies the principles of sustainable development, the precautionary principle and the polluter-pays principle. Moreover, as it is not bound by the Code of Civil Procedure, nor the principles of evidence in the Indian Evidence Act, it is easier for petitioners to approach it.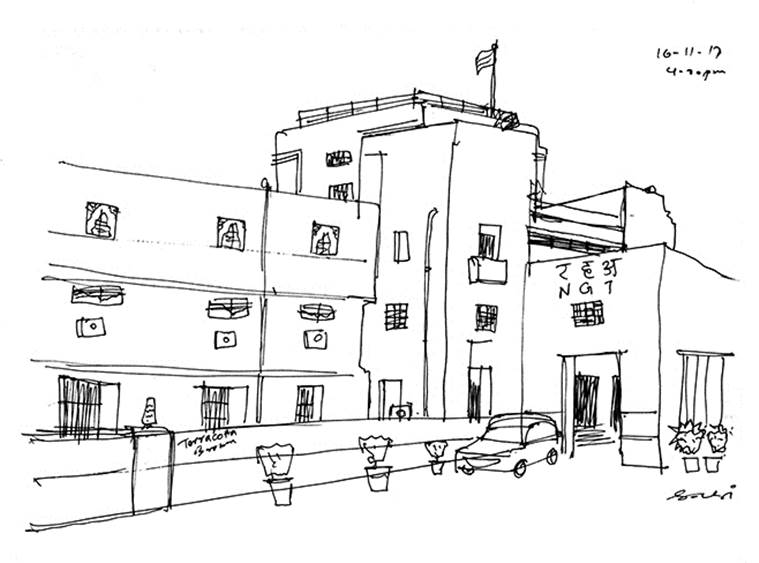 M Veerappa Moily, who held the portfolio of Environment and Forests under the UPA government, that set up the NGT, points out why courts like the NGT are crucial for something like fighting air pollution. "This is not the mistake of any one state. It goes beyond territorial boundaries… It is an international issue too since air pollution from Pakistan also contributes to Delhi's air quality. But when the government fails to do its job, then courts, like the National Green Tribunal, are forced to become more active and intervene."
Gaurav Bansal, an advocate in the odd-even case, says that with the Indian Evidence Act not applying to the NGT, "it's easier for petitioners to point out technical flaws in the project, propose alternatives that could minimise environmental damage."
Barring the Wildlife (Protection) Act, 1972, the Indian Forest Act, 1927, and laws enacted by states pertaining to forests, the NGT has the power to hear all civil cases relating to environmental issues and questions. It can impose sentences "which may extend to three years, or with fine which may extend to Rs 10 crore," on individuals failing to comply with its orders, and can take action for offences by companies or government departments.
Former CPCB member secretary B Sengupta says, "In a country like ours where enforcement of environmental laws is every weak, a body like the NGT is very useful. They are doing what the pollution control boards sometimes can't do."
*****
A joint study by Vidhi, a legal NGO based in Delhi, and WWF India, found that the highest environmental compensation awarded by the NGT, between 2014 and 2016, was against illegal mining along the Yamuna in Haryana and Uttar Pradesh. The owners of the mining companies were asked to cough up Rs 252.5 crore on February 2016; they have since paid.
But the compensation has raised questions on the 'polluter-pays principle.' The provision is often interpreted differently under Indian law, says advocate Sanjay Parikh, who appears for petitioner Manoj Misra in the case against Sri Sri Ravishankar's Art Of Living (AOL) Foundation, for its alleged damage to the Yamuna floodplains during the World Culture Festival in March 2016. "Those who violate the law will have to pay but authorities cannot permit such an activity by saying 'go ahead and do it, and then pay for the damages'," he says.
Take the AOL case for instance: At the end of February 2016 in response to a petition filed by Misra, the NGT had expressed helplessness in banning the World Culture Festival citing "fair accompli". It, however, levied interim environmental compensation of Rs 5 crore on AOL. The NGT appointed expert panel, which was constituted months after the festival, found that the event had "completely destroyed" the riverbed and pegged the cost of restoration at over Rs 42 crore.
Last Monday, November 13, the NGT reserved judgment in the case. "This is an open and shut case. There is an existing judgment that details what activities are permitted on the Yamuna floodplains but despite that, the Delhi Development Authority granted AOL permission," Parikh says.
For Ritwick Dutta though, the biggest problem with the NGT is that it has so far not taken on the government. "Contrary to the myth that the NGT strangulates growth, there are very few instances where the NGT has quashed a decision taken by the MoEF. It has in fact rarely questioned the government's decision," he says.
As per an analysis carried out by Dutta's Legal Initiative for Forest and Environment (LIFE), of the 1,392 projects granted environment clearance between January 1, 2017, and October 2017, the NGT kept in "abeyance" just one: its southern zone stayed the environmental clearance for a Neutrino observatory project at the Bodi West Hills in Tamil Nadu's Theni district. Three more projects lost forest clearances in this time.
Then there is the issue of implementation. For instance, in the stubble burning case for which the NGT called for state-level action in North India, the state governments have often expressed difficulty in implementing orders such as providing machinery and incentives to farmers, citing lack of funds. "We don't have the money to subsidise all our farmers. That is why we had asked for a Rs 2,000 crore package from the Centre," says Manmohan Kalia, joint director of Punjab's agricultural department.
Speaking of a 2015 order, in which the NGT banned parking on metalled roads, a senior official of the Delhi government says, "At times, these orders are not realistic. Delhi simply has far more cars than we have parking space. Issuing a parking ban on metalled roads will not lead to implementation simply because there is no alternative."
AAP spokesperson and former Delhi minister Saurabh Bhardwaj who has been critical of the NGT in the past, says that as it is based out of New Delhi, the NGT's orders get sensationalised. "Some media outlets use NGT to get sensational stories out. Take for instance, the NGT stopping the implementation of the odd-even scheme. That is an emergency measure which was sanctioned by the Supreme Court. I don't think the NGT would be reviewing something by the SC, but the media channels made it out to be," he says.
Says a senior official of the Delhi environment department said, "Take for instance, the Jantar Mantar ban. While it is true, that there is a lot of noise pollution that rallies can lead to, there is little sense in asking protesters to shift to Ramlila Ground, which is also densely populated and has hospitals nearby, thus making noise pollution an issue there too."
The NGT is also plagued by vacancies. Until Thursday, there were three judicial members (including the chairperson) and an expert member at the Principal bench in Delhi. With one retirement last week, there will now be two judicial members and the expert from Monday, November 20. After December 9, the number of expert members would come down to 2 across different benches in India and after February, there would be only three judicial members left in the panel.
Justice Kumar seemed to suggest the difficulty of the task at hand at the end of the odd-even hearing himself. "This is an environmental emergency, so no one is worried. Some other kind of emergency, you people (government) would have taken all steps," he noted.
*****
As the NGT court discussed Delhi's air, two men in bright red turbans sat quietly in the lush lawns outside Faridkot House. The two had approached the tribunal over alleged encroachment of land along "four minor" canals near Sri Ganganagar, a Rajasthan district bordering Punjab. When their case was heard later that day, the tribunal was told by the 'encroachers' that their paperwork was intact, while the government produced documents to show that this wasn't the case.
Such contradictions are routine at the NGT. In a country where environmental concerns are often pushed to the margins, finding expression only when citizens are confront its fallout, answers are rarely easy to come by.
Atma Ram, one of the farmers, understands this instinctively. "We have been coming here, because where else does one go? We know that our issue will not get as much publicity as some others. The orders say that these are 'minor' canals. But not for us. For us, these canals have been our lifeline for generations and continue to be. Without it, we won't survive."
The numbers
4.7.2011 to 30.09.2017
Cases instituted: 23,341
Disposed of 19,970
Pending 3,371
Average cases heard per day at the Principal Bench in Delhi 40-50
* NGT data
The cases
Most deal with violation of
* Environment (Protection) Act, 1986
* Water Act, 1974
* Air Act, 1981
Compensation:
In 74% instances, no specific methodology discussed while deciding amount
* Joint study by Vidhi & WWF India, 2017
The cases break-up
Western Bench (Pune): 43 per cent
Principal Bench, New Delhi: 42%
Southern Bench, Chennai: 12%
Central Bench, Bhopal: 2%
Eastern Bench, Kolkata: 1%
* As per joint analysis by Delhi-based legal NGO Vidhi, and WWF India, of 100 cases from 2014-16
Western Bench
* Looks at Maharashtra, Gujarat, Goa, Union territories of Daman, Diu and Dadra and Nagar Haveli.
* Has a single court, chaired by Justice U D Salvi as expert member and Dr Nagin Nanda as expert member.
* Recently, the Bombay High Court bench in Goa cancelled a Union government notification to shift the territorial area of Goa from the Western Bench to Principal Bench at New Delhi
* Hears 20 cases on an average daily; 'no information' on pending cases.
* One of its biggest orders: Directing Maharashtra to make local civic bodies frame rules banning construction activity within 100 feet of hill slopes
Southern Bench
* Official strength is two judges and two expert members, but posts of one judge and expert member vacant.
* Has at least 500 pending cases in its two courts, both now being handled by one judge.
* Hears 10-50 cases daily.
* NGT Chennai covers Tamil Nadu, Kerala, Andhra, Telangana, Puducherry and Lakshadweep.
Central Bench
* Former environment minister Jairam Ramesh wanted the NGT Principal Bench to be located in Bhopal, where the world's worst industrial disaster happened in 1984. But that did not happen, and Bhopal had to settle for a bench comprising a judicial member and an expert member.
* Handles cases of Madhya Pradesh, Rajasthan and Chhattisgarh.
* 10 to 12 matters heard daily; about 200 pending cases
* One of its biggest orders: A long-term plan to conserve and protect the Narmada.
Highest damages between 2014-16
* Case: River-bed mining along Yamuna in Haryana, Uttar Pradesh
Compensation: Rs 252.5 crore awarded in February 2016
Against: Multiple mining firms
* Case: Illegal construction abutting Agara Lake in Karnataka
Compensation: Rs 130.85 crore in May 2016
Against: Forward Foundation
* Case: Degradation of environment at Vadgaon Budruk near Pune
Compensation: Rs 105 crore in September 2016
Against: Goel Ganga Developers
* Case: Marine pollution caused by sinking of 'M V Rak' off Mumbai coast
Compensation: Rs 105 crore in September 2016
Against: Delta Group and Adani Enterprises
* Case: Damage to mangroves, beaches in Maharashtra
Compensation: Rs 95 crore in February 2017
Against: Jawaharlal Nehru Port Trust and ONGC
* Data from joint study by Vidhi & WWF India, 2017