Prime Minister Narendra Modi Tuesday interacted with beneficiaries of the Mudra Yojana (PMMY) scheme. Launched by him in 2015, the scheme aims to develop India's micro enterprises sector by providing loans up to Rs 10 lakh to non-corporate and non-farm businesses. During the interaction, PM Modi said Rs 6 lakh crore has been disbursed to 12 crore beneficiaries — 75 per cent were youth and women — in the last three years. He added that the scheme has empowered entrepreneurs to create new products and jobs in the market while relieving them from moneylenders and middlemen.
While talking to small-scale businessmen from across the country, PM Modi said it brought him happiness and pride to hear of their achievements. He encouraged them to switch to digital payments.
Also read | What is the Mudra Yojana Scheme all about?
Earlier this year in April, on completion of three years of the scheme, Modi had expressed delight at how Mudra had brought prosperity to the beneficiaries. "The Mudra Yojana is furthering a spirit of enterprise and self-reliance among the youth and women of India. A substantial number of Mudra beneficiaries are women and youngsters from the SC, ST and OBC communities, which is extremely heartening," he had added.
Live Blog
Prime Minister Narendra Modi Tuesday spoke with beneficiaries of the Mudra Yojana. Here are highlights from the interaction.
As the Prime Minister signs off, here are key points on what he said on the Mudra Yojana, which completed three years in April. Financial institutions have disbursed at least Rs 6 lakh crore to 12 crore beneficiaries so far. At least 75 per cent of the beneficiaries were youth and women and 28 per cent or 3.25 crore were first-time entrepreneurs. Further, 9 crore borrowers are women and 55 per cent belong to the SC/ST and OBC category.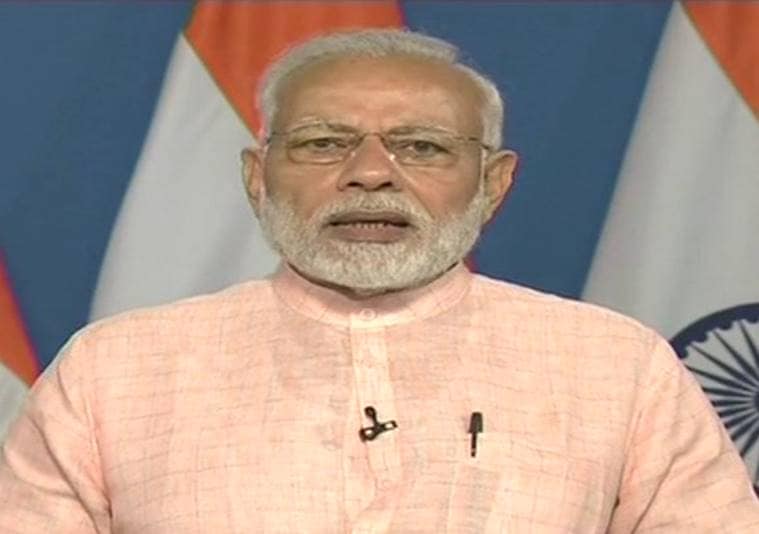 (Source: ANI)
PM encourages entrepreneurs to promote digital payments
From Jammu and Assam, beneficiaries of the Pradhan Mantri Mudra Yojana are interacting with PM Modi. A tea seller and sweet shop owner from Assam says the scheme has helped him expand his business, while Govind from Jammu says the aid has helped him create jobs for others too. PM Modi has encouraged them to promote digital payments.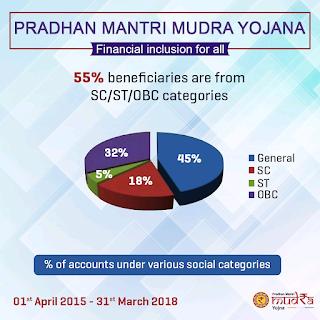 The PM is speaking to beneficiaries from Nasik in Maharashtra. They tell him hom the scheme has resulted in a positive difference in their lives. Meanwhile, Manjunath, a youth from Karnataka, tells the PM how the loan has helped him expand his business and employ more people.
12 crore loans approved, says PM
The PM says 12 crore loans have been approved by the government in the last three years, 75 per cent of which were disbursed to youth and women. A total of Rs 6 lakh crore will be loaned, he adds.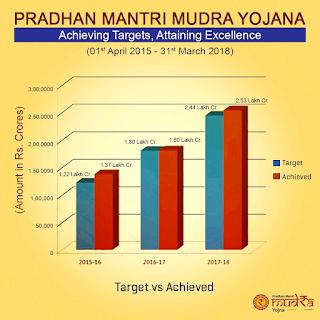 Scheme has helped poor economically and socially, says PM
The Prime Minister says the Centre's PMMY scheme has transformed the lives of the poor. By aiding small and micro businesses, people have been strengthened economically, socially and have been given a platform to succeed.
Mudra has relieved entrepreneurs from moneylenders, middlemen
"Mudra Yojana has opened up new avenues for youth, women and those who wanted to start or expand their businesses," the PM says. "There was a time when the finance minister had to personally make calls to pass the loans of businessmen, resulting in the small-sized businessmen being left behind. We have broken this vicious circle."
Mudra has helped multiply jobs: PM
"Mudra is an initiative for people who want to achieve something in life. We extended belief in their dreams, skill and business ideas. We tried to empower them to bring their products to the market. The initiative has helped multiply jobs. We have been facing the problem of license Raj in our country since Independence. But the scheme has helped remove middle men," Modi says.
PM Modi begins interaction via video conference. He says, "I just interacted with few beneficiaries last month. Their stories not only make me happy but also proud of their achievements. This is why I decided that I will continue to interact with you."
Piyush Goyal says PMMY has funded more than 12 crore people
Union Minister Piyush Goyal says the government has aided over 12 crore small entrepreneurs since the inception of PMMY in 2015.
Under Pradhan Mantri MUDRA Yojana, Govt. has funded more than 12 crore small entrepreneurs, creating an inclusive and sustainable entrepreneurial culture, which will further boost employment creation in the country. #MudraKiBaatPMKeSathhttps://t.co/NXMsdbcAw7 pic.twitter.com/aW9o1tnesJ

— Piyush Goyal (@PiyushGoyal) May 29, 2018
Prime Minister Narendra Modi will speak to beneficiaries of the government's Mudra Yojana this morning. Ahead of his interaction, he said, "At 9:30 AM today, I will interact with Mudra Yojana beneficiaries from all over India. Looking forward. This interaction can be watched on @DDNewsLive and the 'Narendra Modi Mobile App.'" Stay tuned as we bring you real-time updates from the interaction.