Written by
Lalmani Verma
| New Delhi |
Updated: May 29, 2018 7:17:51 am
THE CAMPAIGN for the 2019 Lok Sabha elections may still be months away but two clear signals were heard last week that could shape its contours. And at the base of both is one issue: the popular appeal of Prime Minister Narendra Modi.
For both the BJP and the Opposition, this is emerging, in the last lap of the NDA government, as a key element of the contest for 2019.
When leaders of key Opposition parties from across the country came together in Bengaluru to cheer a JD(S)-Congress post-poll alliance and stall the BJP from forming what could have been its 21st state government, the BJP's leaders were quick to seize on this.
READ | Four years of Modi government: Roads on course, rivers next, says Nitin Gadkari
They argued that it was Modi's "undiminished popularity" that had rattled even "enemies" to come together. Yesterday, jingles and songs to mark Modi's visit to Baghpat all echoed the same tune: It's Modi versus all the rest; it's the lion versus the motley crew of lesser animals.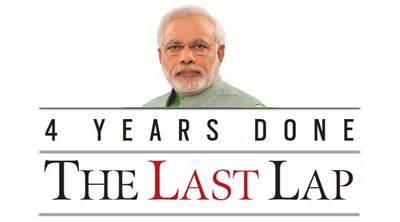 That's why the BJP has been at pains to present the mood within — after the Karnataka fiasco — as an opportunity for 2019 rather than a setback.
No wonder then that in almost all the four-year press conferences and even the Prime Minister's own speeches, the dominant refrain has been what party chief Amit Shah said: "They want Modi out, we want corruption, poverty and unemployment out."
When asked about this centralisation of politics around one person, speaking to The Indian Express, Home Minister Rajnath Singh said: "The leader is always one. Only one leader is very popular. Once Atalji was popular. Now Modiji is. No one can deny that."
BJP leaders point to a string of surveys that reinforce this perception. So much so that even when recent surveys predict a glimmer of hope for the Opposition, Modi still beats every possible contender as the country is headed into an election year.
READ | Four years of Modi government — Telecom and IT: Digital push reaches Bharat; telecom stress remains
"Around 73 per cent people in the recent survey of Navbharat Times said that Narendra Modi is the most popular PM candidate. In ABP News surveys, 36 per cent people wanted Modi as PM while only 24 per cent said that for Rahul Gandhi. Surveys of Times Now and Aaj Tak-India Today, too, say the same for Narendra Modi. He is also popular globally on Facebook and Twitter. After four years of government, Narendra Modi is still most popular," said BJP national spokesperson Anil Baluni.
READ | Four years of Modi government — Finance: Tax net widened; private funds still elusive
In a survey by Chrome Data Analytics and Media between May 9 and 22 that polled 13,575 respondents across all states and Union Territories, while 27 per cent rated Modi government as average in performance, as much as 53 per cent of the respondents wanted Modi as PM in 2019 too.
A contrarian poll is the one this month by CSDS-Lokniti for ABP News which shows an equal likeability (43 per cent) for Modi and Congress president Rahul Gandhi now, but Modi was spontaneous PM preference for 34 per cent of those surveyed as against 24 per cent preferring Rahul for it.
READ | Four years of Modi government — Finance, Part II: GST on course, noose on black money tightened
This poll says that almost a third of those who said they liked Modi are asking questions now and there is a bump-up, although small, for Rahul.
But for the BJP, the string of electoral successes since 2014 is the writing on the wall for 2019 — the increasing vote shares across states after 2014, and they credit this to campaigns which all revolved around the Prime Minister's popularity. Indeed, they say, this was why the party could survive — in fact, cash in — after popular grievances over demonetisation and the GST rollout.
After demonetisation, assembly elections were held in five states including Uttar Pradesh, Uttarakhand, Goa, Manipur and Punjab. Excluding Punjab, BJP formed the government in all four states by recording a rise in vote percentage.
READ | Four years of Modi govt — Education: Warming up after initial slumber
Only in Goa and Punjab, BJP's seats and vote percentage decreased as compared to 2013 elections but the party formed a government in Goa too. In other states, BJP vote share increased in UP from 15 per cent in 2012 to 39.67 per cent in 2017; to 46 per cent in Uttarakhand, 36 per cent in Manipur where the party won 21 seats while it had recorded nil there in 2012. The BJP formed a government in UP and Uttarakhand with absolute majority.
Even in the Gujarat Assembly polls held amid strong protests against the GST rollout, BJP's vote share increased to 49 per cent as compared to 2012 when the party had secured 47.8 per cent. Party leaders say they were on the defensive but, in the end, it was Modi's campaign which helped the party to scrape through, fighting back anti-incumbency and a resurgent Congress.
READ | Four years of Modi government — Railways: Reforms on track, revenue a worry
In Himachal Pradesh, BJP increased its share; despite Opposition's reactions over GST provisions, BJP also recorded victory in municipal corporations in Uttar Pradesh. Earlier this year, BJP increased its seats in Nagaland and Meghalaya and formed the government with absolute majority in Tripura for the first time. BJP also emerged as the single largest party in Karnataka.
For the Opposition, the popularity of the Prime Minister is a reason to regroup. "This is what the BJP wants, to convert the campaign into one about Modi, Modi and Modi," said a senior Opposition leader. "This Presidential style campaign worked in 2014 and they are looking to repeat this in 2019."
The answer, some Opposition leaders say, is not to walk into this "trap" but to fight the BJP state by state, which is what the alliances being proposed are all about. How effective that will be, given contradictions in each state is anybody's guess.
"Who the Opposition candidate will be for Prime Minister is not a question that we are worried about right now," said a non-Congress Opposition leader. "It's academic at this point."
But, clearly, that's not so for the BJP as its managers steer the campaign with Modi as the vehicle — and Modi in the driving-seat, hoping that 2019 won't be too different from 2014.
For all the latest India News, download Indian Express App