Days after she announced in the Rajya Sabha that the 39 Indians reported missing in Iraq since June 2014 were dead, External Affairs Minister Sushma Swaraj has reportedly refused to meet the grieving families. "I called her office yesterday and sought an appointment with her. Today evening, I got a call from her office. The person, who identified himself as Vijay Dwivedi, said the minister was busy making arrangements to bring back the mortal remains of our relatives, and she would meet us after that was done. I told him that we would like to meet the minister before that, but he reiterated that she would meet us afterwards," said Gurpinder Kaur, whose brother Manjinder Singh is among those dead.
Sources in the Ministry of External Affairs (MEA) told The Indian Express that "the priority for the government right now is to bring back the mortal remains. After the mortal remains are back in the country, the External Affairs Minister will meet the families and relatives".
Read | Families of Iraq families meet: 'Need proof that remains belong to our kin'
But Gurpinder, who has been spearheading the struggle of the families from Punjab, said if they were not allowed to meet Swaraj by Saturday, they would "move to New Delhi and sit on an indefinite dharna in Jantar Mantar from Monday". "We are in touch with all the 39 families. All of us will take part in the protest," she said. "We want to meet the minister before the mortal remains are brought back. We will not accept the remains if Sushma Swaraj does not meet us and agree to our demands. We want government jobs for at least one member of each family, and adequate financial compensation. We also want the government to establish that the mortal remains are indeed of our missing relatives," she said.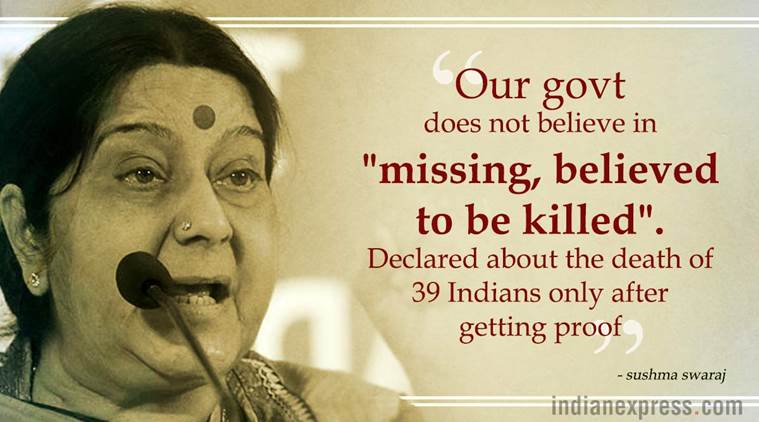 Gurpinder said that over the last seven months, she made four phone calls to Swaraj's office to seek an appointment. Each time, the minister's office assured they would get back, but they never did, she said. "There were other families too who were trying to contact the Union Minister, but they did not succeed," she said.
Related | The 46 nurses rescued from Iraq: Some back in Middle East, some trying
According to Gurpinder, they met Swaraj 14 times over the last four years. Only two of those meetings — the first (June 20, 2014) and the last (July 16, 2017) — were called by Swaraj, she said. "For the remaining 12 meetings, we made phone calls to seek appointments," she said.
"Each time, we were told that our relatives were safe and the Indian government was making efforts to trace them and bring them home," she said. "At our last meeting with her, she said they had information that the missing people were in jail… She later announced in Parliament that she would speak on the issue only when she had credible information," said Gurpinder.
She said they also wrote to Prime Minister Narendra Modi, Union Finance Minister Arun Jaitley, Union Home Minister Rajnath Singh and senior government officials over the last four years, but got no response.
For all the latest India News, download Indian Express App