At least three flights, including a Jet Airways flight from London, were diverted and local train services were disrupted after heavy rains lashed Mumbai on Thursday. In light of the Indian Meteorological Department (IMD) prediction of heavy to very heavy spells of rain, the government has alerted officials and advised emergency teams to be on standby. The monsoon is scheduled to hit Maharashtra today or tomorrow and will cover the state by June 10. "In view of intense rainfall forecast, people are advised to abstain from outdoor activities as much as possible during the period," the IMD stated.
Follow Monsoon LIVE: Met Dept predicts very heavy rainfall in Mumbai, Goa today
This year, the monsoon made an early onset — by three days — over the Kerala coast on May 29. The IMD, meanwhile, has also predicted heavy rains or thunderstorms accompanied with squall in other states, including Goa — where the monsoon will landfall in the next 12 hours — the Konkan region, Karnataka, Gujarat, Andhra Pradesh and West Bengal.
Also read | Mumbai rains: Waterlogging in several parts of the city, trains delayed
Live Blog
IMD predicts the monsoon will hit Maharashtra in the next two days. Track the latest news here.
BMC measures in schools
The education officers monitoring school premises in all 24 administrative wards have been asked to keep shelter schools open 24*7. Dewatering pumps will be kept ready and flood-prone spots will be monitored closely during the heavy rain period, the BMC statement said.

A roadside vegetable vendor covers his stall with a plastic sheet as it rains in Mumbai on Thursday. (AP)
Emergency support functions on alert
In a release, the civic body said Navy personnel will be deployed in Colaba, Worli, Ghatkopar, Trombay, Malad for flood rescue if required. In addition to this, six Flood Rescue Teams of Mumbai Fire Brigade will be posted at the Regional Command Centres and emergency support functions like BEST (bus transport system), police, traffic police and education officers have been alerted.
Mumbai civic body on stand-by
In the wake of the IMD warning, the Mumbai civic body is preparing itself to prevent and tackle monsoon-related disasters. The Brihanmumbai Municipal Corporation (BMC) said three teams of National Disaster Response Force (NDRF) will be stationed at Parel, Mankhurd (for eastern suburbs) and Andheri Sports Complex (for western suburbs). They are equipped with walkie-talkies and flood rescue material.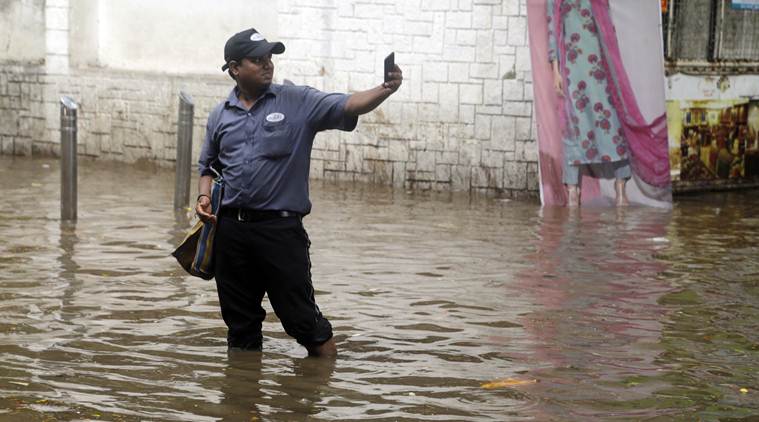 A man takes a selfie on a waterlogged street in Mumbai on Thursday. (AP)
Buses change route due to water logging
Following buses of Brihanmumbai Electric Supply and Transport have been diverted in wake of water logging:
1) Sion road no 24 - Route no 7,25,302 diverted via Soon rad no 3.
2) King circle - Route no 6,7,8,10,11,16,19 diverted via King Circle bridge.
3) Hindmata - Route no 4,5,6,7,8 etc diverted via Cinema fly over.
4) Bandra Towkij - Route no 4,83,84,79,225 diverted via Linking road.
Three flights diverted so far: Mumbai Police
According to Mumbai Police, three flights have been diverted till now. Meanwhile, IndiGo urged its passengers to check their flight status in advance. Taking to Twitter, the airline said:
#6EWeatherUpdate: Please check your flight status in advance via Twitter, Facebook, Mobile app or SMS - ST[space]flight number[space]departure date of flight as DDMM. For example: to know the status for 6E-333 for 11th February, send "ST 333 1102" to 566772. 1/2 pic.twitter.com/7PCvyLrYk3

— IndiGo (@IndiGo6E) June 7, 2018
Mumbai: 18.8 mm rainfall recorded in Santacruz, 35,8 mm in Colaba
According to the India Meteorological Department (IMD) the Santacruz observatory recorded 18.8 mm rainfall and Colaba recorded 35.8 mm rainfall between 4 am to 8.30 am on Thursday. "Monsoon has not arrived in Mumbai as of now and the rains in the city and adjoining areas since morning are premonsoon showers. The monsoon winds have now reached Goa and in the next 24 hours will reach southern Maharashtra/ Konkan. It will reach Mumbai in the next 48 to 72 hours," said KS Hosalikar, deputy director general, western region, IMD.
Also read | Mumbai rains: Waterlogging in several parts of the city, trains delayed
Trains delayed in Mumbai
Trains on the Central Railway are delayed by about 10-15 minutes due to the rains. Services on the Western Railway, however, are running on time.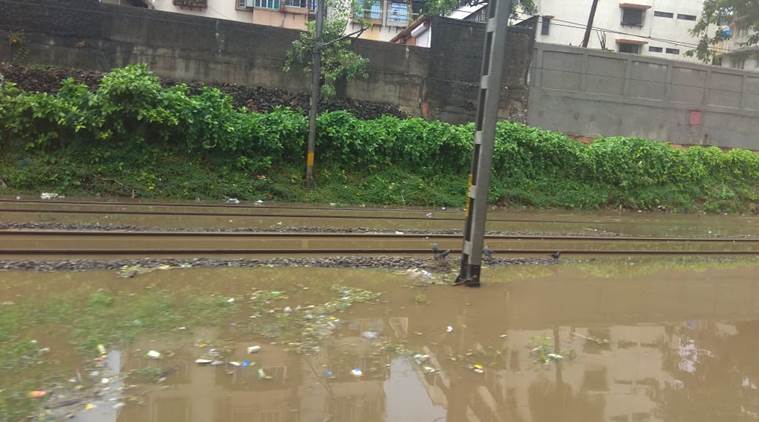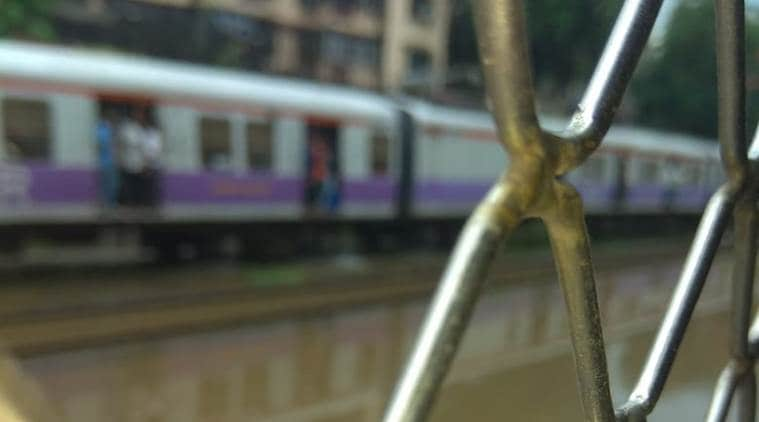 Railway tracks inundated near Sion station in Mumbai (Express Photo/Dipti Singh)
NDRF on stand by
The NDRF has been put on stand by in Mumbai as rains continue to lash the city. The team will work in coordination with the municipal corporation of Greater Mumbai to respond to calls regarding flooding, waterlogging and building collapses.
Waterlogging on SV Road in Andheri. It was flooded within an hour of rain (Express Photo/TabassumBarnagarwala)
Flights delayed, diverted from Mumbai airport
Due to the heavy rain in Mumbai, a Jet Airways flight from London has been diverted to Ahmedabad, reports ANI. The flight, 9W-117, will land in Ahmedabad at around 1 pm. Meanwhile, the rains in the city have failed to deter residents from going out to watch Rajinikanth's new film, Kaala. There are also reports of waterlogging in several areas.
Maharashtra: Heavy rain lashes #Mumbai leaving streets water-logged in several parts of the city. Visuals from Hindmata area. pic.twitter.com/rAUBIYQPFr

— ANI (@ANI) June 7, 2018
Here's an update from Skymet Weather
Heavy to very heavy spells of #rain and #thundershowers, are expected to occur over #Kolhapur, #Mumbai Suburban, Palghar, #Pune, Raigarh, Ratnagiri, Sangli, Satara, Sindhudurg and Thane between June 8 and 11. #Maharashtra #weatheralert @CMOMaharashtra

— SkymetWeather (@SkymetWeather) June 7, 2018
Weather upate: What you can expect today
Here's a quick look at what you can expect today: heavy to very heavy rain over the Konkan coast and Goa, central Maharashtra, coastal Karnataka and Kerala. The northeastern states will also receive heavy rainfall in isolated places.
North and East India, including West Bengal, Jharkhand, Bihar, UP, Haryana, Uttarakhand, Himachal Pradesh and Delhi are likely to witness thunderstorms accompanied with gusty winds and lightning.
South India, including coastal Andhra Pradesh, Telangana, Rayalaseema, Tamil Nadu and interior Karnataka, may also see rains.
Meanwhile, some parts of Rajasthan are likely to experience heat-wave conditions.
The following districts are likely to witness thunderstorms or heavy rain accompanied by squall today: Etawah, Auraiya, Mainpuri, Farrukhabad, Kannauj, Firozabad, Jalaun, Kanpur Dehat districts.
Here are some pictures from Mumbai from our photojournalists. If you have any pictures, send them to us!
(Express Photo/Pradip Das)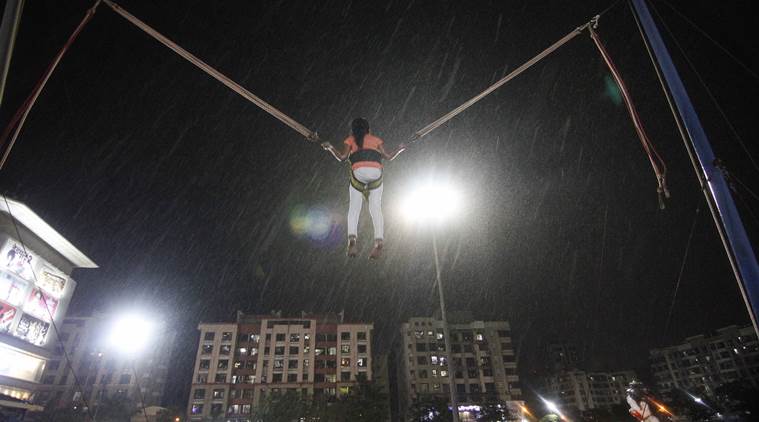 (Express Photo/Karma Sonam Bhutia)
Mumbai: Here's your forecast today
If you're in Mumbai, here's what you can expect today: heavy rains or a thunderstorm as the monsoon approaches. The city, which is witnessing pre-monsoon showers, has been put on alert. The BMC has cancelled the weekend holiday for its senior officials, reports The Indian Express, and directed authorities to be on standby. On Wednesday, the highest and lowest temperatures were recorded at 34.4 degrees and 27.4 degrees respectively.
Also read | Mumbai Weekend forecast: Heavy rainfall
Monsoon to hit Maharashtra in 48 hours
Welcome to our live blog on the southwest monsoon, which is gradually advancing along the west coast. The monsoon made landfall in the country on May 29, and is likely to hit Maharashtra in the next 48 hours. Track this space through the day as we bring you the latest news and updates from across the country.
In pictures | Dark skies across Kerala as the monsoons set in