Heavy rain lashed Mangaluru and its surrounding areas for the third day on Wednesday. Continuous rain since Sunday has inundated low-lying areas and has thrown life out of gear in the twin districts of Dakshina Kannada and Udupi. Residents in Mangaluru said that it was an "unforeseen rainfall" and that such a situation was not witnessed in the area in the past few decades. Meanwhile, the much awaited Southwest monsoon arrived in Kerala on Tuesday, reaching the mainland three days before the normal date. The weather office has forecast heavy showers in the next few days in Kerala.
According to the IMD, if after May 10, 60 per cent of the available 14 stations –Minicoy, Amini, Thiruvananthapuram, Punalur, Kollam, Alappuzha, Kottayam, Kochi, Thrissur, Kozhikode, Thalassery, Kannur, Kudlu and Mangalore — report 2.5 mm or more rainfall for two consecutive days, the onset of monsoon over Kerala can be declared on the second day.
Read |  Mangaluru heavy rain: Cyclone Mekunu hits coastal Karnataka; several areas flooded, NDRF on alert
The southwest monsoon is responsible for about 70 per cent of the country's annual rainfall and is critical to the economy, that is still largely dependent on agriculture.
Live Blog
Monsoon HIGHLIGHTS:  Southwest monsoon hits Kerala, heavy rainfall expected
Expect normal monsoon this year
The entire country is likely to get normal monsoon this year, except the east and northeast India, which is likely to witness 'below normal' rainfall, the Met department said today.
"Rainfall over the country as a whole for the 2018 southwest monsoon season (June to September) is most likely to be normal (96 to 104 per cent of LPA). Quantitatively, the monsoon season (June to September) rainfall for the country as a whole is likely to be 97 per cent of the LPA with a model error of plus or minus 4 per cent," the IMD said.
Duststorm likely over parts of Haryana during next 4 hrs
Duststorm and thundershower associated with strong wind would occur at some parts over Gurgaon, Jhajjar, Mahendragarh, Mewat, Palwal and Rewari during next 4 hours.
Thundershowers expected in parts of Jharkhand: Skymet
One or two spells of duststorm and thundershower with strong wind would occur at some parts over Bokaro, Deoghar, Dhanbad, Giridih,Gumla, Hazaribagh, Jamtara, Khunti, Kodarma, Latehar, Lohardaga, Ramgarh, Ranchi and Simdega during next 4 hrs
Weather alert for Chhatishgarh
According to the predictions of Skymet, duststorm and thundershower with strong gusty wind may occur at some parts over Balrampur, Bilaspur, Jashpur, Kabeerdham, Korba, Koriya, Mungeli, Raigarh, Surajpur and Surguja during next 4 hours.
Weather Alert for Rajasthan
Duststorm and thundershower associated with strong wind would occur over Ajmer, Alwar, Bharatpur, Bikaner, Churu, Dausa, Hanumangarh, Jaipur, Jhunjhunun, Karauli, Nagaur and Sikar during next 6 hours.
Light rains are likely to commence over parts of Maharashtra, parts of Chhattisgarh and South MadhyaPradesh between June 1 – June 3, private weather agency Skymet predicted.
Do's and don't while facing floods
Mid-day weather forecast
The low pressure area over southeast Arabian sea and adjoining eastcentral Arabian Sea off north Kerala­, Karnataka coasts and the associated cyclonic circulation extending upto 3.1 km above mean sea level has become less marked.
The east­west shear zone along Lat. 12 °N between 3.1 km and 5.8 km above mean sea level over Indian Region persists.
The cyclonic circulation over central parts of north Madhya Pradesh and adjoining southeast Uttar Pradesh at 1.5 km above mean sea level has become less marked.
Thunderstorm likely in Uttar Pradesh, Gangetic West Bengal, Jharkhand
Thunderstorm accompanied with squall very likely at isolated places over Uttar Pradesh, Gangetic West Bengal and Jharkhand.
Mangaluru floods: Boats used to ferry stranded people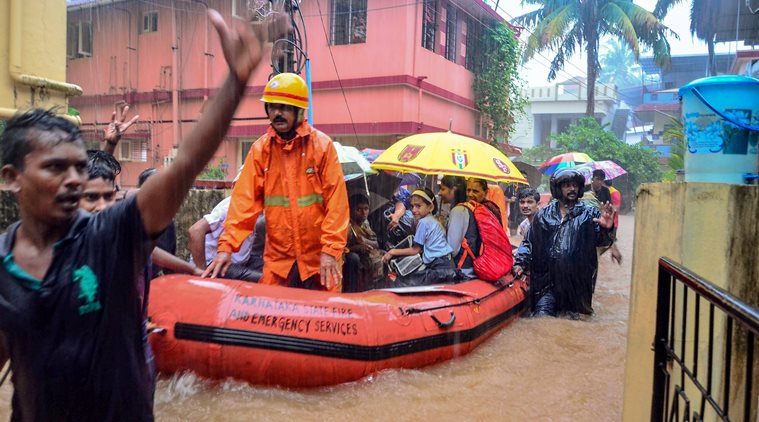 Boats had to be used to ferry stranded people, including school children at Alake in Kudroli area in the city, which was almost submerged, the sources said
Bringing in relief after soaring temperatures, Gujarat likely to receive pre-monsoon showers
The IMD on Wednesday said, the southern parts of Gujarat are likely to receive pre-monsoon showers. The pre-monsoon rainfall is expected to cover Saurashtra region within two-three days while north Gujarat and Kutch areas have to wait longer as no rainfall forecast has been made by the IMD's Ahmedabad region for five days.
Delhi at 44.4 degree Celsius, four notches above season's average
In the national capital, people battled scorching sun for another day and the maximum temperature settled at 44.4 degrees Celsius, four notches above the season's average, weather officials said.
Sriganganagar hottest at 48.7 degree Celsius
Almost the entire north India plains is in the grip of severe heatwave condition which has thrown normal life out of gear as the maximum temperature reached nearly 49 degrees Celsius in the desert state of Rajasthan. A MeT official in Rajasthan said at least five places recorded their maximum temperatures in excess of 45 degrees Celsius -- Sriganganagar being one of them where the mercury touched 48.7 degree Celsius.
Maharashtra govt asks farmers to delay sowing

The Maharashtra government has issued an advisory asking farmers in the state to delay sowing till there is sufficient rainfall. The government said even though monsoon has arrived in Kerala, it is yet to reach Maharashtra. As per the advisory, pre-monsoon showers are expected to hit Vidarbha, Marathwada and Central Maharashtra after June 1, but temperatures will remain high.
Narendra Modi ensures all possible assistance in effected areas
I pray for the safety and wellbeing of all those affected by heavy rains in various parts of Karnataka. Have spoken to officials and asked them to ensure all possible assistance in the affected areas.

— Narendra Modi (@narendramodi) May 29, 2018
Rain likely to take place in Himachal pradesh, Delhi, Bihar
Heatwave to gradually reduce
In a relief to the people, heat wave conditions are likely to abate from parts of north India and northwest India. On Tuesday, hot weather conditions prevailed in parts of West Rajasthan, Haryana, Chandigarh & Delhi and Vidharbha and at one or two pockets over East Rajasthan, Madhya Pradesh and south Uttar Pradesh.
Deep Depression over Coastal Myanmar moved further northeastwards, weakened into a Depression and lay over Myanmar near Lat. 21.3°N/Long. 95.2°E, about 30 km east­northeast of Nyaung­U and 120 km southwest of Mandalay(Myanmar). It is very likely to continue to move northeastwards and weakened gradually into a well marked low pressure area during 12 hours, IMD said in its forecast
Advance of Southwest Monsoon 2018
Karnataka witnessing pre-monsoon showers
According to IMD, Karnataka is now witnessing pre-monsoon showers and the exact date of the entry of monsoon would be declared after observing for two or three days. Chief Minsiter Kumaraswamy has took stock of the situation in Dakshina Kannada from Deputy Commissioner. He directed the Deputy Commissioner to take assistance from the Coast Guard to rescue people, if such situation arises. The Chief Minister also instructed him to take necessary precautionary steps to mitigate severe damages and prevent loss of lives, said a press release from CMO.
NDMA issues Do's and Don'ts for Mangaluru floods