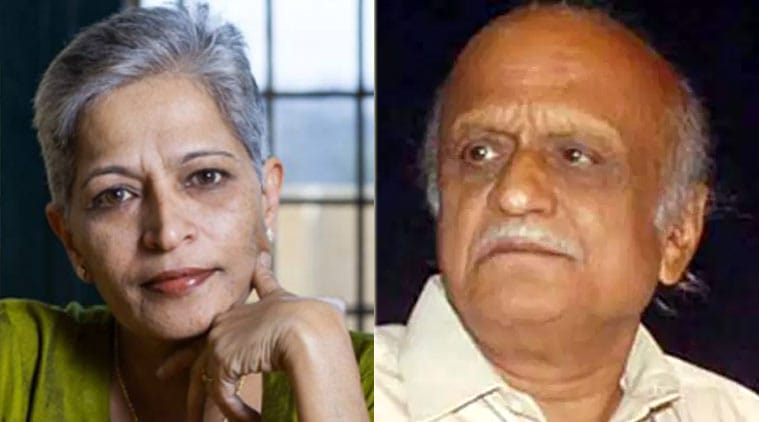 The Criminal Investigation Department (CID) of Karnataka Police on Saturday took two men arrested for the murder of journalist-activist Gauri Lankesh into its custody in connection with the murder of Kannada scholar and writer M M Kalburgi.
Kalburgi was killed at his home in Dharwad, Karnataka, on August 30, 2015.
The two accused – Ganesh Miskin, 27, and Amit Baddi, 28 – who were arrested by a Special Investigation Team of the state police which is probing Lankesh's murder outside her home in Bengaluru, are the first accused in 77-year-old Kalburgi's murder.
CID Additional Director General of Police K S R Charan Reddy said the two were produced in a Dharwad court on body warrants and sent to 14-day police custody. "They are the first persons accused in the (Kalburgi murder) case. It is an arrest but since they are already in judicial custody in the Gauri Lankesh case, there are no formal arrest procedures involved,'' Reddy said.
Some people not arrested in Lankesh's murder could also be involved in Kalburgi's killing, CID officials said.
Miskin and Baddi both come from Hubbali, neighbouring the town of Dharwad. They were named in the Kalburgi case after the CID claimed to have found prima facie evidence of their involvement in the murder on the basis of investigation conducted after the SIT gave the agency a report stating that a few people arrested for allegedly killing Lankesh are also suspected to be involved in Kalburgi's murder.
Miskin, who has been linked to fringe Hindutva group Sri Rama Sena, is accused of transporting the alleged shooter, Parashuram Waghmare, 26, to the doorstep of Lankesh to kill her on September 5, 2017. Baddi, linked to cases of violence allegedly involving Hindutva outfits in Hubbali region with Miskin, is alleged to have facilitated escape of the killers after shooting Lankesh.
According to the SIT, their investigation found that Miskin and Baddi were trained in use of firearms after they were recruited to be part of a secret group linked to the radical Hindu Janajagruti Samiti (HJS), an affiliate of Sanatan Sanstha. The two are also alleged to have kept a watch on Kalburgi's activities – as they are accused of doing while planning Lankesh's murder.
The SIT is learnt to have found that Miskin, Baddi and two others – Amol Kale, 37, a former Pune convenor of HJS and head of operations in Karnataka for the secretive Hindutva group, and Rajesh Bangera, 50, allegedly arms trainer for the group – were aware of the Kalburgi murder plot.
After getting a report from the SIT about involvement of people accused in Lankesh case in Kalburgi's murder, the CID had last month obtained permission from a Bengaluru court to examine seven arrested people in prison: Sujeet Kumar, Amol Kale, Amit Degwekar, Manohar Edave, Ganesh Miskin, Amit Baddi, and Rajesh Bangera.
CID officials said that despite the lapse of over three years since Kalburgi's murder evidence collected soon after the crime in the form of digital and electronic data is still available to assist their probe.