While 12 top mineral-rich states have collected Rs 13,398 crore for their district mineral foundations (DMFs), the district-level bodies established under the new mining law to benefit local people affected by mining operations, they spent only 17 per cent of the amount till the end of 2017.
According to data provided by the 12 state governments to the Centre, only Rs 2,260 crore of the DMF amount was spent till the end of 2017. As on October 30, 2017, Odisha collected the highest Rs 3,548-crore DMF funds. As on November 30, Chhattisgarh and Jharkhand collected Rs 2,331 crore and Rs 2,314 crore for their DMFs, respectively.
However, Chhattisgarh is the leading state when it comes to spending the amount, while Jharkhand and Odisha are second and third, respectively. Chhattisgarh, Jharkhand and Odisha spent 51.56 per cent, 11.23 per cent and 7.24 per cent of their DMF funds, respectively.
Chhattisgarh established its DMFs for major and minor minerals on December 12, 2015, and January 2, 2016, respectively. Jharkhand set up its DMFs for major and minor minerals on March 23, 2016, and January 13, 2017, respectively. Odisha established its DMF on August 18, 2015. In India, the classification of 'minor minerals' and 'major minerals' is done according to the Mines and Minerals (Development and Regulation) Amendment Act, 2015, also known as MMDRA Act, 2015. Minor minerals include building stones, gravel, ordinary clay, ordinary sand, limestone used for lime burning, boulders, kankar, murum, brick earth and bentonite. Major minerals include coal, manganese ore, iron ore, bauxite, limestone, kyanite, sillimanite, barites and chromite.
Till November 30, 2017, Madhya Pradesh, Rajasthan, Maharashtra and Andhra Pradesh were able to spend just 10.83 per cent, 20 per cent, 9.03 per cent and 13.97 per cent of the funds, respectively. Madhya Pradesh established its DMF for major minerals on May 15, 2015. Rajasthan, Maharashtra and Andhra Pradesh established its DMF for both type of minerals on May 31, 2016; September 1, 2016 and June 27, 2015, respectively.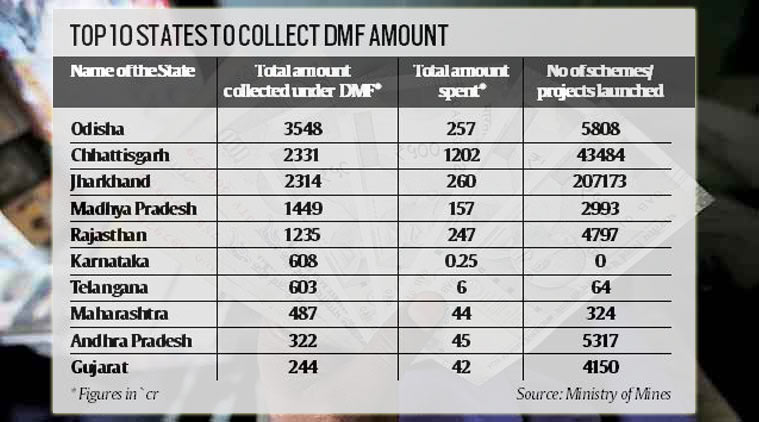 Under DMF, Chhattisgarh has started 43,484 schemes or projects related to areas such as drinking water supply, environment preservation, pollution control, health and education, among others. Jharkhand has started a total of 2,07,173 schemes — 761 schemes sanctioned for drinking water sanitation and 52 schemes for health sector only. Jharkhand has identified 99 per cent of its schemes for open-defecation free villages only.
While Telangana collected Rs 603 crore till November 30, 2017, it spent only 1 per cent of the amount. The state has informed the Centre that "the implementation of schemes/projects through DMF is at initial stages in five districts" of the state. Except for Kerala and Meghalaya, all other states — who are rich in 'major' minerals — have established DMFs. Kerala and Meghalaya, along with Madhya Pradesh and Goa, have not yet established DMFs for minor minerals, according to the Central government.
The MMDRA Act, 2015, mandated the establishment of DMFs — for major minerals as well as minor minerals — in all districts affected by mining-related operations. In India, most districts affected by mining operations are extremely poor, not having even basic amenities such as clean water, schools and hospitals. According to the law, any mining licence or composite licence (prospecting licence-cum-mining licence) can be granted by state governments through auction route only.
Such a licence-owner company has to pay the DMF — established in the district where it is mining — an amount equivalent to 10 per cent of the royalty. All mining licences were granted on discretionary basis by state governments under the old mining law. Such licence-owner companies have to pay the DMF an amount equivalent to 30 per cent of the royalty.
High priority areas like drinking water supply, health care, sanitation, education, skill development, women and child care, welfare of aged and disabled people, skill development and environment conservation will get at least 60 per cent share of the funds, as per the mining rules. For creating a "supportive and conducive" living environment, the mining rules state that remaining funds will be spent on making roads, bridges, railways, waterways projects, irrigation and alternative energy sources.