Written by
Shalini Nair
| New Delhi/pune |
Updated: June 14, 2017 7:39:41 am
Eighty per cent of the proposed central government investment in its flagship Smart City mission will flow to well-developed pockets that account for only 2.7 per cent of the cumulative area of cities identified under the initiative, according to data obtained and analysed by The Indian Express.
With the government set to release the final list of the remaining 40 Smart Cities this month to mark the mission's two-year milestone, data on the 59 cities selected show that what is being created on ground, at least in the first phase, will be small, isolated islands of development. Read | Smart City project: We start small so that it can be replicated, says govt
Data obtained from the Ministry of Urban Development show that of the total Rs 1.31 lakh crore proposed to be spent on the 59 cities from 2015 to 2020, Rs 1.05 lakh crore will be spent on what is called the Area Based Development (ABD) component. This refers to pockets in the selected cities that will be made 'smart' with a combination of IT and infrastructure projects such as WiFi hotspots, sensor-based public lighting, redesign of streets, zones promoting start-ups and multi-modal transit points.
The proposed expenditure on the mission's other component — pan-city projects, or those that cover entire cities — is only Rs 26,141 crore. Besides, the total area of these pockets covered under ABD in the 59 cities is 246 sq km, which is just 2.7 per cent of the total area of these urban local bodies — 9,065 sq km, according to Census 2011.
Consider this:
# In Pune, ranked the second best Smart City contender and from where Prime Minister Narendra Modi flagged off the projects last year, Rs 2,196 crore of the estimated Rs 2,870 crore, or 76 per cent, will be channelised into the development of a 3.6 sq km area in the Aundh-Baner-Balewadi pocket, which comprises a little more than one per cent of the city's 276 sq km.
# In the No.1 mission city of Bhubaneswar, 90 per cent of the Rs 4,537 crore Smart City funds are proposed to be spent on the Bhubaneswar Town Centre District, a commercial business district that accounts for less than three per cent of the city's area.
# In the other three cities in the top five, Jaipur, Surat and Kochi, more than 65 per cent of the funds are proposed to be spent on ABD.
# Other cities such as Jabalpur, Visakhapatnam and Indore propose to spend more than 90 per cent of their funds on less than two percent of their city area.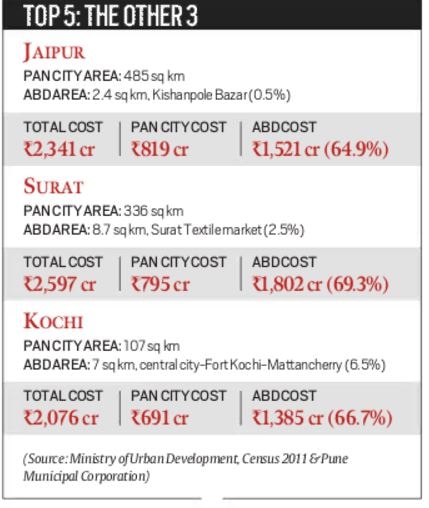 Over the five-year mission period, the Central government will give Rs 500 crore to each Smart City while the state and local body will pool in an equivalent amount with the rest of the money coming from private firms and other sources. However, the mission's guidelines prohibit capital expenditure on infrastructure on a pan-city basis and allow it only in case of the ABD component.
Under the pan-city component, cities can only look at the application of technology to one particular aspect of the infrastructure. The rules ensure that cities put in much of the money in areas that are already developed so as to create "demonstrable projects" instead of investing on city-wide infrastructure.
The Indian Express analysed the plan for Pune where the proportion of the urban population on which a majority of the expenditure will be made under ABD is 40,000, which is one per cent of the city's estimated population of 40 lakh.
Here, the once peripheral Baner-Balewadi, which caters to the spillover from the IT segment that has been settling in nearby Aundh since the 1990s, has witnessed an exponential real estate growth from the time it hosted the 2008 Commonwealth Youth Games.
Under the ABD, Aundh-Baner-Balewadi is proposed to get a redesign of a few streets, bicycle lanes, 100 electric buses, express airport service, 3.5 km riverfront development, Bus Rapid Transport and zones promoting start-ups.
Besides, a multi-modal transit hub would be created in Balewadi by a private developer who would be allowed to monetise part of the public land for commercial complexes, hotels and multiplexes. It will also have Information and Communications Technology (ICT) projects such as 'smart' electricity grids and the laying of fibre optics worth Rs 146 crore.
The residual Rs 670 crore for the pan-city component will be spent entirely on ICT and Internet of Things (IOT) projects. It would include a Rs 150-crore IT connectivity project for a Command and Control Centre, 200 WiFi hotspots, sensors for monitoring environment and visibility, and public announcement systems.
"The IT infrastructure and services for pan-city would be provided through a consortium of L&T, Google, IBM and RailTel. Citizens will be able to access free WiFi services for the first half hour or up to 50 MB of data. The operators would earn their revenue either through user charge or advertising," said an official from the Pune Municipal Corporation (PMC).
In addition to the Rs 2,870 crore estimated Smart City spending, of which Rs 1,000 crore would come through budgetary provisions made by the Centre, state and urban local body, funds would be generated through private involvement. The returns would be recovered through revenue sharing models which would also involve higher user charges or monetisation of public land.
On Tuesday, Union Urban Development Minister M Venkaiah Naidu announced that PMC would be listed this month on the Bombay Stock Exchange as a precursor to floating municipal bonds as one of the means to finance the Smart City mission.
"The Smart City mission is not meant for city improvement but caters to the interests of real estate and technology players. A majority of Smart City projects are targeted at people who can pay additional revenue to private players and the local government. This is one of the reasons for choosing the Aundh-Baner-Balewadi belt, which has residential complexes for those with a higher disposable income," said Anupam Saraph, a visiting professor of Systems Science at Pune University and an Aundh resident.
Saraph said the changes that are being made as part of the mission are "purely cosmetic" that glosses over the infrastructure gaps.
For instance, the ABD region selected for Pune has a measly four per cent open space. Even so, empty plots that could be turned into green lungs are being concretised under the "place-making project" at an average cost of Rs 1 crore each so as to have WiFi stations, e-learning centres, food and beverages operators, gazebos and reflexology walkways. A stated intent of the project is "creating opportunities for corporate digital marketing".
Asked about the concentration of funds on small areas, Pune Municipal Commissioner Kunal Kumar said, "That is the perception, which is being created. Over and above public funding, what is being spent on ABD is being raised from that area itself. For instance, we will be developing the transit hub entirely through private participation. If you can create models that finance themselves through land monetisation or PPP, it becomes a replicable model for other areas."
The Indian Express website has been rated GREEN for its credibility and trustworthiness by Newsguard, a global service that rates news sources for their journalistic standards.