March is over, yet crushing operations at the Samarth cooperative sugar factory's two units in Jalna district's Ambad and Ghansawangi talukas are still in full swing. The two mills together have already crushed over 9.40 lakh tonnes (lt) of cane in the ongoing 2017-18 sugar season (October-September), but managing director Bajirao Tukaram Pawase expects the final figure to cross 12 lt.
"Last season, we shut by mid-January after hardly crushing 4 lt. This time, we will run till mid-May, as there is still ample cane to be crushed," he states. What's worrying him, however, is the likely cane availability for the next 2018-19 season. That, at 17-18 lt, "would require us to start crushing one month before, from early October, and continue running till end-June".
This sugar season in Maharashtra has upset the applecart in many ways. When the season began, mills in the state were expected to crush 650 lt of cane and produce 73 lt of sugar. But they have already, as on April 2, crushed 909.91 lt and produced 101.62 lt. Moreover, out of the 187 mills, 107 are still crushing — like the Samarth cooperative's two units.
The latest projection is of 972 lt of cane getting crushed, which, at an average recovery of 11%, would yield roughly 107 lt of sugar. That would surpass the previous record of 105.14 lt achieved in 2014-15. What makes it more astounding is its coming after the last 2016-17 season, which saw Maharashtra's mills crush a mere 373.13 lt of cane and produce 42 lt of sugar at an average 11.23% recovery. The extent of rebound — from a 12-year-low to an all-time-high in a single season — has thrown the calculations of millers and traders out of the window. And nobody has been able to explain how this has taken place.
Shivajirao Deshmukh, director general of the Pune-based Vasantdada Sugar Institute, attributes the overshooting of estimates mainly to cane yields. "These have gone up by 10-15% because of timely rains that the cane-growing areas received, especially last year," he notes.
But that does not seem an adequate reason. A more telling indicator is, perhaps, cane area. During the 2016-17 season, the total area under cane available for crushing by mills in Maharashtra was reported at 6.33 lakh hectares (lh). That has gone up to 9.02 lh in the current season. What is significant, though, is that the maximum increase has happened in Marathwada (from 92,867 hectares to 2.14 lh). On the other hand, the main cane belt of Western Maharashtra (Kolhapur, Sangli, Satara, Pune and Solapur) has not seen as much a jump (from 4.16 lh to 5.18 lh), with the Nashik region (also covering Ahmednagar, Jalgaon, Nandurbar and Dhule), too, registering a moderate rise from 96,811 hectares to 1.43 lh.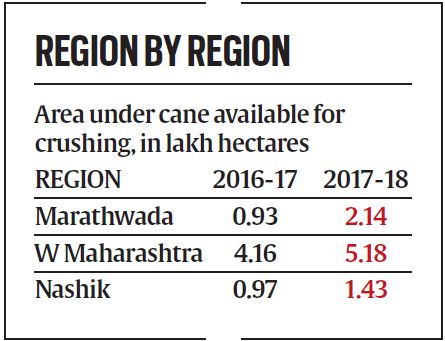 It raises the question: Why has cane acreage expanded so much in Marathwada? The 2.14 lh area in this region included 40,000 hectares in Latur, 36,050 hectares in Beed, 35,000 hectares in Osmanabad, 25,000 hectares in Parbhani, 23,792 hectares in Jalna, 23,000 hectares in Nanded, 21,325 hectares in Aurangabad, and 9,500 hectares in Hingoli. In fact, out of the 56 mills operational in Marathwada this season, 40 are still running, whereas 53 out of the 98 Western Maharashtra factories have already shut.
If the problem of plenty has basically to do with Marathwada, some of it is, perhaps, a result of better water availability from the good monsoons of the last two years, following the back-to-back droughts of 2014 and 2015. However, according to Raju Shetti, farmer leader and Lok Sabha MP from the Swabhimana Paksha, the real factor has to do with the collapse in prices of other crops. The dismal returns from growing them have led to farmers going back to planting cane with a vengeance.
"Farmers in Marathwada, which is a region prone to moisture stress, generally cultivate tur (pigeon-pea), chana (chickpea), soyabean, ginger or vegetables, as these require far less water compared to sugarcane. But tur, chana and soyabean are selling below even the government's MSP (minimum support price). Prices have similarly plunged in ginger and also vegetables, be it onion, tomato, cauliflower, capsicum or brinjal. Why will farmers not plant cane today, given a choice?" says Shetti.
In sugarcane, there is at least a fair and remunerative price (FRP), which mills are legally bound to pay. The state government also has an established mechanism — including powers to take over and auction the sugar stocks of mills — to force them to make payments to growers. "Payments are delayed this year, but farmers believe that they will eventually get paid. No such certainty exists in other crops and none of them have given any returns in the last two years. Planting more cane area is a sign of distress and desperation among farmers today," he says.
Shetti's hypothesis is borne out by Maharashtra's cane area in the coming 2018-19 season projected to rise further to 10.71 lh, which could translate into a still higher sugar production of 115 lt. Rohit Pawar, CEO of the Pune-headquartered Baramati Agro Limited, concurs with Shetti's view. He feels that the tur fiasco in 2016 and 2017 — when prices of the widely-grown pulse fell below the MSP for the first time and the government failed to put in place a proper procurement system — shook the confidence of farmers badly. His mill at Kannad in Aurangabad district closed on March 27 after crushing a record 6.75 lt of cane, as against 1.5 lt in the 2016-17 season.
Akhtar Khan Pathan, a farmer from Rithi village in Kannad taluka known for its extensive ginger cultivation, has limited the crop to just two acres this year out of his 18-acre land, while doubling the area under sugarcane to 10 acres. Four years ago, he used to have around six acres under ginger. That was when prices were Rs 5,000 per quintal, and which have now fallen to Rs 2,000.
"I even sold as low as Rs 800 per quintal last January. Ginger yields are 70-80 quintals an acre, but it is an eight-month crop and my paid-out cultivation cost comes to Rs 75,000 per acre, including Rs 20,000 on labour alone. There is no certainty of income, as prices nowadays fluctuate wildly," explains this farmer. In cane, Pathan's harvested yields from the 12-month 'Co-265' variety are 500 quintals an acre, while he has been paid a rate of Rs 210 per quintal by the Baramati Agro mill (after deducting harvesting and transport charges of Rs 84.7). After accounting for production costs at around Rs 45,000 per acre, there is a Rs 60,000 return.
This year, the 55-year-old, in addition to the 10 acres of sugarcane and four acres of ginger, also planted cotton on four acres and maize on two acres. "My returns from maize and ginger just about covered production cost, while I also lost more than half of my cotton crop due to pink bollworm attack. Only in cane are my yields as well as returns relatively stable, though I would obviously like to be paid more," adds Pathan.
He has already increased his cane area to 12 acres for the next season. And that is a frightening proposition, if all other farmers, too, are thinking like him.