Written by
Sampad Patnaik
| Bhubaneswar |
Updated: June 2, 2018 7:05:18 am
Breaking the silence of the Odisha BJP on the state's water war with BJP-ruled Chhattisgarh, Union Minister Dharmendra Pradhan Friday criticised Chief Minister Raman Singh, saying Odisha's rights over the Mahanadi waters cannot be compromised.
"Raman Singh's statement on Mahanadi should be condemned. Water Minister Sanjeev Baliyan has said in Parliament that Chhattisgarh has made a mistake (by constructing barrages)," Pradhan said in a statement to the press. "BJP Odisha unit is clear on this. Odisha's interests cannot be compromised," he said.
He was responding to the Chhattisgarh Chief Minister who, earlier this week, said: "We are using the Mahanadi waters. We will use more in future." He had also called the Odisha government's protests over Mahanadi "an election issue" which, he said, would disappear after the polls.
Express Explained | In Odisha vs Chhattisgarh Mahanadi water wars, issues of dams, politics
Odisha is scheduled to go to assembly elections along with the Lok Sabha polls next year. The Mahanadi row with Chhattisgarh has escalated and pressure has been mounting on the state BJP to speak out — the BJD and Congress have maintained that the damming of the Mahanadi in Chhattisgarh will choke water supply to Odisha.
Pradhan's statement is a significant departure from the stance of his party's Odisha unit which has steadfastly refrained from criticising Chhattisgarh.
The BJD, which described Raman Singh's statement as "destructive" and "violative of the Constitution", had demanded a response from Pradhan. After the Union Minister condemned Singh's remarks, BJD Rajya Sabha MP and spokesperson Pratap Deb said, "BJP has admitted the truth".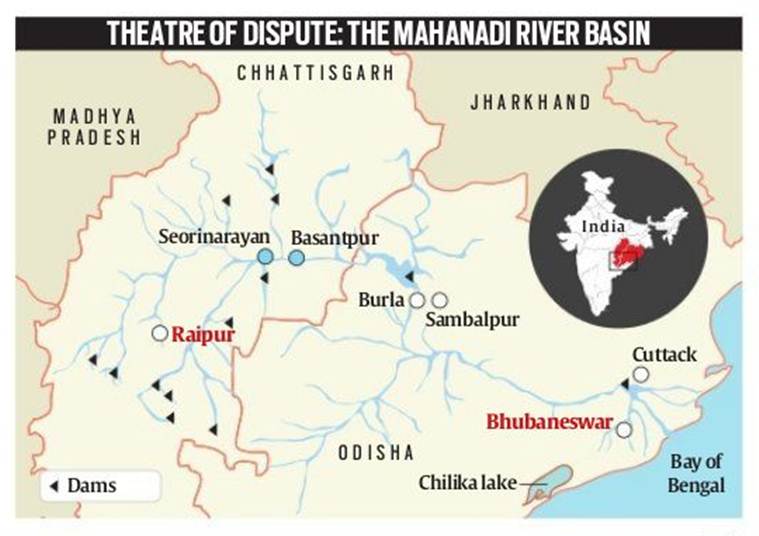 State leaders of the BJP conceded Pradhan may have also been under pressure to call out the Chhattisgarh CM after the BJD campaign on the Mahanadi issue last month. The BJD launched its Jansachetana Yatra on May 16, with Jharsuguda and Bargarh districts, two points where the Mahanadi enters Odisha from Chhattisgarh, as key focus areas. The Yatra covered 15 riparian districts, including Sambalpur, Subarnapur, Boudh, Angul, Dhenkanal, Nayagarh, Cuttack, Khordha, Jajpur, Kendrapara and Puri.
At the concluding event of the Yatra in Jagatsinghpur, Odisha Chief Minister Naveen Patnaik, addressing a rally, said: "BJP leaders from Odisha support Chhattisgarh, yet shed crocodile tears (for Odisha)."
The BJD had also attributed its victory in the Bijepur assembly bypoll to the BJP's silence on the Mahanadi. In March, the BJD won the seat by more than 41,000 votes despite a high-voltage campaign by the BJP that was led, among others, by Dharmendra Pradhan.
📣 The Indian Express is now on Telegram. Click here to join our channel (@indianexpress) and stay updated with the latest headlines
For all the latest India News, download Indian Express App.
The Indian Express website has been rated GREEN for its credibility and trustworthiness by Newsguard, a global service that rates news sources for their journalistic standards.