With massive protests by Scheduled Castes/ Schedule Tribes (SC/ ST) groups and the counter-protests by dominant caste outfits this year set to play a decisive role in the upcoming Madhya Pradesh and Rajasthan polls, data on caste atrocities shows that these two states fare worst when it comes to crime rates against Dalit and Adivasi populations.
As per latest data (2016) by the National Crime Records Bureau, Madhya Pradesh ranked one and Rajasthan was at number two in terms of atrocities against Scheduled Castes, based on the crime rate. In terms of crimes against STs, these two states are in the top five with Rajasthan and MP at the fourth and fifth place, respectively.
In April, the two states saw mass mobilisation by SC/ ST groups in the wake of changes to the Prevention of Atrocities (SC/ST) Act by the Supreme Court. The Union government was forced to step in and ensure passage of a Bill in Parliament that restored stringent provisions of the original legislation. This sparked off a show of might by General Category anti-reservation groups, especially in these two states, alleging "widespread misuse" of the SC/ST Act.
However, data shows that a majority of the cases were registered for serious incidents of caste atrocities like crimes against women and murder.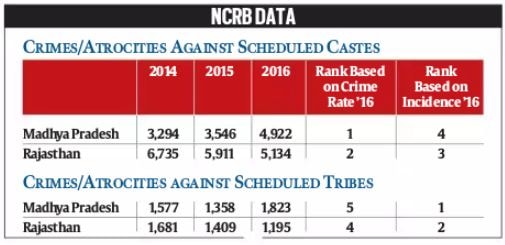 Rajasthan and MP are also among the top five in terms of incidence of crimes (absolute number of cases) against Dalits and tribals. When it comes to atrocities against Dalits, Rajasthan registered a total of 5,134 cases while MP registered 4,922 cases in 2016. The number of such cases have remained consistently high in the two states over the last few years, with MP lodging 3,546 and 3,294 cases, and Rajasthan registering 5,911 and 6,735 cases in 2015 and 2014, respectively.
Madhya Pradesh, which has the largest tribal population in the country, also reported the highest number of crimes against STs with 1,823 cases followed by 1,195 cases in Rajasthan in 2016.
Crimes against women, including assault, rape and sexual harassment form a major chunk of the overall reported crimes against Dalits and tribals — such cases form 35 and 40 per cent of the total crimes against Dalits and tribals, respectively, in Madhya Pradesh, according to the 2016 NCRB data. Besides crimes against women, the maximum cases of caste atrocities are for offences such as murder, attempt to commit murder, grievous hurt, and kidnapping.
"The cases of misuse are less than one percent, the rest are serious crimes. There is no question of misuse when the Act is not even properly used due to fear of upper caste retribution or because the police often refuse to file FIR," said Dharam Pal Rawat of the Jaipur-based Dalit Evam Adivasi Vikas Parishad.
In a bid to placate the protesting anti-quota groups in Madhya Pradesh, CM Shivraj Singh Chouhan had recently announced that he will ensure that the SC/ ST Act is "not misused".
Dismissing the BJP's contradictory political posturing in the Centre and in the state, Sanjay Bharti of the Rashtriya Dalit Mahasabha said, "As a reaction to the recent events, for the first time over a hundred Dalit and Adivasi youth, under the age of 30 years, have entered the poll fray and are contesting. We are actively campaigning to tell people not to cast their votes for any anti-reservation party."