Rural wage growth has slowed down after registering a steady increase from late-2015 that continued right through demonetisation and the first half of 2017.
The daily wage rate in rural India for male workers across 25 occupations (12 agricultural and 13 non-agricultural) averaged Rs 309.95 during October, as per field data compiled by the Labour Bureau. This worked out 4.9 per cent higher than the corresponding level for the same month of 2016, while falling below 5 per cent for the first time in 13 months.
The year-on-year growth in rural wages, the accompanying chart shows, rose from 3.7 per cent to 6.2 per cent between October 2015 and October 2016. That rate was not only maintained, but actually recorded acceleration during the period after demonetisation in November and well into June, which also coincided with the time from the sowing of rabi crops to their harvesting and marketing. Also Read | The Gujarat-Madhya Pradesh wage paradox
The above acceleration — average wage growth peaked at 6.9 per cent in April — was cited by Surjit S Bhalla, a member of the Prime Minister's Economic Advisory Council, as proof that the scrapping of the Rs 500 and Rs 1,000 denomination currency notes did not adversely impact rural India. Wages rising at a higher rate — that too, in real terms after adjusting for inflation — was indicative of the rural poor experiencing improvement, rather than deterioration, in their living standards post-demonetisation. Related Report| Data vs gossip: Who should win?
Bhalla's contention in his The Indian Express column (September 30, 2017) invited a response from Himanshu, an economics professor at the Jawaharlal Nehru University. The uptick in wage rate growth, according to him, preceded demonetisation (which is what our chart also suggests). Moreover, it followed an extended period of declining real wages since May 2014, when the Narendra Modi government came to power. Himanshu's piece in this newspaper (October 6, 2017) showed that the average real wages of ploughmen and non-agricultural labourers even in July 2017 were lower than their corresponding levels of May 2014.
Bhalla's as well as Himanshu's arguments — both were, perhaps, right in their own way — were based on Labour Bureau data available till July 2017. What is interesting, though, is the trend thereafter. All-India annual rural wage growth, which averaged 6.75 per cent in July, fell to 6.3 per cent in August and 6 per cent in September, and to a 14-month-low of 4.9 per cent in October. These are nominal growth rates; the dip would be even sharper in real terms, given the simultaneous increase in year-on-year inflation, based on the consumer price index for rural labourers, from 1.02 per cent in July to 2.95 per cent in October.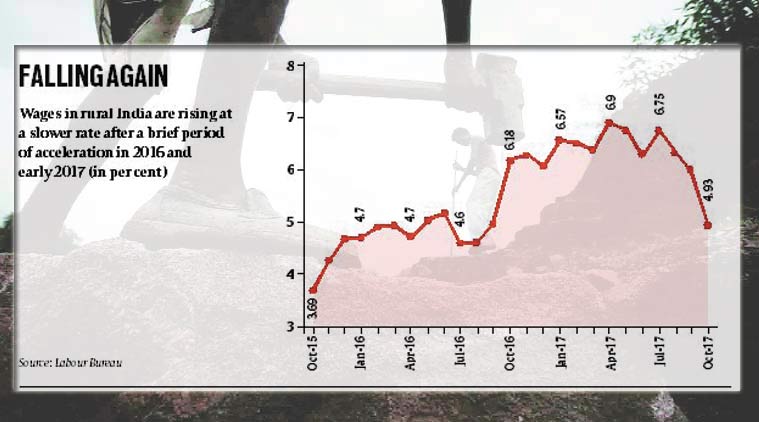 Two questions arise from all this.
The first one is the original puzzle raised by Bhalla: What explains the wage acceleration in 2016? Even if Himanshu's point that this started before demonetisation happened is conceded, one still needs to account for rising rural wage growth during a period when there was little cash for paying labourers. The fact that wages did not decelerate until around July 2017 only deepens the puzzle.
It leads to the second question: Why has rural wage growth slowed down no less sharply after July? In fact, the absolute increase in the all-India average wage rate for rural male labourers during January-October 2017, at Rs 11.81, is less than the Rs 14.34 for the same ten months of the previous calendar year. Rural wage acceleration was, clearly then, a phenomenon largely of 2016, extending to the early part of 2017.
The answer to the first question of why 2016 saw wage acceleration is straightforward. This was a normal monsoon year, coming after back-to-back droughts in 2014 and 2015. Farmers naturally planted more area both during the kharif (June-October) and rabi (November-April) cropping seasons, as they were keen to recoup the production losses of the previous two years. The resultant rise in demand for labour pulled up rural wages. Demonetisation did not fundamentally alter this picture. The very prospect of harvesting a bumper rabi crop — aided by favourable soil moisture conditions and also the timely onset of winter conducive to germination — was motivation enough for farmers to sow at any cost. In the absence of cash, they made deferred payments to labourers or even paid them in the old notes. The latter may not have minded – the demonetised currency could, after all, be deposited in banks till the end of December 2016 – so long as they were paid at higher rates. Farmers, too, apparently did not mind. The alternative was to stand in bank queues to deposit the notes themselves or, worse, not to plant.
The rabi crop did turn out to be a bumper one. But it did not prove beneficial to farmers. Their gains from higher production were offset by a crash in prices. That may have, in turn, been aggravated by a demonetisation-induced crisis of liquidity in produce markets, long inured to cash-based transactions through a chain of mandi intermediaries, processors, input dealers and retailers (on this, see http://bit.ly/2sizGXw).
The effects of these have been felt in the current agricultural year. A not-so-great monsoon, coupled with demotivated farmers, has led to lower plantings, with overall area under kharif as well rabi crops declining relative to last year. That also explains the reversal of the earlier trend of rural wage acceleration noticeable after July. With their incomes taking a severe knock post-demonetisation, farmers are today in no position, leave alone mood, to pay labourers more. And with non-farm employment avenues in construction, manufacturing and services also drying up amid a general economic slowdown, there is all that much less scope for bidding up wages.
A far cry from the period from 2008 to 2013, when rural wages, Himanshu estimates, grew annually by over 15 per cent in nominal and 6-7 per cent in real terms.
📣 The Indian Express is now on Telegram. Click here to join our channel (@indianexpress) and stay updated with the latest headlines
For all the latest India News, download Indian Express App.
The Indian Express website has been rated GREEN for its credibility and trustworthiness by Newsguard, a global service that rates news sources for their journalistic standards.