Kumbh Mela 2019 HIGHLIGHTS: One of the largest religious gatherings in the world, the Kumbh Mela, begins today and will go on till March 4, 2019. In the run-up to the mega event, 3,200 hectares of land, 1 lakh makeshift toilets, 20,000 construction workers, an equal number of sanitation workers, and 40,000 LED lights are in place for welcoming visitors to the Kumbh Mela. An estimated 12 crore people are expected to attend Kumbh Mela and 33 lakh have already taken a dip.
Sadhus of 13 akharas (seven Shaiva, three Vaishnava, two Udasina, and one Sikh) who have traditionally participated in the Kumbh Mela, were the first to take the holy bath known as 'Shahi Snan' on the first day of the 55-day long Kumbh Mela, news agency PTI reported.
Live Blog
The 2019 Kumbh Mela begins today and will go on till March 4. Follow HIGHLIGHTS.
Kumbh being held in Prayagraj after 350 years, says UP Minnister
UP Cabinet Minister Laxmi Narayan Chaudhary Tuesday said that the religious congregation is being held after 350 years as Allahabad was renamed Prayagraj and it perhaps for the first time since Independence that proper arrangements, which include milk, ghee, food, blankets and firewood, have been made for the seers, ashrams and akharas.
"Nearly 350 years ago, the name of Prayagraj -- considered a prominent centre of Hindu culture and Sanatan Dharma -- was changed to Allahabad. However, last year, under the leadership of UP Chief Minister Yogi Adityanath, it was decided that Allahabad should be renamed as Prayagraj, as mentioned in ancient Indian texts including the Vedas.
"And it is after 350 long years that the world's biggest spiritual congregation is being held in Prayagraj in the form of Kumbh Mela," the Religious Affairs Minister said, as quoted by PTI.
Chaudhary further emphasised on the significance of the Kumbh and termed is the "largest peaceful congregation of humanity".
"It is an avismarniye (unforgettable) Kumbh. It is for the first time that representatives of 172 countries will participate in the Kumbh Mela. This time, the Kumbh Mela is spread over an area of 3,200 hectares as compared to 1,600 hectare area in the previous melas."
"Apart from being a Divya Kumbh, Bhavya Kumbh (divine Kumbh, grand Kumbh), this Kumbh Mela would also be remembered as Swachh Kumbh (clean Kumbh), as more than 11,000 safai wokers have been pressed into action," he said.
Over 30 lakh pilgrims take holy dip, heavy security deployed
Over 30 lakh pilgrims from across India and neighbouring Bangladesh and Nepal took a dip at the confluence of River Ganga and Bay of Bengal today, West Bengal government said.
Panchayat and Rural Development Minister Subrata Mukherjee said the footfall at Kumbh this year was more than last year's 20 lakh.
"Last year, over 20 lakh pilgrims had visited the Ganga Sagar. This year, it has crossed 30 lakh mark despite Kumbh Mela at Prayagraj. It was absolutely peaceful and the pilgrims have also appreciated our arrangement," Mukherjee said.
Heavy security has been deployed at Kumbh along with 20 drones to keep a tab and over 800 CCTV and 200 balloon cameras have been installed to aid security. Giant LED screens have also been installed at different points, which is updating people on train, bus and ferries schedule. Taking safety precautions, tide timings are being announced in Bengali, Hindi and English. The Indian Coast Guard (ICG) has increased its surveillance along the coastline of West Bengal, an official said.
(With PTI inputs)
UP govt allocates Rs 4,200 crore for Kumbh Mela, making it costliest till date
The Uttar Pradesh government has allocated a hefty amount of Rs 4,200 crore for the Kumbh Mela held in Allahabad, which has become the costliest pilgrimage till date, according to PTI.
"The UP government has allocated Rs 4,200 crore for 2019 Kumbh Mela. The previous state government had spent around Rs 1,300 crore for the Maha Kumbh, which was held in 2013," state Finance Minister Rajesh Agarwal told PTI.
The area of Kumbh Mela has also been doubled to 3,200 hectares as compared to 1,600 hectares in the previous melas.
Glimpse of royal bath at Kumbh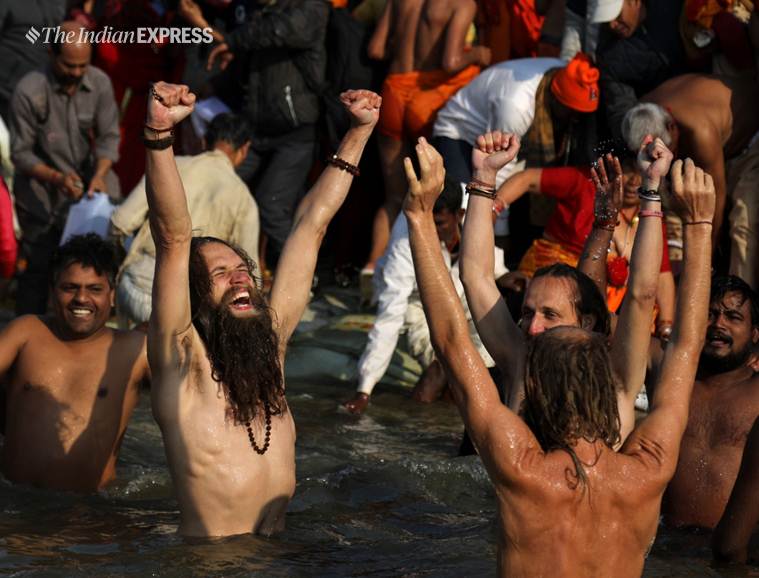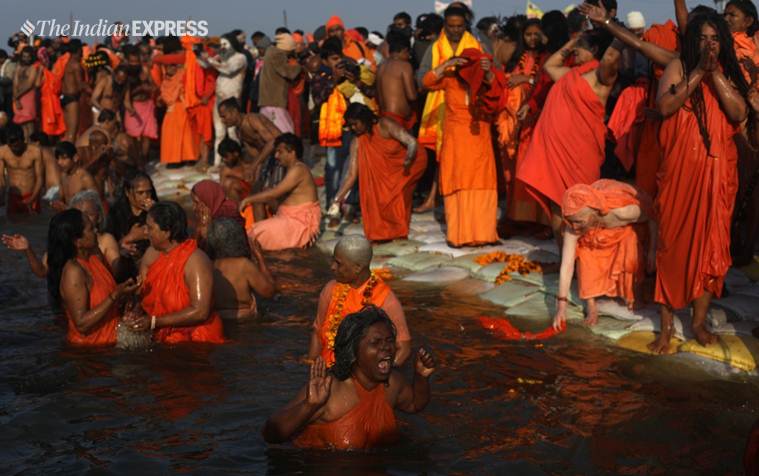 (Express photos by Abhinav Saha)
In Pictures: Royal Bath at Allahabad Kumbh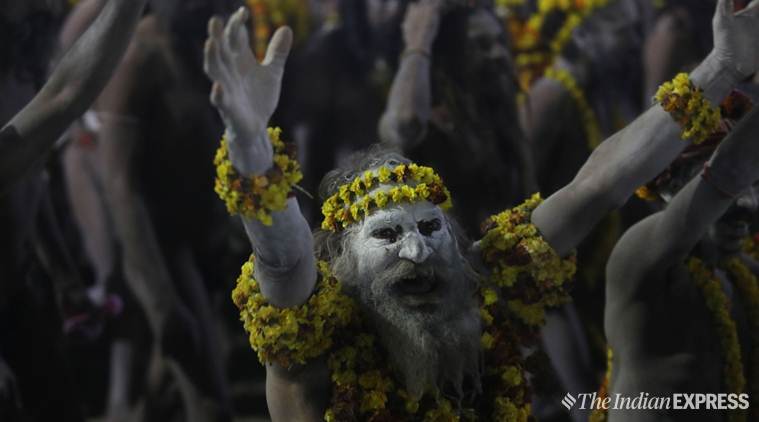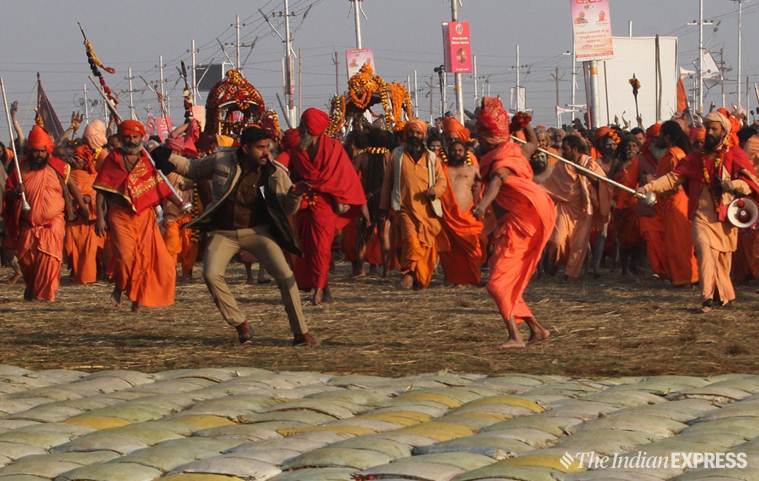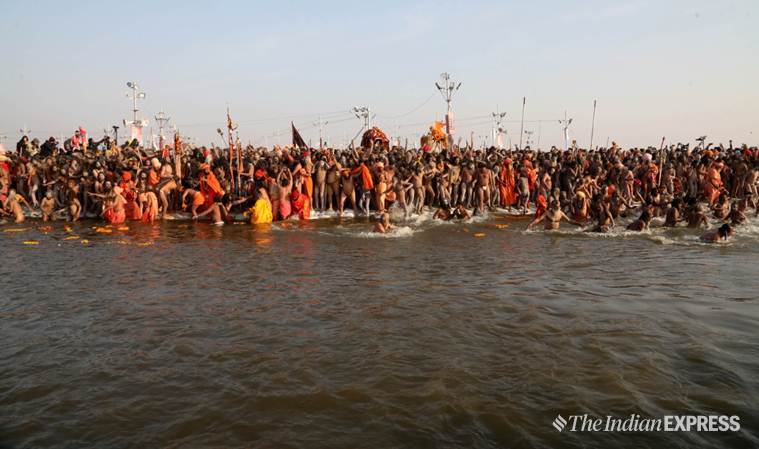 (Express photos by Abhinav Saha)
IN PHOTOS: Prayagraj gears up for world's largest religious gathering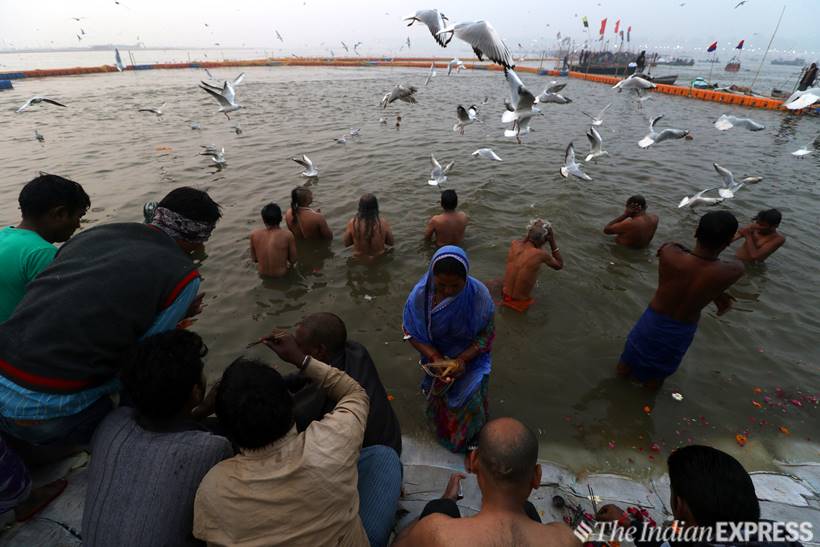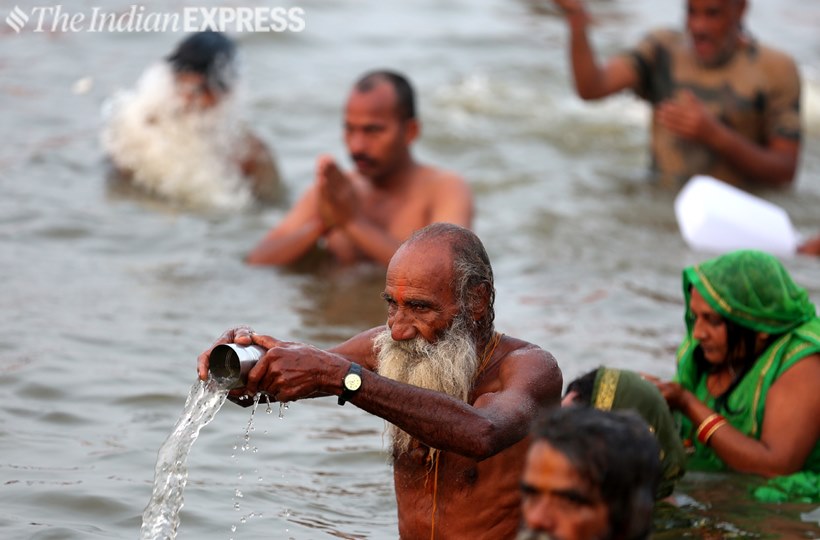 Kumbh Mela 2019: Sadhus of 13 akharas participate in Shahi Snan on first day
Kumbh Mela 2019: Devotees throng Panchayati Akhara on first day of Shahi Snan
Kumbh Mela 2019: Spread over an area of 45 km as compared to 20 km radius
One of the largest religious gatherings in the world – the Kumbh Mela – will be this time spread over an area of 45 km from the earlier 20 km radius. Pilgrims visiting the holy city will also get a glimpse of Akshay Vat, a Banyan Tree held sacred by Hindus, and Saraswati Koop, a well believed to be the source of the mythical Saraswati River.
Kumbh Mela 2019: Early morning visuals of Sangam Ghat at Prayagraj
Kumbh Mela 2019: UP cops to use RF tags for children under 14 years
With a view to tracing the children lost during the massive Kumbh congregation here, the Uttar Pradesh police will be using RFID (radio-frequency identification) tags for kids under 14 years. As many as 20 major parking spots have been developed as satellite towns, equipped with modern amenities such as cloakrooms, health kiosks and eateries to avoid rush, PTI reported.
1.2 lakh toilets, 25,000 cops, sanitation staff in place as Kumbh starts today
Spread over 3,200 hectares, the Mela has been divided into nine zones, 16 districts, and has 40 police stations. An estimated 12 crore people are expected to attend Kumbh Mela, and 33 lakh have already taken a dip. By dusk, the city went to sleep — it was an early night for lakhs of pilgrims, as the first royal bath, the "shahi snaan", begins early Tuesday — and the banks of Triveni Sangam became home to devotees from across the country. They slept on paddy strewn across the river banks — from Kanpur resident Krishna Verma, 8, to Padum Chandra Borthakur, 84, from Guwahati. Read more
Kumbh Mela 2019: Lakhs of devotees gather at Sangam for Shahi Snan