Six months after caste violence over the bicentennial celebration of the Battle of Bhima Koregaon near Pune, police arrested five persons, including a Nagpur University professor and a former Prime Minister's Rural Development Fellow, calling them "top urban Maoist operatives" who participated in or were behind a meeting where the speeches made were alleged incitement to violence.
Police said provisions of the Unlawful Activities (Prevention) Act were being invoked in the case.
Those arrested by Pune police from different locations are Elgaar Parishad organiser Sudhir Dhawale, leader of Mumbai-based Republican Panthers Jati Antachi Chalwal (RP); Delhi-based activist Rona Wilson of Committee for Release of Political Prisoners (CRPP); Nagpur lawyer Surendra Gadling of Indian Association of People's Lawyers (IAPL); Nagpur University professor Shoma Sen; and Mahesh Raut, a former Prime Minister's Rural Development (PMRD) Fellow.
READ | Koregaon Bhima violence case: 'Everybody is asking questions, I just know he kept to himself'
Police said the Elgaar Parishad, held at Shaniwarwada in Pune on December 31, allegedly led to violence in Koregaon Bhima on January 1 over the celebration of the Battle of Bhima Koregaon — for the Dalits, this battle is a matter of pride because a largely Mahar contingent of the British East India Company defeated the Peshwa army of the Maratha Confederacy.
Pune's Joint Commissioner of Police Ravindra Kadam said funds from the banned CPI (Maoist) were supplied to those involved in organising the Elgaar Parishad. Police said a search was on for "underground Maoist operatives" involved in the money trail.
"There is sufficient evidence with us to invoke UAPA against the accused persons. Those arrested include top urban Maoist operatives. More details cannot be shared at this stage," Kadam said.
In April, Pune police conducted searches at the homes of Dhawale, Wilson and Gadling. The searches also targeted a close aide of Dhawale and Pune-based artists of the Kabir Kala Manch.
RELATED REPORT | Pune police arrest 'top urban Maoist operatives' from Delhi, Mumbai, Nagpur
The searches were the result of an FIR filed by Tushar Damgude, a 37-year-old resident of Katraj in Pune, who had alleged that provocative speeches were made at the Elgaar Parishad, and that some of its organisers had faced police action in the past for alleged Maoist links. The FIR also stated that the suspects, under a strategy of the CPI (Maoist), had tried to mislead Dalits and spread the idea of violent means.
The initial FIR had not named Gadling, Sen, Wilson and Raut but their names have now been added by police along with two "underground Maoist operatives".
In New Delhi, Wilson was arrested by Pune police from a house in Munirka. The public relations secretary of the CRPP, he had been living in a one-room accommodation since 2009.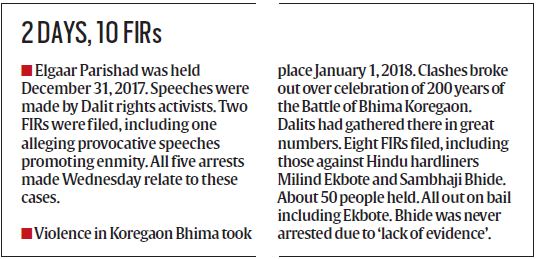 Advocate Balla Ravindranath, legal secretary of the CRPP, said: "Wilson was mainly in charge of coordinating seminars and conferences pertaining to political prisoners. He had been actively advocating the release of Professor G N Saibaba, political prisoners in J&K, North-East and the Adivasi communities."
In Pune, KKM artist Sagar Gorkhe alleged that the police action was a "conspiracy to connect the Ambedkarite movement and Dalit voices" to Naxalism.
But Kadam defended the police move: "Action is not against Dalits, but only against those with links to the banned Maoist outfit. Action is based on solid evidence obtained during investigation."
Members of the Bhima Koregaon Shauryadin Prerna Abhiyan condemned the police action, calling it an attempt to protect Hindu hardliners Milind Ekbote and Sambhaji Bhide who were booked after the January 1 violence. Ekbote was arrested on March 14 but was later granted bail.
In January, a separate complaint was lodged by Akshay Bikkad against Gujarat MLA Jignesh Mevani and JNU student leader Umar Khalid at the Vishrambaug police station for their alleged provocative speeches at the Elgaar Parishad. Besides Mevani and Khalid, Rohith Vemula's mother Radhika Vemula, Dalit leader Prakash Ambedkar, activist Soni Sori, retired judge B G Kolse Patil, Bhim Army's Vinay Ratan Singh were the key speakers at the Parishad.
In Jaipur, Mevani told reporters that he had received a threatening phone call. "A threat call was received by one of our associates on a mobile number registered in my name, one that I was using till a few months ago. Someone called on it and threatened to shoot me dead," he said.
On the arrests, Mevani said: "This is very shocking, very unfortunate and this is a conspiracy on the part of the State of Maharashtra and the government at the Centre may also be involved. The fact that the activists were booked under the draconian Unlawful Activities (Prevention) Act further indicates towards a conspiracy."
"Despite not being there at Koregaon Bhima, an FIR was lodged against me. Ramdas Athawale, who is a minister in the NDA government, had spoken in my favour and said I was not present there… But I am still facing police action," he said.
"By not arresting Ekbote and Bhide, the state government is trying to send a message to the Dalits that there will be action against them but no action will be taken against those who harass and target Dalits," he said. — (With Anand Mohan J in New Delhi)
The Indian Express website has been rated GREEN for its credibility and trustworthiness by Newsguard, a global service that rates news sources for their journalistic standards.