Kerala Rains HIGHLIGHTS: A year after it battled the century's worst floods, heavy monsoon showers in Kerala have claimed the lives of 83 people so far, PTI reported quoting authorities. As many as 2.51 lakh people from 73,076 families have been shifted to relief camps. The weatherman has predicted heavy rainfall in the state today and fishermen advised not to venture into the sea.
On Sunday, Congress leader and Wayanad MP Rahul Gandhi arrived on a two-day visit to Kerala and visited his Lok Sabha constituency, which is one of the severely affected areas in the state that has been battered by torrential rainfall. One of the worst-hit regions in the state is Puthumala in Wayanad, which was struck by a massive landslide on August 8.
The situation remains bleak in Karnataka, Maharashtra and Gujarat, where 97 people have lost their lives so far due to the monsoon mayhem. Floods in Karnataka since last week have claimed as many as 40 lives and displaced 4 lakh people. In Maharashtra, Chief Minister Devendra Fadnavis said the "unprecedented" rainfall this monsoon was "more than double" of that in 2005 when massive floods were witnessed.
Live Blog
Kerala reels under heavy rains, a year after century's worst floods. The death toll mounted to 72 by Sunday, but some respite is in sight as rains subside.
Keraala floods: Rahul Gandhi briefs media of his review meetings with state, district officials
On the 2nd day of my visit to Wayanad, my parliamentary constituency that has been badly hit by devastating floods, I met with members of the media to update them on my review meetings with state & district officials and my visits to affected sites and relief camps. pic.twitter.com/sbr9tC0ayx

— Rahul Gandhi (@RahulGandhi) August 12, 2019
Kerala: Flood hit Nilambur, 'misses' it's date with Eid but sends out a message of resilience
Every year on Bakrid, the town of Nilambur and adjoining smaller neighbourhoods would revel in 'perunaal' mood. Home to a large Muslim population, the faithful would flock to their local mosques as daylight breaks and offer prayers. On Monday, Nilambur broke away from decades of 'perunaal' tradition as it grappled with one of its biggest tragedies. Close to 20,000 people across 13 villages in Nilambur Taluk are put up at relief camps after their homes were inundated with floodwaters. Nearly 500 homes are partially or completely destroyed. Read more here
Kavalappara landslide: Only house standing, but resident not sure if it's a good thing to be alive
Around 8 pm on Thursday night, when Thankamani (49) and her husband Velayudhan heard a loud, booming sound, she recognised instantly that the hill that had never put them in danger was finally coming down. On Friday morning, the couple came out of their house to find their tiny neighborhood of around a dozen homes disappear. READ FULL STORY HERE
IDS: Rains ease out, water receding in Maharashtra, Kerala
Integrated Defence Staff: Rains have eased out and water levels have started receding, surface communication is likely to be restored soon in Maharashtra. In Kerala weather is holding but with orange alert in force till tomorrow, close watch will need to be maintained on situation. Rains have stopped in North Karnataka and water levels have started receding. The situation is under control and de-requisitioning of Army is likely to commence today. With most areas being accessible by road, helicopters are also likely to be de-requisitioned.
Kavalappara landslide: 17 bodies retrieved
17 bodies, including five of children, have been retirieved after the landslide in Kavalappara in Kerala. 15 of these have been identified. 46 bodies are yet to be recovered.
(Names and details of those killed in the Kavalappara landslide)
Update: Kerala floods official toll at 76
At least 76 people have died after rains ravaged Kerala this month.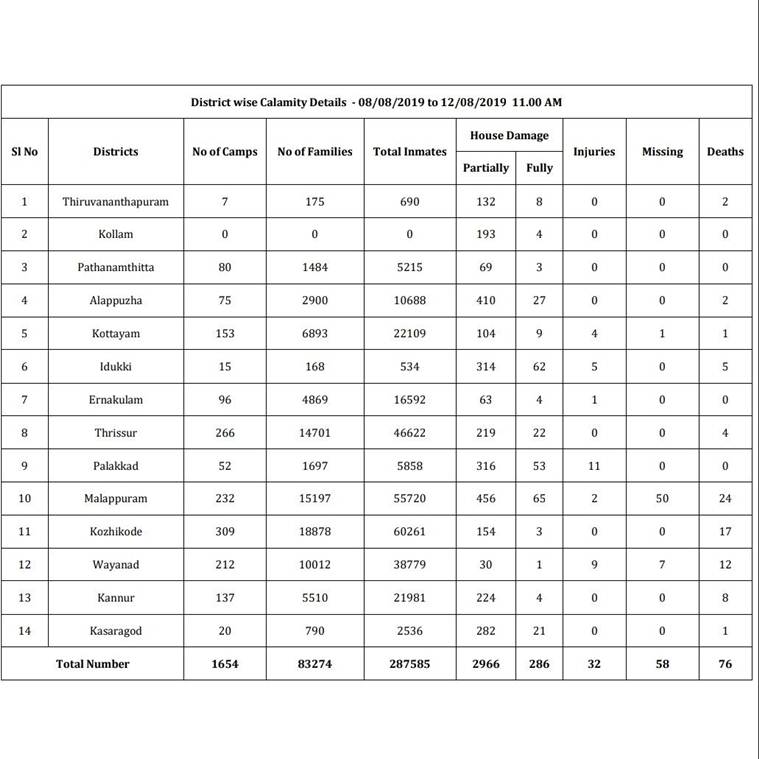 Kerala: Trains cancelled, diverted after rain forecast, here is the full list
The Southern Railway on Monday announced that trains to Kerala, Mangalore and some regions in Tamil Nadu have been cancelled for the day, following an announcement by the Indian Meteorological Department (IMD) that parts of Kerala are likely to receive heavy rainfall.
Relief material distributed in Nilambur, Kerala after Eid prayers
Relief operations are in full swing in Nilambur, Kerala after Eid prayers in the morning. Nilambur has been left broken by the floods, its shops and commercial establishments plundered and its people wanting for relief. All mosques have directed to engage in service of those in flood and landslide affected areas. Overwhelmed by first flood in half a century, the city now tries to pick up pieces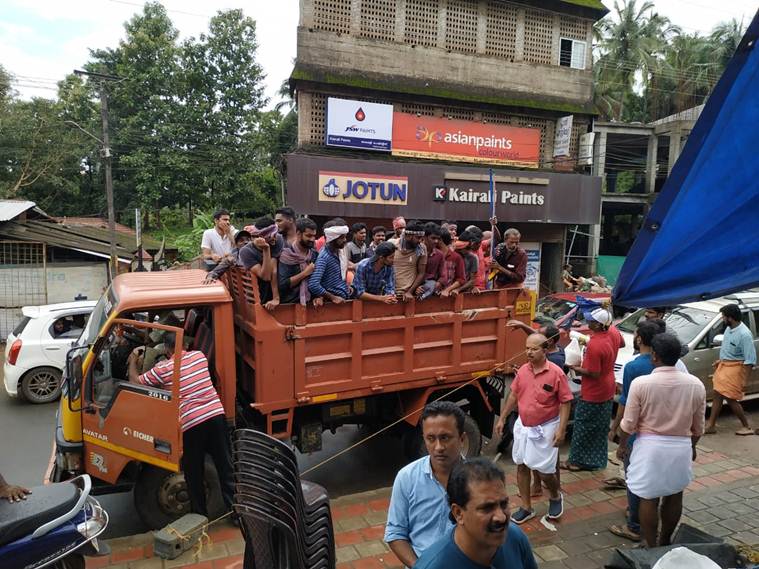 (Express Photo)
(Express Photo)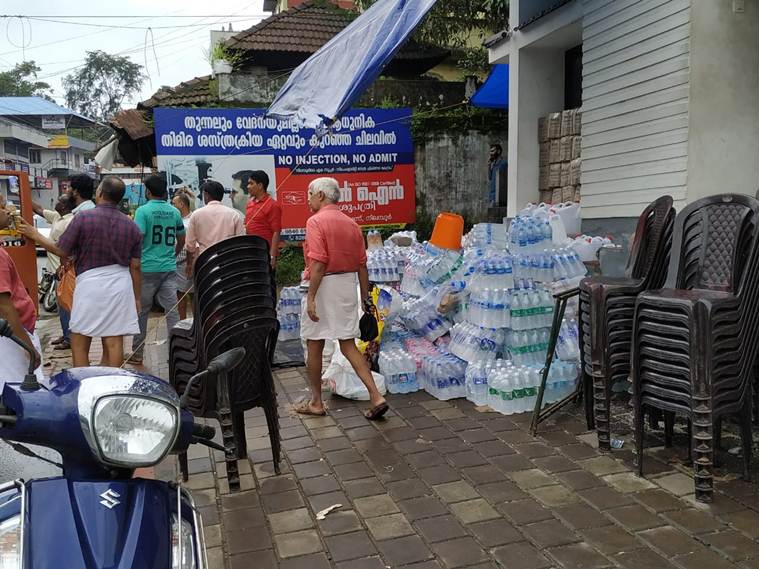 (Express Photo)
Wayanad MP Rahul Gandhi distributes relief material
Congress leader and Wayanad MP Rahul Gandhi visited a relief camp in Kaithapoyil today. Addressing media, Gandhi said, "As your MP, I called CM and requested him to help here as aggressively as possible. I also called the PM and explained to him the tragedy that has taken place here and the need for support from the centre."
Kerala: Rahul Gandhi, Congress meets and distributes relief material to the people of his Lok Sabha constituency. #Wayanad pic.twitter.com/CJuT6TAAg6

— ANI (@ANI) August 12, 2019
Gandhi earlier appealed to the people to provide relief materials to those hit by the devastating floods in his Wayanad Lok
Sabha constituency. He is currently visiting areas ravaged by floods and landslides in his constituency.
"My Parliamentary constituency Wayanad has been devastated by floods with thousands left homeless and shifted to relief camps", he said.
In pics: How flooded Kerala looks from the skies
Karnataka floods: Death toll rises to 40, roads blocked, train, bus services hit
Death toll due to incessant rain and floods in Karnataka rose to 40 on Sunday, even as rescue operations continued till late in the night.
As per information from the state government, Belagavi district continues to be the worst-hit, with 12 deaths reported. Kodagu has reported at least seven deaths, while the toll in Uttara Kannada is four. Fourteen people are missing. READ MORE
Kerala: Two fishermen dead after boat capsizes
Two fishermen from Chirayinkeezhu, Trivandrum have died after their boat capzised in sea, reported ANI.
Kerala: Death toll mounts to 72; Malappuram among worst affected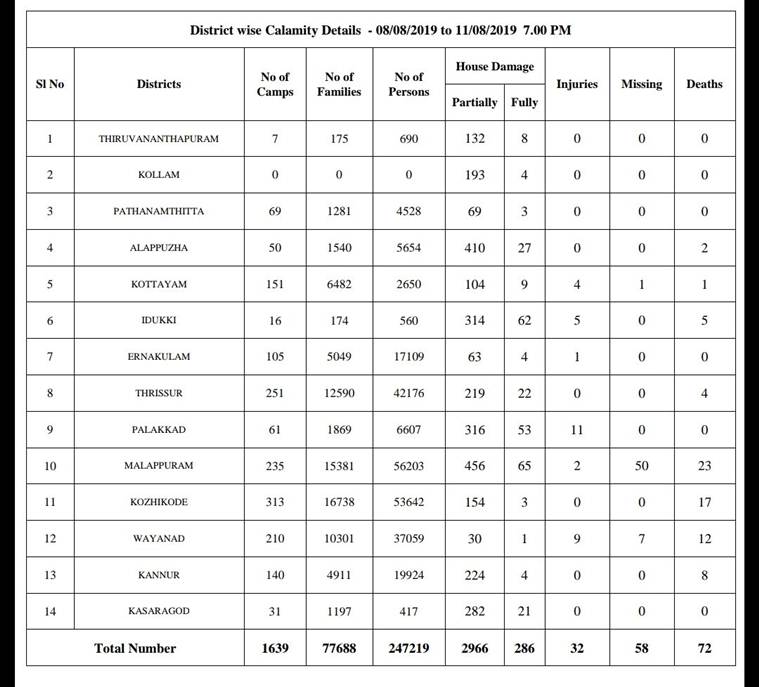 Wayanad MP Rahul Gandhi appeals for donation
Senior Congress leader and Wayanad MP Rahul Gandhi said he will be staying in his Lok Sabha constituency for the next few days. On Facebook, Gandhi listed a number of necessary items for those displaced or affected by the floods and staying in relief shelters. Donors can send the material to the following Collection Centres in Malappuram District:
1. Govt HSS Veettikkuthu, Nilambur
(Nilambur Taluk)
2. GBHSS Manjeri, Kacherippadi
(Ernad Taluk)
3.Govt Girl's Higeher secondary School, Wandoor
4. Collectorate, Malappuram
Telephone Numbers:
0483 2736 320, 0483 2736 326
Nodal officer : Abdussamed PA, Deputy Collector, Malappuram, Wayanad,
Kerala
Mobile Numbers:
854761 6003,
98472 58487